Abstract
This paper presents a case study of large cross-section high-speed railway tunnel passing through the soft-plastic loess layer. The distribution of the soft-plastic loess in different parts of the tunnels inevitably affects the deformation characteristics of the surrounding rock mass due to its poor engineering properties of low shear strength and high water content. Construction distresses including falling block and collapse of surrounding rock indicate there is great difficulty and risk during tunneling. In this paper, deformation characteristics are studied by carrying out a series of in situ measurements and numerical simulations. The results show that the different spatial locations between the soft-plastic loess layer and the tunnel result in different mechanical behaviors. When the tunnel is totally embedded in the soft-plastic loess, the radial displacement values above the wall waists undergo dominant deformation, while the radial displacement of wall feet is smaller. The settlement and horizontal convergence decrease obviously when the arch crown is constructed in the soft-plastic loess layer. When the soft-plastic loess is mainly distributed in the arch crown, the radial displacement above wall waists presents a great deformation.
Access options
Buy single article
Instant access to the full article PDF.
US$ 39.95
Tax calculation will be finalised during checkout.
Subscribe to journal
Immediate online access to all issues from 2019. Subscription will auto renew annually.
US$ 79
Tax calculation will be finalised during checkout.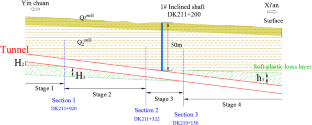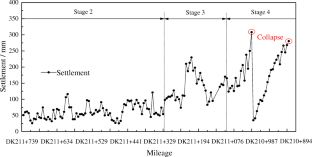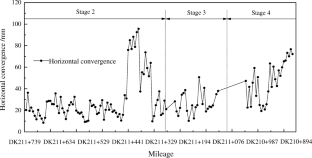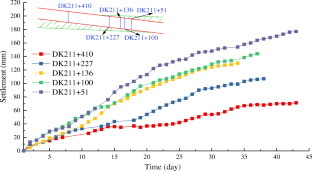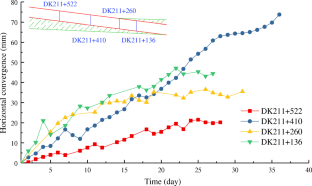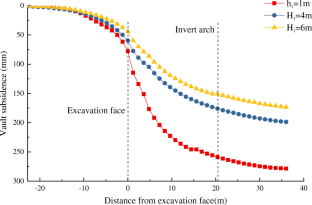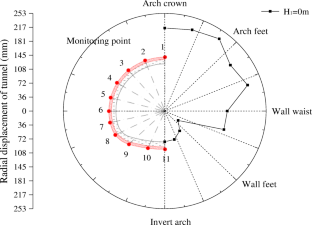 References
Carey JM, McSaveney MJ, Petley DN (2016) Dynamic liquefaction of shear zones in intact loess during simulated earthquake loading. Landslides 14(3):789–804

Chen H, Lai HP, Qiu YL, Chen R (2020) Reinforcing distressed lining structure of highway tunnel with bonded steel plates: case study. J Perform Constr Facil 34(1):04019082

Elbaz K, Shen JS, Arulrajah A, Horpibulsuk S (2016) Geohazards induced by anthropic activities of geoconstruction: a review of recent failure cases. Arab J Geosci 9(18):708

Elkamhawy E, Wang HB, Zhou B, Yang ZY (2018) Failure mechanism of a slope with a thin soft band triggered by intensive rainfall. Environ Earth Sci 77(9):6–15

Fang Q, Zhang DL, Wong LNY (2012) Shallow tunnelling method (STM) for subway station construction in soft ground. Tunn Undergr Space Technol 29:10–30

Feng SJ, Du FL, Shi ZM, Shui WH, Tan K (2015) Field study on the reinforcement of collapsible loess using dynamic compaction. Eng Geol 185:105–115

First Railway Survey and Design Institute (FRSDI) (2016) The design specifications for the Yinchuan-Xi'an high speed railway tunnels

Garakani AA, Haeri SM, Desai CS, Ghafouri SMHS, Sadollahzadeh B, Senejani HH (2019) Testing and constitutive modeling of lime-stabilized collapsible loess. II: modeling and validations. International journal of geomechanics 19 (4):04019007

Ghadakpour M, Choobbasti AJ, Kutanaei SS (2020) Experimental study of impact of cement treatment on the shear behavior of loess and clay. Arab J Geosci 13(4):184

Haeri SM, Garakani AA, Roohparvar HR, Desai CS, Ghafouri SMHS, Kouchesfahani KS (2019) Testing and constitutive modeling of lime-stabilized collapsible loess. I: experimental investigations. International journal of geomechanics 19(4), 04019006

Heidari M, Tonon F (2015) Ground reaction curve for tunnels with jet grouting umbrellas considering jet grouting hardening. Int J Rock Mech Min Sci 76:200–208

Hu SM (2012) Research on deformation characteristics and control measures of the large-section loess tunnel (Ph.D. Thesis), Beijing Jiaotong University (in Chinese)

Jin XG, Li YY, Luo YJ, Liu HW (2016) Prediction of city tunnel water inflow and its influence on overlain lakes in karst valley. Environ Earth Sci 75(16):1162

Karimi A, Khormali F, Wang X (2017) Discrimination of sand dunes and loess deposits using grain-size analysis in northeastern Iran. Arab J Geosci 10(2):275

Lai HP, Song WL, Liu YY, Chen R (2017) Influence of flooded loessial overburden on the tunnel lining: case study. J Perform Constr Facil 31(6):1–11

Li PF, Zhao Y, Zhou XJ (2016) Displacement characteristics of high-speed railway tunnel construction in loess ground by using multi-step excavation method. Tunnelling and Underground Space Technology incorporating Trenchless Technology Research 51:41–55

Li XJ, Lin XD, Zhu HH, Wang XZ, Liu ZM (2017) Condition assessment of shield tunnel using a new indicator: The tunnel serviceability index. Tunn Undergr Space Technol 67:98–106

Li P, Xie WL, Pak RYS, Vanapalli SK (2018) Microstructural evolution of loess soils from the loess plateau of China. Catena 173:276–288

Li J, Shao SJ, Shao S (2019) Collapsible characteristics of loess tunnel site and their effects on tunnel structure. Tunn Undergr Space Technol 83:509–519

Liang QG, Li J, Wu XY, Zhou AN (2016) Anisotropy of Q2 loess in the Baijiapo tunnel on the Lanyu railway, china. Bull Eng Geol Environ 75(1):109–124

Lin ZG, Wang SJ (1988) Collapsibility and deformation characteristics of deep-seated loess in China. Eng Geol 25:271–282

Lisjak A, Garitte B, Grasselli G, Muller HR, Vietor T (2015) The excavation of a circular tunnel in a bedded argillaceous rock (Opalinus Clay): short-term rock mass response and FDEM numerical analysis. Tunn Undergr Space Technol 45:227–248

Liu YY, Lai HP (2019) Load characteristics of tunnel lining in flooded loess strata considering loess structure. Advances in Civil Engineering 2019(7):1–13

Liu YY, Lai HP, Xie YL, Song WL (2017) Cracks analysis of highway tunnel lining in flooded loess. Geotech Eng 170(1):1–11

Luo YB, Chen JX, Shi Z, Li JZ, Liu WW (2020) Mechanical characteristics of primary support of large span loess highway tunnel: a case study in Shaanxi Province, Loess Plateau, NW China primary. Tunn Undergr Space Technol 104:103532

Mahmoud MAAN (2013) Improving behavior of tunnel lining constructed in layered soil including soft clay layer using stone columns. Arab J Sci Eng 38(12):3289–3300

Ozcelik M (2020) Examination of uncertainties and risk sources in Dudullu-Bostanci (Istanbul) Metro construction. Arab J Geosci 13(10):355

Paraskevopoulou C, Diederichs M (2018) Analysis of time-dependent deformation in tunnels using the Convergence-Confinement Method. Tunn Undergr Space Technol 71:62–80

Phoak S, Luo YS, Li SN, Yin Q (2018) Influence of submergence on stabilization of loess in Shaanxi Province by Adding Fly Ash. Appl Sci 9(1):1–16

Qiu JL, Xie YL, Fan HB, Wang ZC, Zhang YW (2017) Centrifuge modelling of twin-tunnelling induced ground movements in loess strata. Arab J Geosci 10(22):493

Senent S, Jimenez R (2015) A tunnel face failure mechanism for layered ground, considering the possibility of partial collapse. Tunn Undergr Space Technol 47:182–192

Shaalan HH, Ismail MAM, Azit R (2019) Effect of tunnel overburden stress on the rock brittle failure depth. Arab J Geosci 12(4):108

Sharifzadeh M, Kolivand F, Ghorbani M, Yasrobi S (2013) Design of sequential excavation method for large span urban tunnels in soft ground - Niayesh tunnel. Tunn Undergr Space Technol 35:178–188

Song RX, Zhao YH, Yuan WH, Xu LY (2019) Research on the difference of engineering characteristics of different genetic loess in Lanzhou areas. Journal of Lanzhou Petrochemical Polytechnic 19(03):30–34 (in Chinese)

Sun P, Wang G, Wu LZ, Igwe O, Zhu E (2018) Physical model experiments for shallow failure in rainfall-triggered loess slope, Northwest China. Bull Eng Geol Environ 78(6):4363–4382

Sun QQ, Dias D, Sousa LRE (2019) Impact of an underlying soft soil layer on tunnel lining in seismic conditions. Tunn Undergr Space Technol 90:293–308

Tabarsa A, Latifi N, Meehan CL, Manahiloh KN (2018) Laboratory investigation and field evaluation of loess improvement using nanoclay - a sustainable material for construction. Constr Build Mater 158:454–463

The National Standards of People's Republic of China (2018) Code for design on subsoil and foundation of railway bridge and culvert (TB 10093-2017). China Railway Publishing House, Beijing

Wang XL, Lai JX, Garnes RS, and Luo YB (2019) On the support system for tunnelling in squeezing ground of Qingling-Daba mountainous area: case study from soft rock tunnels. Advances in Civil Engineering Article ID 8682535

Xu Q, Li H, He Y, Liu F, Peng D (2017) Comparison of data-driven models of loess landslide runout distance estimation. Bull Eng Geol Environ 78(2):1281–1294

Xue YG, Zhang XL, Li SC, Qiu DH, Su MX, Li LP, Li ZG, Tao YF (2018) Analysis of factors influencing tunnel deformation in loess deposits by data mining: a deformation prediction model. Eng Geol 232:94–103

Yuan JQ, Chen WZ, Tan XJ, Yang DS, Wang SY (2019) Countermeasures of water and mud inrush disaster in completely weathered granite tunnels: a case study. Environ Earth Sci 78(18):576

Zhang LM, Wu XG, Liu WL, Skibniewski MJ (2019a) Optimal strategy to mitigate tunnel-induced settlement in soft soils: simulation approach. J Perform Constr Facil 33(5):04019058

Zhang J, Ding L, Liang Y, Zong JY, Li ZY (2019b) Upper-bound finite element adaptive analysis of plane strain heading in soil with a soft upper layer and hard lower layer. Advances in Civil Engineering 2019:7387635

Zhao X, Yang XY (2019) Experimental study on water inflow characteristics of tunnel in the fault fracture zone. Arab J Geosci 12(13):399

Zhao CY, Lavasan AA, Barciaga T, Kämper C, Mark P, Schanz T (2017) Prediction of tunnel lining forces and deformations using analytical and numerical solutions. Tunn Undergr Space Technol 64:164–176

Zhao Y, He H, Li P (2018) Key techniques for the construction of high-speed railway large-section loess tunnels. Engineering 4(2):193–205

Zumsteg R, Langmaack L (2017) Mechanized tunneling in soft soils: choice of excavation mode and application of soil-conditioning additives in glacial deposits. Engineering 3(6):863–870
Funding
The authors received financial support from Major issues of China Railway Corporation (Grant Nos. 2017G007-G), the National Natural Science Foundation of China (Grant No.51378071, 51708041, 51978064, 51908051), Natural Science Foundation of Shanxi Province (Grant Nos. 2018JQ5001, 2014KJXX-53, 2014SZS19-Z01), Natural Science Foundation of Shaanxi Province, China (Grant No. 2018JQ5001), the Fundamental Research Funds for the Central Universities, CHD (Grant Nos.2014G3213006, 310821163302, 300102210213, 300102210304), and by the Traffic construction Research Funds of Shanxi Province (Grant Nos. 2016-1-3, 2017-1-4, 2018-1-3).
Ethics declarations
Conflict of interest
The authors declare that they have no conflict of interest.
Additional information
Responsible Editor: Zeynal Abiddin Erguler
About this article
Cite this article
Hong, Q., Lai, H., Liu, Y. et al. A case study on deformation characteristics of a large cross-section tunnel passing through a soft-plastic layer with different spatial locations. Arab J Geosci 14, 272 (2021). https://doi.org/10.1007/s12517-021-06544-2
Received:

Accepted:

Published:
Keywords
Large cross-section tunnel

Soft-plastic loess

Spatial locations

Deformation characteristics