Abstract
The late Neoproterozoic Hazara Formation along the Lora Maqsood Road near Haripur, Lesser Himalayas, North Pakistan, is studied for sedimentology, petrography, and major and trace element analysis to determine the paleoenvironment, provenance, paleoweathring intensity, and tectonic settings. The Hazara Formation is characterized by greywacke sandstone, siltstone, shale, argillite, claystone, limestone, and coarsening and finning upward turbidite lithofacies. Based on bedding style, grain size, and sedimentary structures, 11 types of lithofacies were identified within the sequence. The macroscopic studies indicate that the sequence has undergone through slight metamorphism although the texture is altered sedimentary features and bed geometries are well preserved. Compaction seems to affect the part of argillaceous sediments of an enormous thickness of the Hazara Formation to make slate-like appearance which may preferably be called argillites. The same effect is seen on sandstone to make it so hard to name it orthoquartzite. Petrographic analysis of limestone reveals that the limestone is micritic in nature; stylolites and pressure solution structures are also present in the limestone. The petrographic analysis of sandstone categorized it as feldspathic greywacke in the QFR diagram. The quartz content is higher in sandstone and may reach to 70% which indicates a weathered felsic source. The petrographic analysis suggests a continental block provenance with stable craton and an uplifted basement source. The Chemical Index of Alteration and the Chemical Index of Weathering values indicate moderate to high weathering conditions with a warm and moist climate in the source region. A sedimentary-tectonic model based on the geochemical data of sandstone indicates deposition along with active continental margin tectonic settings. The paleocurrent flow analysis indicates that the dominant source region of the sediments of the Hazara Formation was situated south to southeast, which may probably be the central Indian craton, Aravali orogeny, and Bundelkhand craton of southern India.
Access options
Buy single article
Instant access to the full article PDF.
US$ 39.95
Tax calculation will be finalised during checkout.
Subscribe to journal
Immediate online access to all issues from 2019. Subscription will auto renew annually.
US$ 79
Tax calculation will be finalised during checkout.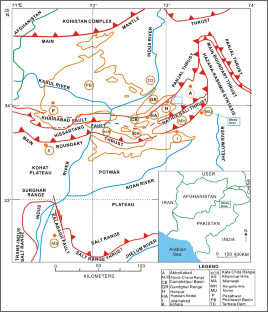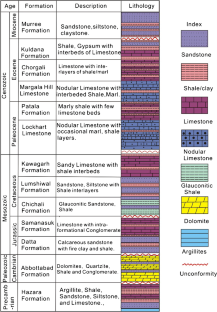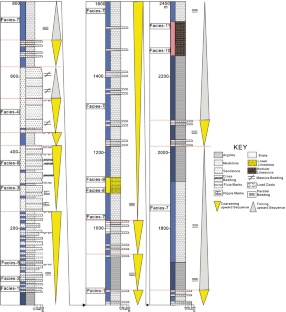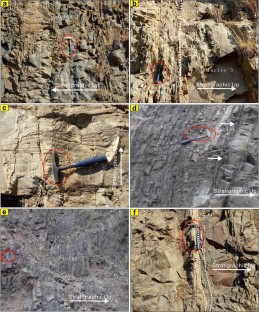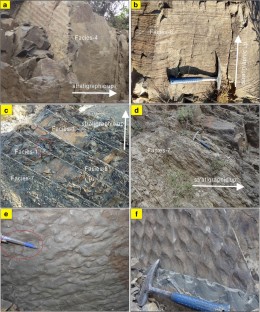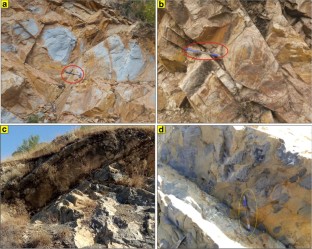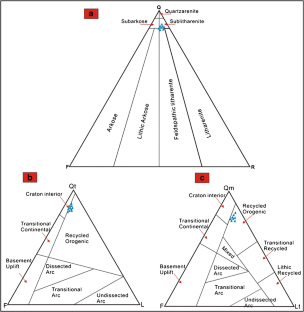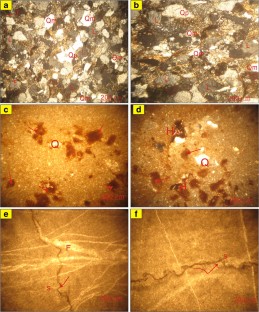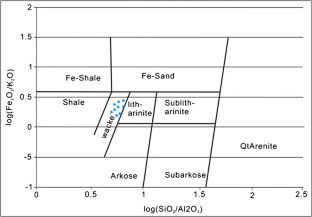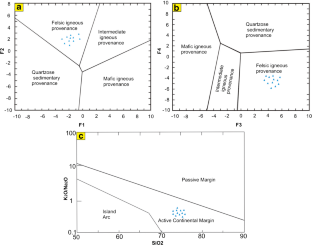 References
Adnan A, Shukla UK, Verma A, Shukla T (2015) Lithofacies of transgressive–regressive sequence on a carbonate ramp in Vindhyan basin (Proterozoic): a case of tidal-flat origin from Central India. Arab J Geosci 8(9):6985–7001

Asiedu DK, Suzuki S, Shibata T (2000) Provenance of sandstones from the Lower Cretaceous Sasayama Group, inner zone of southwest Japan. Sediment Geol 131(1–2):9–24

Baig M, Lawrence R (1987) Precambrian to early Paleozoic orogenesis in the Himalaya. Kashmir J Geol 5:1–22

Basu A (1985) Reading provenance from detrital quartz. Provenance of arenites. Springer, Dordrecht, pp 231–247

Basu A et al (1975) Re-evaluation of the use of undulatory extinction and polycrystallinity in detrital quartz for provenance interpretation. J Sediment Res 45(4):873–882

Beall A, Fisher A (1969) Sedimentology. Init Rep Deep Sea drill Proj I 521:593

Bouma AH (1962) Sedimentology of Some Flysch Deposits. Elsevier, Amsterdam, p 168

Bouma A (1964) Turbidites. In Developments in sedimentology (Vol. 3, pp 247–256). Elsevier

Calkins JA et al (1975) Geology of the southern Himalaya in Hazara, Pakistan and adjacent areas

Calkins JA, JA C, TW O, SKM A (1975b) Geology of the southern Himalaya in Hazara, Pakistan, and adjacent areas. United States Geological Survey Professional Paper, 716- C, C1

Calvet F et al (1990) Middle Triassic carbonate ramp systems in the Catalan Basin, northeast Spain: facies, systems tracts, sequences and controls. Carbonate Platforms 9:79–108

Cawood PA, Williams H (1988) Acadian basement thrusting, crustal delamination, and structural styles in and around the Humber Arm allochthon, western Newfoundland. Geology 16(4):370–373

Cheema M (1970) Sedimentology of Miranjani algal limestone member. Nathiagali 5:57–61

Cox R, Lowe DR, Cullers RL (1995) The influence of sediment recycling and basement composition on evolution of mudrock chemistry in the southwestern United States. Geochim Cosmochim Acta 59(14):2919–2940

Crawford A, Davies R (1975) Ages of pre-Mesozoic formations of the Lesser Himalaya, Hazara district, Northern Pakistan. Geol Mag 112(5):509–514

Cullers RL (1994) The controls on the major and trace element variation of shales, siltstones, and sandstones of Pennsylvanian-Permian age from uplifted continental blocks in Colorado to platform sediment in Kansas, USA. Geochim Cosmochim Acta 58(22):4955–4972

Davies R, Ahmad R (1963) Fossils from the Hazara Slate Formations at Bara Gali, Hazara, West Pakistan. Geol Bull Panjab Univ 3:29–30

Dickinson WR (1985) Interpreting provenance relations from detrital modes of sandstones. Provenance of arenites. Springer, Dordrecht, pp 333–361

Dickinson WR et al (1983) Provenance of North American Phanerozoic sandstones in relation to tectonic setting. Geol Soc Am Bull 94(2):222–235

Dickinson WR, Suczek CA (1979) Plate tectonics and sandstone compositions. AAPG Bull 63(12):2164–2182

Dunham, R. J. (1962). "Classification of carbonate rocks according to depositional textures."

Fike D et al (2006) Oxidation of the Ediacaran Ocean. nature 444(7120):744–747

Folk RL (1959) Practical petrographic classification of limestones. AAPG Bull 43(1):1–38

Folk RL (1980) Petrology of sedimentary rocks. Hemphill Publishing Company, Austin, p 184

Halverson GP, Hoffman PF, Schrag DP, Maloof AC, Rice AHN (2005) Toward a Neoproterozoic composite carbon-isotope record. GSA Bull 117(9–10):1181–1207

Herron MM (1988) Geochemical classification of terrigenous sands and shales from the core or log data. J Sediment Res 58(5):820–829

Hofer G, Wagreich M, Neuhuber S (2013) Geochemistry of fine-grained sediments of the upper Cretaceous to Paleogene Gosau Group (Austria, Slovakia): implications for paleoenvironmental and provenance studies. Geosci Front 4(4):449–468

Hurtgen MT, Arthur MA, Halverson GP (2005) Neoproterozoic sulfur isotopes, the evolution of microbial sulfur species, and the burial efficiency of sulfide as sedimentary pyrite. Geology 33(1):41–44

Hylland MD (1990) Geology of the southern Gandghar range and Kherimar hills, Northern Pakistan: Corvallis, Oregon State University, M.S. thesis, p 77

Kennedy M, Droser M, Mayer LM, Pevear D, Mrofka D (2006) Late Precambrian oxygenation; inception of the clay mineral factory. Science 311(5766):1446–1449

Knoll A (2003) Life on a young planet: the first three billion years of evolution on earth. Princeton Univ, Press Princeton

Latif M (1970) Explanatory notes on the geology of southeastern Hazara to accompany the revised geological map. Jahrbuch der Geologischen Bundesanstalt, Sonderband 15:5–20

Latif M (1973) Partial extension of the evaporite facies of the Salt Range to Hazara, Pakistan. Nat Phys Sci 244(138):124–125

Latif MA (1969) The stratigraphy of south eastern Hazara and parts of the Rawalpindi Muzaffarabad districts of West Pakistan and Kashmir, [Ph D thesis]. University of London, London, p 316

Li Z-X, Bogdanova SV, Collins AS, Davidson A, de Waele B, Ernst RE, Fitzsimons ICW, Fuck RA, Gladkochub DP, Jacobs J, Karlstrom KE, Lu S, Natapov LM, Pease V, Pisarevsky SA, Thrane K, Vernikovsky V (2008) Assembly, configuration, and break-up history of Rodinia: a synthesis. Precambrian Res 160(1–2):179–210

Logan BW, Rezak R, Ginsburg RN (1964) Classification and environmental significance of algal stromatolites. J Geol 72(1):68–83

Marks P, Ali CM (1961) The geology of the Abbottabad area, with special reference to the Infra-Trias. Geol Bull Punjab Univ 2:47–56

Masson D et al (1997) Flow processes and sediment deformation in the Canary debris flow on the NW African continental rise. Sediment Geol 110(3–4):163–179

Middlemiss CS (1896) The geology of Hazara and the Black Mountain. India Geol Survey Mem 26:302

Moosavirad S et al (2011) Geochemistry of lower Jurassic shales of the Shemshak Formation, Kerman Province, Central Iran: provenance, source weathering and tectonic setting. Chemie der Erde-Geochemistry 71(3):279–288

Morton AC (1985) Heavy minerals in provenance studies. In: G.G.ZUFFA (ed), Provenance of Arenites, p 249–277

Mulder T, Alexander J (2001) The physical character of subaqueous sedimentary density flows and their deposits. Sedimentology 48(2):269–299

Mutti B (1972) Turbidites of the northern Apennies: introduction to facies analysis. Int Geol Rev 20:125–166

Mutti E, Ricci Lucchi F (1978) Turbidites of the northern Apennines: introduction to facies analysis. Int Geol Rev 20(2):125–166

Nagarajan R, Madhavaraju J, Armstrong-Altrin JS, Nagendra R (2011) Geochemistry of Neoproterozoic limestones of the Shahabad Formation, Bhima basin, Karnataka, southern India. Geosci J 15(1):9–25

Nesbitt HW, Young G (1982) Early Proterozoic climates and plate motions inferred from major element chemistry of lutites. Nature 299(5885):715–717

Pettijohn F et al (1987) Petrography of common sands and sandstones. Springer, Sand and Sandstone, pp 139–213

Pickering KT, Hiscott RN, Hein FJ (1989) Deep marine environments: clastic sedimentation and tectonics. Unwin Hyman, London, p 416

Pittman ED (1970) Plagioclase feldspar as an indicator of provenance in sedimentary rocks. J Sediment Res 40:591–598

Qasim M, Ding L, Khan MA, Umar M, Jadoon IAK, Haneef M, Baral U, Cai F, Shah A, Yao W (2018) Late neoproterozoic–early Palaeozoic stratigraphic succession, western Himalaya, north Pakistan: detrital zircon provenance and tectonic implications. Geol J 53(5):2258–2279

Roser B, Korsch R (1986) Determination of tectonic setting of sandstone-mudstone suites using SiO2 content and K2O/Na2O ratio. J Geol 94(5):635–650

Shadan M, Hosseini-Barzi M (2013) Petrography and geochemistry of the Ab-e-Haji Formation in central Iran: implications for provenance and tectonic setting in the southern part of the Tabas block. Revista Mexicana de Ciencias Geológicas 30(1):80–95

Shanmugam G, Moiola R (1988) Submarine fans: characteristics, models, classification, and reservoir potential. Earth Sci Rev 24(6):383–428

Shanmugam G, Moiola R (1995) Reinterpretation of depositional processes in a classic flysch sequence (Pennsylvanian Jackfork Group), Ouachita Mountains, Arkansas and Oklahoma. AAPG Bull 79(5):672–695

Stow D et al (2001) Depositional processes of black shales in deep water. Mar Pet Geol 18(4):491–498

Strba L (2012) Deep-marine channel deposits of Cotumba-Sita-Tǎtaru Sandstones, Teleajen Valley, Romania (East Carpathian Flysch Zone). Studia UBB Geol 57(2):27–34

Tahirkheli RK (1982) Geology of the Himalaya, Karakoram and Hindukush in Pakistan. Geol Bull Univ Peshawar 15:1–51

Taylor SR, McLennan SM (1985) The Continental Crust: its Composition and Evolution. Blackwell Scientific, Oxford, p 311p

Torsvik T et al (1996) Continental break-up and collision in the Neoproterozoic and Palaeozoic—a tale of Baltica and Laurentia. Earth Sci Rev 40(3–4):229–258

Umar M, Betts P, Saud Khan MM, Amjad Sabir M, Farooq M, Zeb A, Khan Jadoon U, Ali S (2015) Signatures of late Neoproterozoic Gondwana assembly and Maronian glaciation in Lesser Himalaya: a palaeogeographical and stratigraphical approach. Acta Geol Pol 65:1–19

Wadia D (1931) The syntaxis of the northwest Himalaya: its rocks, tectonics and orogeny. Rec Geol Surv India 65(2):189–220

Walker RG (1978) Deep-water sandstone facies and ancient submarine fans: models for exploration for stratigraphic traps. AAPG Bull 62(6):932–966

Walker RG, Plint AG (1992) Wave and storm-dominated shallow marine systems. In: Walker RG, James NP (Eds), facies models: response to sea-level change. Geological Association of Canada pp 219–238

Wynne AB (1878) On the geology of the Salt Range in the Punjab: Memoirs of the Geological Survey of India 14(17):1–313

Yeats RS, Hussain A (1987) Timing of structural events in the Himalayan foothills of northwestern Pakistan. Geol Soc Am Bull 99(2):161–176
Acknowledgments
The authors are grateful to the editor and reviewers for detailed review and suggestions that have greatly improved this manuscript. We are sincerely thankful to the Department of Geology and School of International Cultural Exchange Northwest University for the facilities extended to carry out this research.
Funding
This research was financially supported by the National Natural Science Foundation of China (Grant No.: 41390451).
Ethics declarations
Conflict of interest
The authors declare that they have no conflict of interest.
Additional information
Responsible Editor: Amjad Kallel
About this article
Cite this article
Dar, Q.U.Z., Renhai, P., Ghazi, S. et al. The Precambrian Hazara Formation from Hazara Mountains, Northern Pakistan. Arab J Geosci 14, 134 (2021). https://doi.org/10.1007/s12517-021-06496-7
Received:

Accepted:

Published:
Keywords
Lithofacies

Lesser Himalayas

Provenance

Late Neoproterozoic

Hazara Formation