Abstract
Providing the information about land use/cover is crucial for many purposes, especially that concern with planning, determination, sprawl and primary human requirements, and health. The extracted information additionally supports in controlling the dynamics of land production from a developing population. In this study, the impact of speckle filtering was examined on the classification of LULC (land use/land cover) by combined data of SAR Sentinel-1A (VH, VV) and multispectral Sentinel-2B data in Kirkuk city, Iraq. Various speckle methods such as Boxcar, Frost, Gamma, and Lee filters were applied on the Sentinel-1A dataset with a different window size and then quantitatively evaluated using various filter performance indices. The Gram–Schmidt (GS) fusion process was chosen to combine the multispectral Sentinel data and VH, VV bands of Sentinel-1 data with different window size. The random forest classifier was applied to classify LULCon, the original data and fused data. The acquired outcomes showed that the Frost filter presented the highest performance of filter using different types of evaluation indices on sentinel-1A (VH, VV) data. The result also demonstrates that the Frost filter is the best filter to enhance the classification precision using the combination data between Sentinal-1(VH) and Sentinel-2B, with an overall accuracy of 97.211% using a 9 × 9 window size and total accuracy of 95.9362% compared with the other filters. Boxcar filter showed the highest classification accuracy indicated in window size 11 × 11, with an accuracy of 95.62%, while the lowest accuracy recorded in 3 × 3 window size of 93.63% with a reduction of efficiency 0.4 % compared with the (VH) data. We obtain good results with increasing of efficiency as 3.191%, 0.192%, 5.582%, 5.58% using windows size of 5 × 5, 7 × 7, 9 × 9, and 11 × 11 respectively, and total enhancement noted was 2.829% compared with the combination with (VV) data.
Access options
Buy single article
Instant access to the full article PDF.
US$ 39.95
Tax calculation will be finalised during checkout.
Subscribe to journal
Immediate online access to all issues from 2019. Subscription will auto renew annually.
US$ 79
Tax calculation will be finalised during checkout.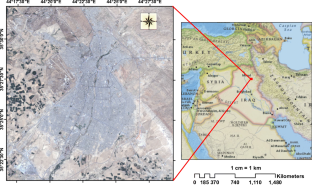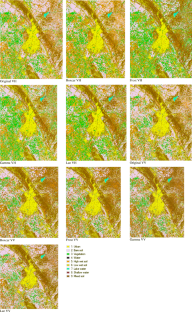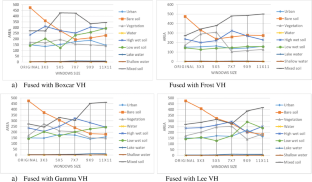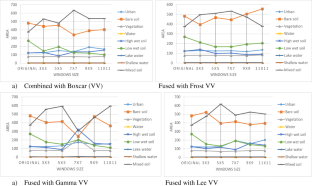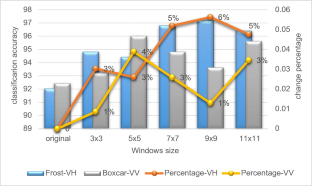 References
Adam E, Mutanga O, Odindi J, Abdel-Rahman EM (2014) Land-use/cover classification in a heterogeneous coastal landscape using RapidEye imagery: evaluating the performance of random forest and support vector machines classifiers. Int J Remote Sens 35:3440–3458

Al-Mustansiriya J, MZ SA, Qazi W, Aslam N (2018) A comparative study of ALOS-2 PALSAR and Landsat-8 imagery for land cover classification using maximum likelihood classifier. Egypt J Remote Sens Space Sci 21:S29–S35

Amarsaikhan D, Saandar M, Ganzorig M, Blotevogel HH, Egshiglen E, Gantuyal R, Nergui B, Enkhjargal D (2012) Comparison of multisource image fusion methods and land cover classification. Int J Remote Sens 33:2532–2550

Ashkan MRH, Najmeh CS (2012) Speckle reduction approach for SAR image in satellite communication. Int J Mach Learn Comput 2:62–70

Badreldin N, Goossens R (2014) Monitoring land use/land cover change using multi-temporal Landsat satellite images in an arid environment: a case study of El-Arish, Egypt. Arab J Geosci 7:1671–1681

Ban Y, Webber L, Gamba P, Paganini M (2017) EO4Urban: Sentinel-1A SAR and Sentinel-2A MSI data for global urban services. In: 2017 Joint Urban Remote Sensing Event (JURSE), IEEE, pp 1-4

Breiman L (2001) Random forests. Mach Learn 45:5–32

Chatziantoniou A, Psomiadis E, Petropoulos G (2017) Co-orbital Sentinel 1 and 2 for LULC mapping with emphasis on wetlands in a Mediterranean setting based on machine learning. Remote Sens 9:1259

Cho MA, Debba P, Mutanga O, Dudeni-Tlhone N, Magadla T, Khuluse SA (2012) Potential utility of the spectral red-edge region of SumbandilaSat imagery for assessing indigenous forest structure and health. Int J Appl Earth Obs Geoinf 16:85–93

Erinjery JJ, Singh M, Kent R (2018) Mapping and assessment of vegetation types in the tropical rainforests of the Western Ghats using multispectral Sentinel-2 and SAR Sentinel-1 satellite imagery Remote. Sens Environ 216:345–354

Foody GM (2002) Status of land cover classification accuracy assessment. Remote Sens Environ 80:185–201

Goodman NR (1963) Statistical analysis based on a certain multivariate complex Gaussian distribution (an introduction). Annal Math Statis 34:152–177

H. Zhou KZM (2008) An impulsive noise color image filter using learning based color morphological operations. Digit Signal Process 18:406–421

Hansen MC, Loveland TR (2012) A review of large area monitoring of land cover change using Landsat data. Remote Sens Environ 122:66–74

J. L. Van yH (1996) Evaluation of several speckle filters techniques for ERS1 and 2 imagry Int Arch Photogramm. Remote Sens Spat Inf Sci XXXI:164–169

Jos´e A. Apolin´ario Jr SLN (2009) QRD-RLS adaptive filtering. Springer Science+Business Media

Joshi N, Baumann M, Ehammer A, Fensholt R, Grogan K, Hostert P, Jepsen M, Kuemmerle T, Meyfroidt P, Mitchard E, Reiche J, Ryan C, Waske B (2016) A review of the application of optical and radar remote sensing data fusion to land use mapping and monitoring. Remote Sens 8:70

Landis JR, Koch GG (1977) The measurement of observer agreement for categorical data. Biometrics 33:159–174

Leinenkugel P, Wolters ML, Kuenzer C, Oppelt N, Dech S (2014) Sensitivity analysis for predicting continuous fields of tree-cover and fractional land-cover distributions in cloud-prone areas. Int J Remote Sens 35:2799–2821

Lin X, Sun L, Li Y, Guo Z, Li Y, Zhong K, Wang Q, Lu X, Yang Y, Xu G (2010) A random forest of combined features in the classification of cut tobacco based on gas chromatography fingerprinting. Talanta 82:1571–1575

Mahboob Iqbal JC, Yang W, Wang P, Sun B (2013) Sar image despeckling by selective 3D filtering of multiple compressive recon-structed images. Electromagn Waves (Camb) 134:209–226

Markus Robertus de Leeuw LMTdC (2009) Performance evaluation of several adaptive speckle filters for SAR imaging Anais XIV Simpósio Brasileiro de Sensoriamento Remoto, Natal, Brasil, 25-30 abril. INPE, p:7299–7305

Mohammed Noori A, Hasan SF, Ajaj QM, Ridha Mezaal M, Z. M. Shafri H, Shareef MA (2018) Fusion of airborne hyperspectral and WorldView2 multispectral images for detailed urban land cover classification a case study of Kuala Lumpur, Malaysia. Int J Eng Tech 7:5

Motiur Rahman SR, Islam A, Rahman M, Talukder MH (2013) A new filtering technique for denoising speckle noise from medical images based on adaptive and anisotropic diffusion filter. Int J Res Comput Communi Tech 2:689–693

Müller H, Griffiths P, Hostert P (2016) Long-term deforestation dynamics in the Brazilian Amazon—Uncovering historic frontier development along the Cuiabá–Santarém highway. Int J Appl Earth Obs Geoinf 44:61–69

Murayama Y (2012) Progress in geospatial analysis. Springer Science & Business Media

Olofsson P, Foody GM, Herold M, Stehman SV, Woodcock CE, Wulder MA (2014) Good practices for estimating area and assessing accuracy of land change. Remote Sens Environ 148:42–57

Pesaresi M, Corbane C, Julea A, Florczyk A, Syrris V, Soille P (2016) Assessment of the added-value of sentinel-2 for detecting built-up areas. Remote Sens 8:299

Pohl C, Van Genderen JL (1998) Review article multisensor image fusion in remote sensing: concepts, methods and applications. Int J Remote Sens 19:823–854

R. Sivakumar MI, Gayathri MK, Nedumaran D (2010) Speckle filtering of ultrasound b-scan images - a comparative study of single scale spatial adaptive filters, multiscale filter and diffusion filters IACSIT. Int J Eng Tech. 2:514–523

Rawat J, Kumar M (2015) Monitoring land use/cover change using remote sensing and GIS techniques: a case study of Hawalbagh block, district Almora, Uttarakhand, India. Egypt J Remote Sens Space Sci 18:77–84

S. N. Anfinsen APD, Eltoft T (2008) Estimation of the equivalent number of looks in polarimetric SAR imagery 978-1-4244-2808:407-490

S. Sudha GRSRS (2009) Speckle noise reduction in ultrasound images by wavelet thresholding based on weighted variance. Int J Comput Theory Eng 1:7–12

Shareef MA, Hasan SF (2020) Characterization and estimation of dates palm trees in an urban area using gis-based least-squares model and minimum noise fraction images. J Ecol Eng 21:78–85

Shareef MA, Khenchaf A, Toumi A (2016) Integration of passive and active microwave remote sensing to estimate water quality parameters. In: 2016 IEEE Radar Conference (RadarConf),. IEEE, pp 1-4

Smara Y (2005) Réduction du speckle dans les images radar SAR :concepts et algorithmes International conference: Sciences of Electronic. Technologies of Information and Telecommunications, SETIT

Srivastava PK, Han D, Rico-Ramirez MA, Bray M, Islam T (2012) Selection of classification techniques for land use/land cover change investigation. ADV Space Res 50:1250–1265

Steinhausen MJ, Wagner PD, Narasimhan B, Waske B (2018) Combining Sentinel-1 and Sentinel-2 data for improved land use and land cover mapping of monsoon regions. Int J Appl Earth Obs Geoinf 73:595–604

Talab DF (2011) Speckle noise reduction in sar images using non-adaptive mode-filter al- mustansiriya. J Sci 22:141–150

Tian F, Yang L, Lv F, Zhou P (2009) Predicting liquid chromatographic retention times of peptides from the Drosophila melanogaster proteome by machine learning approaches. Anal Chim Acta 644:10–16

Wagner P, Kumar S, Schneider K (2013) An assessment of land use change impacts on the water resources of the Mula and Mutha Rivers catchment upstream of Pune, India. Hydrol Earth Syst Sci 17:2233–2246

Weiß T (2019) Multiply SAR pre-processing documentation

Werner A, Storie CD, Storie J (2014) Evaluating SAR-optical image fusions for urban LULC classification in Vancouver Canada. CAN J Remote Sens 40:278–290

Xin Wang LG, Xiaojing L (2012) Evaluation of filters for envisat asar speckle suppression in pasture area. ISPRS Annals Photo Remote Sens Spatial Inform Sci 1-7:341–346

Yesou H et al. (2016) Synergy of Sentinel-1 and Sentinel-2 imagery for wetland monitoring information extraction from continuous flow of sentinel images applied to water bodies and vegetation mapping and monitoring. In: 2016 IEEE International Geoscience and Remote Sensing Symposium (IGARSS), IEEE, pp 162-165

Zhang J (2010) Multi-source remote sensing data fusion: status and trends. Int J Image Data Fusion 1:5–24
Ethics declarations
Competing interests
The author declares there are no competing interests.
Additional information
Responsible Editor: Amjad Kallel
About this article
Cite this article
Hasan, S.F., Shareef, M.A. & Hassan, N.D. Speckle filtering impact on land use/land cover classification area using the combination of Sentinel-1A and Sentinel-2B (a case study of Kirkuk city, Iraq). Arab J Geosci 14, 276 (2021). https://doi.org/10.1007/s12517-021-06494-9
Received:

Accepted:

Published:
Keywords
Speckle filtering

LULC

Random forest classifier

Sentinel-1A

Sentinel-2B