Abstract
During the last few decades, the frequency of drought has significantly increased in Morocco especially for arid and semi-arid regions, leading to a rising of several environmental and economic issues. In this work, we analyse the spatial and temporal relationship between vegetation activity and drought severity at different moments of the year, across an arid area in the western Haouz plain in Morocco. Our approach is based on the use of a set of more than 30 satellite Landsat images acquired for the period from 2008 to 2017, combined with the Standardized Precipitation Index (SPI) at different time scales and Standardized Water-Level Index (SWI). The Mann-Kendall and Sen's slope methods were used to estimate SPI trends, and the Pearson correlation between NDVI and SPI was calculated to assess the sensitivity of vegetation types to drought. Results demonstrated that SPI experienced an overall downward trend in the Chichaoua-Mejjate basin, except for SPI3 in summer. The vegetation activity is largely controlled by the drought with clear differences between seasons and time scales at which drought is assessed. Positive correlations between the NDVI and SPI are dominant across the entire study area except in June when almost half of correlations is negative. More than 80% of the study domains exhibit a correlation exceeding 0.4 for SPI3 and SPI6 in March. Importantly, this study stresses that the irrigation status of land can introduce some uncertainties on the remote sensing drought monitoring. A weak correlation between the SPI and the SWI was observed at different time scale. The fluctuations of the piezometric levels are strongly affected by the anthropogenic overexploitation of aquifers and proliferation of irrigated plots.
Access options
Buy single article
Instant access to the full article PDF.
US$ 39.95
Tax calculation will be finalised during checkout.
Subscribe to journal
Immediate online access to all issues from 2019. Subscription will auto renew annually.
US$ 79
Tax calculation will be finalised during checkout.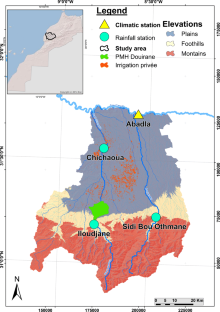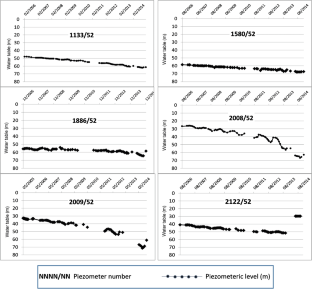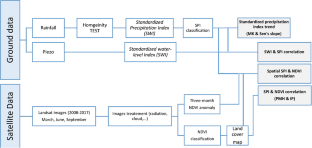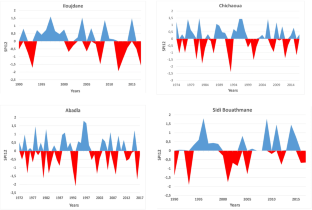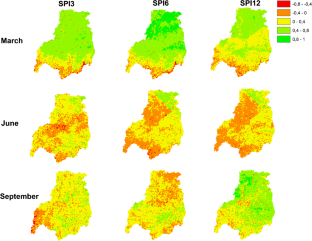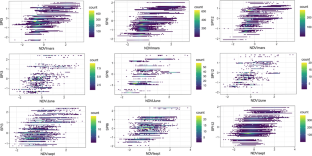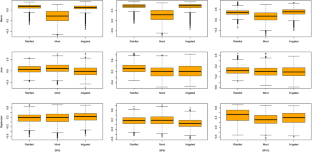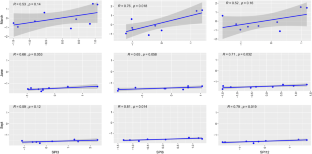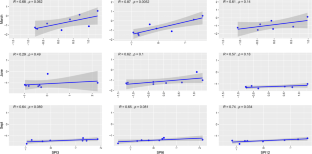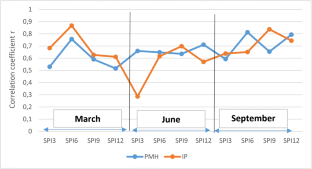 References
Ait Brahim Y, Saidi MEM, Kouraiss K et al (2017) Analysis of observed climate trends and high resolution scenarios for the 21st century in Morocco. J Mater Env Sci 8:1375–1384

Almazroui M, Islam MN (2019) Coupled model inter-comparison project database to calculate drought indices for Saudi Arabia: a preliminary assessment. Earth Syst Environ 3:419–428. https://doi.org/10.1007/s41748-019-00126-9

Ambroggi R, Thuille G (1952) Les plaines et les plateaux du domaine marginal de l'Atlas, Haouz de Marrakech. In: Hydrogéologie du Maroc. Notes mémoire Services Géologique, Maroc

Amossé C, Jeuffroy M-H, David C (2013) Relay intercropping of legume cover crops in organic winter wheat: effects on performance and resource availability. F Crop Res 145:78–87. https://doi.org/10.1016/j.fcr.2013.02.010

Benabdelouahab T, Gadouali F, Boudhar A, Lebrini Y, Hadria R, Salhi A (2020) Analysis and trends of rainfall amounts and extreme events in the Western Mediterranean region. Theor Appl Climatol 141:309–320. https://doi.org/10.1007/s00704-020-03205-4

Benassi M (2008) Drought and climate change in Morocco. Analysis of precipitation field and water supply. Options Méditérr 80:83–87

Bennaceur M, Gharbi MS, Paul R (1999) L'amélioration variétale et les autres actions contribuant à la sécurité alimentaire en Tunisie, en matière de céréales. Sécheresse (Montrouge) 10:27–33

Bhuiyan C (2004) Various drought indices for monitoring drought condition in Aravalli terrain of India. In: Proceedings of the XXth ISPRS Congress. Istanbul, Turkey, pp 12–23

Bijaber N, El Hadani D, Saidi M et al (2018) Developing a remotely sensed drought monitoring indicator for Morocco. Geosciences 8:55. https://doi.org/10.3390/geosciences8020055

Bordi I, Sutera A (2001) Fifty years of precipitation: some spatially remote teleconnnections. Water Resour Manag 15:247–280. https://doi.org/10.1023/A:1013353822381

Bouamri H, Boudhar A, Gascoin S, Kinnard C (2018) Performance of temperature and radiation index models for point-scale snow water equivalent (SWE) simulations in the Moroccan High Atlas Mountains. Hydrol Sci J 63:1844–1862. https://doi.org/10.1080/02626667.2018.1520391

Boudhar A, Hanich L, Boulet G et al (2009) Evaluation of the snowmelt runoff model in the Moroccan High Atlas Mountains using two snow-cover estimates. Hydrol Sci J 54:1094–1113. https://doi.org/10.1623/hysj.54.6.1094

Bhunia P, Das P, Maiti R (2020) Meteorological drought study through SPI in three drought prone districts of West Bengal, India. Earth Syst Environ 4:43–55. https://doi.org/10.1007/s41748-019-00137-6

Bzioui M (2004) Rapport national 2004 sur les ressources en eau au Maroc. UN Water-Africa, Rabat

Caccamo G, Chisholm LA, Bradstock RA, Puotinen ML (2011) Assessing the sensitivity of MODIS to monitor drought in high biomass ecosystems. Remote Sens Environ 115:2626–2639. https://doi.org/10.1016/j.rse.2011.05.018

Caloiero T, Veltri S, Caloiero P, Frustaci F (2018) Drought analysis in Europe and in the Mediterranean basin using the standardized precipitation index. Water 10:1043. https://doi.org/10.3390/w10081043

Dadaser-Celik F, Brezonik PL, Stefan HG (2008) Agricultural and environmental changes after irrigation management transfer in the Develi Basin, Turkey. Irrig Drain Syst 22:47–66. https://doi.org/10.1007/s10795-007-9032-4

De Jalón SG, Iglesias A, Cunningham R, Díaz JIP (2014) Building resilience to water scarcity in southern Spain: a case study of rice farming in Doñana protected wetlands. Reg Environ Chang 14:1229–1242. https://doi.org/10.1007/s10113-013-0569-5

De Keersmaecker W, Lhermitte S, Hill MJ et al (2017) Assessment of regional vegetation response to climate anomalies: a case study for Australia using GIMMS NDVI time series between 1982 and 2006. Remote Sens 9:34. https://doi.org/10.3390/rs9010034

Dhakar R, Sehgal VK, Pradhan S (2013) Study on inter-seasonal and intra-seasonal relationships of meteorological and agricultural drought indices in the Rajasthan State of India. J Arid Environ 97:108–119. https://doi.org/10.1016/j.jaridenv.2013.06.001

Dikshit A, Pradhan B, Alamri AM (2020a) Short-term spatio-temporal drought forecasting using random forests model at New South Wales, Australia. Appl Sci 10:4254. https://doi.org/10.3390/app10124254

Dikshit A, Pradhan B, Alamri AM (2020b) Temporal hydrological drought index forecasting for New South Wales, Australia using machine learning approaches. Atmosphere 11:585. https://doi.org/10.3390/atmos11060585

Duchemin B, Hadriab R, Errakib S et al (2006) Monitoring wheat phenology and irrigation in Central Morocco: on the use of relationships between evapotranspiration, crops coefficients, leaf area index and remotely-sensed vegetation indices. Agric Water Manag 79:1–27. https://doi.org/10.1016/j.agwat.2005.02.013

El Faïz M (1999) Les aménagements hydro-agricoles dans le grand Haouz de Marrakech: histoire d'une idée. in Usages, stratégies et cultures de l'eau en Méditerranée Occidentale: tensions, conflits et régulations, Séminaire d'Avignon, l'Harmattan, Paris, 60–78

El Ibrahimi A, Abdennasser B, Couscous A, El Kamel T (2015) Étude de l'impact des variations pluviométriques sur les fluctuations piézométriques des nappes phréatiques superficielles en zone semi-aride (cas de la plaine de Saïss, Nord du Maroc). Euro Sc J 11:64–80

Ezzahar J, Chehbouni A, Hoedjes JCB, Er-Raki S, Chehbouni A, Boulet G, Bonnefond JM, de Bruin HAR (2007) The use of the scintillation technique for monitoring seasonal water consumption of olive orchards in a semi-arid region. Agric Water Manag 89:173–184. https://doi.org/10.1016/j.agwat.2006.12.015

Ezzine H, Bouziane A, Ouazar D (2014) Seasonal comparisons of meteorological and agricultural drought indices in Morocco using open short time-series data. Int J Appl Earth Obs Geoinf 26:36–48. https://doi.org/10.1016/j.jag.2013.05.005

Fink AH (2010) Atmosphere. In: Impacts of global change on the hydrological cycle in west and Northwest Africa. Springer-Verlag, Berlin Heidelberg, pp 132–163. https://doi.org/10.1007/978-3-642-12957-5

Fniguire F, Laftouhi NE, Saidi ME, Zamrane Z, el Himer H, Khalil N (2017) Spatial and temporal analysis of the drought vulnerability and risks over eight decades in a semi-arid region (Tensift basin: Morocco). Theor Appl Climatol 130:321–330. https://doi.org/10.1007/s00704-016-1873-z

FAO: Food and Agricultural Organization (2018) Food and Agriculture data, available from: http://www.fao.org, last access: 1 October 2018

Gao X, Giorgi F (2008) Increased aridity in the Mediterranean region under greenhouse gas forcing estimated from high resolution simulations with a regional climate model. Glob Planet Chang 62:195–209. https://doi.org/10.1016/j.gloplacha.2008.02.002

García-Haro FJ, Campos-Taberner M, Sabater N, Belda F, Moreno A, Gilabert MA, Martínez B, Pérez-Hoyos A, Meliá J (2014) Vegetation vulnerability to drought in Spain. Rev Teledetección:29–38. https://doi.org/10.4995/raet.2014.2283

Gessner U, Naeimi V, Klein I, Kuenzer C, Klein D, Dech S (2013) The relationship between precipitation anomalies and satellite-derived vegetation activity in Central Asia. Glob Planet Chang 110:74–87. https://doi.org/10.1016/j.gloplacha.2012.09.007

Gidey E, Dikinya O, Sebego R, Segosebe E, Zenebe A (2018) The spatio-temporal meteorological drought characteristics using the Standardized Precipitation Index (SPI) in Raya and its environs, Northern Ethiopia. Earth Syst Environ 2:281–292. https://doi.org/10.1007/s41748-018-0057-7

González-Hidalgo JC, Vicente-Serrano SM, Peña-Angulo D, Salinas C, Tomas-Burguera M, Beguería S (2018) High-resolution spatio-temporal analyses of drought episodes in the western Mediterranean basin (Spanish mainland, Iberian Peninsula). Acta Geophys 66:381–392. https://doi.org/10.1007/s11600-018-0138-x

Gopinath G, Ambili GK, Gregory SJ, Anusha CK (2015) Drought risk mapping of south-western state in the Indian peninsula–a web based application. J Environ Manag 161:453–459. https://doi.org/10.1016/j.jenvman.2014.12.040

Gouveia CM, Trigo RM, Beguería S, Vicente-Serrano SM (2017) Drought impacts on vegetation activity in the Mediterranean region: an assessment using remote sensing data and multi-scale drought indicators. Glob Planet Chang 151:15–27. https://doi.org/10.1016/j.gloplacha.2016.06.011

Hadri A, Saidi ME, Saouabe T et al (2020) Temporal trends in extreme temperature and precipitation events in an arid area: case of Chichaoua Mejjate region (Morocco). J Water Clim Change:jwc2020234. https://doi.org/10.2166/wcc.2020.234

Hadria R, Boudhar A, Ouatiki H et al (2019) Combining use of TRMM and ground observations of annual precipitations for meteorological drought trends monitoring in Morocco. Am J Remote Sens 7:25–34. https://doi.org/10.11648/j.ajrs.20190702.11

Heim RR Jr (2002) A review of twentieth-century drought indices used in the United States. Bull Am Meteorol Soc 83:1149–1166. https://doi.org/10.1175/1520-0477-83.8.1149

Herrmann SM, Didan K, Barreto-Munoz A, Crimmins MA (2016) Divergent responses of vegetation cover in southwestern US ecosystems to dry and wet years at different elevations. Environ Res Lett 11:124005

Hertig E, Tramblay Y (2017) Regional downscaling of Mediterranean droughts under past and future climatic conditions. Glob Planet Chang 151:36–48. https://doi.org/10.1088/1748-9326/11/12/124005

Hoerling M, Eischeid J, Perlwitz J, Quan X, Zhang T, Pegion P (2012) On the increased frequency of Mediterranean drought. J Clim 25:2146–2161. https://doi.org/10.1175/JCLI-D-11-00296.1

Jarlan L, Khabba S, Er-Raki S, le Page M, Hanich L, Fakir Y, Merlin O, Mangiarotti S, Gascoin S, Ezzahar J, Kharrou MH, Berjamy B, Saaïdi A, Boudhar A, Benkaddour A, Laftouhi N, Abaoui J, Tavernier A, Boulet G, Simonneaux V, Driouech F, el Adnani M, el Fazziki A, Amenzou N, Raibi F, el Mandour A, Ibouh H, le Dantec V, Habets F, Tramblay Y, Mougenot B, Leblanc M, el Faïz M, Drapeau L, Coudert B, Hagolle O, Filali N, Belaqziz S, Marchane A, Szczypta C, Toumi J, Diarra A, Aouade G, Hajhouji Y, Nassah H, Bigeard G, Chirouze J, Boukhari K, Abourida A, Richard B, Fanise P, Kasbani M, Chakir A, Zribi M, Marah H, Naimi A, Mokssit A, Kerr Y, Escadafal R (2015) Remote sensing of water resources in semi-arid Mediterranean areas: the joint international laboratory TREMA. Int J Remote Sens 36:4879–4917. https://doi.org/10.1080/01431161.2015.1093198

Karrou M, Oweis T (2014) Assessment of the severity and impact of drought spells on rainfed cereals in Morocco. Afr J Agric Res 9:3519–3530

Kelley C, Ting M, Seager R, Kushnir Y (2012) Mediterranean precipitation climatology, seasonal cycle, and trend as simulated by CMIP5. Geophys Res Lett 39. https://doi.org/10.1029/2012GL053416

Khan R, Gilani H, Iqbal N, Shahid I (2020) Satellite-based (2000–2015) drought hazard assessment with indices, mapping, and monitoring of Potohar plateau, Punjab, Pakistan. Environ Earth Sci 79:23. https://doi.org/10.1007/s12665-019-8751-9

Lana X, Serra C, Burgueño A (2001) Patterns of monthly rainfall shortage and excess in terms of the standardized precipitation index for Catalonia (NE Spain). Int J Climatol A J R Meteorol Soc 21:1669–1691. https://doi.org/10.1002/joc.697

Le Page M, Berjamy B, Fakir Y et al (2012) An integrated DSS for groundwater management based on remote sensing. The case of a semi-arid aquifer in Morocco. Water Resour Manag 26:3209–3230. https://doi.org/10.1007/s11269-012-0068-3

Lebrini Y, Boudhar A, Hadria R, Lionboui H, Elmansouri L, Arrach R, Ceccato P, Benabdelouahab T (2019) Identifying agricultural systems using SVM classification approach based on phenological metrics in a semi-arid region of Morocco. Earth Syst Environ 3:277–288. https://doi.org/10.1007/s41748-019-00106-z

Li Z, Zhou T, Zhao X, Huang K, Wu H, du L (2016) Diverse spatiotemporal responses in vegetation growth to droughts in China. Environ Earth Sci 75:55. https://doi.org/10.1007/s12665-015-4781-0

Lloyd-Hughes B, Saunders MA (2002) A drought climatology for Europe. Int J Climatol A J R Meteorol Soc 22:1571–1592. https://doi.org/10.1002/joc.846

Lorenzo-Lacruz J, Vicente-Serrano SM, González-Hidalgo JC, López-Moreno JI, Cortesi N (2013) Hydrological drought response to meteorological drought in the Iberian Peninsula. Clim Res 58:117–131. https://doi.org/10.3354/cr01177

Lorenzo-Lacruz J, Vicente-Serrano SM, López-Moreno JI, Beguería S, García-Ruiz JM, Cuadrat JM (2010) The impact of droughts and water management on various hydrological systems in the headwaters of the Tagus River (Central Spain). J Hydrol 386:13–26. https://doi.org/10.1016/j.jhydrol.2010.01.001

Loukas A, Vasiliades L (2004) Probabilistic analysis of drought spatiotemporal characteristics inThessaly region, Greece. Nat Hazards Earth Syst Sci 4:719–731. https://doi.org/10.5194/nhess-4-719-2004

Masek JG, Vermote EF, Saleous NE, Wolfe R, Hall FG, Huemmrich KF, Gao F, Kutler J, Lim TK (2006) A Landsat surface reflectance dataset for North America, 1990-2000. IEEE Geosci Remote Sens Lett 3:68–72. https://doi.org/10.1109/LGRS.2005.857030

Mathbout S, Lopez-Bustins JA, Royé D, Martin-Vide J, Bech J, Rodrigo FS (2018) Observed changes in daily precipitation extremes at annual timescale over the eastern Mediterranean during 1961–2012. Pure Appl Geophys 175:3875–3890. https://doi.org/10.1007/s00024-017-1695-7

McKee TB (1995) Drought monitoring with multiple time scales. In: Proceedings of 9th Conference on Applied Climatology, Boston

Merabti A, Martins DS, Meddi M, Pereira LS (2018) Spatial and time variability of drought based on SPI and RDI with various time scales. Water Resour Manag 32:1087–1100. https://doi.org/10.1007/s11269-017-1856-6

Milewski A, Seyoum WM, Elkadiri R, Durham M (2020) Multi-scale hydrologic sensitivity to climatic and anthropogenic changes in northern Morocco. Geosciences 10:13

Mishra Ashok K, Singh Vijay P (2010) A review of drought concepts [J]. J Hydrol 391:202–216

Morell FJ, Lampurlanés J, Álvaro-Fuentes J, Cantero-Martínez C (2011) Yield and water use efficiency of barley in a semiarid Mediterranean agroecosystem: long-term effects of tillage and N fertilization. Soil Tillage Res 117:76–84

Mu Q, Zhao M, Kimball JS, McDowell NG, Running SW (2013) A remotely sensed global terrestrial drought severity index. Bull Am Meteorol Soc 94:83–98

Mustafa A, Rahman G (2018) Assessing the spatio-temporal variability of meteorological drought in Jordan. Earth Syst Environ 2:247–264. https://doi.org/10.1007/s41748-018-0071-9

Nicholson SE, Tucker CJ, Ba MB (1998) Desertification, drought, and surface vegetation: an example from the west African Sahel. Bull Am Meteorol Soc 79:815–830

Okin GS, Dong C, Willis KS, Gillespie TW, MacDonald GM (2018) The impact of drought on native southern California vegetation: remote sensing analysis using MODIS-derived time series. J Geophys Res Biogeosci 123:1927–1939

Oroud IM (2018) Global warming and its implications on meteorological and hydrological drought in the southeastern Mediterranean. Environ Process 5:329–348

Ouatiki H, Boudhar A, Ouhinou A, Arioua A, Hssaisoune M, Bouamri H, Benabdelouahab T (2019) Trend analysis of rainfall and drought over the Oum Er-Rbia River Basin in Morocco during 1970–2010. Arab J Geosci 12:128

Ozelkan E, Chen G, Ustundag BB (2016) Multiscale object-based drought monitoring and comparison in rainfed and irrigated agriculture from Landsat 8 OLI imagery. Int J Appl Earth Obs Geoinf 44:159–170. https://doi.org/10.1016/j.jag.2015.08.003

Ozkan B, Akcaoz H (2002) Impacts of climate factors on yields for selected crops in the southern Turkey. Mitig Adapt Strateg Glob Chang 7:367–380

Paniagua LL, García-Martín A, Moral FJ, Rebollo FJ (2019) Aridity in the Iberian Peninsula (1960–2017): distribution, tendencies, and changes. Theor Appl Climatol 138:811–830

Piras M, Mascaro G, Deidda R, Vivoni ER (2014) Quantification of hydrologic impacts of climate change in a Mediterranean basin in Sardinia, Italy, through high-resolution simulations. Hydrol Earth Syst Sci Discuss 11:8493–8535

Quenum GMLD, Klutse NAB, Dieng D, Laux P, Arnault J, Kodja JD, Oguntunde PG (2019) Identification of potential drought areas in West Africa under climate change and variability. Earth Syst Environ 3:429–444. https://doi.org/10.1007/s41748-019-00133-w

Radfar M, Van Camp M, Walraevens K (2013) Drought impacts on long-term hydrodynamic behavior of groundwater in the tertiary–quaternary aquifer system of Shahrekord Plain, Iran. Environ Earth Sci 70:927–942. https://doi.org/10.1007/s12665-012-2182-1

Ruf T (2017) L'accès à l'eau, une question de justice pluriscalaire. In: "Un défi pour la planète", IRD Éditions, pp 253–262. https://doi.org/10.4000/books.irdeditions.21441

Ruf T, Kleiche-Dray M (2018) Les eaux d'irrigation du Haouz de Marrakech: un siècle de confrontations des modèles de gestion publics, privés et communautaires. EchoGéo 43(43). https://doi.org/10.4000/echogeo.15258

Rulinda CM, Dilo A, Bijker W, Stein A (2012) Characterising and quantifying vegetative drought in East Africa using fuzzy modelling and NDVI data. J Arid Environ 78:169–178. https://doi.org/10.1016/j.jaridenv.2011.11.016

Salmon JM, Friedl MA, Frolking S, Wisser D, Douglas EM (2015) Global rain-fed, irrigated, and paddy croplands: a new high resolution map derived from remote sensing, crop inventories and climate data. Int J Appl Earth Obs Geoinf 38:321–334. https://doi.org/10.1016/j.jag.2015.01.014

Schillinger WF, Schofstoll SE, Alldredge JR (2008) Available water and wheat grain yield relations in a Mediterranean climate. F Crop Res 109:45–49. https://doi.org/10.1016/j.fcr.2008.06.008

Seager R, Osborn TJ, Kushnir Y, Simpson IR, Nakamura J, Liu H (2019) Climate variability and change of Mediterranean-type climates. J Clim 32:2887–2915. https://doi.org/10.1175/JCLI-D-18-0472.1

Sen PK (1968) Estimates of the regression coefficient based on Kendall's tau. J Am Stat Assoc 63:1379–1389. https://doi.org/10.1080/01621459.1968.10480934

Simonneaux V, Le Page M, Helson D et al (2009) Estimation spatialisée de l'Evapotranspiration des cultures irriguées par télédétection. Application à la gestion de l'Irrigation dans la plaine du Haouz (Marrakech, Maroc). Sci Chang planétaires/Sécheresse 20:123–130

SINAN M, BOUSSETTA M, EL RHERARI A (2009) Changements climatiques: causes et conséquences sur le climat et les ressources en eau. Séminaire International sur le dessalement des eaux. Anafid J, 142

Sippel S, Otto FEL (2014) Beyond climatological extremes-assessing how the odds of hydrometeorological extreme events in south-East Europe change in a warming climate. Clim Chang 125:381–398. https://doi.org/10.1007/s10584-014-1153-9

Sousa PM, Trigo RM, Aizpurua P, Nieto R, Gimeno L, Garcia-Herrera R (2011) Trends and extremes of drought indices throughout the 20th century in the Mediterranean. Nat Hazards Earth Syst Sci 11:33–51. https://doi.org/10.5194/nhess-11-33-2011

Speth P, Christoph M, Diekkrüger B (2010) Impacts of global change on the hydrological cycle in west and Northwest Africa. Springer-Verlag, Berlin Heidelberg. https://doi.org/10.1007/978-3-642-12957-5

Strohmeier S, López López P, Haddad M, Nangia V, Karrou M, Montanaro G, Boudhar A, Linés C, Veldkamp T, Sterk G (2019) Surface runoff and drought assessment using global water resources datasets - from Oum Er Rbia Basin to the Moroccan country scale. Water Resour Manag 34:2117–2133. https://doi.org/10.1007/s11269-019-02251-6

Theil H (1950) A rank-invariant method of linear and polynominal regression analysis (parts 1–3). In: Ned. Akad. Wetensch. Proc. Ser. A. pp. 1397–1412

Tognetti R, Lasserre B, Di Febbraro M, Marchetti M (2019) Modeling regional drought-stress indices for beech forests in Mediterranean mountains based on tree-ring data. Agric For Meteorol 265:110–120. https://doi.org/10.1016/j.agrformet.2018.11.015

Tramblay Y, Hertig E (2018) Modelling extreme dry spells in the Mediterranean region in connection with atmospheric circulation. Atmos Res 202:40–48. https://doi.org/10.1016/j.atmosres.2017.11.015

Tucker CJ (1979) Monitoring the grasslands of the Sahel 1984-1985. Remote Sens Environ 8:127–150. https://doi.org/10.1080/01431168608948954

Vermote E, Justice C, Claverie M, Franch B (2016) Preliminary analysis of the performance of the Landsat 8/OLI land surface reflectance product. Remote Sens Environ 185:46–56. https://doi.org/10.1016/j.rse.2016.04.008

Vicente-Serrano SM (2007) Evaluating the impact of drought using remote sensing in a Mediterranean, semi-arid region. Nat Hazards 40:173–208. https://doi.org/10.1007/s11069-006-0009-7

Vicente-Serrano SM, Azorin-Molina C, Peña-Gallardo M et al (2018) A high-resolution spatial ass essment of the impacts of drought variability on vegetation activity in Spain from 1981 to 2015. Nat Hazards Earth Syst Sci Discuss:1–52. https://doi.org/10.5194/nhess-2018-356

Vicente-Serrano SM, Gouveia C, Camarero JJ, Begueria S, Trigo R, Lopez-Moreno JI, Azorin-Molina C, Pasho E, Lorenzo-Lacruz J, Revuelto J, Moran-Tejeda E, Sanchez-Lorenzo A (2013) Response of vegetation to drought time-scales across global land biomes. Proc Natl Acad Sci 110:52–57 https://doi.org/10.1073/pnas.1207068110

Vicente-Serrano SM, López-Moreno JI, Drumond A, Gimeno L, Nieto R, Morán-Tejeda E, Lorenzo-Lacruz J, Beguería S, Zabalza J (2011) Effects of warming processes on droughts and water resources in the NW Iberian Peninsula (1930− 2006). Clim Res 48:203–212. https://doi.org/10.3354/cr01002

Wang H, Chen A, Wang Q, He B (2015) Drought dynamics and impacts on vegetation in China from 1982 to 2011. Ecol Eng 75:303–307. https://doi.org/10.1016/j.ecoleng.2014.11.063

Wang XL (2008) Accounting for autocorrelation in detecting mean shifts in climate data series using the penalized maximal t or F test. J Appl Meteorol Climatol 47:2423–2444. https://doi.org/10.1175/2008JAMC1741.1

Wang XL, Feng Y (2013) RHtestsV4 user manual, vol 17. Climate Research Division Atmospheric Science and Technology Directorate Science and Technology Branch, Environment Canada Toronto, Ontario

Wilhite DA (2000) Drought as a natural hazard: concepts and definitions. In: Wilhite DA (ed) Drought: a global assessment, natural hazards and disasters series. Routledge Publishers, London, pp 3–18

Zargar A, Sadiq R, Naser B, Khan FI (2011) A review of drought indices. Environ Rev 19:333–349. https://doi.org/10.1139/a11-013

Zittis G (2018) Observed rainfall trends and precipitation uncertainty in the vicinity of the Mediterranean, Middle East and North Africa. Theor Appl Climatol 134:1207–1230. https://doi.org/10.1007/s00704-017-2333-0

Zkhiri W, Tramblay Y, Hanich L, Jarlan L, Ruelland D (2019) Spatiotemporal characterization of current and future droughts in the High Atlas basins (Morocco). Theor Appl Climatol 135:593–605. https://doi.org/10.1007/s00704-018-2388-6
Additional information
Responsible Editor: Amjad Kallel
About this article
Cite this article
Hadri, A., Saidi, M.E.M. & Boudhar, A. Multiscale drought monitoring and comparison using remote sensing in a Mediterranean arid region: a case study from west-central Morocco. Arab J Geosci 14, 118 (2021). https://doi.org/10.1007/s12517-021-06493-w
Received:

Accepted:

Published:
Keywords
Remote sensing

Drought

SPI

SWI

NDVI

Morocco