Abstract
Agricultural tillage practices play an important role in the production and consumption of greenhouse gases (GHGs) that contribute substantially to the global warming. To explore GHG diffusion characteristic and seek for environment-friendly tillage methods, four tillage systems consisting of continuous rotary tillage (CR), continuous no tillage (CN), ploughing-rotary tillage (PR), and ploughing-no tillage (PN) were designed, and vertical variations of GHG concentrations under different tillage systems were investigated. Mean CO2 concentration in the soil profile was increased significantly with the increase of soil depth. Higher soil moisture promoted CO2 production. However, the influence of soil temperature on the content of CO2 was not obvious. The concentrations of CH4 in soil at 0–20-cm depth were greater than that of 20–40 cm, which was mainly affected by fertilization. The trend of N2O concentration variation in soil was consistent with that of CO2. The diffusion flux of CO2 in soil was all positive, and it changes greatly in the whole growth cycle of maize, which had obvious correlation with precipitation. The CH4 diffusion flux decreased with the increase of soil depth, and the change trend of 0–20-cm soil layer diffusion flux was consistent with the gas concentration. The 20–40-cm soil layer fluctuated greatly, which was mainly affected by water content, and the whole value was negative after jointing. The trend of N2O diffusion flux was similar to that of CH4. In the whole maize growth period, except for CH4 in 20–40-cm soil layer, the cumulative diffusion fluxes of greenhouse gases in each treatment were all positive, indicating that the whole farmland soil was the emission source of greenhouse gases. The effect of three greenhouse gases on greenhouse effect was CO2 > N2O > CH4, and the comprehensive warming potential of different tillage methods was CN > CR > PR> PN. So PN is the best tillage mode to reduce GHG emissions in soil profile under the test conditions.
Access options
Buy single article
Instant access to the full article PDF.
US$ 39.95
Tax calculation will be finalised during checkout.
Subscribe to journal
Immediate online access to all issues from 2019. Subscription will auto renew annually.
US$ 79
Tax calculation will be finalised during checkout.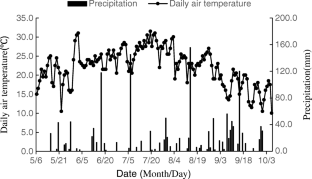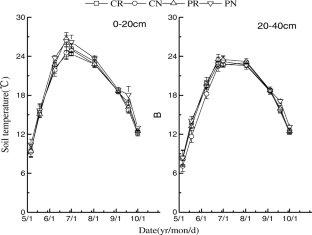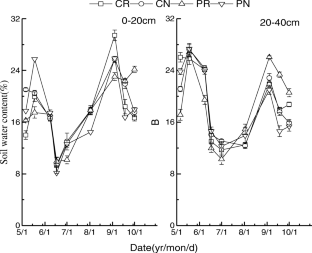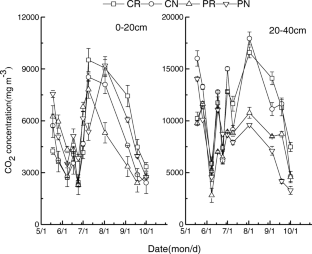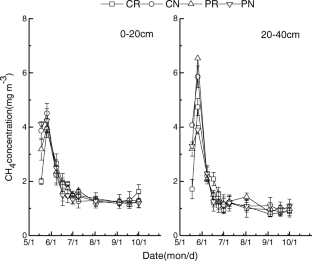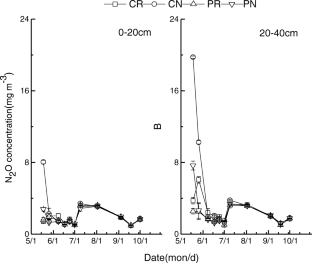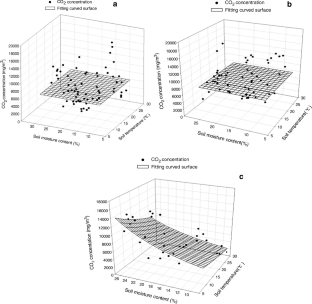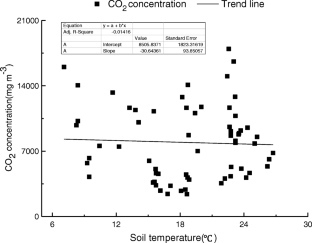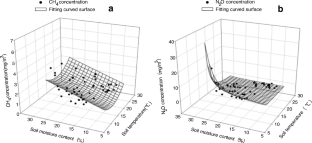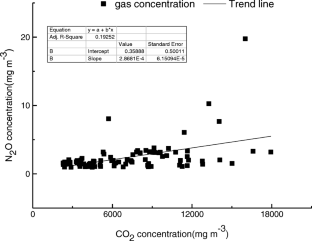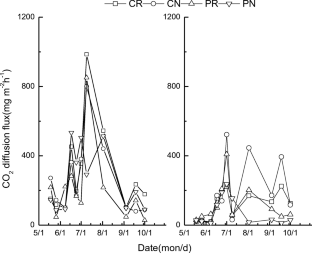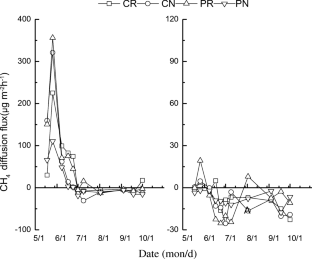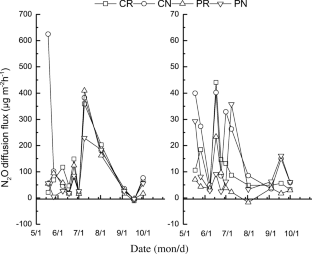 References
Ahmad S, Li CF, Dai GZ, Zhan M, Wang JP, Pan SG, Cao CG (2009) Greenhouse gas emission from direct seeding paddy field under different rice tillage systems in central China. Soil Tillage Res 106:54–61

Alexander L, Allen S, Bindoff NL (2013) Climate change 2013: the physical science basis—summary for policymakers. Intergovernmental Panel on Climate Change

Chen D, Molina JAE, Clapp CE, Venterea RT, Palazzo AJ (2005) Corn root influence on automated measurement of soil carbon dioxide concentrations. Soil Sci 170:779–787

Choudhary MA, Akramkhanov A, Saggar S (2002) Nitrous oxide emissions from a New Zealand cropped soil: tillage effects, spatial and seasonal variability. Agric Ecosyst Environ 93:33–43

Chu HY, Hosen Y, Yagi K (2007) NO, N2O, CH4 and CO2 fluxes in winter barley field of Japanese Andisol as affected by N fertilizer management. Soil Biol Biochem 39:330–339

Ding J, Yu S (2017) Plant-specificity of microbial community and function in rhizosphere Soil. J Ecol Environ 26:902–910 (in Chinese)

Fan JL, Luo RY, Liu DY, Chen ZM, Luo JF, Boland N, Tang JW, Hao MD, McConkey B, Ding WX (2018) Stover retention rather than no-till decreases the global warming potential of rain fed continuous maize cropland. Field Crop Res 219:14–23

Fang HJ, Yang XM, Zhang XP (2003) The progress of study on soil organic carbon dynamics in cropland. Chin J Soil Sci 34:562–568 (in Chinese)

Fierer N, Chadwick OA, Trumbore SE (2005) Production of CO2 in soil profiles of a California annual grassland. Ecosystems 8:412–429

Franzluebbers AJ, Hons FM, Zuberer DA (1995) Tillage-induced seasonal changes in soil physical properties affecting soil CO2 evolution under intensive cropping. Soil Tillage Res 34:41–60

Gao HJ, Peng C, Zhang XZ, Li Q, Jia LH, Zhu P (2019) Effects of different straw returning modes on characteristics of soil aggregates in chernozem soil. J Soil Water Conserv 33:75–79

Griggs DJ, Noguer M (2002) Climate change 2001: the scientific basis. Contribution of Working Group I to the Third Assessment Report of the Intergovernmental Panel on Climate Change. Weather 57:267–269

Guo LL, Nishimura T, Miyazaki T, Imoto H (2015) Behavior of carbon dioxide in soils affected by tillage systems[J]. Paddy Water Environ 13:291–301

Hansen JE, Lacis AA (1990) Sun and dust versus greenhouse gases: an assessment of their relative roles in global climate change. Nature 346(6286):713–719

Hellebrand HJ, Kalk WD (2001) Emission of methane, nitrous oxide, and ammonia from dung windrows. Nutr Cycl Agroecosyst 60:83–87

Hendrix PF, Han CR, Groffman PM (1988) Soil respiration in conventional and no-tillage agroecosystems under different winter cover crop rotations. Soil Tillage Res 12:135–148

Hou LY, Wang ZP, Wang JM, Wang B, Zhou SB, Li LH (2012) Growing season in situ uptake of atmospheric methane by desert soils in a semiarid region of northern China [J]. Geoderma 189:415–422

Huang JX, Chen YQ, Liu WR, Zheng HB, Sui P, Li YY, Shi XP, Nei SW, Gao WS (2011) Effect on net greenhouse gases emission under different conservation tillages in Jilin Province. Sci Agric Sin 44:2935–2942

Jassal RS, Black TA, Drewitt GB (2004) A model of the production and transport of CO2 in soil: predicting soil CO2 concentrations and CO2 efflux from a forest floor. Agric For Meteorol 124:219–236

Kavdir Y, Hellebrand HJ, Kernb J (2008) Seasonal variations of nitrous oxide emission in relation to nitrogen fertilization and energy crop types in sandy soil. Soil Tillage Res 98:175–186

Kessavalou A, Mosier AR, Doran JW, Drijber RA, Lyon DJ, Heinemeyer O (1998) Fluxes of carbon dioxide, nitrous oxide, and methane in grass sod and winter wheat-fallow tillage management. J Environ Qual 27:1094–1104

Kumar U, Jain MC, Kumar S, Pathak S, Majumdar D (2007) Role of nitrification inhibitors on nitrous oxide emissions in a fertilized alluvial clay loam under different moisture regimes. Curr Sci 79:224–228

Kusa K, Sawamoto T, Hu RG, Hatano R (2010) Comparison of N2O and CO2 concentrations and fluxes in the soil profile between a Gray Lowland soil and an Andosol [J]. Soil Sci Plant Nutr 56:186–199

Lee XH, Wu HJ, Sigler J, Oishi AC, Siccama T (2009) Rapid and transient response of soil respiration to rain. Glob Chang Biol 10:1017–1026

Lenka NK, Lal R (2013) Soil aggregation and greenhouse gas flux after 15 years of wheat straw and fertilizer management in a no-till system. Soil Tillage Res 126:78–89

Li CF, Cao CG, Wang JP, Zhai ZB, Mei SH (2009) CH4 and CO2 emissions from paddy soils and assessment of carbon budget in different tillage systems. J Agric Environ Sci 28:2482–2488 (in Chinese)

Li DM, Liu MQ, Cheng YH, Wang D, Qin JT, Jiao JG, Li HX, Hu F (2011) Methane emissions from double-rice cropping system under conventional and no tillage in southeast China. Soil Tillage Res 113:77–81

Li ZJ, Sui P, Wang XL, Yang XL, Long P, Cui JX, Yan LL, Chen YQ (2017) Comparison of net GHG emissions between separated system and crop-swine integrated system in the North China Plain. J Clean Prod 149:653–664

Melillo JM, Steudler PA, Aber JD, Newkirk K, Lux H, Bowles FP, Catricala C, Magill A, Ahrens T, Morrisseau S (2002) Soil warming and carbon-cycle feedbacks to the climate system. Science 298(5601):2173–2176

Mer JL, Roger P (2001) Production, oxidation, emission and consumption of methane by soils: a review. Eur J Soil Biol 37:25–50

Mosier AR, Klemedtsson LK, Sommerfeld RA, Musselman RC (1993) Methane and nitrous oxide flux in a Wyoming subalpine meadow. Glob Biogeochem Cycles 7:771–784

Nan WG, Yue SC, Huang HZ, Li SQ, Shen YF (2016) Effects of plastic film mulching on soil greenhouse gases (CO2, CH4 and N2O) concentration within soil profiles in maize fields on the Loess Plateau, China. J Integr Agric 15:451–464

Omonode RA, Vyn TJ, Smith DR, Hegymegi P, Gál A (2007) Soil carbon dioxide and methane fluxes from long-term tillage systems in continuous corn and corn-soybean rotations. Soil Tillage Res 95:182–195

Oorts K, Merckx R, Gréhan E, Labreuche J, Nicolardot B (2007) Determinants of annual fluxes of CO2 and N2O in long-term no-tillage and conventional tillage systems in northern France. Soil Tillage Res 95:133–148

Pandey D, Agrawal M, Bohra JS (2012) Greenhouse gas emissions from rice crop with different tillage permutations in rice–wheat system. Agric Ecosyst Environ 159:133–144

Pandey D, Agrawal M, Bohra JS (2013) Impact of four tillage permutations in rice–wheat system on GHG performance of wheat cultivation through carbon footprinting. Ecol Eng 60:261–270

Pathak H, Bhatia A, Prasad S, Singh S, Kumar U, Jain MC, Kumar U (2002) Emission of nitrous oxide from rice-wheat systems of Indo-Gangetic Plains of India. Environ Monit Assess 77:163–178

Rodhe H (1990) A comparison of the contribution of various gases to the greenhouse. Science 248(4960):1217–1219

Schütt M, BorkenW SO, Stange CF, Matzner E (2014) Temperature sensitivity of C and N mineralization in temperate forest soils at low temperatures. Soil Biol Biochem 69:320–327

Smith P, Martino D, Cai ZC, Gwary D, Janzen H, Kumar P, Mccarl B, Ogle S, O'Mara F, Rice C, Scholes B, Sirotenko O, Howden M, McAllister T, Pan GX, Romanenkov V, Schneider U, Towprayoon S, Wattenbach M, Smith J (2008) Greenhouse gas mitigation in agriculture. Philos Trans R Soc B Biol Sci 363(1492):789–813

Solomon SD, Qin DW, Manning M, Chen ZN, Marquis M, Avery KB, Tignor M, Miller HL (2007) Climate change 2007: the physical science basis. Contribution of working group I to the fourth assessment report of the Intergovernmental Panel on Climate Change. Summary for policymakers. Intergovern Panel Clim Chang 18:95–123

Steinbach HS, Alvarez R (2006) Changes in soil organic carbon contentsand nitrous oxide emissions after introduction of no-till in Pampean agroecosystems. J Environ Qual 35:3–13

Ussiri DAN, Lal R, Jarecki MK (2009) Nitrous oxide and methane emissions from long-term tillage under a continuous corn cropping system in Ohio. Soil Tillage Res 104:247–255

Wang YY, Hu CS, Ming H, Zhang YM, Li XX, Dong WX, Oenemab O (2013) Concentration profiles of CH4, CO2 and N2O in soils of a wheat-maize rotation ecosystem in North China Plain, measured weekly over a whole year[J]. Agric Ecosyst Environ 164:260–272

Xu SS, Hou PF, Xue LH, Wang SH, Yang LZ (2017) Treated domestic sewage irrigation significantly decreased the CH4, N2O and NH3, emissions from paddy fields with straw incorporation. Atmos Environ 169:1–10

Yao PW (2017) Response of profile distribution and net emission of greenhouse gases in dry farmland to crops, nitrogen fertilizer and mulching [D]. University of Chinese Academy of Sciences (Research Center for soil and water conservation and ecological environment, Ministry of education, Chinese Academy of Sciences).(in Chinese)

Yin C, Zhou ZF, Tian ZH, Cao MD, Zhang J, Pan YX, Wang YL (2017) Seasonal response between soil CO2 and Karst cave CO2 concentration. J Soil Water Conserv 31:304–310+337 (in Chinese)

Zhang J, Hang XN, Lamine SM, Jiang Y, Afreh D, Qian HY, Feng XM, Zheng CY, Deng AX, Song ZW, Zhang WJ (2017) Interactive effects of straw incorporation and tillage on crop yield and greenhouse gas emissions in double rice cropping system. Agric Ecosyst Environ 250:37–43

Zhu XY, Chang L, Liu J, Zhou MH, Li JJ, Gao B, Wu DH (2016) Exploring the relationships between soil fauna, different tillage regimes and CO2 and N2O emissions from black soil in China. Soil Biol Biochem 103:106–116
Funding
This research was carried out with support from the National Key Research and Development Program of China (2016YFD0300807 and 2018YFD0300201).
Ethics declarations
Conflict of interest
The authors declare that they have no competing interests.
Additional information
This article is part of the Topical Collection on Geological Modeling and Geospatial Data Analysis
About this article
Cite this article
Jiao, S., Sui, B., Wang, H. et al. Comparative effects of long-term conventional tillage and no-till systems on greenhouse gas emissions in continuous maize monoculture soil in a semi-arid temperate climate. Arab J Geosci 14, 181 (2021). https://doi.org/10.1007/s12517-021-06472-1
Received:

Accepted:

Published:
Keywords
Conventional tillage

No tillage

Greenhouse gas emission

Soil profile

Greenhouse effect