Abstract
Baotu spring, known widely as the most famous spring in China, has experienced continuous water level drops, especially during the dry season. Artificial recharge (AR) to groundwater via the Yufu river has been conducted to maintain the required water level to keep regional springs flowing. The purpose of this study is to evaluate the effects of recharge on groundwater. A three-dimensional numerical model was built to simulate groundwater level changes after recharge was applied to the Yufu river. The model was calibrated using hydraulic heads measured at multiple monitoring wells. The results showed that AR is an effective way to maintain the groundwater level in a region where groundwater was excessively exploited for irrigation and industry use. In the studied region, the response of groundwater level to AR near the Yufu river was faster in the west than that in the east as a result of different hydrogeologic conditions. Furthermore, different springs responded differently to AR. For example, the water level increases at the Baotu and Heihu springs were 0.06 m and 0.04 m, respectively, whereas other springs experienced decreases. This implies that a more detailed hydrogeologic characterization is necessary to determine the preferential flow paths and low permeability layers in order to maximize the effect of AR for sustainable groundwater management.
Access options
Buy single article
Instant access to the full article PDF.
US$ 39.95
Tax calculation will be finalised during checkout.
Subscribe to journal
Immediate online access to all issues from 2019. Subscription will auto renew annually.
US$ 79
Tax calculation will be finalised during checkout.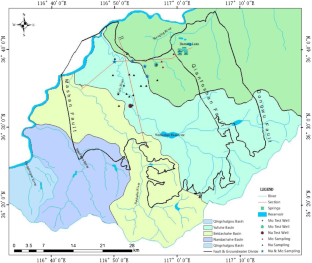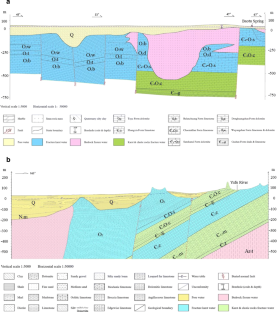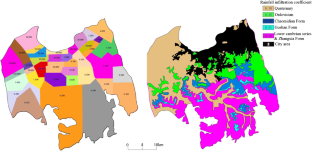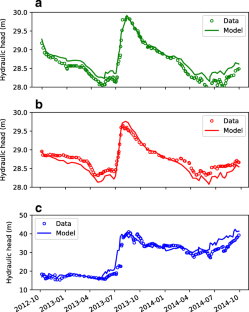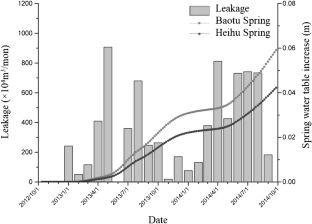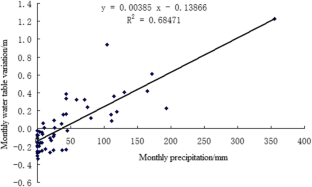 References
Bianchi M, Zheng C (2016) A lithofacies approach for modeling nonFickian solute transport in a heterogeneous alluvial aquifer, Water Resour. Res. 52:552–565. https://doi.org/10.1002/2015WR018186

Guo Z, Brusseau ML (2017) The impact of well-field configuration and permeability heterogeneity on contaminant mass removal and plume persistence. J Hazard Mater 333:109–115

Guo Z, Fogg GE, Brusseau ML, LaBolle EM, Lopez J (2019a) Modeling groundwater contaminant transport in the presence of large heterogeneity: a case study comparing MT3D and RWhet. Hydrogeol J 27:1363–1371

Guo Z, Fogg GE, Henri CV (2019b) Upscaling of regional scale transport under transient conditions: evaluation of the multirate mass transfer model. Water Resour Res 55:5301–5320. https://doi.org/10.1029/2019WR024953

Guo Z, Brusseau ML, Fogg GE (2019c) Determining the long-term operational performance of pump and treat and the possibility of closure for a large TCE plume. J Hazard Mater 365:796–803. https://doi.org/10.1016/j.jhazmat.2018.11.057

Chen K, Zhan H, Yang Q (2017) Fractional models simulating non-Fickian behavior in four-stage single-well push-pull tests. Water Resour Res 53:9528–9545. https://doi.org/10.1002/2017WR021411

Chen K, Zhan H, Burns ER, Ingebritsen SE, Agrinier P (2018) The influence of episodic shallow magma degassing on heat and chemical transport in volcanic hydrothermal systems. Geophys Res Lett 45:3068–3076. https://doi.org/10.1002/2017GL076449

Harbaugh, A.W., 2005, MODFLOW-2005, the U.S. Geological Survey modular ground-water model -- the Ground-Water Flow Process: U.S. Geological Survey Techniques and Methods 6-A16.

Li J (2003) Spring protection research in Jinan city. Res Soil Water Conserv 10(3):142–144

Xu, Jun-Xiang, Xing, L.T., Tong, G.Y. and Fan, L.Q., 2004. Groundwater environment evolution and its conservation in Jinan spring catchment. Hydrogeol Eng Geol (6): 69-73.

Li W, Sun Q, Wang W, Qu S, Zhang Z, Xu Q et al (2019) Effective water quantity of multi-source water recharging aquifers in Yufuhe River based on groundwater and surface water semi-coupled modelling. Water Supply 19:2280–2287. https://doi.org/10.2166/ws.2019.109

Rumbaugh JO, Rumbaugh DB (2007) Groundwater Vistas. Environmental Solutions Inc., Reinholds, PA www.groundwatermodels.com

Sun, X.H., 2004. Land-use change of Jinan spring field and its driving forces. Remote Sensing for Land & Resources(1): 63-67.

Tang YQ (2009) Summarize of spring protection in Jinan. J Anhui Agric Sci 37(26):12814–12819

Vanderzalm J, Page D, Dillon P, Lawson J, Grey N, Sexton D, Williamson D (2014) A risk-based management plan for Mount Gambier stormwater recharge system: stormwater recharge to the Gambier Limestone aquifer. Goyder Inst Water Res Tech Rep 14(7)

Wang MM, WANG MM, SHU LC, JI YF, TAO YF, DONG GM, LIU L (2008) Causes of spring's of flux attenuation and simulation of spring's regime——a case in Jinan karst spring area. Carsologica Sinica 27(1). https://doi.org/10.1016/S18763804(08)60015-4

Wei D, Qiu M, Ding H, Ma Y, Yan M, Jiang S, Shi C, Han Z, Chen R, Ji X, Sheng H, Zhang H, Zhang Z (2018) Scientific and technological support plan for pilot project of water ecosystem- experimental study on groundwater recharge (in Chinese), Shandong Geological and Mineral Engineering. Group Co., Ltd

Xi D, Sun B, Qin P (2017) Research On Jinan Springs. Jinan Press, Jinan

Xi, D., Cao, Y., and Li, X., 1988, Hydrogeological exploration report for maraining springs in Jinan City, Shandong Province, Geol Min Eng Surv Inst Shandong.

Yang, L., Ye, H., Tong, Z., Liu, C. and Hao, S., 2012. Research of the impact of major construction projects to Jinan spring. Geotechnical Investigation & Surveying(5): 42-48.

Zhao Y (2015) Jinan Spring Water Geography. Jinan Press, Jinan

Zheng, C. M., & Wang, P. P., 1999. MT3DMS: a modular three-dimensional multispecies transport model for simulation of advection, dispersion, and chemical reactions of contaminants in groundwater systems; documentation and user's guide. Contract Report SERDP-99-1.Vicksburg, Mississippi: U.S. Army Engineer Research and Development Center.
Funding
This work was financially supported partially by Natural Science Foundation of Guangdong Province (CN) (2020A1515010891), State Environmental Protection Key Laboratory of Integrated Surface Water-Groundwater Pollution Control; Shenzhen Peacock Plan (KQTD2016022619584022), and the Leading Talents of Guangdong Province program awarded to Chunmiao Zheng (No. 2016LJ06N469).
Additional information
Responsible Editor: Broder J. Merkel
About this article
Cite this article
Jiang, A., Liu, Y., Yi, S. et al. Impact of artificial recharge on groundwater and springs: Jinan, China, case study. Arab J Geosci 14, 111 (2021). https://doi.org/10.1007/s12517-020-06394-4
Received:

Accepted:

Published:
Keywords
Artificial aquifer recharge

Heterogeneity

Groundwater level

Groundwater management