Abstract
Thermal springs in the Jiangcang Basin occur in a typical geothermal zone along the northeastern edge of the Qinghai-Tibet Plateau in the northern Qilian orogenic belt. The thermal spring water (TSW) in this region can be divided into three groups on the basis of temperature and salinity, but the origin and recharge-discharge mechanism of the geothermal fluid remain unclear. The chemical and isotopic characteristics of these thermal springs were studied, and the genesis of the thermal system hosted by deep-seated faults was assessed. The results indicate that the springs in this region are of meteoric origin and heated via deep circulation through well-developed faults. The TSW in the Datong River washland and in the southern part of the basin are derived from carbonate rocks recharged from Datong Mountain, whereas the TSW in the northern part of the basin originates from silicates recharged from Tuolai Mountain. Differences in the circulation depth, flow pathway, residence time, and mixing relationship with cold water lead to different TWS characteristics. The results are used to establish a conceptual model of the origins and circulation of the Jiangcang thermal springs. These findings provide a geological and scientific basis for the development and use of geothermal resources in the northeastern Qinghai-Tibet Plateau.
Access options
Buy single article
Instant access to the full article PDF.
US$ 39.95
Tax calculation will be finalised during checkout.
Subscribe to journal
Immediate online access to all issues from 2019. Subscription will auto renew annually.
US$ 79
Tax calculation will be finalised during checkout.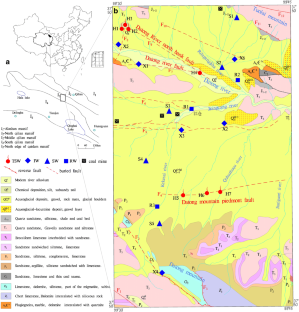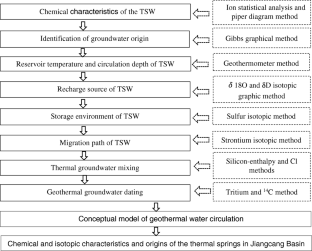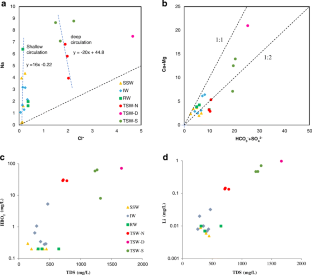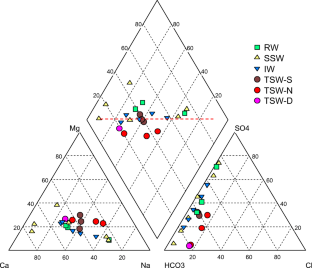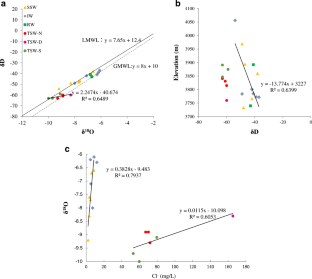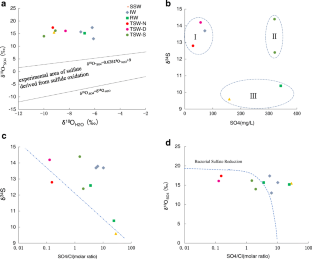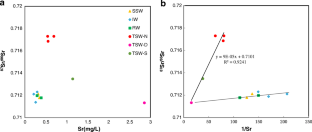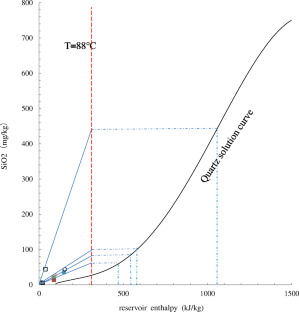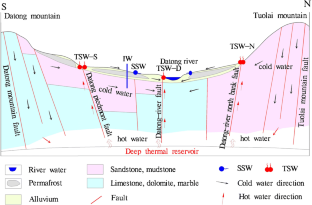 References
Bo Y, Liu CL, Zhao YJ, Wang LC (2015) Chemical and isotopic characteristics and origin of spring waters in the Lanping–Simao Basin, Yunnan, Southwestern China. Chemie der Erde 75:287–300

Brook CA, Marina RH, Mabey DR (1979) Hydrothermal convection systems with reservoir temperature ≥90 °C. Assessment of geothermal resources of the United States – 1978. Geol. Surv. Circ 790:18–85

Caron ME, Grasby SE, Cathryn RM (2008) Spring water trace element geochemistry: a tool for resource assessment and reconnaissance mineral exploration. Appl. Geochem 23:3561–3578

Chatterjee S, Sinhal UK, Deodhar AS, Md Arzoo A, Nathu S, Ajay KS, Aggarwal RK, Ashutosh D (2017) Isotope–geochemical characterization and geothermometrical modeling of Uttarakhand geothermal field, India. Environ. Earth Sci 76:638

Chen XH, Shao ZG, Xiong XS, Gao R, Liu XJ, Wang CF, Li B, Wang ZZ, Zhang YP (2019) Fault system, deep structure and tectonic evolution of the Qilian Orogenic Belt, Northwest China. Geology in China 46(5):995–1020 (in Chinese with English abstract)

Craig H (1961) Isotopic variations in meteoric waters. Science 133(3465):1702–1703

Davraz A (2008) Hydrogeochemical and hydrogeological investigations of thermal waters in the Usak Area (Turkey). Environ. Geol 04. 54(3):615–628

Edmunds WM, Guendouz AH, Mamou A, Moulla A, Shand P, Zouari K (2003) Groundwater evolution in the Continental Intercalaire aquifer of southern Algeria and Tunisia: trace element and isotopic indicators. Appl. Geochem 18(6):805–822

Fan YF, Pang ZH, Liao DW, Tian J, Hao YL, Huang TM, Li YM (2019) Hydrogeochemical characteristics and Genesis of geothermal water from the Ganzi geothermal field, eastern Tibetan Plateau. Water 11:1631. https://doi.org/10.3390/w11081631

Favara RO, Grassa F, Inguaggiato S, Valenza M (2001) Hydrogeochemistry and stable isotopes of thermal springs: earthquake-related chemical changes along Belice Fault (Western Sicily). Appl. Geochem. 16:1–17

Fontes JC, Garnier JM (1979) Determination of the initial 14C activity of the total dissolved carbon: a review of the existing models and a new approach. Water. Resour. Res 15:399–413

Fournier RO (1981) Application of water geochemistry to geothermal exploration and reservoir engineering. In: Rybach L, Muffler LJP (eds) Geothermal Systems: Principles and Case Histories. John Wiley and Sons Ltd., New York, pp 109–143

Fu CC, Li XQ, Ma JF, Liu LX, Gao M, Bai ZX (2018) A hydrochemistry and multi-isotopic study of groundwater origin and hydrochemical evolution in the middle reaches of the Kuye River basin. Appl. Geochem. 98:82–93

Gibson ML, Hinman NW (2013) Mixing of hydrothermal water and groundwater near hot springs, Yellowstone National Park (USA): hydrology and geochemistry. Hydrol. J. 21:919–933

Giggenbach WF (1988) Geothermal solute equilibria. Derivation of Na–K–Mg–Ca geoindicators. Geochim. Cosmochim. Acta 52:2749–2765

Giggenbach WF, Gonfiantini R, Jangi BL, Truesdell AH (1983) Isotopic and chemical composition of parbati valley geothermal discharges, North-West Himalaya, India. Geotherm 12:199–222

Han G, Liu CQ (2004) Water geochemistry controlled by carbonate dissolution: a study of the river waters draining karst-dominated terrain, Guizhou province, China. Chem. Geol. 204(1):1–21. https://doi.org/10.1016/j.chemgeo.2003.09.009

Jonathan GW, Jonathan BS, Bogdan PO (2010) Sulfur isotopic composition and the source of dissolved sulfur species in thermo-mineral springs of the Cerna Valley, Romania. Chem Geol 271:31–43

Keenan JH, Keyes FG, Hill PG, Moore JG (1969) Steam tables (International Edition-MetricUnits). JohnWiley, NewYork, p 162

Khadija S, Osman A, Rashid AA, Talal AH, Clark ID (2017) Strontium isotopes as a tool for estimation of groundwater recharge and aquifer connectivity. Groundw Sustain Dev 4:1-11

Li HD, Zhang SQ, Bai JQ, Zhou JY, Shi WD, Zhao Y (2007) Hydrochemistry and origin of the Yaoshuitan geothermal field, Xining, Qinghai. Acta Geologica Sinica 81:1299–1304

Li XQ, Hou XW, Zhou ZC, Liu LX (2014) Geochemical characterization and origins of the thermal springs in southern Gaoligong Mountains, China. Environ. Earth Sci 72:3089–3098

Liu YG (2013) Using hydrochemical and isotope tracers analyzing to delineate hydrologic process in cold alpine watershed in rainy season. PhD thesis in CNKI 4:27–30

Liu YP, Zhou X, Deng ZJ, Fang B, Tsutomu Y, Zhao JB, Wang XC (2015) Hydrochemical characteristics and genesis analysis of the Jifei hot spring in Yunnan, southwestern China. Geothermics 53:38–45

Odum HT (1957) Strontium in natural waters. Inst. Mar. Sci. 4:22–37

Pearson FJ (1965) Use of C-13/C-12 ratios to correct radiocarbon ages of material initially diluted by Limestone. In: Radiocarbon and Tritium Dating, Proceedings of the Sixth International Conference on Radiocarbon. Pullman Washington, pp. 357–366.

Pearson FJ, Hanshaw BB(1970) Sources of dissolved carbonate species in groundwater and their effects on carbon-14 dating. In: Isotopehydrology. IAEA, Vienna, pp 271–286

Qi JH, Li X, Xu M, Yi L, Zhang Q, Qin LM, Li KD (2018) Origin of saline springs in Yanjing, Tibet: Hydrochemical and isotopic characteristics. Appl. Geochem 98:164–176

Ravikumar P, Somashekar RK (2011) Environmental tritium ((3)H) and hydrochemical investigations to evaluate groundwater in Varahi and Markandeya river basins, Karnataka, India. J. Environ. Radioact 102(2):153–162

Regional hydrogeological survey report of Yeniutai, 1978, 1:200000, (In Chinese).

Regional hydrogeological survey report of Zhihema, 1987, 1:200000, (In Chinese).

Sabria K, Marrero-Diazb R, Ntarmouchanta A, Bento dos Santos T, Ribeiro ML, Solá AR, Smaili H, Benslimanea A, Chibout M, Pérez NM, Padrón E, Melián GV, Asensio-Ramos M, Carreira PM, Jesus AP (2019) Geology and hydrogeochemistry of the thermo-mineral waters of the South Rif Thrust (Northern Morocco). Geothermics 78:28–49

Song S, Niu Y, Su L, Xia X (2013) Tectonics of the North Qilian orogen, NW China. Gondwana Res 23:1378–1401

Tamers MA (1975) Validity of radiocarbon dates on ground water. Surv. Geophys 2(2):217–239

Tan HB, Zhang W, Chen J, Jiang S, Kong N (2012) Isotope and geochemical studies for a geothermal assessment of the Xining basin and adjacent areas, northeastern Tibetan Plateau. Geothermics 42:47–55

Tan H, Zhang Y, Zhang W, Kong N, Zhang Q, Huang J (2014) Understanding the circulation of geothermal waters in the Tibetan Plateau using oxygen and hydrogen stable isotopes. Appl. Geochem 51:23–32

Tong W, Zhang MT (1989) Geothermal springs in Tengchong. Science Press, Beijing (in Chinese)

Truesdell AH, Fournier RO (1977) Procedure for estimating the temperature of a hot water component in a mixed water using a plot of dissolved silica vs. enthalpy. US Geol. Surv. J. Res 5:49–52

Truesdell AH, Hulston JR (2017) Hydrogeochemistry and genesis analysis of thermal and mineral springs in Arxan, Northeastern China. Water 9:61. https://doi.org/10.3390/w9010061

Van Stempvoort DR, Krouse HR (1994) Controls of δ18O in sulfate: review of experimental data and application to specific environments. pp. 446–480. DOI: https://doi.org/10.1021/bk-1994-0550.ch029

Vonsée B, Crijns GW, Liu W (2019) Energy technology dependence—a value chain analysis of geothermal power in the EU. Energy 178:419–435

Wang GL, Zhang FW, Liu ZM (2000) An analysis of present situation and prospect of geothermal energy development and utilization in the world. Acta Geoscientia Sinica 21:124–137

Wang ZL, Zhang J, Liu CQ (2007) Strontium isotopic compositions of dissolved and suspended loads from the main channel of the Yangtze River. Chemosphere 69(7):1081–1088. https://doi.org/10.1016/j.chemosphere.2007.04.031

Wang YS, Chen JS, Chen L (2009) Tracing groundwater with strontium iso-topic compositions in the Hexi Corridor Basin, Northwestern China. Adv. Water Resour. Hydraul. Eng:184–187 (in Chinese with English abstract)

Wei WH, Ma R, Sun Z, Zhou A, Bu J, Long X, Liu Y (2018) Effects of mining activities on the release of heavy metals (HMs) in a typical mountain headwater region, the Qinghai-Tibet Plateau in China. Int. J. Environ. Res. Public Health 15:1987. https://doi.org/10.3390/ijerph15091987

Zhao LJ, Yin L, Xiao HL, Cheng GD, Zhou MX, Yang YG, Li CZ, Zhou J (2011) Isotopic evidence for the moisture origin and composition of surface runoff in the headwaters of the Heihe River basin. Chinese Sci Bull 56, doi: https://doi.org/10.1007/s11434-010-4278-x

Zhao RS, Shan XL, Yi J, Du XL, Liang Y, Zhang YF (2018) Geochemistry of HCO3-Na thermal water from the Gudian slope: Insights into fluid origin, formation mechanism and circulation in the Yitong Basin, Northeast China. Appl. Geochem 91:185–196

Zhou X, Li J, Zhou H, Fang B, Yu L, Li S (2008) Increase in thermal groundwater due to a flowing well near the Songshan hot spring in Beijing, China. Environ. Geol 53:1405–1411

Zsolt AB, Doris S, Markus AL, Klinge H (2002) S- and O- isotopic character of dissolved sulphate in the cover rock aquifers of a Zechstein salt dome. Appl Geochem 17:1515–1528
Acknowledgments
We thank Esther Posner, PhD, from Liwen Bianji, Edanz Editing China (www.liwenbianji.cn/ac), for editing the English text of a draft of this manuscript.
Code availability
Not applicable.
Funding
This research was funded by the National Natural Science Foundation of China (NSFC, Grant No. 41302190).
Ethics declarations
Conflict of interest
The authors declare that they have no conflict of interest.
Additional information
Responsible Editor: Broder J. Merkel
About this article
Cite this article
Wang, Z., Li, X. Chemical and isotopic characteristics and origins of thermal springs in the Jiangcang Basin, China. Arab J Geosci 14, 317 (2021). https://doi.org/10.1007/s12517-020-06391-7
Received:

Accepted:

Published:
Keywords
Thermal springs

Hydrochemistry

Isotopes

Reservoir temperature

Jiangcang Basin