Abstract
This study is an attempt to analyse the spatial distribution of traffic noise levels in the city of Delhi through the creation of noise maps with the help of GIS. Field measurements were conducted at 10 locations consisting of different land-use patterns. It was observed that the measured ambient noise levels at all the locations were violating the prescribed limits as prescribed by CPCB. Noise levels were found to be in proportion to the vehicular population. Noise level values obtained from the developed noise maps have given very close results to the measured values. The percentage difference between the predicted noise level and the monitored noise level was found to be between 4 and 7%. This study will help the concerned authorities to identify the hot spots of noise within the city and to take appropriate actions to curb the noise pollution in those particular areas.
Access options
Buy single article
Instant access to the full article PDF.
US$ 39.95
Tax calculation will be finalised during checkout.
Subscribe to journal
Immediate online access to all issues from 2019. Subscription will auto renew annually.
US$ 79
Tax calculation will be finalised during checkout.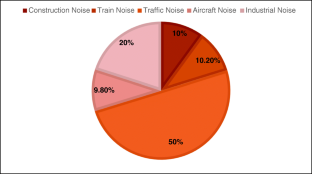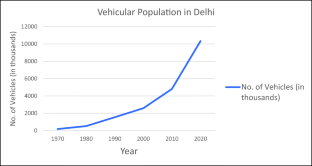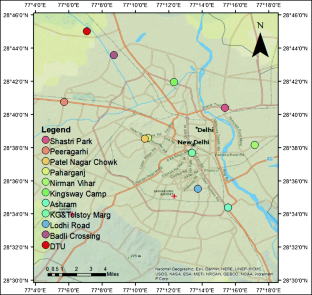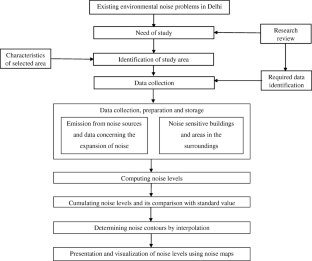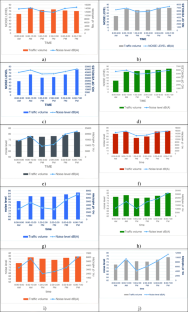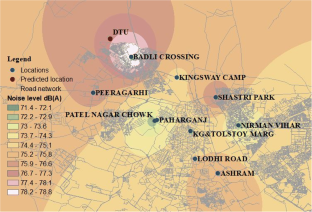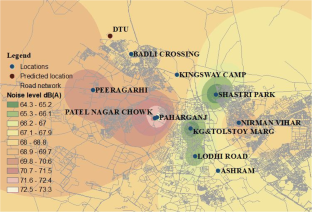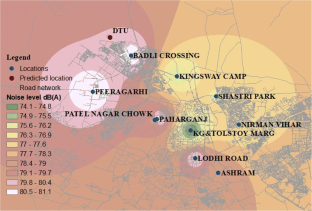 References
Akhtar N, Ahmad K, Gangopadhyay S (2012) Road traffic noise mapping and a case study for Delhi region. International Journal of Applied Engineering and Technology 2(4):39–45

Akhtar N, Ahmad K, Alam P. Noise monitoring and mapping for some pre-selected locations of New Delhi, India. Fluctuation and Noise Letters, 2016; 15(2): 1650019-1-1650019-12.

Akiladevi AR, Renganathan T, Aravindkumar R, Banupriya R, Vanisri S (2015) Mapping of noise pollution by using GIS on busy corridors in Chennai. Journal of Chemical and Pharmaceutical Sciences 8(4):739–744

Alam W (2011) GIS based assessment of noise pollution in Guwahati city of Assam, India. Int J Environ Sci 2(2):743–751

Banerjee D, Chakraborty SK, Bhattacharyya S, Gangopadhyay A (2009) Appraisal and mapping the spatial-temporal distribution of urban road traffic noise. Int J Environ Sci Technol 6(2):325–335

Bocher E, Guillaume G, Picaut J, Petit G, Fortin N (2019) Noise modelling: an open source GIS based tool to produce environmental noise maps. International Journal of Geo-Information 8:130. https://doi.org/10.3390/ijgi8030130

Cai M, Zou J, Xie J, Ma X (2015) Road traffic noise mapping in Guangzhou using GIS and GPS. Appl Acoust 87:94–102

Cai M, Yao Y, Wang H (2018) Urban traffic noise maps under 3D complex building environments on a supercomputer. J Adv Transp 2018:1–10. https://doi.org/10.1155/2018/7031418

Daniele B (2005) Noise abatement strategies in urban areas: the role of local authorities. Acta Acustica United with Acustica:65–68

Das P, Talukdar S, Ziaul Sk, Das S, Pal S. Noise mapping and assessing vulnerability in meso level urban environment of Eastern India. Sustainable Cities and Society, 2019; 46, 101416. https://doi.org/10.1016/j.scs.2019.01.001

Deng Y, Cheng JCP, Anumba C (2016) A framework for 3D traffic noise mapping using data from BIM and GIS integration. Struct Infrastruct Eng 12(10):1267–1280

Murphy Enda, Rice Henry J, Meskell Craig, Environmental noise prediction, noise mapping and GIS integration: the case of inner Dublin, Ireland, 8 th International Symposium, Transport Noise and Vibration, St. Petersburg, Russia, 2006.

Fiedler PEK, Zannin PHT (2015) Evaluation of noise pollution in urban traffic hubs-Noise maps and measurements. Environ Impact Assess Rev 51:1–9

Goines L, Hagler L (2007) Noise pollution: a modern plague. South Med J 100(3):287–294

Guzel Y, Yuksel H (2006) Mapping of noise by using GIS in Sanliurfa. Environ Monit Assess 121:103–108

Halonen J, Lanki T, Yli-Tuomi T, Turunen AW, Penti J (2014) Association of traffic noise with self-rated health, Scandinavian. Journal of work, health, and environment 40(3):235–243

Harman BI, Koseoglu H, Yigit CO (2016) Performance evaluation of IDW, Kriging and multiquadric interpolation methods in producing noise mapping: a case study at the city of Isparta, Turkey. Appl Acoust 112:147–157

Henk DK, Jantien S (2003) Noise mapping and GIS: optimizing quality and efficiency of noise effect studies. Comput Environ Urban Syst 27:85–102

Hu WC, Xu SH (2009) Research of noise map technology in urban areas. Noise Vibration and Control 12(s2):30–34

John H, Andrew J, Kevin H (2005) BUMP – the Birmingham updated noise mapping. Acta Acustica United with Acustica 1:66–68

Joshi AN, Joshi NC, Rane PP (2015) Noise mapping in Mumbai city, India. Int J Innov Sci Eng Technol 2(3):380–385

Kalaiselvi R, Ramachandraiah A. Environmental noise mapping study for heterogeneous traffic conditions. Proceedings of 20th International Congress on Acoustics, ICA 2010, 23-27 August 2010, Sydney, Australia.

Kang TT, Lin MD, Chen YH (2009) Noise mapping in urban environments: a Taiwan study. Appl Acoust 70:964–972

Kenneth K, Eddie D, James C (2007) Community and regional noise mapping in the United States. Sound and Vibration 9:14–17

Kim M, Chang SI, Seong JC, Holt JB, Park TH, Ko JH, Croft JB (2012) Road traffic noise: annoyance, sleep disturbance, and public health implications. Am J Prev Med 43(4):353–360

Klaeboe R, Engelien E, Steinnes M (2006) Context sensitive noise impact mapping. Appl Acoust 67:620–642

Ko JH, Chang S, Lee BC (2011) Noise impact assessment by utilizing noise map and GIS: a case study in the city of Chungju, Republic of Korea. Applied Acoustics 72:544–550

Kumar R, Mukherjee A, Singh VP (2017) Traffic noise mapping of Indian roads through smartphone user community participation. Environ Monit Assess 189:17. https://doi.org/10.1007/s10661-016-5741-1

Law C, Lee C, Lui AS, Yeung MK, Lam K (2011) Advancement of three-dimensional noise mapping in Hong Kong. Appl Acoust 72:534–543

Manojkumar N, Basha K, Srimuruganandam B (2019) Assessment, prediction and mapping of noise levels in Vellore city, India. Noise Mapping 6(1):38–51

Manvsll D, Ballarin LM, Stapelfeldt H. SADMAN – combining measurements and calculations to map noise in Madrid. The 33th international congress and exposition on noise control engineering, Prague; 2004.

Maschke C, Niemann H (2007) Noise induced annoyance and morbidity results from Pan-European LARES study. Noise and Health Journal 8(31):63–79

Mehdi MR, Kim M, Seong JC, Arsalan MH (2011) Spatio-temporal patterns of road traffic noise pollution in Karachi, Pakistan. Environ Int 37:97–104

Obaidat MT (2008) Spatial mapping of traffic noise levels in urban areas. Journal of the Transportation Research Forum 47:89–102

Oyedepoa SO, Adeyemib GA, Olawole OC et al (2019) A GIS – based method for assessment and mapping of noise pollution in Ota metropolis, Nigeria. Methods X 6:447–457

Pinto ANCP, Mardones DMM (2009) Noise mapping of densely populated neighborhoods-example of Copacabana, Rio de Janeiro – Brazil. Environ Monit Assess 155:309–318

Popp C (2003) Noise abatement planning in German-experiences and consequence of the EU directive on the assessment of environmental noise. Acta Acustica United with Acustica 1:65–67

Recio A, Linares C, Banegas JR, Díaz J (2016) Road traffic noise effects on cardiovascular, respiratory, and metabolic health: an integrative model of biological mechanisms. Environ Res 146:359–370

Shi W, Seo IC, Young M (2008) Utilizing noise mapping for environmental impact assessment in a downtown redevelopment area of Seoul, Korea. Appl Acoust 69:704–714

Sonaviya DR, Tandel BN (2019a) 2-D noise maps for tier-2 city urban Indian roads. Noise Mapping 6(1):1–7

Sonaviya DR, Tandel BN (2019b) A review on GIS-based approach for road traffic noise mapping. Indian J Sci Technol 14(12):1–6. https://doi.org/10.17485/ijst/2019/v12i14/132481

Stansfeld SA, Matheson MP (2003) Noise pollution: non auditory effect on health. Br Med Bull 68(1):243–257

Suárez E, Barros JL (2014) Traffic noise mapping of the city of Santiago de Chile. Sci Total Environ 466-467:539–546

Tiwari K, Jha S, Tandel BN. GIS based approach for noise mapping of urban road traffic. NAP-2017, S.V.N.I.T., Surat, India.

WG-AEN: Assessment of exposure to noise. Good practice guide for strategic noise mapping and the production of associated data on noise exposure, version 2. European Commission Working Group; 2007.

WHO (World Health Organization). Burden of disease from environmental noise: quantification of healthy life years lost in Europe, WHO Regional Office for Europe, 2011. http://www.euro.who.int/__data/assets/pdf_file/0008/136466/e94888.pdf

Zhao WJ, Liu EX, Poh HJ, Wanga B, Gao SP et al (2017) 3D traffic noise mapping using unstructured surface mesh representation of buildings and roads. Appl Acoust 127:297–304

Zhou M (2007) Traffic noise mapping of Guangzhou inner ring road. Journal of South China University of Technology (Nat Sci Ed) 35:136–139
Additional information
Responsible Editor: Amjad Kallel
About this article
Cite this article
Mishra, R.K., Nair, K., Kumar, K. et al. Dynamic noise mapping of road traffic in an urban city. Arab J Geosci 14, 122 (2021). https://doi.org/10.1007/s12517-020-06373-9
Received:

Accepted:

Published:
Keywords
GIS

Noise maps, Traffic noise