Abstract
The present study is based on the subsurface distribution of trace elements, rare earth elements, and radioactive elements collected from three core samples in the Podampata region near the Rusikulya river mouth on the eastern coast of Odisha, India. This is the first study of the depth dependence of trace elements within sediments along the eastern coast of India. Elemental abundance and mobility in beach regions depend on the source rock and geomorphic agents. The abundance of trace elements, REEs, and radioactive elements was analyzed using instrumental neutron activation analysis (INAA). The mean concentrations of Al, K, Ti, Mn, Cr, Fe, Zn, La, Ce, Dy, Hf, Ta, and Th exposed in each core are higher when compared to those in the upper continental crust, whereas the values for Co, Rb, Sb, and Ba are lower than the upper continental crustal values. The Th/U ratio is around nine times higher in each core sample and has a positive correlation with the total rare earth elements in the study area. A depth of 2–2.5 m in the core is an economically viable zone for the exploration of REEs and other metals as it is observed to be enriched in heavy minerals. The core samples that are at a greater distance from the river are more compacted, and as a result, the zone of accumulation of the elements progresses to deeper levels with distant from the river mouth.
Access options
Buy single article
Instant access to the full article PDF.
US$ 39.95
Tax calculation will be finalised during checkout.
Subscribe to journal
Immediate online access to all issues from 2019. Subscription will auto renew annually.
US$ 79
Tax calculation will be finalised during checkout.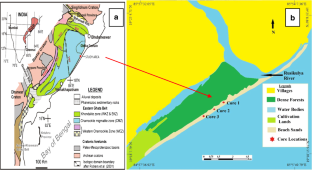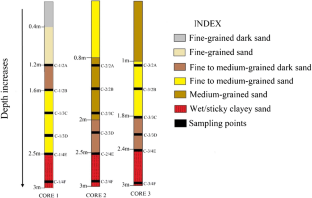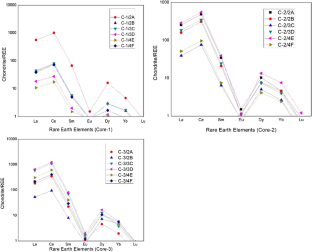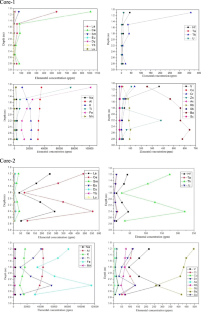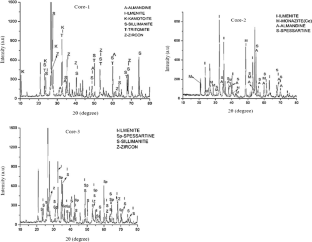 References
Al-Bassam K, Magna T (2018) Distribution and significance of rare earth elements in Cenomanian–Turonian phosphate components and mudstones from the Bohemian Cretaceous Basin, Czech Republic. Bull Geosci 93(3):347–368

Altrin JSA (2020) Detrital zircon U–Pb geochronology and geochemistry of the Riachuelos and Palma Sola beach sediments, Veracruz State, Gulf of Mexico: a new insight on palaeoenvironment. J Palaeogeogr 9:28. https://doi.org/10.1186/s42501-020-00075-9

Ashraf A (2016) Rare earth elements in core marine sediments of coastal East Malaysia by instrumental neutron activation analysis. Applied Radiations and Isotopes 107:17–23

Belousova EA, Griffin WL, O'reilly SY (2006) Zircon crystal morphology, trace element signatures and Hf isotope composition as a tool for petrogenetic modelling: examples from Eastern Australian granitoids. J Petrol 47(2):329–353. https://doi.org/10.1093/petrology/egi077

Biswal TK, Sinha S (2003) Deformation history of the NW salient of the Eastern Ghats Mobile Belt, India. J Asian Earth Sci 22:157–169

Calvert SP (1993) Geochemistry of recent oxic and anoxic sediments: implications for the geological record. Mar Geol 113:67–88. https://doi.org/10.1016/0025-3227(93)90150-T

Chetty TRK (2001) The Eastern Ghats Mobile Belt, India: A Collage of Juxtaposed Terranes (?). Gondwana Research 4:319–328

Chowdhury MAH, Hoque MM, Hossain SM, Naher K, Islam MA, Tamim U, Alam KMS, Khan R (2017) Analysis of heavy metals and other elements in textile waste using neutron activation analysis and atomic absorption spectrophotometry. J. Environ. Sci. Toxicol. Food Technol 11:14–23. https://doi.org/10.9790/2402-1106011423

Das R, Islam MA, Naher K, Khan R, Tamim U, Rashid MA (2018) Distribution and contamination of trace elements in core sediments of the Karnaphuli River using neutron activation analysis. Nucl Sci Appl 27(1&2)

Enell M, Wennberg L (1991) Distribution of halogenated organic compounds (AOX)—Swedish transport to surrounding sea areas and mass balance studies in five drainage systems. Water Sci Technol 24:385–395

Glendening ED (1995) Cation-water interactions: the M+ (H2O)n clusters for alkali metals, M =Li, Na, K, Rb, Cs. J Phys Chem 99:3060–3067

Gracia D, Fonteilles M, Moutte J (1994) Sedimentary fractionations between Al, Ti, and Zr, and the genesis of strongly peraluminous granites. J Geol 102(4):411–422. https://doi.org/10.1086/629683

Gribble GW (1994) The natural production of chlorinated compounds. Environ Sci Technol 28:310A–319A

Heaman LM, Bowins R, Crocket J (1990) The chemical composition of igneous zircon suites: implications for geochemical tracer studies. Geochim Cosmochim Acta 54:1597–1607. https://doi.org/10.1016/0016-7037(90)90394-Z

Hoskin PWO, Schaltegger U (2003) The composition of zircon and igneous and metamorphic petrogenesis. Reviews in Mineralogy and Geochemistry 53(1):27–62. https://doi.org/10.2113/0530027

Islam MA, Al-mamun A, Hossain F, Quraishi SB, Naher K, Khan R, Das S, Tamim U, Hossain SM, Nahid F (2017) Contamination and ecological risk assessment of trace elements in sediments of the rivers of Sundarban mangrove forest, Bangladesh. Mar. Pollut. Bull 124:356–366. https://doi.org/10.1016/j.marpolbul.2017.07.059

Jung HS, Lim D, Choi JY, Yoo HS, Rho KC, Lee HB (2012) Rare earth element compositions of core sediments from the shelf of the South Sea Korea: their controls and origins. Cont Shelf Res 48:75–86

Khan R, Shirai N, Ebihara M (2015) Chemical characteristics of R chondrites in the light of REE, Th, U and P abundances. Earth Planetary Sci Lett 422:18–27. https://doi.org/10.1016/j.epsl.2015.04.008

Khan R, Rouf MA, Das S, Tamim U, Naher K, Podder J, Hossain SM (2017) Spatial and multi-layered assessment of heavy metals in the sand of Cox's-Bazar beach of Bangladesh. Reg Stud Mar Sci 16:171–180. https://doi.org/10.1016/j.rsma.2017.09.003

Khan R, Ghosal S, Sengupta D, Tamim U, Hossain SM, Agrahari S (2018) Studies on heavy mineral placers from eastern coast of Odisha, India by instrumental neutron activation analysis. J Radioanal Nucl Chem 319:471–484. https://doi.org/10.1007/s10967-018-6250-1

Khan R, Das S, Kabir S, Habib MA, Naher K, Islam MA, Tamim U, Rahman AKMR, Deb AK, Hossain SM (2019a) Evaluation of the elemental distribution in soil samples collected from ship-breaking areas and an adjacent island. J Environ Chem Eng (Accepted) 7:103189. https://doi.org/10.1016/j.jece.2019.103189

Khan R, Parvez MS, Jolly YN, Haydar MA, Alam MF, Khatun MA, Sarker MMR, Habib MA, Tamim U, Das S, Sultana S, Islam MA, Naher K, Paul D, Akter S, Khan MHR, Nahid F, Huque, R, Rajib M, Hossain SM (2019b) Elemental abundances, natural radioactivity and physicochemical records of a southern part of Bangladesh: implication for assessing the environmental geochemistry. Environ Nanotechnol Monit Manag. (Accepted) DOI: https://doi.org/10.1016/j.enmm.2019.100225

Khan R, Islam HMT, Islam ARMT (2021) Mechanism of elevated radioactivity in Teesta river basin from Bangladesh: radiochemical characterization, provenance and associated hazards. Chemosphere 264(1):128459. https://doi.org/10.1016/j.chemosphere.2020.128459

Lide DR (1997) Abundance of elements in the earth's crust and sea. In: CRC Handbook of Physics and Chemistry (78th ed.). CRC Press, Boca Raton, p 14

McLennan SM, Nance WB, Taylor SR (1980) Rare earth element-thorium correlations in sedimentary rocks, and the composition of the continental crust. Geochim.Cosmochim.Acta 44:1833–1839

Mohanty AK, Sengupta D, Das SK, Vijayan V, Saha SK (2004) Natural radioactivity in the newly discovered high background radiation area on the eastern coast of Orissa, India. Radiat Meas 38(2):153–165. https://doi.org/10.1016/j.radmeas.2003.08.003

Murali AV, Parthasarathy R, Mahadevan TM, Das MS (1983) Trace element characteristics, REE patterns and partition coefficients of zircons from different geological environments-a case study on Indian zircons. Geochim Cosmochim Acta 47:2047–2052

Pell R, Wall F, Yan X, Li J, Zeng X (2019) Temporally explicit life cycle assessment as an environmental performance decision making tool in rare earth project development. Miner Eng 135:64–73. https://doi.org/10.1016/j.mineng.2019.02.043

Rakib MA, Huda ME, Hossain SM, Naher K, Khan R, Sultana MS, Akter MS, Bhuiyan MAH, Patwary MA (2013) Arsenic contain in inactive tissue: human hair and nail. J Sci Res 2(2):522–535. https://doi.org/10.9734/JSRR/2013/3091

Ramkrishnan MJ (1998) Geological evolution of the Proterozoic Eastern Ghats Mobile Belt. Geol Surv India Spec Publ 44:1–21

Rao NS, Sengupta D, Guin R, Saha SK (2009) Natural radioactivity measurements in beach sand along southern coast of Orissa, eastern India. Environ. Earth Sic 59:593–601

Rickers K, Mezger K, Raith MM (2001) Evolution of the continental crust in the Proterozoic Eastern Ghats Belt, India and new constraints for Rodinia reconstruction: implications from Sm–Nd, Rb–Sr and Pb–Pb isotopes. Precambrian Res 112:183–210

Rudnick RL, Gao S (2014) Composition of the continental crust Treatise on geochemistry (2nd edition) Chapter 4:1–64

Sarkar A, Paul DK (1998) Geochronology of the Eastern Ghats Precambrian Mobile Belt—a review. Geol Surv India Spec Publ 44:51–86

Tamim U, Khan R, Jolly YN, Fatema K, Das S, Naher K, SMA I, Hossain SM (2016) Elemental distribution of metals in urban river sediments near an industrial effluent source. Chemospher 155:509–518. https://doi.org/10.1016/j.chemosphere.2016.04.099

Taylor SR, McLennan SM (1981) The composition and evolution of the continental crust: rare earth element evidence from sedimentary rocks. Philos Trans R Soc 301(1461):381–399

Taylor SR, McLennan SM (1985) The continental crust: its composition and evolution. Blackwells, Oxford 312

Tribovillard N, Algio TJ, Lyons T, Riboulleau A (2006) Trace metals as paleoredox and paleoproductivity proxies: an update. Chem Geol 232:12–32. https://doi.org/10.1016/j.chemgeo.2006.02.012

Wedepohl KH (1995) The composition of the continental crust. Geochim Cosmochim Acta 59:1217–1232
Acknowledgments
We are thankful to the technical personnel associated with this study, especially to the persons involved in the TRIGA Mark II research reactor operation at the Center for Research Reactor, AERE, Bangladesh Atomic Energy Commission, Bangladesh and B. Karmaker and S.R. Gazi of Mawlana Bhashani Science and Technology University, and K. Naher and M.A. Islam of INST are gratefully acknowledged for their kind assistance during the experiment. We are grateful to Department of Science and Technology, India, for their support through the research work.
Additional information
Responsible Editor: Domenico M. Doronzo
Supplementary Information
About this article
Cite this article
Khan, R., Mohanty, S. & Sengupta, D. Elemental distribution in core sediments of Podampata coast, eastern Odisha, India: potentiality of rare earth elements and Th exploration. Arab J Geosci 14, 81 (2021). https://doi.org/10.1007/s12517-020-06371-x
Received:

Accepted:

Published:
Keywords
Placers deposits

Eastern coast of Odisha, India

Neutron activation analysis

Elemental distribution

Rare earth elements