Abstract
Groundwater has recently become a main resource for domestic water and irrigation in Lebanon. During the last two decades, surface water and shallow groundwater have been severely exhausted to meet water demand. This study seeks to understand the groundwater flow/storage regime and the mechanism of water loss into the sea using a geospatial approach. Landsat thermal satellite images from years 2013–2015 are used to detect freshwater seeps in the coastal waters of Lebanon to analyse their distribution, time of occurrence and origin. The analysis is supplemented with data from the Tropical Rainfall Measuring Mission (TRMM), geological maps, the SRTM Digital Elevation Model (DEM), and springs' location maps. A groundwater potentiality map is constructed to understand points of surface water entry into the ground, areas of accumulation and water transport pathways. Results show dominant thermal plumes off-shore adjacent to Akkar District and Batroun city. The former relates to direct rainfall and the latter to rainfall and snowmelt on land. No surface drainage is associated with either plume. Both plumes project 8–13 km from inland along fault alignments. These faults act as conduits to channel rainwater and snowmelt from the surrounding mountains before seeping into the sea. It is thus feasible to capture the water lost this way for farming and domestic uses. The study presents an integrative geospatial approach that can be extended and applied throughout the coastal Middle East and North Africa Region to assess freshwater seeps into the sea.
This is a preview of subscription content, log in to check access.
Access options
Buy single article
Instant access to the full article PDF.
US$ 39.95
Price includes VAT for USA
Subscribe to journal
Immediate online access to all issues from 2019. Subscription will auto renew annually.
US$ 99
This is the net price. Taxes to be calculated in checkout.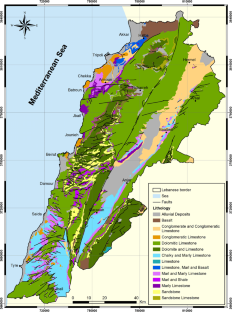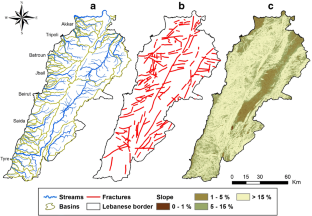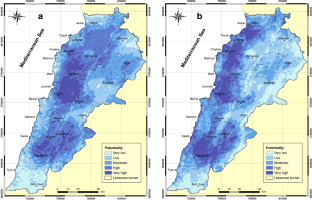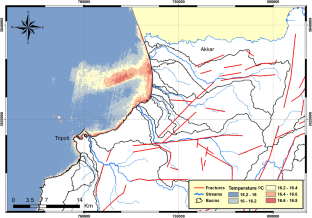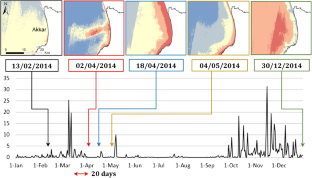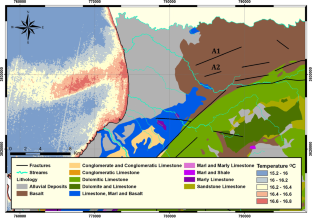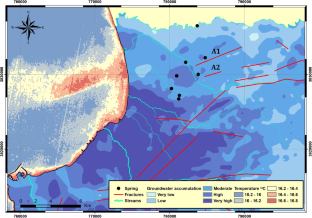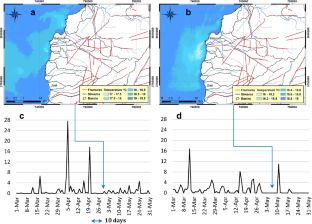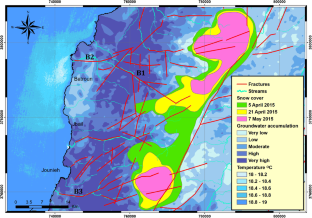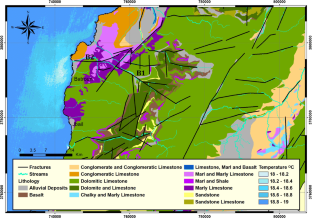 References
Abd-El-Al I (1953) Statics and dynamics of water in the Syro-Lebanese limestone massifs. UNESCO Ankara symposium on arid zone hydrology, Ankara, Turkey, p 60–76

Babiker M, Gudmundsson A (2004) The effects of dykes and faults on groundwater flow in an arid land: the Red Sea Hills, Sudan. J Hydrol 297:256–273

Bakalowicz M, El-Hajj A, El Hakim M, Al-Charideh A-R, Al-Fares W, Kattaa B, Fleury P, Brunet P, Dörfliger N, Seidel JL, Najem W (2007) Hydrogeological settings of karst submarine springs and aquifers of the Levantine coast (Syria, Lebanon). Towards their sustainable exploitation. TIAC 7:721–732

Bisson RA, El-Baz F (1991) Megawatershed exploration model. Proceedings of the 23rd international synopsium on remote sensing of environment. Environmental research Institute of Michigan: Ann Arbor, 1:247–273

Bokuniewicz H (1992) Analytical descriptions of subaqueous groundwater seepage. Estuaries 15(4):458–464

Burnett WC, Aggarwal PK, Aureli A, Bokuniewicz H, Cable JE, Charette MA, Kontar E, Krupa S, Kulkami KM, Loveless A, Moore WS, Oberdorfer JA, Oliveira J, Ozyurt N, Povinec P, Privitera AMG, Rajar R, Ramessur RT, Scholten J, Stieglitz T, Taniguchi M, Turner JV (2006) Quantifying submarine groundwater discharge in the coastal zone via multiple methods. Sci Total Environ 367:498–543

Chander G, Markham BL, Helder DL (2009) Summary of current radiometric calibration coefficients for Landsat MSS, TM, ETM+, and EO−1 ALI sensors. Remote Sens Environ 113:893–903. https://doi.org/10.1016/j.rse.2009.01.007

Chenini I, Mammou AB, May ME (2010) Groundwater recharge zone mapping using GIS-based multi-criteria analysis: a case study in Central Tunisia (Maknassy Basin). Water Resour Manag 24(5):921–939

Dubertret L (1955) Carte géologique du Liban. Lebanese Ministry of Public Works, Beirut

El-Baz F (1995) Utilizing satellite images for ground water exploration in fracture zone aquifers. In: proceedings of the international conference on water resources Management in Arid Countries, 12–16 march 1995, Ministry of Water Resources, Muscat, Oman, 2:419–427

El-Qareh R (1967) The submarine springs of Chekka: exploitation of a confined aquifer discharging in the sea, M. Sc. Thesis, American University of Beirut, Geology Department, 80 p

Farr TG, Kobrick M (2000) Shuttle radar topography mission produces a wealth of data, Eos. Trans Am Geophys Union 81(48):583–585

Farr TG, Rosen PA, Caro E, Crippen R, Duren R, Hensley S, Kobrick M, Paller M, Rodriguez E, Roth L, Seal D, Shaffer S, Shimada J, Umland J, Werner M, Oskin M, Burbank D, Alsdorf D (2007) The shuttle radar topography mission. Rev Geophys 45(2):RG2004

Fernández DCJ, Valeriano MM, Zani H, Andrades Filho CO (2012) Extração automática de redes de drenagem a partir de Modelos Digitais de Elevação. Rev Bras Cartogr 64(5):619–634

Fielding W, El-Baz F (2001) Linear thermal anomaly off-shore from Wadi Dayqah: a probable ground water seep along fracture zones. International conference on the geology of Oman, 12-16 January 2001, Sultan Qaboos University, Muscat, Oman, Abstract 1, p 33, 2001

Gumma MK, Pavelic P (2013) Mapping of groundwater potential zones across Ghana using remote sensing, geographic information systems, and spatial modelling. Environ Monit Assess 185(4):3561–3579

Horn BKP (1981) Hill shading and the reflectance map. Proc IEEE 69(1):14–47

Jenks GF (1977) Optimal data classification for choropleth maps. Occasional paper, no. 2. University of Kansas, Lawrence

Kusky T, Robinson CA, El-Baz F (2005) Tertiary–quaternary faulting and uplift in the northern Oman Hajar mountains. J Geol Soc Lond 162:871–888

Lofi J, Pezard P, Bouchette F, Raynal O, Sabatier P, Denchik N, Levannier A, Dezileau L, Certain R (2013) Integrated onshore-offshore investigation of a Mediterranean layered coastal aquifer. Groundwater 51:550–561. https://doi.org/10.1111/j.1745-6584.2012.01011.x

Lonergan SC, Brooks D (1994) Watershed: the role of freshwater in the Israeli-Palestinian conflict. International Development Research Center (IDRC), Ottawa, 310 p

Machiwal D, Jha MK, Mal BC (2011) Assessment of groundwater potential in a semi-arid region of India using remote sensing, GIS and MCDM techniques. Water Resour Manag 25:1359–1386

Malczewski J (2000) On the use of weighted linear combination method in GIS: common and best practice approach. Trans GIS 4:5–22

Meijerink AMJ, Bannert D, Batelaan O, Lubczynski MW, Pointet T (2007) Remote sensing applications to groundwater. United Nations Educational Scientific and Cultural Organization (UNESCO), Paris

Mejías M, García-Orellana J, Plata JL, Marina M, García-Solsona E, Ballesteros BJ, Masqué P, López J, Fernández-Arrojo C (2008) Methodology of hydrogeological characterization of deep carbonate aquifers as potential reservoirs of groundwater. Case of study: the Jurassic aquifer of El Maestrazgo (Castellón, Spain). Environ Geol 54(3):521–536

Mejías M, Ballesteros BJ, Antón-Pacheco C, Domínguez JA, García-Orellana J, García-Solsona E, Masqué P (2012) Methodological study of submarine groundwater discharge from a karstic aquifer in the Western Mediterranean Sea. J Hydrol 464-465:27–40

MoEW, UNDP (2014) Assessment of groundwater resources of Lebanon. Ministry of Energy and Water, Lebanon, Beirut 88 p

Mulligan AE, Charette MA (2009) Groundwater flow to the coastal ocean. In: Steele JH, Turekian KK, Thorpe SA (eds) Encyclopedia of Ocean Sciences, 2nd edn. Academic Press, Oxford, p 88–97

NCSRL (National Council for Scientific Research, Lebanon) (2015) Regional coordination on improved water resources management and capacity building. Regional project, GEF, WB

Rabus B, Eineder M, Roth A, Bamler R (2003) The shuttle radar topography mission—a new class of digital elevation models acquired by spaceborne radar. ISPRS J Photogramm Remote Sens 57(4):241–262

Robinson CA (2002) Application of satellite radar data suggests that the Kharga depression in southwestern Egypt is a fractured rock aquifer. Int J Remote Sens 23(19):4101–4113

Robinson CA, Buynevich A, El-Baz F, Shaban A (2005) Integrative Remote Sensing Techniques to Detect Coastal Fresh-Water Seeps, Geological Society of America, Salt Lake City, October 16th, paper No. 44–1

Robinson CA, Werwer A, El-Baz F, El-Shazly M, Fritch T, Kusky T (2007) The Nubian Aquifer in Southwest Egypt, Requested paper. Hydrogeol J 15:33–45. https://doi.org/10.1007/s10040-006-0091-7

Robinson CA, El-Kaliouby H, Ghoneim E (2017) Influence of structures on drainage patterns in the Tushka region, SW Egypt. J Afr Earth Sci 136:262–271

Saad Z, Kaspard V, Slim K, Mrouh K (2005) A hydrochemical and isotopic study of submarinefreshawter along the coast of Lebanon. J Environ Hydrol Paper 8, Vol. 13

Sabins F (1997) Remote sensing principles and interpretation. W.H. Freeman Company 494 p

Shaban A (2003) Hydrogeological study of occidental Lebanon using remote sensing, Ph.D. Thesis, Bordeaux 1 University, 220 p. France, 2003

Shaban A (2010) Support of space techniques for groundwater exploration in Lebanon. J Water Resourc Protect 2:469–477

Shaban A (2011) Analyzing climatic and hydrologic trends in Lebanon. J Environ Sci Engrg 5(4):483–492

Shaban A (2015) Striking challengers on water resources of Lebanon. The 5th regional meeting of the Arab hydrological committees for IHP, Sharam Al-sheik, Egypt, 25-25 November, 6:1–10

Shaban A (2016) New economic policies: instruments for water management in Lebanon. Hydrol Curr Res 7:222. https://doi.org/10.4172/2157-7587.1000222

Shaban A, Darwich T (2011) The role of sinkholes in groundwater recharge in mountain crests of Lebanon. Environ Hydrol J 19(9):1–11

Shaban A, Hamzé M (2017) Shared water resources of Lebanon. NOVA, Water Resource Planning, Development and Management series, 2017-3rd Quarter, p 152

Shaban A, Khawlie M, Abdallah C, Faour G (2005) Geologic controls of submarine groundwater discharge: application of remote sensing to North Lebanon. Environ Geol 47(4):512–522

Shaban A, Khawlie M, Abdallah C (2006) Use of remote sensing and GIS to determine recharge potential zones: the case of occidental Lebanon. Hydrogeol J 14:433–443

Shaban A, Darwich T, El Hage M (2014) Studying snowpack and the related terrain characteristics on Lebanon Mountain. Int J Water Sci 2:1–10

Skidmore AK (1989) A comparison of techniques for calculating gradient and aspect from a gridded digital elevation model. Int J Geogr Inf Syst 3(4):323–334

Talabi AO, Tijani MN (2011) Integrated remote sensing and GIS approach to groundwater potential assessment in the basement terrain of Ekiti area South-Western Nigeria. RMZ-Mater Geoenviron 58(3):303–328

Telesca L, Shaban A, Drapeau L, Darwich T, Gascoin S, El Hage M, Faour G (2014) Characterization of the time dynamics of monthly satellite snow cover data on mountain chains in Lebanon. J Hydrol 519:3214–3222

UNDP (2014) Assessment of groundwater resources of Lebanon. United Nations development program (UNDP), p 47

UNDP (United Nations Development Programme) (1970) Liban : Etude des eaux souterraines. Programme des Nations Unies pour le développement, N.Y. DP/SF/UN, 44, p 185

WB (World Bank) (1992) World development report 1992: development and the environment. Oxford University Press, p 324

Xing Q, Chen CQ, Shi P (2006) Method of integrating Landsat-5 and Landsat-7 data to retrieve sea surface temperature in coastal waters on the basis of local empirical algorithm. Ocean Sci J 41(2):97–104
Funding
Funding for the research was made possible through the Fulbright scholarship awarded to the first author obtained at Northeastern University College of Professional Studies, USA.
Additional information
Responsible Editor: Broder J. Merkel
About this article
Cite this article
El Hage, M., Robinson, C.A., El-Baz, F. et al. Fracture-controlled groundwater seeps into the Mediterranean Sea along the coast of Lebanon. Arab J Geosci 13, 520 (2020). https://doi.org/10.1007/s12517-020-05565-7
Received:

Accepted:

Published:
Keywords
Satellite imagery

Fractured rocks

Groundwater flow

Precipitation

Lebanon