Abstract
The paper describes effects of anisotropic mechanical properties of rock masses on elastic behaviour of a circular tunnel under both hydrostatic and non-hydrostatic in situ stress states. This study is based on field data obtained from two actual case studies. In both cases, the rock masses have transversely isotropic structures. Hence, a 2D finite element modelling based on the equivalent continuum approach is used for the analysis. The tunnel deformation behaviour has been investigated for both isotropic and transversely isotropic conditions. To evaluate the degree of anisotropy of rock mass, an "anisotropy index" and a "normalized displacement ratio" have been defined. The effect of orientation of the isotropic planes is further investigated. The results show that in a hydrostatic stress state, the maximum displacement always occurs in a direction perpendicular to the isotropic planes. In this case, three empirical equations have been developed to compute the normalized displacement ratio, the deviation, and the direction of displacement vector at any arbitrary point on the tunnel periphery. The results further show that if the anisotropy index increases, the displacement difference (the difference between the maximum and the minimum displacements) on the tunnel walls increases too. For the non-hydrostatic stress state, simultaneous effects of stress ratio, anisotropy index, and orientation of isotropic planes on normalized displacements have been investigated. In this case, the location of maximum displacement inclines towards the direction of major principal stress. This effect is more noticeable when the isotropic planes are oriented at an angle of 90° relative to the direction of the major principal stress. The paper also provides an empirical equation to determine the location of maximum displacement on the tunnel walls. Finally, the practical application of the results is further illustrated by an actual case study.
This is a preview of subscription content, log in to check access.
Access options
Buy single article
Instant access to the full article PDF.
US$ 39.95
Price includes VAT for USA
Subscribe to journal
Immediate online access to all issues from 2019. Subscription will auto renew annually.
US$ 99
This is the net price. Taxes to be calculated in checkout.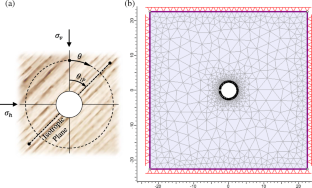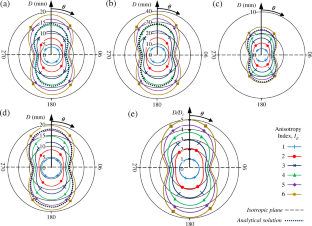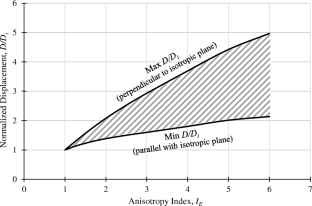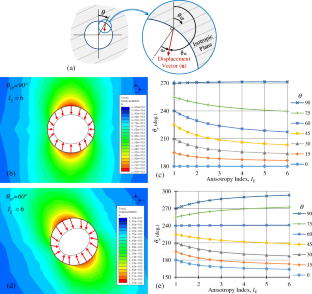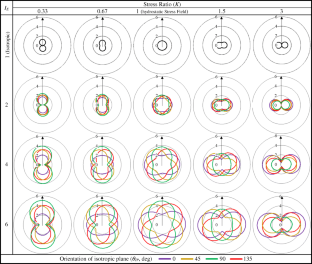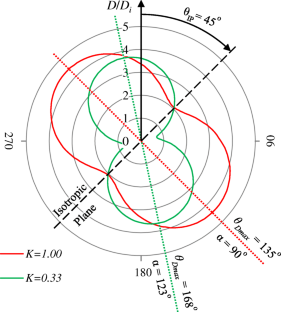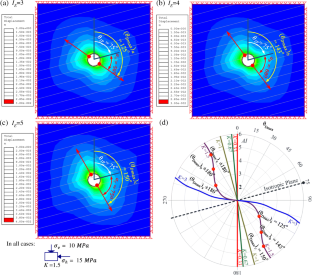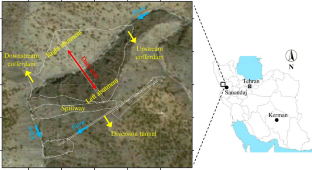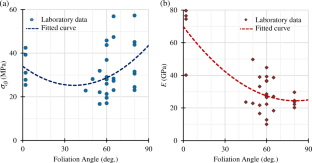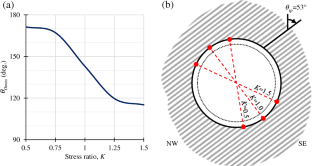 References
Al-Karni AA, Al-Shamrani MA (2000) Study of the effect of soil anisotropy on slope stability using method of slices. Comput Geotech 26:83–103. https://doi.org/10.1016/S0266-352X(99)00046-4

Amadei B (1996) Importance of anisotropy when estimating and measuring in situ stresses in rock. Int J Rock Mech Min Sci Geomech Abstr 33:293–325. https://doi.org/10.1016/0148-9062(95)00062-3

Bobet A (2002) Analytical solutions for shallow tunnels in saturated ground. J Eng Mech 127:1258–1266. https://doi.org/10.1061/(asce)0733-9399(2001)127:12(1258)

Bobet A (2011) Lined circular tunnels in elastic transversely anisotropic rock at depth. Rock Mech Rock Eng 44:149–167. https://doi.org/10.1007/s00603-010-0118-1

Exadaktylos GE, Stavropoulou MC (2002) A closed-form elastic solution for stresses and displacements around tunnels. Int J Rock Mech Min Sci 39:905–916. https://doi.org/10.1016/S1365-1609(02)00079-5

Fortsakis P, Nikas K, Marinos V, Marinos P (2012) Anisotropic behaviour of stratified rock masses in tunnelling. Eng Geol 141–142:74–83. https://doi.org/10.1016/j.enggeo.2012.05.001

Franklin JA (1985) Suggested method for determining point load strength. Int J Rock Mech Min Sci Geomech Abstr 22:51–60. https://doi.org/10.1016/0148-9062(85)92327-7

Hefny AM, Lo KY (1999) Analytical solutions for stresses and displacements around tunnels driven in cross-anisotropic rocks. Int J Numer Anal Methods Geomech 23:161–177. https://doi.org/10.1002/(SICI)1096-9853(199902)23:2<161::AID-NAG963>3.0.CO;2-B

Hudson J, Harrison J (2000) Engineering rock mechanics: an introduction to the principles, 2nd edn. Elsevier Science Ltd, Oxford

Jaeger J (2009) Rock mechanics and engineering, 2nd edn. Cambridge University Press, Cambridge

Kolymbas D, Lavrikov SV, Revuzhenko AF (2012) Deformation of anisotropic rock mass in the vicinity of a long tunnel. J Min Sci 48:962–974. https://doi.org/10.1134/S1062739148060032

Konietzky H, Te Kamp L, Hammer H, Niedermeyer S (2001) Numerical modelling of in situ stress conditions as an aid in route selection for rail tunnels in complex geological formations in South Germany. Comput Geotech 28:495–516. https://doi.org/10.1016/S0266-352X(01)00009-X

Majdi A, Amini M (2008) Effects of geostructural weaknesses on flexural toppling. In: 5th Asian Rock Mechanics Symposium (ARMS5). Tehran, Iran, pp 611–618

Majdi A, Amini M (2011) Analysis of geo-structural defects in flexural toppling failure. Int J Rock Mech Min Sci 48:175–186. https://doi.org/10.1016/j.ijrmms.2010.11.007

Majdi A, Hassani F (1989) Access tunnel convergence prediction in longwall coal mining. Int J Min Geol Eng 7:283–300. https://doi.org/10.1007/BF00896593

Manh HT, Sulem J, Subrin D (2014) A closed-form solution for tunnels with arbitrary cross section excavated in elastic anisotropic ground. Rock Mech Rock Eng 48:277–288. https://doi.org/10.1007/s00603-013-0542-0

Nasseri MHB, Rao KS, Ramamurthy T (2003) Anisotropic strength and deformation behavior of Himalayan schists. Int J Rock Mech Min Sci 40:3–23. https://doi.org/10.1016/S1365-1609(02)00103-X

Ramamurthy T (1993) Strength and modulus responses of anisotropic rocks. In: Brown ET (ed) Comprehensive rock engineering. Pergamon press, pp 313–329

Saroglou H, Tsiambaos G (2007) Classification of anisotropic rocks. In: Sousa RE (ed) 11th Congress of the International Society for Rock Mechanics. Taylor & Francis Group, Lisbon, pp 191–196

Saroglou H, Marinos P, Tsiambaos G (2003) The anisotropic nature of selected metamorphic rocks from Greece. In: ISRM 2003–Technology roadmap for rock mechanics. South African Institute of Mining and Metallurgy, pp 1019–1024

Satici O, Ünver B (2015) Assessment of tunnel portal stability at jointed rock mass: a comparative case study. Comput Geotech 64:72–82. https://doi.org/10.1016/j.compgeo.2014.11.002

Schubert W, Mendez JMD (2017) Influence of foliation orientation on tunnel behavior. Procedia Eng 191:880–885. https://doi.org/10.1016/j.proeng.2017.05.257

Simanjuntak TDYF, Marence M, Schleiss AJ, Mynett AE (2016) The interplay of in situ stress ratio and transverse isotropy in the rock mass on prestressed concrete-lined pressure tunnels. Rock Mech Rock Eng 49:4371–4392. https://doi.org/10.1007/s00603-016-1035-8

Singh KB, Singh TN (1998) Ground movements over longwall workings in the Kamptee coalfield, India. Eng Geol 50:125–139. https://doi.org/10.1016/S0013-7952(98)00005-2

Tonon F, Amadei B (2002) Effect of elastic anisotropy on tunnel wall displacements behind a tunnel face. Rock Mech Rock Eng 35:141–160. https://doi.org/10.1007/s00603-001-0019-4

Tonon F, Amadei B (2003) Stresses in anisotropic rock masses: an engineering perspective building on geological knowledge. Int J Rock Mech Min Sci 40:1099–1120. https://doi.org/10.1016/j.ijrmms.2003.07.009

Vu TM, Sulem J, Subrin D, Monin N (2013) Semi-analytical solution for stresses and displacements in a tunnel excavated in transversely isotropic formation with non-linear behavior. Rock Mech Rock Eng 46:213–229. https://doi.org/10.1007/s00603-012-0296-0

Wang TT, Huang TH (2009) A constitutive model for the deformation of a rock mass containing sets of ubiquitous joints. Int J Rock Mech Min Sci 46:521–530

Wang TT, Huang TH (2014) Anisotropic deformation of a circular tunnel excavated in a rock mass containing sets of ubiquitous joints: theory analysis and numerical modeling. Rock Mech Rock Eng 47:643–657. https://doi.org/10.1007/s00603-013-0405-8

Wang MB, Wang G (2013) A modified stress-displacement solution for a pressure tunnel with a permeable liner in an elastic porous medium based on a new model. Rock Mech Rock Eng 46:259–268. https://doi.org/10.1007/s00603-012-0283-5

Wang SY, Sloan SW, Tang CA, Zhu WC (2012) Numerical simulation of the failure mechanism of circular tunnels in transversely isotropic rock masses. Tunn Undergr Sp Technol 32:231–244. https://doi.org/10.1016/j.tust.2012.07.003

Wittke W (1990) Rock mechanics: theory and applications with case histories. Springer, Berlin

Wittke W (2014) Rock mechanics based on an anisotropic jointed rock model (AJRM). Wiley Blackwell, Berlin

Wu Q, Kulatilake PHSW (2012) Application of equivalent continuum and discontinuum stress analyses in three-dimensions to investigate stability of a rock tunnel in a dam site in China. Comput Geotech 46:48–68. https://doi.org/10.1016/j.compgeo.2012.05.013

Zareifard MR, Fahimifar A (2016) Analytical solutions for the stresses and deformations of deep tunnels in an elastic-brittle-plastic rock mass considering the damaged zone. Tunn Undergr Sp Technol 58:186–196. https://doi.org/10.1016/j.tust.2016.05.007

Zhang Z, Sun Y (2011) Analytical solution for a deep tunnel with arbitrary cross section in a transversely isotropic rock mass. Int J Rock Mech Min Sci 48:1359–1363. https://doi.org/10.1016/j.ijrmms.2011.10.001

Zhang ZX, Xu Y, Kulatilake PHSW, Huang X (2012) Physical model test and numerical analysis on the behavior of stratified rock masses during underground excavation. Int J Rock Mech Min Sci 49:134–147. https://doi.org/10.1016/j.ijrmms.2011.11.001
Additional information
Responsible Editor: Murat Karakus
About this article
Cite this article
Maazallahi, V., Majdi, A. Numerical appraisal of rock mass anisotropy effect on elastic deformations of a circular tunnel. Arab J Geosci 13, 547 (2020). https://doi.org/10.1007/s12517-020-05531-3
Received:

Accepted:

Published:
Keywords
Equivalent continuum

Transversely isotropic

Degree of anisotropy

Elastic deformations

Displacement vector