Abstract
Samples from the Shahezi mudstone of Well SongkeII (SKII) in the Songliao Basin were analyzed for mineral composition, source rock geochemistry, and reservoir pore structure. It is revealed that the Shahezi mudstone is a typical clay rock, with an average TOC of 2.12% (dominantly Type II–III organic matters) and a vitrinite reflectance Ro of 2.28–2.34%. The pore structure of the Shahezi mudstone reservoir mainly comprises intergranular pores and interlayer fractures in clay minerals, and also organic pores (including fractures at the particle-organic edges and also pores in some unstructured organic matters). The Shahezi mudstone has a specific pore volume of 0.01–0.04 cm3/g. Correlation analysis of specific pore volume and mineral composition reveals that the pore development of the Shahezi mudstone is mainly controlled by inorganic minerals. The nitrogen adsorption and high-pressure mercury intrusion tests were combined to obtain the full-scale pore size distribution and specific pore volume of the Shahezi mudstone, and the shale gas "sweet spot" interval is inferred to be 3,500–3,700 m. The study results can be referential for understanding the pore characteristics of highly-mature continental mudstone and locating the "sweet spot" of shale gas globally.
This is a preview of subscription content, log in to check access.
Access options
Buy single article
Instant access to the full article PDF.
US$ 39.95
Price includes VAT for USA
Subscribe to journal
Immediate online access to all issues from 2019. Subscription will auto renew annually.
US$ 99
This is the net price. Taxes to be calculated in checkout.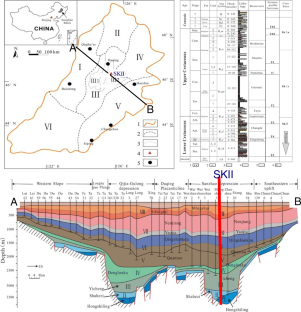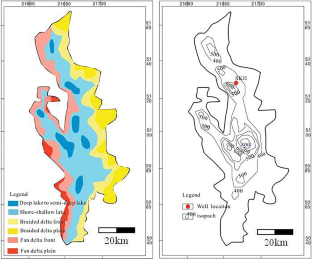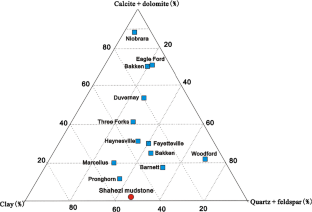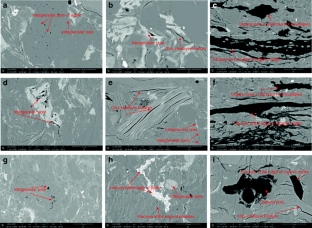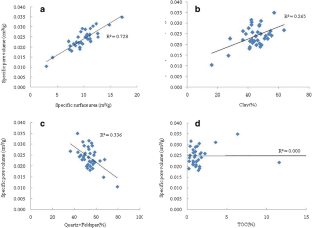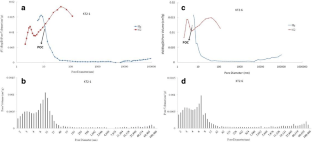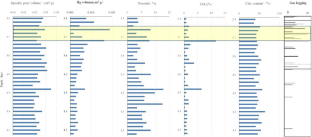 References
Cao Z, Liu G, Zhan H, Li C, You Y, Yang C, Jiang H (2016) Pore structure characterization of Chang-7 tight sandstone using MICP combined with N2GA techniques and its geological control factors. Sci Rep 6:36919

Clarkson CR, Jensen JL, Pedersen PK, Freeman M (2012) Innovative methods for flow-unit and pore-structure analyses in a tight siltstone and shale gas reservoir. AAPG Bull 96(2):355–374

Clarkson CR, Solano N, Bustin RM, Bustin AMM, Chalmers GRL, He L, Blach TP (2013) Pore structure characterization of North American shale gas reservoirs using USANS/SANS, gas adsorption, and mercury intrusion. Fuel 103:606–616

Cui JW, Zhu RK, Luo Z, Li S (2019) Sedimentary and geochemical characteristics of the Triassic Chang 7 Member shale in the Southeastern Ordos Basin. Central China Pet Sci 16(2):285–297

Curtis JB (2002) Fractured shale-gas systems. AAPG Bull 86(11):1921–1938

Dong DZ, Cheng KM, Wang YM, Li XJ, Wang SJ, Huang JL (2010) Forming conditions and characteristics of shale gas in the Lower Paleozoic of the Upper Yangtze region, China. Oil Gas Geol 31(3):288–299

Dong DZ, Zou CN, Li JZ, Wang SJ, Li XJ, Wang YM, Huang JL (2011) Resource potential, exploration and development prospect of shale gas in the whole world. Geol Bull China 30(2/3):324–336

Espitalie J, Laporte JL, Madec M, Marquis F, Leplat P, Paulet J, Boutefeu A (1977) Rapid method for characterizing the source rocks, their petroleum potential and their degree of evolution. Review of the French Petroleum Institute 32:23–42

Feng Z, Wang C, Graham S, Koeberl C, Dong H, Huang Y, Gao Y (2013) Continental scientific drilling project of Cretaceous Songliao Basin: scientific objectives and drilling technology. Paleogeography, Paleoclimatology, Paleoecology 385:6–16

Gao F, Song Y, Li Z, Xiong F, Chen L, Zhang Y, Joachim M (2018) Lithofacies and reservoir characteristics of the Lower Cretaceous continental Shahezi Shale in the Changling Fault Depression of Songliao Basin, NE China. Mar Pet Geol 98:401–421

Gregg SJ, Sing KSW (1982) Adsorption, surface area and porosity. Seconded Academic Press, New York, p 303

Guang F, Wang YG (2008) Time and space matching relation among accumulation essential factors of gas reservoirs in volcanic rock and its controlling to gas accumulation: a case study of deep strata of Xujiaweizi region. Earth Sci 33(3):342–348

Guo TL (2016) Key geological issues and main controls on accumulation and enrichment of Chinese shale gas. Pet Explor Dev 43(3):349–359

Hou QJ (2009) Terrestrial petroleum geology in Songliao Basin. Petroleum Industry Press, Beijing

Jarvie DM, Hill RJ, Ruble TE, Pollastro RM (2007) Unconventional shale-gas systems: the Mississippian Barnett Shale of north-central Texas as one model for thermogenic shale-gas assessment. AAPG Bull 91(4):475–499

Jiang F, Pang X, Ouyang X, Guo J, Jin C, Huo Z, Wang Q (2012) The main progress and problems of shale gas study and the potential prediction of shale gas exploration. Earth Science Frontiers 19(2):198–211

Li SQ, Li H, Xu W, Dong ZG (2007) Sequence architectures and sedimentary features of Lower Cretaceous in the southern Songliao Basin. Nat Gas Ind 27(4):36–39

Li W, Lu S, Xue H, Zhang P, Hu Y (2016) Microscopic pore structure in shale reservoir in the argillaceous dolomite from the Jianghan Basin. Fuel 181:1041–1049

Liao DL, Xiao LZ, Zhang YC (2014) Evaluation model for shale brittleness index based on mineral content and fracture toughness. Pet Dril Techniques 42(4):37–41

Loucks RG, Reed RM, Ruppel SC, Jarvie DM (2009) Morphology, genesis, and distribution of nanometer-scale pores in siliceous mudstones of the Mississippian Barnett Shale. J Sediment Res 79(12):848–861

Lu JM, Chao L (2016) Accumulation conditions and resource potential of tight glutenite gas in fault depression basins: a case study on Lower Cretaceous Shahezi Formation in Xujiaweizi fault depression, Songliao Basin. China Petroleum Exploration 21(2):53–60

Nie HK, Zhang JC (2012) Shale gas accumulation conditions and gas content calculation: a case study of Sichuan Basin and its periphery in the Lower Paleozoic. Acta GeologicaSinica 86(2):349–361

Qu H, Xi D, Li S, Colin JP, Huang QH, Wan XQ (2014) Late Cretaceous–early Paleocene ostracod biostratigraphy of Scientific Drilling Sk1 (N) in the Songliao Basin, northeast China. J Paleontol 88(4):786–798

Qu X, Xue X, Yang L, Gao Y, Wang P (2017) Prediction of the bottom hole geotemperatureformation pressure and formation fracture pressure of the Continental Scientific Drilling of Cretaceous Songliao Basin (SK2). Earth Sci Front 24(1):257–264

Ren YG, Zhu DF, Wan CB, Wang C (2004) Natural gas accumulation rule of Xujiaweizi depression in Songliao basin and future exploration target. Petroleum Geology & Oilfield Development in Daqing 23(5):26–29

Schmitt M, Fernandes CP, da Cunha Neto JA, Wolf FG, dos Santos VS (2013) Characterization of pore systems in seal rocks using nitrogen gas adsorption combined with mercury injection capillary pressure techniques. Mar Pet Geol 39(1):138–149

Sondergeld, C. H., Ambrose, R. J., Rai, C. S., & Moncrieff, J., 2010. Micro-structural studies of gas shales. SPE unconventional gas conference, Pittsburgh, Pennsylvania

Wang FP, Reed RM (2009) Pore networks and fluid flow in gas shales. SPE Annual Technical Conference and Exhibition. New Orleans, Louisiana

Wang GW, Hui S, Fu G (2008) Gas distribution rules and main controlling factors in Xujiaweizi rift. Pet Geol Oilfield Dev Daqing 27(1):6–9

Wang FY, He ZY, Meng XH, Bao LY, Zhang H (2011) Occurrence of shale gas and prediction of original gas in-place (OGIP). Nat Gas Geosci 22(3):501–510

Wang C, Feng Z, Zhang L, Huang Y, Cao K, Wang P, Zhao B (2013) Cretaceous paleogeography and paleoclimate and the setting of SKI borehole sites in Songliao Basin, northeast China. Paleogeogr Paleoclimatol Paleoecol 385:17–30

Wang Y, Zhu YM, Chen SB, Li W (2014) Characteristics of the nanoscale pore structure in Northwestern Hunan shale gas reservoirs using field emission scanning electron microscopy, high-pressure mercury intrusion, and gas adsorption. Energy Fuel 28(2):945–955

Washburn EW (1921) The dynamics of capillary flow. Phys Rev 17(3):273–283

Xia L (2009) Sedimentary system and hydrocarbon source rock prediction of Shahezi Formation in Xujiaweizi area. China University of Geosciences (Beijing), Beijing

Zhang DW (2010) Strategic concepts of accelerating the survey, exploration, and exploitation of shale gas resources in China. Oil Gas Geol 31(2):135–139

Zhang, X. D. Yu, J., Zhang, D., 2014. Accumulation conditions and exploration prospects for Shahezi Formation tight sandstone gas in Xujiaweizi fault depression. Petro China Geol Oilfield Dev Daqing, 33(5), 86-91.

Zhang JC, Nie HK, Xu B, Jiang SL, Zhang PX, WANG ZY (2008) Geological condition of shale gas accumulation in Sichuan Basin. Nat Gas Ind 28(2):151–156

Zhang LY, Li Z, Zhu RF (2009a) The formation and exploitation of shale gas. Nat Gas Ind 1:124–128

Zhang JC, Jiang SL, Tang X, Zhang PX, Tang Y, Jin TY (2009b) Accumulation types and resource characteristics of shale gas in China. Nat Gas Ind 29(12):109–114

Zhang YG, Liu JY, Xin ZK, Bao L (2011) A discussion on the development features of intermittent volcanic Shahezi formation and the existence of volcanic edifice in Xujiaweizi depression. China J Geophys 54(2):474–480

Zhao XY, He DB (2016) Clay minerals and oil and gas exploration and development. Petroleum Industry Press, Beijing

Zheng M, Li J, Wu X, Wang S, Guo Q, Yu J, Yi Q (2018) China's conventional and unconventional natural gas resources: potential and exploration targets. J Nat Gas Geosci 3(6):295–309

Zhou DH, Jiao FZ (2012) Evaluation and prediction of shale gas sweet spots: a case study in Jurassic of Jiannan area, Sichuan Basin. Pet Geol Exp 34(2):109–114

Zou C, Dong D, Wang S, Li J, Li X, Wang Y, Cheng K (2010) Geological characteristics and resource potential of shale gas in China. Pet Explor Dev 37(6):641–653
Acknowledgments
The authors thank all the staff member of the Well SKII Sampling Coordination Group and the Land Resources Material Geological Data Center for providing great assistance during the sampling process. Zhang Tao, an engineer at the Beijing Physical and Chemical Analysis and Testing Center, contributed to the nitrogen adsorption and high-pressure mercury intrusion tests. Li Xiaohong and Bai Jing, engineers at the Experimental Center of RIPED, helped with the completion of mineral composition and geochemical analysis.
Additional information
Responsible Editor: Santanu Banerjee
About this article
Cite this article
Cui, J., Zhu, R., Wang, C. et al. Source/reservoir characteristics and shale gas "sweet spot" interval in Shahezi mudstone of Well SKII in Songliao Basin, NE China. Arab J Geosci 13, 514 (2020). https://doi.org/10.1007/s12517-020-05500-w
Received:

Accepted:

Published:
Keywords
Continental mudstone

Pore structure

Shale gas

Shahezi Formation

Songliao Basin