Abstract
The applications of Geographic Information System (GIS) in the education sector are increasing day by day. The geospatial information can be published, discovered, searched, analyzed, and displayed through webGIS-based applications. Lack of an open source geospatial resource-based platform for data sharing, discovery, and service delivery in the education sector is a critical issue in managing the education of large population in India. The use of open geospatial consortium (OGC) developed open standards for geospatial web services will result in the interoperability of geographic information. In this paper, an interoperable and secure service-oriented architecture (SOA)-based webGIS framework is developed to handle the technical and non-technical issues in the education sector. In this research work, spatial analysis on schools is performed along with the design and development of webGIS framework using SOA, OGC standards, and open source software. The developed webGIS framework, acronym as EduGIS, is interoperable and secure which is implemented for the education sector. The development of webGIS framework is based upon three-tier thin client architecture. The present research work has investigated an optimized adoption of various free and open source software like Quantum GIS, GeoServer, Apache Tomcat, PostGIS, and uDig in different tiers of developed webGIS framework. The interoperability of developed EduGIS ensures that it can be shared across different technologies, data, platforms, and organizations. The development of open source-based webGIS framework will serve as a means of reducing licensing costs in developing countries like India and will promote indigenous technological development for primary education in rural areas.
This is a preview of subscription content, log in to check access.
Access options
Buy single article
Instant access to the full article PDF.
US$ 39.95
Price includes VAT for USA
Subscribe to journal
Immediate online access to all issues from 2019. Subscription will auto renew annually.
US$ 99
This is the net price. Taxes to be calculated in checkout.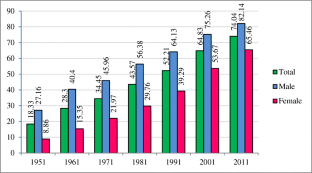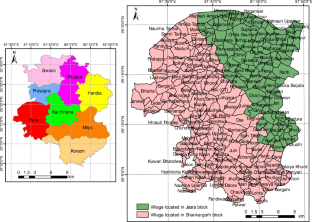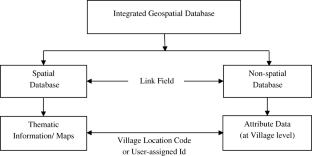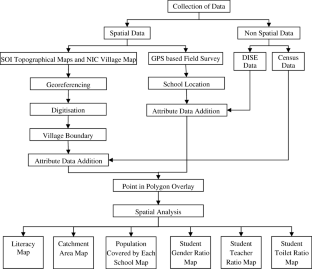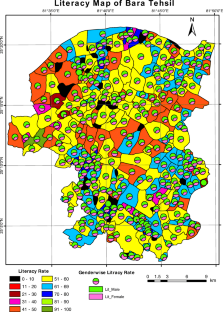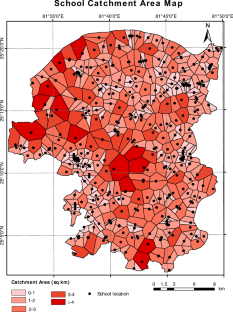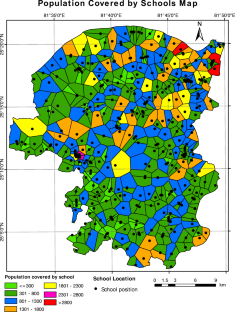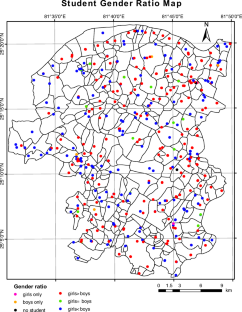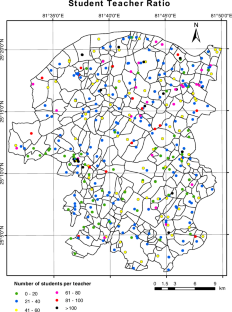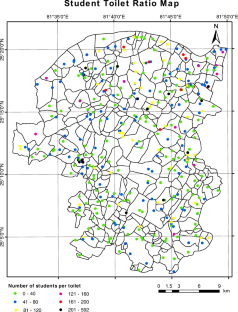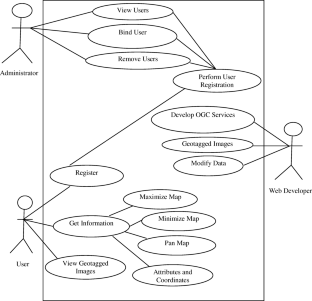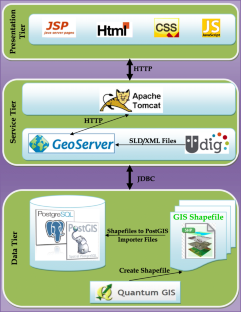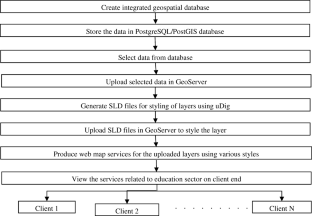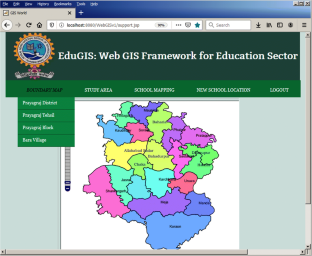 References
Agrawal S, Gupta RD (2017) Web GIS and its architecture: a review. Arabian Journal of Geosciences 10:1–13. https://doi.org/10.1007/s12517-017-3296-2

Alesheikh A, Helali H, Behroz H (2002) Web GIS: technologies and its applications. Symposium on geospatial theory, processing and applications. Ottawa, In

Al-hanbali N, Al-kharouf R, Alzoubi MB (2005) Integration of geo imagery and vector data into school mapping GIS data-model for educational decision support system in Jordan. In: ISPRS, Commission II, WG II/5.

Aliyu YA, Sule JO, Youngu TT (2012) Application of geospatial information system to assess the effectiveness of the Mdg target in Amac Metropolis-Abuja, Nigeria. Research Journal of Environmental and Earth Sciences 4:248–254

Anderson KH, King EM, Wang Y (2010) Market returns, transfers and demand for schooling in Malaysia, 1976-89. The Journal of Development Studies 39:1–28. https://doi.org/10.1080/00220380412331322801

Attfield I, Tamiru M, Parolin B, De Grauwe A (2002) Improving micro-planning in education through a geographical information system: studies on Ethiopia and Palestine. School mapping and local-level planning. Paris, France

Black M, Ebener S, Aguilar PN et al (2004) Using GIS to measure physical accessibility to health care. World Health Organization:1–22

Bouzarth EL, Forrester R, Hutson KR, Reddoch L (2018) Assigning students to schools to minimize both transportation costs and socioeconomic variation between schools. Socio-Economic Planning Sciences 64:1–8. https://doi.org/10.1016/j.seps.2017.09.001

Burke K, Beegle K (2004) Why children aren't attending school: the case of Northwestern Tanzania. Journal of African Economies 13:333–355. https://doi.org/10.1093/jae/ejh011

Cavur M, Duzgun HS (2016) A framework to embed a spatial statistics toolbox in open-source GIS software: kernel density estimation example. Journal of Spatial Science 62:173–193. https://doi.org/10.1080/14498596.2016.1230837

Census of India (2011) Office of the Registrar General of India and Census Commissioner. India, Government of

Chamarbagwala R (2008) Regional returns to education, child labour and schooling in India. The Journal of Development Studies 44:233–257. https://doi.org/10.1080/00220380701789935

Chen A, Di L, Wei Y, et al (2006) An optimized grid-based, OGC standards-compliant collaborative software system for serving NASA geospatial data. In: 2006 30th Annual IEEE/NASA Software Engineering Workshop. IEEE, Columbia, pp 159–166

Chica-Olmo J, Rodríguez-López C, Chillón P (2018) Effect of distance from home to school and spatial dependence between homes on mode of commuting to school. Journal of Transport Geography 72:1–12. https://doi.org/10.1016/j.jtrangeo.2018.07.013

Curbera F, Duftler M, Khalaf R, Nagy W, Mukhi N, Weerawarana S (2002) Unraveling the Web services web: an introduction to SOAP, WSDL, and UDDI. IEEE Internet Computing 6:86–93

Dalyot K, Dalyot S (2018) Towards the use of crowdsourced GIS data to georeference child well-being globally. Social Indicators Research 139:185–204. https://doi.org/10.1007/s11205-017-1714-1

de la Beaujardiere J (2006) OpenGIS ® web map server implementation specification.

Ding Y, Fotheringham AS (1992) The integration of spatial analysis and gis. Computers, Environment and Urban Systems 16:3–19. https://doi.org/10.1016/0198-9715(92)90050-2

Duryea S, Kuenning MA (2003) School attendance, child labor and local labor market fluctuations in urban Brazil. World Development 31:1165–1178. https://doi.org/10.1016/S0305-750X(03)00065-2

Foster I (2005) Service-oriented science. Science 308:814–817. https://doi.org/10.1126/science.1110411

Foster AD, Rosenzweig MR (1996) Technical change and human-capital returns and investments: evidence from the green revolution. American Economic Review 86:931–953

Foster AD, Rosenzweig MR (2004) Technological change and the distribution of schooling: evidence from green-revolution India. Journal of Development Economics 74:87–111. https://doi.org/10.1016/j.jdeveco.2003.12.005

Fotheringham AS, Charlton ME, Brunsdon C (2001) Spatial variations in school performance: a local analysis using geographically weighted regression. Geographical & Environmental Modelling 5:43–66. https://doi.org/10.1080/13615930120032617

Friis-Christensen A, Lutz M, Ostländer N, Bernard L (2007) Designing service architectures for distributed geoprocessing: challenges and future directions. Transactions in GIS 11:799–818

Fustes D, Cantorna D, Dafonte C, Arcay B, Iglesias A, Manteiga M (2014) A cloud-integrated web platform for marine monitoring using GIS and remote sensing. Application to oil spill detection through SAR images. Future Generation Computer Systems 34:155–160

Galabawa JCJ, Agu AO, Miyazawa I (2002) The impact of school mapping in the development of education in Tanzania: an assessment of the experiences of six districts. Evaluation and Program Planning 25:23–33. https://doi.org/10.1016/S0149-7189(01)00046-5

Gebhardt S, Wehrmann T, Klinger V, Schettler I, Huth J, Künzer C, Dech S (2010) Improving data management and dissemination in web based information systems by semantic enrichment of descriptive data aspects. Computers and Geosciences 36:1362–1373. https://doi.org/10.1016/j.cageo.2010.03.010

Govinda R (1999) Reaching the unreached through participatory planning: school mapping in Lok Jumbish , India. IIEP/ UNESCO, Paris

Govinda R, Bandyopadhyay M (2010) Social exclusion and school participation in India: expanding access with equity. Prospects 40:337–354. https://doi.org/10.1007/s11125-010-9160-8

Granell C, Díaz L, Gould M (2010) Service-oriented applications for environmental models: reusable geospatial services. Environmental Modelling and Software 25:182–198. https://doi.org/10.1016/j.envsoft.2009.08.005

Grewal IK, Singh NS (2011) Understanding child rights in India. Early Education & Development 22:863–882. https://doi.org/10.1080/10409289.2011.596461

Hazarika G (2010) The sensitivity of primary school enrollment to the costs of post-primary schooling in rural Pakistan: a gender perspective. Education Economics 9:237–244. https://doi.org/10.1080/09645290110086117

Heymann J, Raub A, Cassola A (2014) Constitutional rights to education and their relationship to national policy and school enrolment. International Journal of Educational Development 39:131–141. https://doi.org/10.1016/j.ijedudev.2014.08.005

Ikeda E, Mavoa S, Hinckson E, Witten K, Donnellan N, Smith M (2018) Differences in child-drawn and GIS-modelled routes to school: impact on space and exposure to the built environment in Auckland, New Zealand. Journal of Transport Geography 71:103–115. https://doi.org/10.1016/j.jtrangeo.2018.07.005

Kiehle C, Greve K, Heier C (2006) Standardized geoprocessing-taking spatial data infrastructures one step further. In: 9th AGILE Conference on Geographic Information Science. Visegrád, Hungary, pp 273–282

Kochar A (2004) Urban influences on rural schooling in India. Journal of Development Economics 74:113–136. https://doi.org/10.1016/j.jdeveco.2003.12.006

Kulawiak M, Dawidowicz A, Pacholczyk ME (2019) Analysis of server-side and client-side Web-GIS data processing methods on the example of JTS and JSTS using open data from OSM and geoportal. Computers and Geosciences 129:26–37. https://doi.org/10.1016/j.cageo.2019.04.011

Kumar S, Bansal VK (2019) GIS-based locational evaluation of infrastructure facilities in hilly regions: a case study of an institute campus. International Journal of Construction Management 1–20. https://doi.org/10.1080/15623599.2019.1604114

Latre MÁ, Lopez-Pellicer FJ, Nogueras-Iso J, Béjar R, Zarazaga-Soria FJ, Muro-Medrano PR (2013) Spatial Data Infrastructures for environmental e-government services: the case of water abstractions authorisations. Environmental Modelling and Software 48:81–92. https://doi.org/10.1016/j.envsoft.2013.06.005

Lavy V (1996) School supply constraints and children's educational outcomes in rural Ghana. Journal of Development Economics 51:291–314

Lincove JA (2009) Determinants of schooling for boys and girls in Nigeria under a policy of free primary education. Economics of Education Review 28:474–484. https://doi.org/10.1016/j.econedurev.2008.10.001

Logan JR, Zhang W, Xu H (2010) Applying spatial thinking in social science research. GeoJournal 75:15–27. https://doi.org/10.1007/s10708-010-9343-0

Mackenzie CA, Moffatt SP, Ogwang J et al (2016) Spatial and temporal patterns in primary school enrolment and exam achievement in Rural Uganda. Children's Geographies 15:334–348. https://doi.org/10.1080/14733285.2016.1244603

Makino Y, Watanabe S (2002) The Application of GIS to the school mapping in Bangkok. In: Asian Association on Remote Sensing (AARS) with collaboration Survey Department, the 23rd Asian Conference on Remote Sensing Proceeding. pp 1–7

Mukhopadhyay A, Sahoo S (2016) Does access to secondary education affect primary schooling? Evidence from India. Economics of Education Review 54:124–142. https://doi.org/10.1016/j.econedurev.2016.07.003

Mulaku GC, Nyadimo E (2011) GIS in education planning: the Kenyan school mapping project. Survey Review 43:567–578. https://doi.org/10.1179/003962611X13117748892155

Mullery GP (1979) CORE-a method for controlled requirement specification. In: ICSE '79 Proceedings of the 4th international conference on software engineering. Munich, Germany, pp 126–135

Murray AT, Xu J, Wang Z, Church RL (2019) Commercial GIS location analytics: capabilities and performance. International Journal of Geographical Information Science 33:1106–1130. https://doi.org/10.1080/13658816.2019.1572898

National University of Educational Planning and Administration (NUEPA) (2014) Education for all towards quality with equity India. New Delhi, India

Odhiambo OG, Imwati AT (2014) Use of geo-information systems for educational services provision and planning in Asal areas: a case study of Garissa County-Kenya. International Journal of Science and Research 3:2432–2446

Orford S (2018) The capitalisation of school choice into property prices: a case study of grammar and all ability state schools in Buckinghamshire, UK. Geoforum 97:231–241. https://doi.org/10.1016/j.geoforum.2018.09.009

Panahi M, Yekrangnia M, Bagheri Z et al (2019) GIS-based SWARA and its ensemble by RBF and ICA data-mining techniques for determining suitability of existing schools and site selection of new school buildings. In: Gokceoglu C (ed) Pourghasemi HR. Elsevier Inc., Spatial modeling in GIS and R for earth and environmental sciences, pp 161–188

Papazoglou MP, van den Heuvel W-J (2007) Service oriented architectures: approaches, technologies and research issues. The VLDB Journal 16:389–415. https://doi.org/10.1007/s00778-007-0044-3

Peckham SD, Goodall JL (2013) Driving plug-and-play models with data from web services: a demonstration of interoperability between CSDMS and CUAHSI-HIS. Computers and Geosciences 53:154–161. https://doi.org/10.1016/j.cageo.2012.04.019

Pocock T, Moore A, Keall M, Mandic S (2019) Physical and spatial assessment of school neighbourhood built environments for active transport to school in adolescents from Dunedin (New Zealand). Health & Place 55:1–8. https://doi.org/10.1016/j.healthplace.2018.10.003

Powers JM, Topper AM (2019) Density, market share, market concentration, and proximity: comparing measures of competition in the public school sector. Journal of School Choice 13:1–30. https://doi.org/10.1080/15582159.2019.1593812

Ramsey P, Garnett J, Eichar J (2005) uDig user friendly desktop internet GIS.

Rybnikova NA, Portnov BA (2017) Remote identification of research and educational activities using spectral properties of nighttime light. ISPRS Journal of Photogrammetry and Remote Sensing 128:212–222. https://doi.org/10.1016/j.isprsjprs.2017.03.021

Salvati P, Balducci V, Bianchi C, Guzzetti F, Tonelli G (2009) A WebGIS for the dissemination of information on historical landslides and floods in Umbria, Italy. GeoInformatica 13:305–322. https://doi.org/10.1007/s10707-008-0072-1

Sengupta S, Bhattacharya S (2006) Formalization of UML use case diagram-a Z notation based approach. In: International Conference on Computing & Informatics. Kuala Lumpur, Malaysia, pp 1–6

Sharma Y (2018) Application of geographic information system (GIS) in education. International Journal Of Advanced Multidisciplinary Scientific Research 1:23–27

Singal N (2006) Inclusive education in India: international concept, national interpretation. International Journal of Disability, Development and Education 53:351–369. https://doi.org/10.1080/10349120600847797

Sripati V, Thiruvengadam AK (2004) India: constitutional amendment making the right to education a fundamental right. International Journal of Constitutional Law 2:148–158

Steiniger S, Bocher E (2009) An overview on current free and open source desktop GIS developments. International Journal of Geographical Information Science 23:1345–1370. https://doi.org/10.1080/13658810802634956

Steiniger S, Hunter AJS (2013) The 2012 free and open source GIS software map–a guide to facilitate research, development, and adoption. Computers, Environment and Urban Systems 39:136–150. https://doi.org/10.1016/j.compenvurbsys.2012.10.003

Stonebraker M, Rowe LA, Hirohama M (1990) The implementation of POSTGRES. IEEE Transactions on Knowledge and Data Engineering 2:125–142. https://doi.org/10.1109/69.50912

TRAI (2019) Telecom Regulatory Authority of India, Annual Report 2018-19. New Delhi, India https://main.trai.gov.in/notifications/press-release/press-release-annual-report-trai-year-2018-19

Uttar Pradesh State Education Department. (2011). The Uttar Pradesh right of children to free and compulsory education rules, India, http://righttoeducation.in/sites/default/files/Uttar%20Pradesh%20RTE%20Rules %2C%202011.pdf#overlay-context

Van Der Aalst WMP, Beisiegel M, Van Hee KM et al (2007) A SOA-based architecture framework. International Journal of Business Process Integration and Management 2:1–64

Wenjue J, Yumin C, Jianya G (2004) Implementation of OGC web map service based on web service. Geo-spatial Information Science 7:148–152. https://doi.org/10.1007/BF02826653

Wilson B, Wilson N, Martin S (2019) Using GIS to advance social economics research: geocoding, aggregation, and spatial thinking. Forum for Social Economics:1–25. https://doi.org/10.1080/07360932.2018.1509798
Acknowledgments
The authors would like to extend their sincere thanks to Mr. Dharmendera Kumar Meena for his field assistance in capturing the location of schools using handheld GPS, which is used in this study.
Additional information
Responsible Editor: Biswajeet Pradhan
About this article
Cite this article
Agrawal, S., Gupta, R.D. Development of SOA-based WebGIS framework for education sector. Arab J Geosci 13, 563 (2020). https://doi.org/10.1007/s12517-020-05490-9
Received:

Accepted:

Published:
Keywords
WebGIS

OGC

SOA

Education

School

Open source

Thiessen polygon