Abstract
This study evaluates the impacts of climate change on the floodway and floodway fringe along the Shahrchi River located at Lake Urmia Basin, Iran. The raw historical (1971–2000) and near future (2021–2050) precipitation and temperature data were obtained from Middle East and North Africa domain of the Coordinated Regional Climate Downscaling Experiment (CORDEX). The projections from the global climate model were corrected using daily observations from in situ stations and then used as inputs for SWAT+ hydrological model to forecast daily streamflow under the representative concentration pathway 8.5 (RCP8.5) scenario at the near future period. Flood frequency analysis at each period was accomplished and floodway and floodway fringe were obtained through flood wave routing along the river and a multi-criteria decision-making approach, respectively. The results indicated that the climate model typically underestimates the temperature and precipitation values at the historical period and the future projections need to be adjusted. In addition, a significant decrease in total runoff volume in the future periods is expected; however, the hydrologic models showed that the number and magnitude of peak flows would be increased.
This is a preview of subscription content, log in to check access.
Access options
Buy single article
Instant access to the full article PDF.
US$ 39.95
Price includes VAT for USA
Subscribe to journal
Immediate online access to all issues from 2019. Subscription will auto renew annually.
US$ 99
This is the net price. Taxes to be calculated in checkout.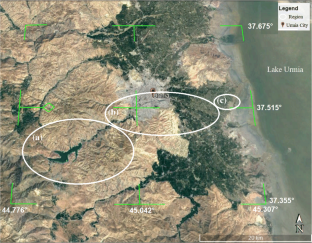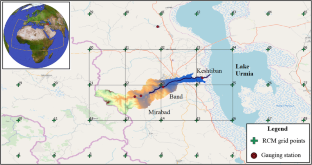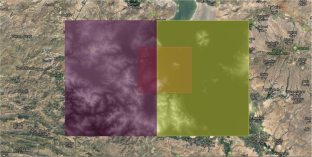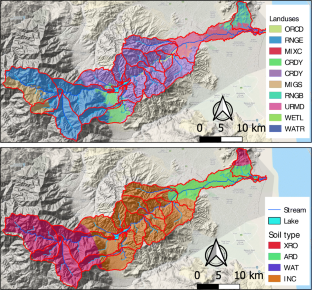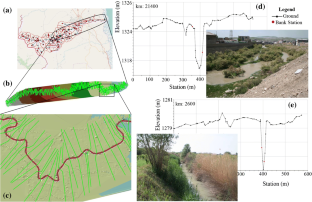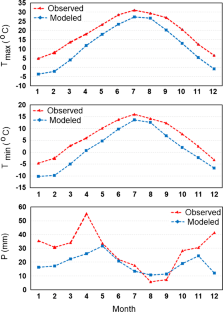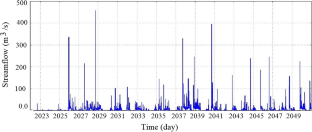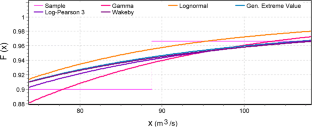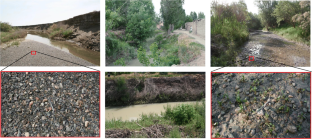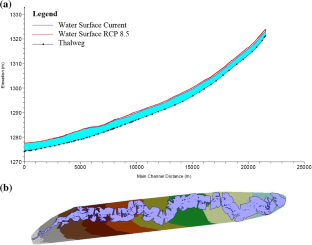 References
Ajjur SB, Mogheir YK (2020) Flood hazard mapping using a multi-criteria decision analysis and GIS (case study Gaza Governorate, Palestine). Arab J Geosci 13(2):1–11

Alfieri L, Salamon P, Bianchi A, Neal J, Bates P, Feyen L (2014) Advances in pan-European flood hazard mapping. Hydrol Process 28(13):4067–4077

Almazroui M, Islam MN, Alkhalaf AK, Saeed F, Dambul R, Rahman MA (2016) Simulation of temperature and precipitation climatology for the CORDEX-MENA/Arab domain using RegCM4. Arab J Geosci 9(1):13

Altunkaynak A, Bizimana H (2020) Prediction of flood hazard map based on hybrid fuzzy geographic information system and its application for Ayamama watershed. Int J Fuzzy Computation and Modelling 3(1):16–32

Arnold JG, Srinivasan R, Muttiah RS, Williams JR (1998) Large area hydrologic modeling and assessment, part 1: model develop- ment. JAWRA 34(1):73–89. https://doi.org/10.1111/j.1752-1688.1998.tb05961.x

Azar Bulag Tabriz Consulting Engineering (2015) Shahrchay Hydraulics. Water authority of Azarbaijane Gharbi, Iran, p 55 In Farsi

Batchabani E, Sormain E, Fuamba M (2016) Potential impacts of projected climate change on flooding in the Riviere des Prairies basin, Quebec, Canada: One-dimensional and two-dimensional simulation-based approach. J Hydrol Eng 21(12): 05016032.

Bourget LC, Pajak MJ (1995) Floodways and one-dimensional unsteady-state flow models. In: From the mountains to the sea–developing local capabilities: Proceedings of the Nineteenth Annual Conference of the Association of State Floodplain Managers, vol 1995, p 261

Cabrera J, Lee H (2018) Impacts of climate change on flood-prone areas in Davao oriental, Philippines. Water 10(7):893

Cowan WL (1956) Estimating hydraulic roughness coefficients. Agric Eng 37(7):473–475

da Costa RT, Manfreda S, Luzzi V, Samela C, Mazzoli P, Castellarin A, Bagli S (2019) A web application for hydrogeomorphic flood hazard mapping. Environ Model Softw 118:172–186

Danandeh Mehr A, Kahya E (2017) Climate change impacts on catchment-scale extreme rainfall variability: case study of Rize Province, Turkey. J Hydrol Eng 22(3):05016037

Danandeh Mehr A, Salimi M, Soltani S (2011) Performance evaluation of DLSRS model in quantitative fringe determination of mountain rivers. In: 2nd Iranian national conference on applied researches in water resources, Zanjan (in Farsi)

Danandeh Mehr A, Sorman AU, Kahya E, Hesami Afshar M (2020) Climate change impacts on meteorological drought using SPI and SPEI: case study of Ankara, Turkey. Hydrol Sci J 65(2):254–268

Domeneghetti A, Vorogushyn S, Castellarin A, Merz B, Brath A (2013) Probabilistic flood hazard mapping: effects of uncertain boundary conditions. Hydrol Earth Syst Sci 17(8):3127–3140

Dottori F, Salamon P, Bianchi A, Alfieri L, Hirpa FA, Feyen L (2016) Development and evaluation of a framework for global flood hazard mapping. Adv Water Resour 94:87–102

FEMA (2018) Guidance for flood risk analysis and mapping: general hydrologic considerations. Available online: https://www.fema.gov/media-library-data/152520175672890e667d3d0958347b8374f6321bd488/General_Hydrologic_Guidance_Feb_2018.pdf (accessed on 18 April 2018).

IPCC (2018) Global warming of 1.5°C. IPCC, Geneva

Jones C, Giorgi F, Asrar G (2011) The Coordinated Regional Downscaling Experiment: CORDEX–an international downscaling link to CMIP5. CLIVAR Exchanges 16(2):34–40

Lelieveld J, Hadjinicolaou P, Kostopoulou E, Giannakopoulos C, Pozzer A, Tanarhte M, Tyrlis E (2014) Model projected heat extremes and air pollution in the eastern Mediterranean and Middle East in the twenty-first century. Reg Environ Chang 14(5):1937–1949

Lelieveld J, Proestos Y, Hadjinicolaou P, Tanarhte M, Tyrlis E, Zittis G (2016) Strongly increasing heat extremes in the Middle East and North Africa (MENA) in the 21st century. Clim Chang 137(1-2):245–260

Lenderink G, Buishand A, Van Deursen W (2007) Estimates of future discharges of the river Rhine using two scenario methodologies: direct versus delta approach. Hydrol Earth Syst Sci 11(3):1145–1159

Nikam BR, Garg V, Jeyaprakash K, Gupta PK, Srivastav SK, Thakur PK, Aggarwal SP (2018) Analyzing future water availability and hydrological extremes in the Krishna basin under changing climatic conditions. Arab J Geosci 11(19):581

Nohani E (2019) Estimating Manning's roughness coefficient in rivers by experimental method. Online J Eng SciTechnol 2(1):5–10

Ozturk T, Turp MT, Türkeş M, Kurnaz ML (2018) Future projections of temperature and precipitation climatology for CORDEX-MENA domain using RegCM4. 4. Atmos Res 206:87–107

Petroselli A, Vojtek M, Vojteková J (2019) Flood mapping in small ungauged basins: a comparison of different approaches for two case studies in Slovakia. Hydrol Res 50(1):379–392

Phillips JV, Tadayon S (2007) Selection of Manning's roughness coefficient for natural and constructed vegetated and non-vegetated channels, and vegetation maintenance plan guidelines for vegetated channels in Central Arizona. In: Scientific Investigations Report 2006–5108. USGS, Reston

Rahman K, Etienne C, Gago-Silva A, Maringanti C, Beniston M, Lehmann A (2014) Streamflow response to regional climate model output in the mountainous watershed: a case study from the Swiss Alps. Environ Earth Sci 72(11):4357–4369

Rahmani-Rezaeieh A, Mohammadi M, Mehr AD (2020) Ensemble gene expression programming: a new approach for evolution of parsimonious streamflow forecasting model. Theor Appl Climatol 139(1–2):549–564

Sanyal J, Lu XX (2006) GIS-based flood hazard mapping at different administrative scales: a case study in Gangetic West Bengal, India. Singap J Trop Geogr 27(2):207–220

Selvanathan S, Dymond RL (2010) FloodwayGIS: An ArcGIS visualization environment to remodel a floodway. Trans GIS 14:671–688

Şen O, Kahya E (2017) Determination of flood risk: a case study in the rainiest city of Turkey. Environ Model Softw 93:296–309

Soltani S, Jafari G (2010) Rivers and coastals in law perspective. Iran Water Resources Management co, Tehran (in Farsi)

Toosi AS, Doulabian S, Tousi EG, Calbimonte GH, Alaghmand S (2020) Large-scale flood hazard assessment under climate change: a case study. Ecol Eng 147:105765

Vojtek M, Vojteková J (2019) Flood susceptibility mapping on a national scale in Slovakia using the analytical hierarchy process. Water 11(2):364

Zhao G, Xu Z, Pang B, Tu T, Xu L, Du L (2019) An enhanced inundation method for urban flood hazard mapping at the large catchment scale. J Hydrol 571:873–882
Acknowledgments
This study has been accomplished as a PhD thesis of the first author that would like to express his sincere gratitude to the chair of Civil Engineering Department in the Islamic Azad University-Najafabad Branch. We also appreciate reviewers' comments that enabled us to improve the quality of this article.
Additional information
Responsible Editor: Zhihua Zhang
About this article
Cite this article
Rahmani-Rezaeieh, A., Mohammadi, M. & Danandeh Mehr, A. Climate change impacts on floodway and floodway fringe: a case study in Shahrchay River Basin, Iran. Arab J Geosci 13, 494 (2020). https://doi.org/10.1007/s12517-020-05444-1
Received:

Accepted:

Published:
Keywords
Climate change

Floodway

RCP8.5

CORDEX

SWAT+

Floodway fringe