Abstract
The borehole method is quite commonly utilized in underground excavation engineering, such as for mining and tunneling, to release high pressure in brittle rock materials for safety control. In this paper, with the purpose of better understanding the failure behavior of brittle rock material with en echelon boreholes, a series of uniaxial compression tests were carried out on sandstone samples in the laboratory. The geometric layout of boreholes was the focus in this study and varied in terms of the number of borehole rows and orientation. In accordance with the experimental results, three failure modes were observed to occur in the sandstone samples, which are tensile failure across the borehole row, tensile failure along the borehole row, and a mixed failure mode. The strength and deformability of sandstone samples are found to significantly depend on the layout of boreholes. The variation in the brittleness of the rock materials was also analyzed with respect to the ratio of the initial stress over peak stress. The findings of this study would enhance the understanding of the borehole method and provide guidance for underground excavation engineering.
This is a preview of subscription content, log in to check access.
Access options
Buy single article
Instant access to the full article PDF.
US$ 39.95
Price includes VAT for USA
Subscribe to journal
Immediate online access to all issues from 2019. Subscription will auto renew annually.
US$ 99
This is the net price. Taxes to be calculated in checkout.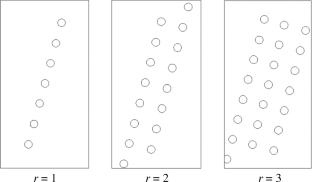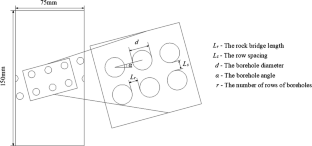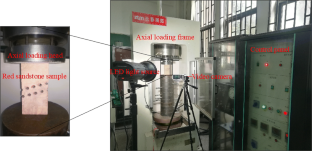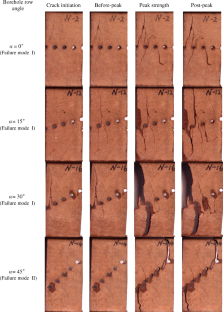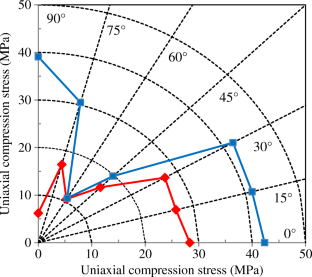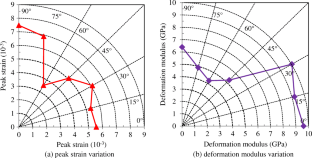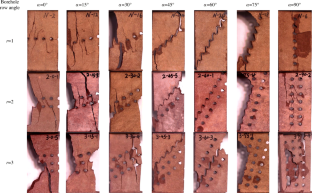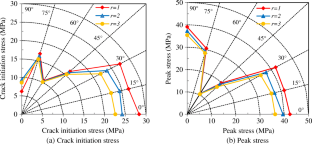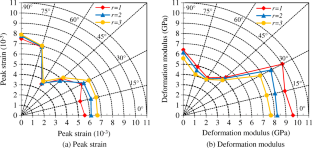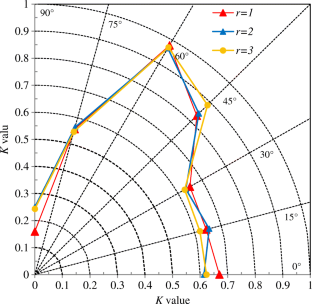 References
Bahaaddini M, Hagan PC, Mitra R, Khosravi MH (2016) Experimental and numerical study of asperity degradation in the direct shear test. Eng Geol 204:41–52

Cao RH, Cao P, Lin H, Ma GW, Zhang CY, Jiang C (2018) Particle flow modeling of rock blocks with nonpersistent open joints under uniaxial compression. Archiv Civil Mech Eng 18:784–798

Fan X, Kulatilake PHSW, Chen X (2015) Mechanical behavior of rock-like jointed blocks with multi-non-persistent joints under uniaxial loading: a particle mechanics approach. Eng Geol 190:17–32

Huang YH, Yang SQ, Ranjith PG, Zhao J (2017a) Strength failure behavior and crack evolution mechanism of granite containing pre-existing non-coplanar holes: experimental study and particle flow modeling. Comput Geotech 88:182–198

Huang YH, Yang SQ, Tian WL, Zhao J, Ma D, Zhang CS (2017b) Physical and Mechanical behavior of granite containing pre-existing holes after high temperature treatment. Archiv Civil Mech Eng 17:912–925

ISRM (1978) Suggested methods for the quantitative description of discontinuities in rock masses. Int J Rock Mech Min Sci 15:319–368

Liu GJ, Xian XF, Zhou XP, Zhang L, Liu QL, Zhang SW (2016) Experimental study of the impact of loading deformation characteristics and mineral composition on shale rock brittleness. J Chin Coal Societ 41:369–375

Ramsay JG (1967) Folding and fracturing of rocks. McGraw-Hill, London

Sagong M, Bobet A (2002) Coalescence of multiple flaws in a rock-model material in uniaxial compression. Int J Rock Mech Min Sci 39:229–241

Sun PP, Yang XX, Sun DK, Qiao WG, Wu Y (2020) Geometric and mechanical properties of a shear-formed fracture occurring in a rock bridge between discontinuous joints. Bull Eng Geol Environ 79(3):1365–1380

Tang CA, Wong RHC, Chau KT, Lin P (2005) Modeling of compression-induced splitting failure in heterogeneous brittle porous solids. Eng Fract Mech 72:597–615

Wang S, Liu B, Fu X, Zhao WC (2018) Evaluation of the brittleness and fracturing characteristics for tight elastic reservoir. Oil Gas Geol 39:1270–1279

Wong LNY, Einstein HH (2009a) Crack coalescence in molded gypsum and carrara marble: part 1—macroscopic observations and interpretation. Rock Mech Rock Eng 42(3):475–511

Wong LNY, Einstein HH (2009b) Crack coalescence in molded gypsum and carrara marble: part 2 – microscopic observations and interpretation. Rock Mech Rock Eng 42(3):513–545

Yang XX, Kulatilake PHSW (2019) Laboratory investigation of mechanical behavior of granite samples containing discontinuous joints through direct shear tests. Arab J Geosci 12:79

Yang XX, Qiao WG (2018) Numerical investigation of the shear behavior of granite materials containing discontinuous joints by utilizing the flat-joint model. Comput Geotech 104:69–80

Yang SQ, Dai YH, Han LJ, He YN, Li YS (2009a) Uniaxial compression experimental research on deformation and failure properties of brittle marble sample with pre-existing fissures. Chin J Rock Mech Eng 28:2391–2404

Yang SQ, Lu CH, Qu T (2009b) Investigations of crack expansion in marble having a single pre-existing hole: experiment and simulations. J Chin Univ Mini Techn 38(6):774–781

Yang XX, Pinnaduwa PHSW, Jing HW, Yang SQ (2015) Numerical simulation of a jointed rock block mechanical behavior adjacent to an underground excavation and comparison with physical model test results. Tunn Undergr Space Techn 50:129–142

Yang XX, Jing HW, Tang CA, Yang SQ (2017) Effect of parallel joint interaction on mechanical behavior of jointed rock mass models. Int J Rock Mech Min Sci 92:40–53

Zhang SH, Li YY, Shen BT, Sun XZ, Gao LQ (2019) Effective evaluation of pressure relief drilling for reducing rock bursts and its application in underground coal mines. Int J Rock Mech Min Sci 114:7–16

Zhu TT, Jing HW, Su HJ, Du MR (2015) Study on mechanical behavior of sandstone containing double en echelon cavities under uniaxial compression. Chin J Geotech Eng 37(6):1047–1056
Acknowledgments
The research reported in this manuscript was financially supported by the Natural Science Foundation of Shandong Province (Grant No. ZR2017BEE020). This research was also partially supported by the National Natural Science Foundation of China (Grant Nos. 51704183 and 51774192) and the Postdoctoral Science Foundation of China (Grant No. 2018M640646). The financial support from State Key Laboratory for GeoMechanics and Deep Underground Engineering, China University of Mining & Technology was appreciated as well.
Additional information
Responsible Editor: Zeynal Abiddin Erguler
About this article
Cite this article
Wu, Y., Yang, X. & Sun, D. Experimental investigation of the mechanical behaviors of brittle rock materials containing en echelon boreholes. Arab J Geosci 13, 425 (2020). https://doi.org/10.1007/s12517-020-05440-5
Received:

Accepted:

Published:
Keywords
Failure behavior

Brittle rock material

En echelon boreholes

Underground excavation