Abstract
Dead Sea salt, a benign chemical material vastly available in Jordan, could be used to improve the characteristics of expansive subgrade soil and to reduce carbon dioxide emissions resulting from traditional stabilizers such as cement. To achieve this purpose, expansive clayey soil obtained from Al-Azraq Basin in the eastern part of Jordan was treated by mixing it with a Dead Sea salt solution. Results showed that using Dead Sea salt as a solution additive, the plasticity index (PI), free swell (FS), and optimum moisture content (OMC) decreased. On the other hand, the maximum dry density (MDD) and the unconfined compressive strength (UCS) noticeably increased, continuing to strengthen with increased curing time. Additionally, with wetting-drying cycles to OMC, FS was reduced, reaching equilibrium value with fewer cycles. However, with the wetting-drying cycles to shrinkage limit, FS slightly increased. In conclusion, using Dead Sea salt as a stabilization additive markedly enhanced the engineering properties of the expansive clay used as subgrade soil.
This is a preview of subscription content, log in to check access.
Access options
Buy single article
Instant access to the full article PDF.
US$ 39.95
Price includes VAT for USA
Subscribe to journal
Immediate online access to all issues from 2019. Subscription will auto renew annually.
US$ 99
This is the net price. Taxes to be calculated in checkout.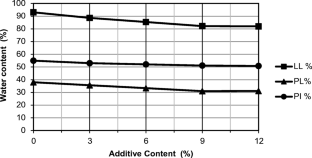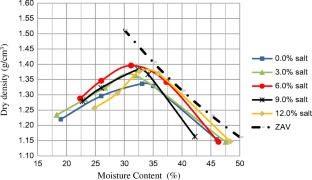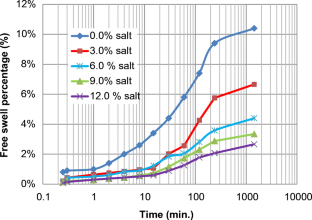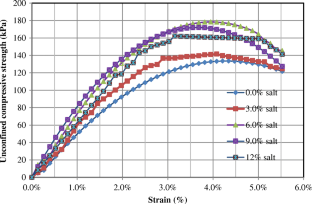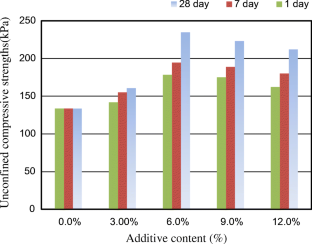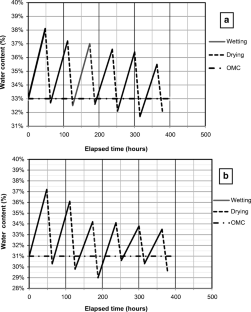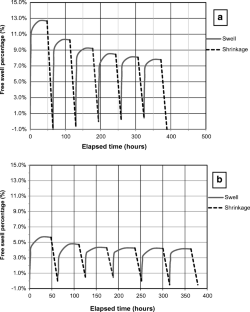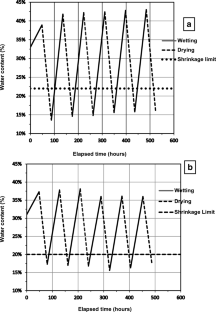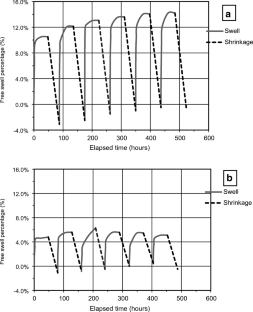 References
Abdullah WS, Alshibli KA, Al-Zou'bi MS (1999) Influence of pore water chemistry on the swelling behavior of compacted clays. Appl Clay Sci 15:447–462. https://doi.org/10.1016/S0169-1317(99)00034-4

Abu-Zreig MM, Al-Akhras NM, Attom MF (2001) Influence of heat treatment on the behavior of clayey soils. Appl Clay Sci 20:129–135. https://doi.org/10.1016/S0169-1317(01)00066-7

Al-Akhras KM, Attom MF, Husein Malkawi A, Al-Akhras N (2008) Influence of fibers on swelling properties of clayey soil. Geosynth Int - Geosynth Int 15:304–309. https://doi.org/10.1680/gein.2008.15.4.304

Aldaood A, Bouasker M, Al-Mukhtar M (2014) Free swell potential of lime-treated gypseous soil. Appl Clay Sci 102:102–103. https://doi.org/10.1016/j.clay.2014.10.015

Aldeeky H, Omar Al Hattamleh O (2017) Experimental study on the utilization of fine steel slag on stabilizing high plastic subgrade soil. Adv Civil Eng 2017:9230279 11 pages

Al-Mukhtar M, Lasledj A, Alcover J-F (2010) Behaviour and mineralogy changes in lime-treated expansive soil at 20 °C. Appl Clay Sci 50:191–198. https://doi.org/10.1016/J.CLAY.2010.07.023

Al-Rawas AA, Taha R, Nelson JD et al (2002) A comparative evaluation of various additives used in the stabilization of expansive soils. Geotech Test J 25:199–209. https://doi.org/10.1520/GTJ11363J

Al-Rawas AA, Hago AW, Al-Sarmi H (2005) Effect of lime, cement and Sarooj (artificial pozzolan) on the swelling potential of an expansive soil from Oman. Build Environ 40:681–687. https://doi.org/10.1016/J.BUILDENV.2004.08.028

Al-Shameri A, Abood A, Yan C, Akhtar MM (2013) Characteristics, modification and environmental application of Yemen's natural bentonite. Arab J Geosci 7:841–853. https://doi.org/10.1007/s12517-013-0855-z

Asheghi, R., Shahri, A.A. Zak, M. K. (2019). Prediction of uniaxial compressive strength of different quarried rocks using metaheuristic algorithm. Arab J Sci Eng. Issue 10/2019. https://doi.org/10.1007/s13369-019-04046-8

ASTM D 2487-17 (2017) Standard practices for classification of soils for engineering purposes (unified Soil Classification System), 08, vol 04. ASTM International, West Conshohocken

ASTM D2166 / D2166M-16 (2016) Standard test method for unconfined compressive strength of cohesive soil. West Conshohocken, ASTM International

ASTM D2488-17 (2017) Standard practice for description and identification of soils (visual-manual procedures). ASTM International, West Conshohocken

ASTM D422-63e2 (2007) Standard test method for particle-size analysis of soils. West Conshohocken, ASTM International

ASTM D427-04 (2004) Test Method for shrinkage factors of soils by the mercury method. Philadelphia, ASTM International

ASTM D4318-10e1 (2010) Standard test methods for liquid limit, plastic limit, and plasticity index of soils. West Conshohocken, ASTM International

ASTM D4546-14 (2014) Standard test methods for one-dimensional swell or collapse of soils. West Conshohocken, ASTM International

ASTM D4972-13 (2013) Standard test method for pH of soils. West Conshohocken, ASTM International

ASTM D698-12e2 (2012) Standard test methods for laboratory compaction characteristics of soil using standard effort (12 400 ft-lbf/ft3 (600 kN-m/m3)). West Conshohocken, ASTM International

ASTM E1621-13 (2013) Standard guide for elemental analysis by wavelength dispersive X-ray fluorescence spectrometry. ASTM International, West Conshohocken. https://doi.org/10.1520/e1621-94r99

ASTM standard D0854-14 (2014) Standard test methods for specific gravity of soil solids by water pycnometer, 09, vol 04. ASTM international, West Conshohocken

Basma AA, Al-Homoud AS, Husein Malkawi AI, Al-Bashabsheh MA (1996) Swelling-shrinkage behavior of natural expansive clays. Appl Clay Sci 11:211–227. https://doi.org/10.1016/S0169-1317(96)00009-9

Chegenizadeh A, Nikraz H (2011) Automated shear test on reinforced clayey sand. Adv Mater Res 261–263:1019–1023. https://doi.org/10.4028/www.scientific.net/AMR.261-263.1019

Chen FH (1988) Foundation on expansive soils. Elsevier, Amsterdam

Chittaranjan M, Srikanth T, Lakshmi BY, Pavani D (2011) Effect of sea water on some geo technical properties of clayey soil. Int J Earth Sci Eng 4:161–164

Chu J, Indraratna B, Yan S, Rujikiatkamjorn C (2014) Overview of preloading methods for soil improvement. Proc Inst Civ Eng - Gr Improv 167:173–185. https://doi.org/10.1680/grim.13.00022

Çokça E (2001) Use of class C fly ashes for the stabilization of an expansive soil. J Geotech Geoenviron Eng 127:568–573. https://doi.org/10.1061/(ASCE)1090-0241(2001)127:7(568)

Dubey P, Jain R (2015) Effect of common salt (NaCl) on index properties of black cotton soil. IJIRST-Int J Innov Res Sci Technol 2

Estabragh AR, Parsaei B, Javadi AA (2015) Laboratory investigation of the effect of cyclic wetting and drying on the behaviour of an expansive soil. Soils Found 55:304–314. https://doi.org/10.1016/J.SANDF.2015.02.007

Estabragh AR, Moghadas M, Moradi M, Javadi AA (2017) Consolidation behavior of an unsaturated silty soil during drying and wetting. Soils Found 57:277–287. https://doi.org/10.1016/j.sandf.2017.03.005

Fouzan F, Dafalla M (2013) Study of cracks and fissures phenomenon in Central Saudi Arabia by applying geotechnical and geophysical techniques. Arab J Geosci 7:1157–1164. https://doi.org/10.1007/s12517-013-0884-7

Fredlund DG (2006) Unsaturated soil mechanics in engineering practice. J Geotech Geoenviron Eng 132:286–321. https://doi.org/10.1061/(ASCE)1090-0241(2006)132:3(286)

Goodrich B, Koski R, Jacobi WR (2009) Condition of soils and vegetation along roads treated with magnesium chloride for dust suppression. Water Air Soil Pollut 198:165–188. https://doi.org/10.1007/s11270-008-9835-4

Guney Y, Sari Y, Çetin M, Tuncan M (2007) Impact of cyclic wetting–drying on swelling behavior of lime-stabilized soil. Build Environ 42:681–688. https://doi.org/10.1016/j.buildenv.2005.10.035

Hanafy EDE (1991) Swelling/shrinkage characteristic curve of desiccated expansive clays. Geotech Test J 14:206–211. https://doi.org/10.1520/gtj10562j

Hasan U, Chegenizadeh A, Arief Budihardjo M, Nikraz H (2015) A review of the stabilisation techniques on expansive soils. Aust J Basic Appl Sci 9:541–548

Hawari Z, Bany Yaseen I (2012) Clay mineralogy of the soils above basalt from Azraq area, Jordan. Jordan J Civ Eng 6:373–384

Ivasuc T (2012) Sea water influence on the behavior of the expansive clays. Environ Eng 1:105–108

Jayasree PK, Balan K, Peter L, Nisha KK (2015) Volume change behavior of expansive soil stabilized with coir waste. J Mater Civ Eng 27:04014195. https://doi.org/10.1061/(ASCE)MT.1943-5533.0001153

Jianli M, Youcai Z, Jinmei W, Li W (2009) Effect of magnesium oxychloride cement on stabilization/solidification of sewage sludge. Constr Build Mater 24:79–83. https://doi.org/10.1016/j.conbuildmat.2009.08.011

Karimpour-Fard M, Shariatmadari N, Salami M (2011) Effect of inorganic salt solutions on some geotechnical properties of soil-bentonite mixtures as barriers. Int J Civ Eng 9

Karunarathne A, Gad E, Sivanerupan S, Wilson J (2012) Review of residential footing design on expansive soil in Australia. pp 575–580

Khemissa M, Mahamedi A (2014) Cement and lime mixture stabilization of an expansive overconsolidated clay. Appl Clay Sci 95:104–110. https://doi.org/10.1016/J.CLAY.2014.03.017

Kolay P, Sii HY, Taib SNL (2011) Tropical peat soil stabilization using class F pond ash from coal fired power plant. Int J Civ Environ Eng 74

Kumar A, Walia BS, Bajaj A (2007) Influence of fly ash, lime, and polyester fibers on compaction and strength properties of expansive soil. J Mater Civ Eng 19:242–248. https://doi.org/10.1061/(ASCE)0899-1561(2007)19:3(242)

Lajurkar S, Golait YS, Khandeshwar SR (2016) Engineering and technology (a high impact factor. Int J Innov Res Sci 5. https://doi.org/10.15680/IJIRSET.2016.0502110

Latifi N, Eisazadeh A, Marto A (2014) Strength behavior and microstructural characteristics of tropical laterite soil treated with sodium silicate-based liquid stabilizer. Environ Earth Sci 72:91–98. https://doi.org/10.1007/s12665-013-2939-1

Latifi N, Rashid ASA, Marto A, Tahir MM (2016) Effect of magnesium chloride solution on the physico-chemical characteristics of tropical peat. Environ Earth Sci 75:220. https://doi.org/10.1007/s12665-015-4788-6

Li X, Wen H, Muhunthan B, Wang J (2015) Modeling and prediction of the effects of moisture on the unconfined compressive and tensile strength of soils. J Geotech Geoenviron Eng. 141(7). https://doi.org/10.1061/(ASCE)GT.1943-5606.0001308

Lin L-C, Benson CH (2000) Effect of wet-dry cycling on swelling and hydraulic conductivity of GCLs. J Geotech Geoenviron Eng 126:40–49. https://doi.org/10.1061/(ASCE)1090-0241(2000)126:1(40)

Mahamedi A, Khemissa M (2015) Stabilization of an expansive overconsolidated clay using hydraulic binders. HBRC J 11:82–90. https://doi.org/10.1016/J.HBRCJ.2014.03.001

Manso JM, Ortega-López V, Polanco JA, Setién J (2013) The use of ladle furnace slag in soil stabilization. Constr Build Mater 40:126–134. https://doi.org/10.1016/J.CONBUILDMAT.2012.09.079

Mehri M, Jalili D, Mir Azizi S (2017) Physical specifications and mechanical behavior of swelling gypsiferous soils. J Civ Eng Struct 1:25–34. https://doi.org/10.21859/jces-01013

Murty VR, Praveen GV (2008) Use of chemically stabilized soil as cushion material below light weight structures founded on expansive soils. J Mater Civ Eng 20:392–400. https://doi.org/10.1061/(asce)0899-1561(2008)20:5(392

Nawasreh M (2001) Azraq clay minerals. Ph.D. Thesis, Cardiff University, Cardiff

Ou O, Gui Zhang X, Ping Yi N (2011) The experimental study on strength of subgrade soil treated with liquid stabilizer. Adv Mater Res 194–196:985–988. https://doi.org/10.4028/www.scientific.net/AMR.194-196.985

Ozer M, Ulusay R, Isik NS (2012) Evaluation of damage to light structures erected on a fill material rich in expansive soil. Bull Eng Geol Environ 71:21–36. https://doi.org/10.1007/s10064-011-0395-2

Pal SK, Ghosh A (2014) Volume change behavior of fly ash–montmorillonite clay mixtures. Int J Geomech 14:59–68. https://doi.org/10.1061/(ASCE)GM.1943-5622.0000300

Parfitt MK, Jones DJ, Garvin RG (2011) Structural, construction, and procedural failures associated with long-term pyritic soil expansion at a private elementary school in Pennsylvania. J Perform Constr Facil 25:56–66. https://doi.org/10.1061/(ASCE)CF.1943-5509.0000073

Petersen D, Link R, Pandian N, Krishna K (2003) The pozzolanic effect of fly ash on the California bearing ratio behavior of black cotton soil. J Test Eval 31:11586. https://doi.org/10.1520/JTE12375J

Rahmat N, Norsalisma I, Redzwan Raffe M (2015) Strength properties of sustainable palm oil fuel ash (POFA)—Stabilized Landfill. pp 533–544

Salahudeen AB, Eberemu AO, Osinubi KJ (2014) Assessment of cement kiln dust-treated expansive soil for the construction of flexible pavements. Geotech Geol Eng 32:923–931. https://doi.org/10.1007/s10706-014-9769-0

Salima B, Abdelhak B (2013) Geology, mineralogy, and chemistry of the M'zila bentonitic clay deposit (Mostaganem, NW Algeria). Arab J Geosci 6:2165–2172. https://doi.org/10.1007/s12517-011-0455-8

Saride S, Puppala AJ, Chikyala SR (2013) Swell-shrink and strength behaviors of lime and cement stabilized expansive organic clays. Appl Clay Sci 85:39–45. https://doi.org/10.1016/J.CLAY.2013.09.008

Sarkar R, Abbas SM, Shahu JT (2012) Study of geotechnical behaviour of pond ash mixed with marble dust. Int J Adv Technol Civ Eng 2231–5721

Schanz T, Elsawy MBD (2015) Swelling characteristics and shear strength of highly expansive clay–lime mixtures: a comparative study. Arab J Geosci 8:7919–7927. https://doi.org/10.1007/s12517-014-1703-5

Sezer A, İnan G, Yılmaz HR, Ramyar K (2006) Utilization of a very high lime fly ash for improvement of Izmir clay. Build Environ 41:150–155. https://doi.org/10.1016/J.BUILDENV.2004.12.009

Shahri A (2016) An optimized artificial neural network structure to predict clay sensitivity in a high landslide prone area using piezocone penetration test (CPTu) data: a case study in Southwest of Sweden. Geotech Geol Eng 34:745–758. https://doi.org/10.1007/s10706-016-9976-y

Shahri A, Larsson S, Johansson F (2016) Updated relations for the uniaxial compressive strength of marlstones based on P-wave velocity and point load index test. Innov Infrastruct Solut 1:17. https://doi.org/10.1007/s41062-016-0016-9

Shi B, Jiang H, Liu Z, Fang H (2002) Engineering geological characteristics of expansive soils in China. Eng Geol 67:63–71. https://doi.org/10.1016/S0013-7952(02)00145-X

Shillito R, Fenstermaker L, Field Office N (2014) Soil stabilization methods with potential for application at the Nevada National Security Site: a literature review prepared by

Shukla R, Parihar N, Tiwari R, Krishna Agrawal B (2014) Black cotton soil modification using sea salt. Electron J Geotech Eng 19:8807–8816

Sivapullaiah PV, Jha AK (2014) Gypsum induced strength behaviour of fly ash-lime stabilized expansive soil. Geotech Geol Eng 32:1261–1273. https://doi.org/10.1007/s10706-014-9799-7

Solanki P, Zaman MM (2010) Laboratory performance evaluation of subgrade soils stabilized with sulfate-bearing cementitious additives. J Test Eval 38:102378. https://doi.org/10.1520/JTE102378

Soltani A, Raeesi Estabragh A (2015) Treatment of expansive soils with quality saline pore water by cyclic drying and wetting. Desert 20:73–82. https://doi.org/10.22059/JDESERT.2015.54085

Sridharan A, Allam MM (1982) Volume change behavior of desiccated soils. J Geotech Eng Div 108:1057–1071

Tingle JS, Newman J, Larson S et al (2007) Stabilization mechanisms of nontraditional additives. Transp Res Rec 1989:59–67. https://doi.org/10.3141/1989-49

Turkoz M, Savas H, Acaz A, Tosun H (2014) The effect of magnesium chloride solution on the engineering properties of clay soil with expansive and dispersive characteristics. Appl Clay Sci 101:1–9. https://doi.org/10.1016/J.CLAY.2014.08.007

Viswanadham BVS, Phanikumar BR, Mukherjee RV (2009) Swelling behaviour of a geofiber-reinforced expansive soil. Geotext Geomembr 27:73–76. https://doi.org/10.1016/J.GEOTEXMEM.2008.06.002

Yilmaz I (2006) Indirect estimation of the swelling percent and a new classification of soils depending on liquid limit and cation exchange capacity. Eng Geol 85:295–301. https://doi.org/10.1016/J.ENGGEO.2006.02.005

Yilmaz I, Civelekoglu B (2009) Gypsum: an additive for stabilization of swelling clay soils. Appl Clay Sci 44:166–172. https://doi.org/10.1016/J.CLAY.2009.01.020

Yilmaz I, Marschalko M (2014) The effect of different types of water on the swelling behaviour of expansive clays. Bull Eng Geol Environ 73:1049–1062. https://doi.org/10.1007/s10064-014-0598-4

Yukselen-Aksoy Y, Kaya A, Ören AH (2008) Seawater effect on consistency limits and compressibility characteristics of clays. Eng Geol 102:54–61. https://doi.org/10.1016/J.ENGGEO.2008.07.005

Zhao H, Ge L, Petry TM, Sun Y-Z (2014) Effects of chemical stabilizers on an expansive clay. KSCE J Civ Eng 18:1009–1017. https://doi.org/10.1007/s12205-013-1014-5

Zumrawi MME, Eltayeb KA (2016) Laboratory investigation of expansive soil stabilized with calcium chloride. Int J Environ Chem Ecol Geol Geophys Eng 10:223–227
Additional information
Responsible Editor: Zeynal Abiddin Erguler
About this article
Cite this article
Al Hattamleh, O., Aldeeky, H., Rabab'ah, S. et al. The effect of Dead Sea salt solution on the engineering properties of expansive subgrade clayey soil. Arab J Geosci 13, 405 (2020). https://doi.org/10.1007/s12517-020-05364-0
Received:

Accepted:

Published:
Keywords
Dead Sea salt (DSS) solution

Atterberg limits

Free swell

Unconfined compressive strength

Maximum dry density

Wetting-drying cycles