samenvatting
In de huidige zorg voor mensen met diabetes mellitus lijkt het beoordelen van time in range (TIR) als behandeldoel een welkome aanvulling op het alom gebruikte HbA1c. Het hebben van een hogere TIR is geassocieerd met minder complicaties. De streefwaarden voor TIR zijn individueel te bepalen, met als grote groepen T1DM/T2DM, zwangeren, ouderen en kinderen. De beste manier om TIR te bepalen, is met continue glucosemonitoring (CGM), flash of realtime. Het is aangetoond dat het gebruik van diabetestechnologie zoals CGM en een (hybride) closed-loop-systeem de TIR verhoogt. Ten slotte is het in de behandelrelatie belangrijk om de TIR te gaan gebruiken in educatie en het formuleren van behandeldoelen, aangezien dit de autonomie van de patiënt verhoogt en waarschijnlijk de kwaliteit van leven verbetert.
This is a preview of subscription content, log in to check access.
Access options
Buy single article
Instant access to the full article PDF.
US$ 39.95
Price includes VAT for USA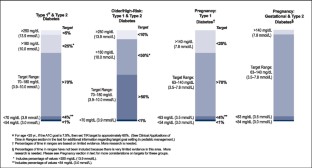 About this article
Cite this article
Siegelaar, S. Time in range, het HbA1c van de toekomst?. Ned Tijdschr Diabetol 18, 5–11 (2020). https://doi.org/10.1007/s12467-020-0134-z