Abstract
Recreational use of bathing waters is very popular in Germany and the European Union (EU). Therefore, the spread of antibiotic-resistant facultative-pathogenic bacteria (ARB) presents a possible public health issue. During the 2018 summer bathing season, a prevalence study involving 16 selected EU bathing waters in North Rhine-Westphalia was conducted. The aim was to identify the presence of ARB, antibiotic residues or resistance genes, and to develop a tool that assists advisers on prevention measures for individuals and the health authorities. The study included (i) hygienic-microbiological analyses according to the EU Bathing Water Directive, (ii) antibiotic residue measurements, (iii) cultural and molecular analyses to identify ARB and resistance genes and (iv) development of a risk assessment tool based on the burden of the bathing water and the vulnerability of bathing persons. All bathing waters were complied with the EU Bathing Water Directive. Three samples were found to contain very small amounts of ARB. Small quantities of antibiotic residues were detected in three bathing waters. Only one sample contained a resistance gene. In total, only 2 bathing waters were assumed to be systemically burdened with ARB and antibiotic residues or resistance genes. 4 bathing waters indicated single contamination events, 10 bathing waters were unburdened. In conclusion, bathing waters fulfilling criteria of the EU bathing water directive did not show high contaminations with ARB, antibiotic residues or resistance genes. However, we propose that people with risk factors should avoid swimming in burdened waters; people with immune deficiency should avoid swimming at all.
This is a preview of subscription content, log in to check access.
Access options
Buy single article
Instant access to the full article PDF.
US$ 39.95
Price includes VAT for USA
Subscribe to journal
Immediate online access to all issues from 2019. Subscription will auto renew annually.
US$ 99
This is the net price. Taxes to be calculated in checkout.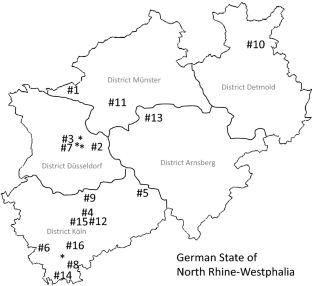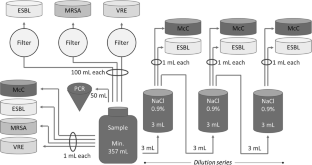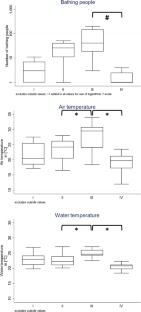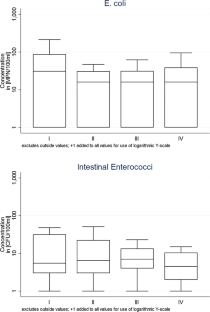 Abbreviations
AR:

District "Arnsberg"

ARB:

Antibiotic-resistant bacteria

CDC:

Centres for disease control

CFU:

Colony-forming units

D:

District "Düsseldorf"

DDD:

Defined daily doses

DIN:

German institute for norming

DT:

District "Detmold"

E. coli :

Escherichia coli

EN:

European norm

ESBL:

Extended spectrum ß-lactamase

EU:

European Union

EUCAST:

European Committee on Antimicrobial Susceptibility Testing

IE:

Intestinal Enterococci

IHPH:

Institute for Hygiene and Public Health, University Hospital Bonn

IMI:

Imipenem-hydrolysing β-lactamase

K:

District "Köln"

KRINKO:

German commission for hospital hygiene and infection prevention

McC:

MacConkey agar

MRGN:

Multiresistant gram-negative bacteria

MRSA:

Methicillin-resistant staphylococcus aureus

MS:

District "Münster

ISO:

International Organization for Standardization

LANUV:

North Rhine-Westphalian State Agency for Nature, Environment and Consumer Protection

LOD:

Level of detection

LOQ:

Limit of quantification

MIC:

Minimal inhibitory concentration

MPN:

Most probably number

NRW:

North Rhine-Westphalia

OR:

Odds ratio

PCR:

Polymerase chain reaction

PNEC:

Predicted no-effect concentration for resistance selection

PPI:

Proton pump inhibitors

VRE:

Vancomycin-resistant Enterococcus
References
Badegewässerverordnung NRW (2007) Verordnung über die Qualität und die Bewirtschaftung der Badegewässer vom 11. Dezember 2007

Bengtsson-Palme J, Larsson DGJ (2016) Concentrations of antibiotics predicted to select for resistant bacteria: proposed limits for environmental regulation. Environ Int 86:140–149. https://doi.org/10.1016/j.envint.2015.10.015

Czekalski N, Berthold T, Caucci S, Egli A, Bürgmann H (2012) Increased levels of multiresistant bacteria and resistance genes after wastewater treatment and their dissemination into lake Geneva, Switzerland. Front Microbiol 3:106. https://doi.org/10.3389/fmicb.2012.00106

DeFlorio-Barker S, Wing C, Jones RM, Dorevitch S (2018) Estimate of incidence and cost of recreational waterborne illness on United States surface waters. Environ Health 17(1):27. https://doi.org/10.1186/s12940-017-0347-9

DIN EN ISO 19458 (2006) Probenahme für mikrobiologische Untersuchungen. Beuth, Berlin

DIN EN ISO 7899-2, 2000 (2000) Wasserbeschaffenheit - Nachweis und Zählung von intestinalen Enterokokken - Teil 2: Verfahren durch Membranfiltration. Beuth, Berlin

DIN EN ISO 9308-3 (1999) Wasserbeschaffenheit - Nachweis und Zählung von Escherichia coli und coliformen Bakterien in Oberflächenwasser und Abwasser - Teil 3: Miniaturisiertes Verfahren durch Animpfen in Flüssigmedium (MPN-Verfahren). Beuth, Berlin

Dufour AP, Evans O, Behymer TD, Cantú R (2006) Water ingestion during swimming activities in a pool: a pilot study. J Water Health 4(4):425–430. https://doi.org/10.2166/wh.2006.0026

EU (2006) Directive 2006/7/EC of the european parliament and of the council of 15 February 2006 concerning the management of bathing water quality and repealing Directive 76/160/EEC

EUCAST (2018) Breakpoint tables for interpretation of MICs and zone diameters.: Version 8.1

Exner M, Schmithausen RM, Schreiber C, Bierbaum G, Parcina M, Engelhart S, Kistemann T, Sib E, Walger P, Schwartz T (2018) Preliminary risk assessment from a hygienic medical perspective concerning antibiotic-resistant bacteria in water bodies, wastewater, bathing water and possible consequences for drinking water hygiene. Hyg Med 43(5):D46–D54

Frankfurter Allgemeine Zeitung (2018) Besucherrekord für Freibäder. So voll war es am Beckenrand noch nie! Frankfurter Allgemeine Zeitung

Harris CS, Tertuliano M, Rajeev S, Vellidis G, Levy K (2018) Impact of storm runoff on Salmonella and Escherichia coli prevalence in irrigation ponds of fresh produce farms in southern Georgia. J Appl Microbiol 124(3):910–921. https://doi.org/10.1111/jam.13689

Heudorf U, Kempf V, Reinheimer C, Chakraborty T, Imirzalioglu CH, Schmithausen RM, Exner M (2018) Klebsiella pneumoniae KPC-3 Ausbruch am Universitätsklinikum Frankfurt am Main – Teil II: weitere umwelthygienische Erkenntnisse. Hyg Med 43:31–32 Supplement DGKH-Kongress

Hlavsa MC, Roberts VA, Kahler AM, Hilborn ED, Mecher TR, Beach MJ, Wade TJ, Yoder JS (2015) Outbreaks of illness associated with recreational water-United States, 2011–2012. Morb Mortal Wkly Rep 64(24):668–672

Imbery F, Friedrich K, Koppe C, Janssen W, Pfeifroth U, Daßler J, Bissolli P (2018) 2018 wärmster Sommer im Norden und Osten Deutschlands

Jäger T, Hembach N, Elpers C, Wieland A, Alexander J, Hiller C, Krauter G, Schwartz T (2018) Reduction of antibiotic resistant bacteria during conventional and advanced wastewater treatment, and the disseminated loads released to the environment. Front Microbiol 9:2599. https://doi.org/10.3389/fmicb.2018.02599

Kleinheinz GT, McDermott CM, Hughes S, Brown A (2009) Effects of rainfall on E. coli concentrations at Door County. Wisconsin Beaches. Int J Microbiol. https://doi.org/10.1155/2009/876050

KRINKO (2010) Anforderungen an die Hygiene bei der medizinischen Versorgung von immunsupprimierten. Patienten Empfehlung der Kommission für Krankenhaushygiene und Infektionsprävention beim Robert Koch-Institut (RKI). Bundesgesundheitsbl 53(4):357–388. https://doi.org/10.1007/s00103-010-1028-9

KRINKO (2012) Hygienemaßnahmen bei Infektionen oder Besiedlung mit multiresistenten gramnegativen Stäbchen. Empfehlung der Kommission für Kranken-haushygiene und Infektionsprävention (KRINKO) beim Robert Koch-Institut (RKI). Bundesgesundheitsbl 55(10):1311–1354. https://doi.org/10.1007/s00103-012-1549-5

Kyu HH, Stein CE, Boschi Pinto C, Rakovac I, Weber MW, Dannemann Purnat T, Amuah JE, Glenn SD, Cercy K, Biryukov S, Gold AL, Chew A, Mooney MD, O'Rourke KF, Sligar A, Murray CJL, Mokdad AH, Naghavi M (2018) Causes of death among children aged 5–14 years in the WHO European Region: a systematic analysis for the Global Burden of Disease Study 2016. Lancet Child Adolesc Health 2(5):321–337. https://doi.org/10.1016/S2352-4642(18)30095-6

Landesamt für Natur, Umwelt und Verbraucherschutz Nordrhein-Westfalen (2018a) Badegewässer in Nordrhein-Westfalen. http://www.badegewaesser.nrw.de/bg1.htm. Accessed 28 May 2018

Landesamt für Natur, Umwelt und Verbraucherschutz Nordrhein-Westfalen (2018b) HYGON (Hydrologische Rohdaten Online). http://luadb.it.nrw.de/LUA/hygon/pegel.php?karte=nrw_n. Accessed 11 November 2018

Laurens C, Jean-Pierre H, Licznar-Fajardo P, Hantova S, Godreuil S, Martinez O, Jumas-Bilak E (2018) Transmission of IMI-2 carbapenemase-producing Enterobacteriaceae from river water to human. J Glob Antimicrob Resist 15:88–92. https://doi.org/10.1016/j.jgar.2018.06.022

Leonard AFC, Zhang L, Balfour AJ, Garside R, Hawkey PM, Murray AK, Ukoumunne OC, Gaze WH (2018) Exposure to and colonisation by antibiotic-resistant E. coli in UK coastal water users: environmental surveillance, exposure assessment, and epidemiological study (Beach Bum Survey). Environ Int 114:326–333. https://doi.org/10.1016/j.envint.2017.11.003

Mahon BM, Brehony C, McGrath E, Killeen J, Cormican M, Hickey P, Keane S, Hanahoe B, Dolan A, Morris D (2017) Indistinguishable NDM-producing Escherichia coli isolated from recreational waters, sewage, and a clinical specimen in Ireland, 2016 to 2017. Euro Surveill. https://doi.org/10.2807/1560-7917.es.2017.22.15.30513

Menchise AN, Cohen MB (2014) Acid-reducing agents in infants and children: friend or foe? JAMA Pediatr 168(10):888–890. https://doi.org/10.1001/jamapediatrics.2014.1263

Mofatt F (2017) The individual physical health benefits of swimming: a literature review. In: Swim England (ed) The health & wellbeing benefits of swimming, pp. 8–25

Müller H, Sib E, Gajdiss M, Klanke U, Lenz-Plet F, Barabasch V, Albert C, Schallenberg A, Timm C, Zacharias N, Schmithausen RM, Engelhart S, Exner M, Parcina M, Schreiber C, Bierbaum G (2018) Dissemination of multi-resistant Gram-negative bacteria into German wastewater and surface waters. FEMS Microbiol Ecol. https://doi.org/10.1093/femsec/fiy057

Oja P, Kelly P, Pedisic Z, Titze S, Bauman A, Foster C, Hamer M, Hillsdon M, Stamatakis E (2017) Associations of specific types of sports and exercise with all-cause and cardiovascular-disease mortality: a cohort study of 80 306 British adults. Br J Sports Med 51(10):812–817. https://doi.org/10.1136/bjsports-2016-096822

Penakalapati G, Swarthout J, Delahoy MJ, McAliley L, Wodnik B, Levy K, Freeman MC (2017) Exposure to animal feces and human health: a systematic review and proposed research priorities. Environ Sci Technol 51(20):11537–11552. https://doi.org/10.1021/acs.est.7b02811

Pontes DS, Pinheiro FA, Lima-Bittencourt CI, Guedes RLM, Cursino L, Barbosa F, Santos FR, Chartone-Souza E, Nascimento AMA (2009) Multiple antimicrobial resistance of gram-negative bacteria from natural oligotrophic lakes under distinct anthropogenic influence in a tropical region. Microb Ecol 58(4):762–772. https://doi.org/10.1007/s00248-009-9539-3

Rosen R, Amirault J, Liu H, Mitchell P, Hu L, Khatwa U, Onderdonk A (2014) Changes in gastric and lung microflora with acid suppression: acid suppression and bacterial growth. JAMA Pediatr 168(10):932–937. https://doi.org/10.1001/jamapediatrics.2014.696

Schwabe U, Paffrath D, Ludwig W-D, Klauber J (eds) (2018) Arzneiverordnungs-report 2018. Springer, Berlin Heidelberg, p 90692

Sib E, Voigt AM, Wilbring G, Schreiber C, Faerber HA, Skutlarek D, Parcina M, Mahn R, Wolf D, Brossart P, Geiser F, Engelhart S, Exner M, Bierbaum G, Schmithausen RM (2019) Antibiotic resistant bacteria and resistance genes in biofilms in clinical wastewater networks. Int J Hyg Environ Health. https://doi.org/10.1016/j.ijheh.2019.03.006

Steul K, Marschek L, Jung HG, Heudorf U (2019) Gesundheitsgefahren durch Hitze nicht unterschätzen! – Hitzeassoziierte Mortalität und Morbidität in Frankfurt am Main, in den Jahren 2014–2018. Das Gesundh 81(3):257. https://doi.org/10.1055/s-0039-1679332

Stubbs B (2017a) The public health benefits of swimming: a systematic review. In: Swim England (ed) The health & wellbeing benefits of swimming, pp. 118–133

Stubbs B (2017b) The wellbeing benefits of swimming: a systematic review. In: Swim England (ed) The health & wellbeing benefits of swimming, pp. 26–43

Umweltbundesamt (2018) FAQ: Antibiotikaresistente Bakterien in Badegewässern. https://www.umweltbundesamt.de/themen/wasser/schwimmen-baden/badegewaesser/faq-antibiotikaresistente-bakterien-in. Accessed 22 November 2018

Voigt AM, Faerber HA, Wilbring G, Skutlarek D, Felder C, Mahn R, Wolf D, Brossart P, Hornung T, Engelhart S, Exner M, Schmithausen RM (2019) The occurrence of antimicrobial substances in toilet, sink and shower drainpipes of clinical units: a neglected source of antibiotic residues. Int J Hyg EnvironHealth. https://doi.org/10.1016/j.ijheh.2018.12.013

Wright ME, Solo-Gabriele HM, Elmir S, Fleming LE (2009) Microbial load from animal feces at a recreational beach. Mar Pollut Bull 58(11):1649–1656. https://doi.org/10.1016/j.marpolbul.2009.07.003

Zurfluh K, Hächler H, Nüesch-Inderbinen M, Stephan R (2013) Characteristics of extended-spectrum β-lactamase- and carbapenemase-producing Enterobacteriaceae isolates from rivers and lakes in Switzerland. Appl Environ Microbiol 79(9):3021–3026. https://doi.org/10.1128/AEM.00054-13
Acknowledgements
We thank Cornelia Dümling, Ludger Heuer, Klaus Selent and the sampling staff from LANUV. The study was supported by the Ministry for Environment, Agriculture, Conservation and Consumer Protection of the State of North Rhine-Westphalia (Department IV, Dr. Friederike Vietoris). We also thank Dr. Liane Marciano and Daniela Zahn; all persons who helped to collect water samples for analysis in this study; and Gero Wilbring and Sylvia Hack for giving expert advice and support regarding water sampling. Many thanks go to Prof. Gabriele Bierbaum for her professional support and for her expert advice as well as for proofreading. Thanks are also due to Ri-yadarshinee Hoolasee, MBBS, for language proofreading. Financial support was provided by MULNV.
Ethics declarations
Conflict of interest
All the authors declare that there are no conflicts of interest.
Additional information
Publisher's Note
Springer Nature remains neutral with regard to jurisdictional claims in published maps and institutional affiliations.
About this article
Cite this article
Döhla, M., Sib, E., Dericks, B. et al. Assessment of the Prevalence of Antibiotic-Resistant Bacteria and the Concentration of Antibiotics in EU Bathing Waters in Western Germany. Expo Health 12, 323–334 (2020). https://doi.org/10.1007/s12403-019-00313-z
Received:

Revised:

Accepted:

Published:

Issue Date:
Keywords
Multidrug resistance

Antibiotic-resistant bacteria

Surface water

Bathing water

Swimming