Abstract
Social scientists who study contemporary Jewry are engaged in an intense debate over trends in American Jewish attachment to Israel. The dominant view has been that age-related differences reported in surveys indicate intergenerational decline, with successive birth cohorts less emotionally attached to Israel than their predecessors. An alternative view has been that age-related differences reflect stages of the lifecycle, with members of each birth cohort becoming more emotionally attached to Israel as they grow older. Drawing on evidence from four sets of surveys administered to comparable samples at ten-year intervals, the present paper weighs the evidence for the "generational" versus "lifecycle" hypotheses about the nature of changes in attachment. The findings indicate that, across the four sets of surveys, emotional attachment increased between Time 1 (the first survey, administered in the 1990s) and Time 2 (the second survey, administered in the 2000s). The increases were for respondents as a whole as well as most age cohorts. In each of the four surveys sets, the largest increases occurred as respondents transitioned from their 30s to their 40s, i.e., from young adulthood to mature adulthood. Although increasing attachment to Israel throughout the period as a whole complicates the analysis, we conclude that the preponderance of evidence supports the view that emotional attachment to Israel increased over the lifecourse rather than declined across the generations. That said, future trends may be influenced by new dynamics including increased intermarriage, more widespread Israel travel, and a highly fluid political situation.
Access options
Buy single article
Instant access to the full article PDF.
US$ 39.95
Tax calculation will be finalised during checkout.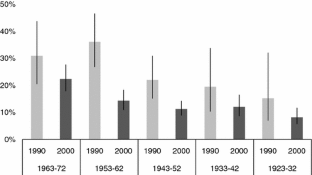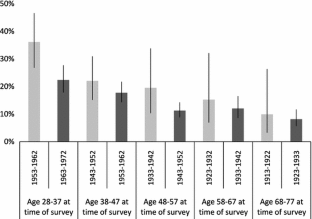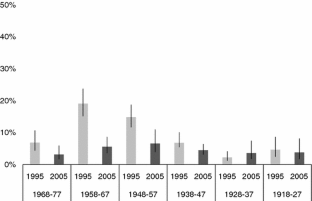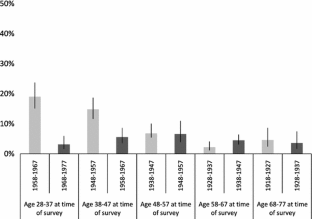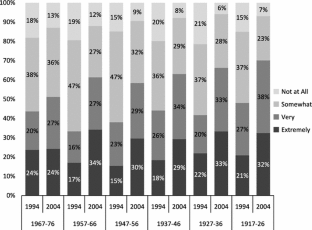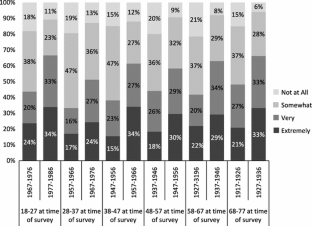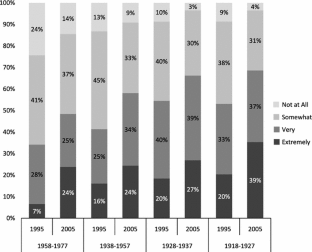 Notes
1.

Cohort size will, however, have an effect. If entering cohorts are large, overall levels of Israel attachment will tend to decline. Conversely, if entering cohorts are small, overall levels of Israel attachment will tend to increase.

2.

The North American Jewish Data Bank archives surveys conducted by local Jewish communities. We examined the questionnaires for the 57 communities that conducted more than one survey (usually after a ten-year interval) and included all of those that asked a comparable question about emotional attachment to Israel more than once. Just three communities met these criteria: Boston, South Palm Beach, and Miami. These data sets and NJPS 1990 and 2000-01 can be accessed at North American Jewish Databank: http://www.jewishdatabank.org.

3.

The samples for the two surveys are comparable in terms of gender and age composition. NJPS 2000-01 has a higher proportion of Orthodox and unaffiliated respondents and a higher proportion of inmarried and children of intermarried respondents. These differences reflect coverage and non-response error in NJPS 2000-01 (Saxe et al. 2006). For present purposes, these differences tend to be self-canceling, but see footnote 6 for a discussion of how we addressed sample bias in the data analysis.

4.

We thank Steven M. Cohen for pointing out that valid comparisons could be made across the surveys by examining the "not at all" response category.

5.

Because of discrepancies in sample composition (see footnote 4), the analyses reported in this section would ideally control for inmarriage by comparing Time 1 and Time 2 for inmarried-only and for intermarried-only. Although the 2000-01 data set has enough respondents (over 4,000) to run age cohort analyses separately for inmarried or intermarried respondents, the 1990 data set does not (only 541 Jewish respondents answered both the age and Israel attachment questions). However, it is possible to perform an even more conservative test of the lifecycle hypothesis by comparing all respondents at Time 1 (1990) to intermarried-only respondents at Time 2 (2000-01). Under such a scenario, given a Time 2 sample comprised exclusively of intermarried respondents, one would expect a decline in Israel attachment between the two time periods. However, even under such conditions, the proportion of respondents answering "not at all" tends to be slightly lower at Time 2 for each given cohort of intermarried-only respondents than for all respondents of the same cohort ten years earlier. The largest decrease in "not at all" responses is in the 1953-1962 age cohort which declines from 36 percent in 1990 to 23 percent in 2000-01 (significant at 80 percent but not 95 percent confidence level). While there may well be other discrepancies between the two samples it is at least possible to show that the higher rate of inmarriage for the 2000-01 sample is not the sole cause of the increase in Israel attachment over the lifecycle in these data sets.

6.

Both surveys used a dual-frame design, with both organization lists and random digit-dialing, to obtain a stratified random sample of households and appropriate weighting procedures to correct for bias due to sample design and other factors. Note that the 1995 survey included the Massachusetts North Shore in its geographic area while the 2005 survey did not. For analyses comparing the two surveys, the sampling stratum corresponding to the North Shore have been omitted from the 1995 data set.

7.

The distribution of respondents in the two surveys is similar in respect to gender, age, and denomination. The Time 2 data set has a higher proportion of intermarried respondents (29 percent in 2005 versus 19 percent in 1995). In the absence of other effects, one would expect the higher intermarriage rate at Time 2 to be associated with lower Israel attachment. Thus, sample differences build in a conservative bias to our analysis.

8.

Confidence intervals are reported at the 80 percent level, as in other analyses from this study. The Boston study oversampled areas of high Jewish density, resulting in large weights for some cases from low density areas. This, in turn, led to large CIs around point estimates. Eighty percent CIs were used to allow for standard significance testing with a fairly high level of certainty, while still acknowledging the high variance associated with these extreme cases (see Saxe et al. 2006).

9.

The 1994 Miami sample was drawn from a combination of random digit dialing (RDD) and a list of persons with distinctive Jewish names (DJN). To verify that no bias was introduced by the inclusion of a DJN frame (cf. Phillips 2007), the analyses in the present study were duplicated on the subset of RDD respondents only and comparable results were obtained: the only difference was in the size of the standard error due to the smaller sample size when the DJN frame was excluded.

10.

The two survey samples are comparable with respect to gender, age, and Jewish denomination. The 2004 sample has a slightly higher rate of intermarriage (13.4 percent compared to 9.4 percent in 1994).

11.

The survey populations are generally comparable in terms of age, gender, and Jewish denominational distributions, with the 2005 sample having a slightly higher proportion of those identifying as Reform and a lower proportion identifying as Conservative. Four percent of respondents to the 1995 survey were intermarried compared to 7 percent for the 2005 survey. Both surveys used random digit dialing methods only and did not include a DJN frame.

12.

Including the American Jewish Committee surveys of Jews by religion only (Sasson, Kadushin, and Saxe 2010a), five independent time series show increased attachment over time.
References
Ament, Jonathon. 2005. Israel connections and American Jews. New York: United Jewish Communities.

Arnett, Jeffrey. 2004. Emerging adulthood: The winding road from the late teens through the twenties. New York: Oxford University Press.

Beinart, Peter. 2010. The failure of the American Jewish establishment. New York: New York Review of Books.

Burstein, Paul. 2010. What is really being debated in the debate on the distancing hypothesis? Contemporary Jewry 30(2–3): 213–217.

Chertok, Fern, Theodore Sasson, and Leonard Saxe. 2009. Tourists, travelers, and citizens: Jewish engagement of young adults in four centers of North American Jewish life. Waltham: Cohen Center for Modern Jewish Studies, Brandeis University.

Cohen, Steven M., and Arnold M. Eisen. 2000. The Jew within: Self, family, and community in America. Bloomington: Indiana University Press.

Cohen, Steven M., and Ari Y. Kelman. 2007. Beyond distancing: Young adult American Jews and their alienation from Israel. New York: Andrea and Charles Bronfman Philanthropies.

Cohen, Steven M., and Ari Y. Kelman. 2010. Thinking about distancing from Israel. Contemporary Jewry 20(2–3): 287–296.

Cohen, Steven M., and Jack Wertheimer. 2006. Whatever happened to the Jewish people? Commentary 121: 33–37.

DellaPergola, Sergio. 2010. Distancing, yet one. Contemporary Jewry 30(2–3): 183–190.

Dershowitz, Alan M. 1998. The vanishing American Jew. New York: Touchstone.

Elazar, Daniel J. 2001. Changing places, changing cultures: Divergent Jewish political cultures. In Divergent Jewish cultures: Israel and America, ed. D.D. Moore, and S.I. Troen. New Haven: Yale University Press.

Goldscheider, Calvin. 2010. American and Israeli Jews: Oneness and distancing. Contemporary Jewry 30(2–3): 205–211.

Keysar, Ariela. 2010. Distancing from Israel: Evidence on Jews of no religion. Contemporary Jewry 30(2–3): 194–204.

Liebman, Charles S., and Steven M. Cohen. 1990. Two worlds of Judaism: The Israeli and American experiences. New Haven: Yale University Press.

Luntz, Frank. 2003. Israel and American Jews in the age of Eminem. New York: Andrea and Charles Bronfman Philanthropies.

Miller, Ron, and Arnold Dashefsky. 2010. Brandeis v. Cohen et al.: The distancing from Israel debate. Contemporary Jewry 30(23): 155–164.

Mintz Geffen, Rela. 2010. The distancing hypothesis: Fact or fiction? A response. Contemporary Jewry 30(2–3): 253–255.

Perlmann, Joel. 2007. American Jewish opinion about the future of the West Bank. Annandale-on-Hudson, New York: The Levy Economics Institute.

Phillips, Bruce. 2010. Splitting the difference and moving forward with the research. Contemporary Jewry 30(2–3): 257–261.

Phillips, Benjamin. 2007. Numbering the Jews: Evaluating and improving surveys of American Jews. Ph.D. dissertation, Near Eastern and Judaic Studies and Sociology, Brandeis University, Waltham.

Putnam, Robert D., and David E. Campbell. 2010. Amazing grace: How religion divides and unites us. New York: Simon and Schuster.

Rawidowicz, Simon. 1998. State of Israel, Diaspora and Jewish continuity. Hanover: Brandeis University Press.

Rosenthal, Steven. 2001. Irreconcilable differences. Hanover: Brandeis University Press.

Saad, Lydia. February 24, 2010. Support for Israel in U.S. at 63%, Near Record High. Gallup News Service, October 4, 2007.

Sasson, Theodore, Charles Kadushin, and Leonard Saxe. 2010a. Trends in American Jewish attachment to Israel: An assessment of the "distancing" hypothesis. Contemporary Jewry 30(2–3): 297–319.

Sasson, Theodore, Charles Kadushin, and Leonard Saxe. 2010b. On sampling, evidence and theory: Concluding remarks on the distancing debate. Contemporary Jewry 30(2–3): 149–153.

Sasson, Theodore, Benjamin Phillips, Charles Kadushin, and Leonard Saxe. 2010c. Still connected: American Jewish attitudes about Israel. Waltham: Cohen Center for Modern Jewish Studies, Brandeis University.

Saxe, Leonard, and Barry Chazan. 2008. Ten days of Birthright Israel: A journey in young adult identity. Hanover: Brandeis University Press.

Saxe, Leonard, Benjamin Phillips, Theodore Sasson, Shahar Hecht, Michelle Shain, Graham Wright, and Charles Kadushin. 2009. Generation Birthright Israel: The impact of an Israel experience on Jewish identity and choices. Waltham: Cohen Center for Modern Jewish Studies, Brandeis University.

Saxe, Leonard, Benjamin Phillips, Theodore Sasson, Shahar Hecht, Michelle Shain, Graham Wright, and Charles Kadushin. 2011. Intermarriage: The impact and lessons of Taglit-Birthright Israel. Contemporary Jewry 31: 151–172.

Saxe, Leonard, Elizabeth Tighe, Benjamin Phillips, and Charles Kadushin. 2006. Reconsidering the size and characteristics of the American Jewish population. Waltham: Steinhardt Social Research Institute, Brandeis University.

Sheskin, Ira M. 2010. A geographical approach to an analysis of the distancing hypothesis. Contemporary Jewry 30(3): 219–226.

Thorburn, W.M. 1915. Occam's razor. Mind (new series) 24(94): 287–288.

Time to Act. 1990. University Press of America, Commission on Jewish Education in North America, NY.

Ukeles, Jack B., Ron Miller, and Pearl Beck. 2006. Young Jewish adults in the United States today. New York: American Jewish Committee.

Waskey, Andrew J. 2008. Occam's razor. In International Encyclopedia in the Social Sciences, vol. 6, 2nd ed., ed. W.A. Darity, 19–20. Detroit: Macmillan.

Waxman, Chaim I. 2010. Beyond distancing: Jewish identity, identification and America's young Jews. Contemporary Jewry 30(2–3): 227–232.

Wertheimer, Jack. 2010. Go out and see what the people are doing. Contemporary Jewry 30(2–3): 233–239.

Wexler, Robert. 2007. United States of America. In Israel, the Diaspora and Jewish identity, ed. D. Ben-Moshe, and Z. Segev, 268–278. Eastbourne: Sussex Academic Press.

Wuthnow, Robert. 2010. After the baby boomers. Princeton: Princeton University Press.

Yang, Yang, Sam Schulhofer-Wohl, Wenjiang T. Fu, and Kenneth C. Land. 2008. The intrinsic estimator for age-period-cohort analysis: What it is and how to use it. American Journal of Sociology 113(6): 1697–1736.
About this article
Cite this article
Sasson, T., Phillips, B., Wright, G. et al. Understanding Young Adult Attachment to Israel: Period, Lifecycle and Generational Dynamics. Cont Jewry 32, 67–84 (2012). https://doi.org/10.1007/s12397-011-9077-4
Received:

Accepted:

Published:

Issue Date:
Keywords
Israel

Public opinion

Diaspora