High Value-added Products Recovery from Sugar Processing By-products and Residuals by Green Technologies: Opportunities, Challenges, and Prospects
Abstract
Over the last several years, in serious consideration of the worldwide economic and environmental pollution issues, there has been increasing research interest for conversion of agro-industrial wastes to commercially valuable products in full correspondence with the green extraction concept. Wastes and by-products generated during the sugar production process constitute a great source of different high value-added products, which have the potential to be used as food additives and/or as nutraceuticals. Green extraction processes are one of the most critical steps in recovering these compounds from waste-based sugar processing side streams from an environmental and economical point of view. Although well-established, growing demand has subjected definite insufficiencies of the mainstream bioactive components extraction method, notably yield and product consistency, thus infusing research interest towards improving the traditional procedures by an adoption of a number of green pre-treatments. The present review will describe and summarize the latest works concerning green extraction technologies for various classes of value compounds from sugar processing by-products and residuals with special emphasis on eight pre-treatments including pulsed electric field, high voltage electrical discharges, enzyme-assisted extraction, ultrasound-assisted extraction, microwave treatment, subcritical water, supercritical carbon dioxide, and high-pressure processing. These eight technologies have shown promising extraction efficacy with reduced usage of extraction solvents, thus saving time and cost in industrial-scales processes.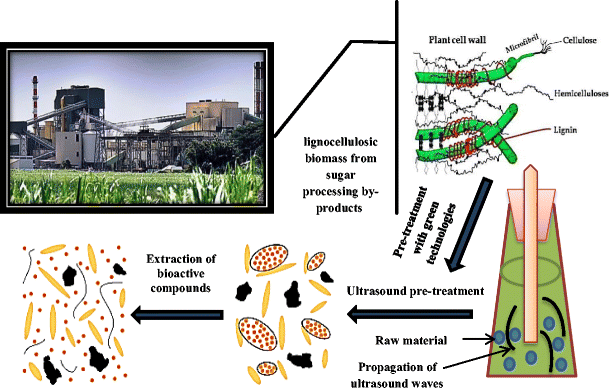 Keywords
By-products of sugar industry 
Green extraction technologies 
Valuable bioactive compounds 
Characterization techniques 
Notes
Compliance with Ethical Standards
Conflict of Interest
The author declares that he has no competing interests.
Copyright information
© Springer Science+Business Media, LLC, part of Springer Nature 2018