Abstract
In the NW of the Iberian Peninsula, in the region of Lugo, a very exclusive Cambrian phyllite has been quarried and used for construction since prehistoric times, the Filita Verde or green phyllite. There are three varieties of this stone, all of them with the characteristic glitter of phyllites given by the metamorphic recrystallization of the phyllosilicates. Most of the architectural heritage of the area was built with this stone, which is currently being exported abroad. Its exceptional aesthetic and constructional characteristics have been historically used to build fortified settlements (Castros) by ancient pre-Roman cultures and also to construct churches and other ecclesiastic buildings during the middle age. Nowadays it is highly appreciated by architects. Because of these facts, this stone is a good candidate for the designation as a Global Stone Heritage Resource.
Access options
Buy single article
Instant access to the full article PDF.
US$ 39.95
Tax calculation will be finalised during checkout.
Subscribe to journal
Immediate online access to all issues from 2019. Subscription will auto renew annually.
US$ 79
Tax calculation will be finalised during checkout.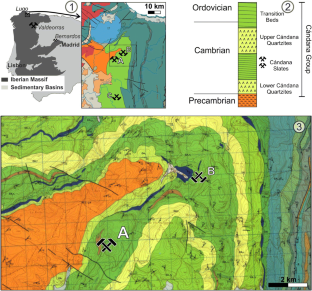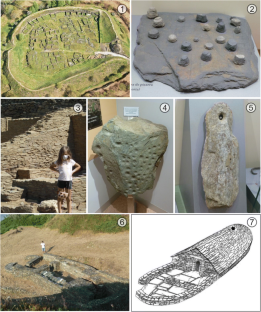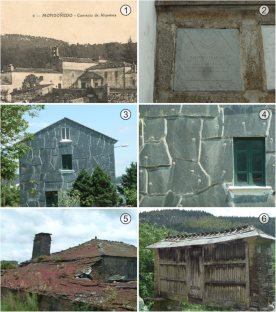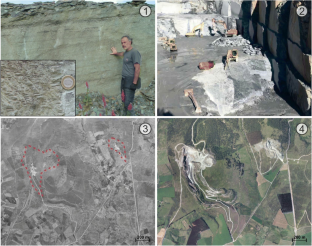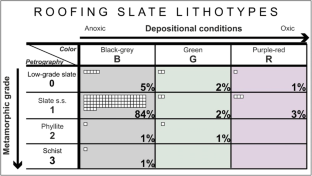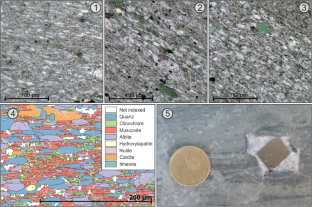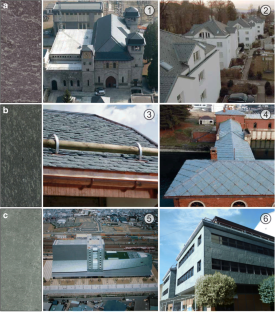 References
Cárdenes V, Cnudde JP, Wichert J, Large D, López-Munguira A, Cnudde V (2016) Roofing slate standards: a critical review construction and building materials 115:93-104 https://doi.org/10.1016/j.conbuildmat.2016.04.042

Cárdenes V, Cnudde V, Cnudde JP (2015) Iberian roofing slate as a Global Heritage Stone Province Resource Episodes 38:97-105 https://doi.org/10.18814/epiiugs/2015/v38i2/005

Cárdenes V, Rubio-Ordoñez A, Monterroso C, Calleja L (2013) Geology and geochemistry of Iberian roofing slates Chemie der Erde - Geochemistry 73:373-382 https://doi.org/10.1016/j.chemer.2012.11.004

Cárdenes V, Rubio-Ordoñez A, Ruiz de Argandoña VG (2020a) Definition of roofing slate lithotypes for an international roofing slate classification key materials in engineering 848:48-57

Cárdenes V, Rubio-Ordoñez A, Ruiz de Argandoña VG (2020b) Roofing slate from Bernardos, Spain: a potential candidate for Global Heritage Stone episodes

Cárdenes V, Rubio-Ordóñez Á, Wichert J, Cnudde JP, Cnudde V (2014) Petrography of roofing slates Earth-Science Reviews 138:435-453 doi:https://doi.org/10.1016/j.earscirev.2014.07.003

CEN/TC_128 (2010) EN 12326. Slate and stone products for discontinuous roofing and cladding - Parts 1 (Product Specification) and 2 (Methods of test).

Compte P (1959) Recherches sur les terrains anciens de la Cordillère Cantabrique Memorias del Instituto Geológico y Minero de España 60:1-440

Cooper BJ (2015) The 'Global Heritage Stone Resource' designation: past, present and future. In: Pereira D, Marker BR, Kramar S, Cooper BJ, Schouenborg BE (eds) Global Heritage Stone: Towards International Recognition of Building and Ornamental Stones, vol 407. Geological Society Special Publication. pp 11-20. https://doi.org/10.1144/sp407.5

Estadística Minera de España (1911). Consejo de Minería,

Fettes DJ, Desmons J, Arkai P (2011) Metamorphic rocks: a classification and glossary of terms. Cambridge University Press, Recommendations of the International Union of Geological Sciences Subcommission on the Systematics of Metamorphic Rocks

García Tato I (1994) A Explotación Louxeira no Concello de Carballeda vol 16. Cuadernos Monográficos, Instituto de Estudios Valdeorreses

Gómez-Darriba J (2020) La arquitectura de la humildad. El convento alcantarino de San Francisco del Rosal en Mondoñedo Cuadernos de Estudios Gallegos 133:103–132

Iglesias Ponce de León M (1995) L'ardoise en Espagne: Histoire et economie. Universite de Rennes 2

Lotze F (1958) Zur Stratigraphie des spanischen Kambriums Geologie 7:727-750

Pérez-García OA, Carreria XC, Carral E, Fernández ME, Mariño RA (2010) Evaluation of traditional grain store buildings (hórreos) in Galicia (NW Spain): analysis of outdoor/indoor temperature and humidity relationships. Spanish Journal of Agricultural Research 8:925–935

Sánchez Pardo JC, Castiñeiras López J, Sanjurjo Sánchez J (2019) Arqueología y arquitectura de San Martiño de Mondoñedo (Foz, Lugo). Revisión crítica y nuevas aportaciones Quintana: revista do Departamento de Historia da Arte 17 https://doi.org/10.15304/qui.17.4039.

Walter R (1966) Resultado de investigaciones geológicas en el Noroeste de la Provincia de Lugo (NO España) Notas y Comunicaciones del Instituto Geológico y Minero de España 89:7-16
About this article
Cite this article
Cárdenes, V., López-Piñeiro, S. & Ruiz de Argandoña, V.G. The Relevance of the Green Phyllites of Lugo (Spain) in the Architectonical Heritage: an Exceptional Roofing Slate Resource. Geoheritage 13, 11 (2021). https://doi.org/10.1007/s12371-021-00537-z
Received:

Accepted:

Published:
Keywords
Roofing slate

Phyllite

Global Stone Heritage Resource

Low-grade metamorphism

Prehistoric settlement