Abstract
MARIO is a social robot developed with and for people living with dementia (PLWD) to promote social connectivity and reduce loneliness and isolation by providing access to a number of applications that PLWD can access, via speech and/or touchscreen commands. These applications include My Calendar, which reminds the PLWD about daily schedules and appointments; My Music which provides access to the PLWD's personalised music and My Memories which gives the PLWD the opportunity to reminiscence by showing them photographs of family, friends and/or significant life events. MARIO was developed, tested and evaluated with PLWD in a long stay residential setting over a 13-month period from September 2016 to October 2017. During the first 5 months of MARIO's introduction to PLWD, researchers maintained a reflective practice diary. The aims of the study were twofold: (1) To capture the experiences of researchers of being involved in this process and (2) To help identify strategies to enhance PLWD's engagement with the robot. These reflections were analysed in NVIVO 11.4 using thematic analysis guided by a qualitative descriptive methodology. The following themes emerged from the research: (1) Level of interest in having MARIO present in long-term residential care (LTC), (2) MARIO's appearance and functionalities, (3) Engaging with MARIO, (4) Researchers' Recommendations for Introducing Robots in Dementia Care and (5) Impact on researchers. From the researcher's recommendations for introducing robots in dementia care, a number of key strategies were identified which may facilitate the engagement of PLWD with social robots. These include the use of verbal and/or physical prompting by the robot, lack of distraction, and actively engaging staff members or family members when introducing the robot to PLWD. This work highlights the important contribution of reflective practice to the introduction and development of social robots in dementia care.
This is a preview of subscription content, log in to check access.
Access options
Buy single article
Instant access to the full article PDF.
US$ 39.95
Price includes VAT for USA
Subscribe to journal
Immediate online access to all issues from 2019. Subscription will auto renew annually.
US$ 99
This is the net price. Taxes to be calculated in checkout.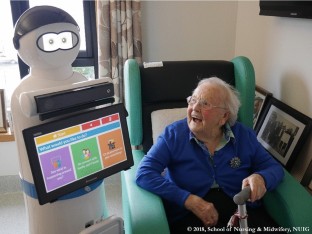 References
1.

Prince M, Guerchet M, Prina M (2013) Policy brief for heads of government: the global impact of dementia 2013–2050. Alzheimer's disease International (ADI), London

2.

Kane M, Cook L (2013) Dementia 2013: the hidden voice of loneliness. Alzheimer's Society, London

3.

Tsuno N, Homma A (2009) What is the association between depression and Alzheimer's disease? Expert Rev Neurother 9(11):1667–1676

4.

Steffens DC, Otey E, Alexopoulos GS, Butters MA, Cuthbert B, Ganguli M, Geda YE, Hendrie HC, Krishnan RR, Kumar A, Lopez OL (2006) Perspectives on depression, mild cognitive impairment, and cognitive decline. Arch Gen Psychiatry 63(2):130–138

5.

Moyle W, Arnautovska U, Ownsworth T, Jones C (2017) Potential of telepresence robots to enhance social connectedness in older adults with dementia: an integrative review of feasibility. Int Psychogeriatr 29(12):1951–1964

6.

Dautenhahn K (2007) Socially intelligent robots: dimensions of human–robot interaction. Philos Trans R Soc B Biol Sci 362(1480):679–704

7.

Mordoch E, Osterreicher A, Guse L, Roger K, Thompson G (2013) Use of social commitment robots in the care of elderly people with dementia: a literature review. Maturitas 74:14–20

8.

Chang WL, Šabanovic S, Huber L (2013) Use of seal-like robot PARO in sensory group therapy for older adults with dementia. In: Proceedings of the 8th ACM/IEEE international conference on human–robot interaction. IEEE Press, pp 101–102

9.

Sung HC, Chang SM, Chin MY, Lee WL (2015) Robot-assisted therapy for improving social interactions and activity participation among institutionalized older adults: a pilot study. Asia Pac Psychiatry 7:1–6

10.

Tapus A, Vieru AM (2013) Robot cognitive stimulation for the elderly. In: International work-conference on the interplay between natural and artificial computation. Springer, Berlin, Heidelberg, pp 94–102

11.

Klein B, Cook G (2012) Emotional robotics in elder care—a comparison of findings in the UK and Germany. In: Al SSGE (ed) Emotional robotics in elder care. Springer, Berline Heidelberg

12.

Takayanagi K, Kirita T, Shibata T (2014) Comparison of verbal and emotional responses of elderly people with mild/moderate dementia and those with severe dementia in responses to seal robot, PARO. Front Aging Neurosci 6:257

13.

Wada K, Shibata T, Saito T, Sakamoto K, Tanie K (2005) Psychological and social effects of one year robot assisted activity on elderly people at a health service facility for the aged. In: Proceedings of the 2005 IEEE international conference on robotics and automation. pp 2785–2790

14.

Inoue K, Sakuma N, Okada M, Sasaki C, Nakamura M, Wada K (2014) Effective application of PALRO: a humanoid type robot for people with Dementia. ICCHP, Part 1 LNCS 8547, pp 451–454

15.

Moyle W, Jones C, Cooke M, O'dwyer S, Sung B, Drummond S (2014) Connecting the person with dementia and family: a feasibility study of a telepresence robot. BMC Geriatr 14:1–11

16.

Casey D, Felzmann H, Pegman G, Kouroupetroglou C, Murphy K, Koumpis A, Whelan S (2016) What people with dementia want: designing MARIO an acceptable robot companion. In: Miesenberger K, Bühler C, Penaz P (eds) Computers helping people with special needs: 15th international conference, ICCHP, Linz, Austria, July 13–15, 2016, proceedings, Part I. Springer, Cham

17.

Kouroupetroglou C, Casey D, Raciti M, Barrett E, D'Onofrio G, Ricciardi F, Giuliani F, Greco A, Sancarlo D, Mannion A, Whelan S, Pegman G, Koumpis A, Reforgiato Recupero D, Kouroupetroglou A, Santorelli A (2017) Interacting with dementia: the MARIO approach. Stud Health Technol Inform Harnessing Power Technol Improve Lives 242:38–47

18.

Levett-Jones TL (2007) Facilitating reflective practice and self-assessment of competence through the use of narratives. Nurse Educ Pract 7(2):112–119

19.

Allard CC, Goldblatt PF, Kemball JI, Kendrick SA, Millen KJ, Smith DM (2007) Becoming a reflective community of practice. Reflect Pract 8(3):299–314

20.

Mann K, Gordon J, MacLeod A (2009) Reflection and reflective practice in health professions education: a systematic review. Adv Health Sci Educ 14(4):595

21.

McKeown J, Clarke A, Ingleton C, Repper J (2010) Actively involving people with dementia in qualitative research. J Clin Nurs 19(13–14):1935–1943

22.

Ortlipp M (2008) Keeping and using reflective journals in the qualitative research process. Qual Rep 13(4):695–705

23.

Olsson A, Engström M, Skovdahl K, Lampic C (2012) My, your and our needs for safety and security: relatives' reflections on using information and communication technology in dementia care. Scand J Caring Sci 26(1):104–112

24.

Hebesberger D, Dondrup C, Koertner T, Gisinger C, Pripfl J (2016) Lessons learned from the deployment of a long-term autonomous robot as companion in physical therapy for older adults with dementia: a mixed methods study. In: The eleventh ACM/IEEE international conference on human robot interaction. IEEE Press, pp 27–34

25.

Roger K, Guse L, Mordoch E, Osterreicher A (2012) Social commitment robots and dementia. Can J Aging 31(1):87–94

26.

Shibata T (2012) Therapeutic seal robot as biofeedback medical device: qualitative and quantitative evaluations of robot therapy in dementia care. Proc IEEE 100(8):2527–2538

27.

Sandelowski M (2000) Whatever happened to qualitative description? Res Nurs Health 23(4):334–340

28.

Bradshaw C, Atkinson S, Doody O (2017) Employing a qualitative description approach in health care research. Glob Qual Nurs Res 4:2333393617742282

29.

Mukherji P, Albon D (2015) Research methods in early childhood: an introductory guide, 2nd edn. Sage, London

30.

Scotland J (2012) Exploring the philosophical underpinnings of research: relating ontology and epistemology to the methodology and methods of the scientific, interpretive, and critical research paradigms. English Lang Teach 5(9):9–16

31.

Migiro SO, Magangi BA (2011) Mixed methods: a review of literature and the future of the new research paradigm. Afr J Bus Manag 5(10):3757–3764

32.

Folstein MF, Folstein SE, McHugh PR (1975) "Mini-mental state": a practical method for grading the cognitive state of patients for the clinician. J Psychiatric Res 12(3):189–198

33.

Johns C (2004) Becoming a reflective practitioner. Wiley-Blackwell, Hoboken

34.

Braun V, Clarke V (2006) Using thematic analysis in psychology. Qual Res Psychol 3(2):77–101

35.

Patton MQ (1990) Qualitative evaluation and research methods, 2nd edn. Sage, Newbury Park

36.

Wu YH, Fassert C, Rigaud AS (2012) Designing robots for the elderly: appearance issue and beyond. Arch Gerontol Geriatr 54(1):121–126

37.

Robinson H, MacDonald B, Broadbent E (2014) The role of healthcare robots for older people at home: a review. Int J Soc Robot 6(4):575–591

38.

Pino M, Boulay M, Jouen F, Rigaud AS (2015) "Are we ready for robots that care for us?" Attitudes and opinions of older adults toward socially assistive robots. Front Aging Neurosci 7:141

39.

Ahn S, Ashida S (2012) Music therapy for dementia. Maturitas 71(1):6–7

40.

Guetin S, Charras K, Berard A, Arbus C, Berthelon P, Blanc F, Ducourneau G (2013) An overview of the use of music therapy in the context of Alzheimer's disease: a report of a French expert group. Dementia 12(5):619–634

41.

Lin Y, Chu H, Yang CY, Chen CH, Chen SG, Chang HJ, Chou KR (2011) Effectiveness of group music intervention against agitated behavior in elderly persons with dementia. Int J Geriatr Psychiatry 26(7):670–678

42.

Svansdottir HB, Snaedal J (2006) Music therapy in moderate and severe dementia of Alzheimer's type: a case–control study. Int Psychogeriatr 18(4):613–621

43.

Heerink M, Kröse B, Evers V, Wielinga B (2010) Assessing acceptance of assistive social agent technology by older adults: the Almere model. Int J Soc Robot 2(4):361–375

44.

Whelan S, Murphy K, Barrett E, Krusche C, Santorelli A, Casey D (2018) Factors affecting the acceptability of social robots by older adults including people with dementia or cognitive impairment: a literature review. Int J Soc Robot 10(5):643–668

45.

Dewing J (2007) Participatory research: a method for process consent with persons who have dementia. Dementia 6:111–125

46.

Lazar A, Cornejo R, Edasis C, Piper AM (2016a) Designing for the third hand: empowering older adults with cognitive impairment through creating and sharing. In: Proceedings of the 2016 ACM conference on designing interactive systems. ACM, pp 1047–1058

47.

Lazar A, Demiris G, Thompson HJ (2016) Evaluation of a multifunctional technology system in a memory care unit: opportunities for innovation in dementia care. Inform Health Soc Care 41(4):373–386

48.

Lazar A, Thompson HJ, Demiris G (2016) Design recommendations for recreational systems involving older adults living with dementia. J Appl Gerontol 37(5):595–619
Funding
The research leading to these findings have received funding from the European Union Horizon 2020-the Framework Programme for Research and Innovation (2014–2020) under Grant Agreement 643808 Project MARIO 'Managing active and healthy aging with use of caring service robots'.
Ethics declarations
Conflict of interest
The authors declare that they have no conflict of interest.
Research Involving Human Participants and/or Animals
This article does not contain any studies with animals performed by any of the authors. The MARIO Project received full ethical approval form the Research Ethics Committee in National University of Ireland, Galway. The study followed all procedures in accordance with the ethical standards of our University and with the 1964 Helsinki declaration and its later amendments or comparable ethical standards.
Informed Consent
Informed Consent was obtained for all PLWD that took part in the MARIO project.
Additional information
Publisher's Note
Springer Nature remains neutral with regard to jurisdictional claims in published maps and institutional affiliations.
About this article
Cite this article
Mannion, A., Summerville, S., Barrett, E. et al. Introducing the Social Robot MARIO to People Living with Dementia in Long Term Residential Care: Reflections. Int J of Soc Robotics 12, 535–547 (2020). https://doi.org/10.1007/s12369-019-00568-1
Accepted:

Published:

Issue Date:
Keywords
Social robot

Companion robot

MARIO

Dementia

Ageing

Reflection