Abstract
As robots are continuing to enter social spaces such as religion and spirituality, the timing is right to determine desirable scenarios and design factors appropriate for the deployment of technology in these contexts. We present two studies that empirically investigate the user experience, acceptability and design features of social robots on the example of a Protestant blessing ritual. In the first discursive design study, blessing robot BlessU2 interacted with more than 10,000 visitors of a public exhibition. We analysed the written comments left by 1923 visitors to understand more about the implications of robotics in religious practice. Overall, most comments were positive (51%), many neutral (29%) and some negative (20%). Four preferable scenarios for religious robots were derived: to demonstrate human creativity, to increase the reach of religious institutions and personnel, to offer service when there is no alternative, and to enhance service with unique robot capabilities. In a second study, we varied the appearance, behaviour, and functionality of the blessing robot, but found virtually no differences in quantitative measures on emotions and users' perceptions of the robots. The qualitative interview data, however, revealed strong preferences towards a specific set of characteristics. These are discussed in the light of previous guidelines for the design of 'theomorphic' robots and questions for future research are derived.
Access options
Buy single article
Instant access to the full article PDF.
US$ 39.95
Tax calculation will be finalised during checkout.
Subscribe to journal
Immediate online access to all issues from 2019. Subscription will auto renew annually.
US$ 79
Tax calculation will be finalised during checkout.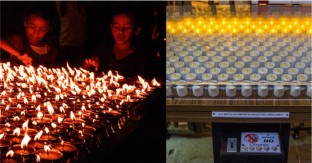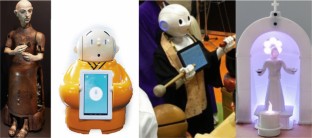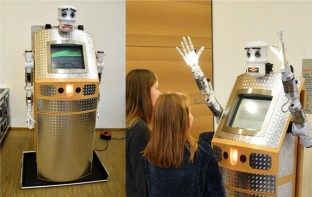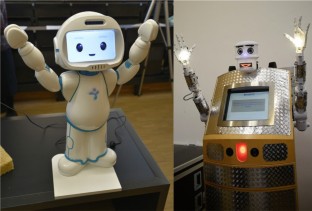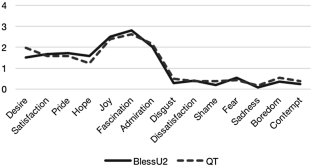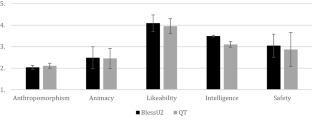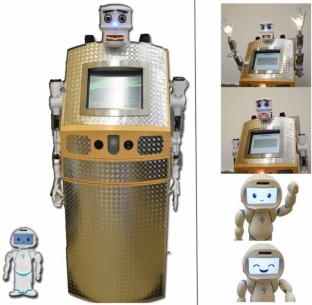 References
1.

Groover MP (2010) Fundamentals of modern manufacturing: materials, processes, and systems. Wiley, Hoboken

2.

Hassenzahl M, Diefenbach S, Göritz A (2010) Needs, affect, and interactive products—Facets of user experience. Interact Comput 22(5):353–362. https://doi.org/10.1016/j.intcom.2010.04.002

3.

Winfield N (2018) The vatican is facing a priest shortage. Bloomberg. Retrieved July 9, 2018 from https://www.bloomberg.com/news/articles/2018-06-08/vatican-seeks-courageous-ideas-to-combat-priest-shortage

4.

Sharkey A, Sharkey N (2012) Granny and the robots: ethical issues in robot care for the elderly. Ethics Inf Technol 14(1):27–40. https://doi.org/10.1007/s10676-010-9234-6

5.

Welge J, Hassenzahl M (2016) Better than human: about the psychological superpowers of robots. Springer, Cham, pp 993–1002. https://doi.org/10.1007/978-3-319-47437-3_97

6.

Foerst A (2009) Von robotern, mensch und gott : künstliche intelligenz und die existentielle dimension des lebens. Vandenhoeck & Ruprecht, Göttingen

7.

Kunz S (2006) Transzendenz und Selbsttranszendenz—Grenzen zwischen Mensch und Roboter aus theologisch- philosophischer Sicht. Marburger Theologische Studien. Künstliche Intelligenz und menschliche Person. N.G. Elwert Verlag Marburg, Marburg, pp 219–231

8.

Tillich P. Systematic theology. (Vol. 2), Existence and the Christ, University of Chicago

9.

Thomas G (2016) The mediatization of religion—as temptation, seduction, and illusion. Media Cult Soc 38(1):37–47. https://doi.org/10.1177/0163443715615659

10.

Wood C (2017) Barriers to innovation diffusion for social robotics start-ups: and methods of crossing the chasm. http://www.diva-portal.org/smash/get/diva2:1234344/FULLTEXT01.pdf

11.

Francis P (2016) Communication and Mercy: A Fruitful Encounter. Message for the 50th World Communications Day. Retrieved July 11, 2018 from https://w2.vatican.va/content/francesco/en/messages/communications/documents/papa-francesco_20160124_messaggio-comunicazioni-sociali.html

12.

Kirchenschläger PG (2016) Digitalisierung und Robotisierung der Gesellschaft aus theologisch-ethischer Perspektive. feinschwarz.net theologisches Feuilleton. Retrieved July 17, 2018 from https://www.feinschwarz.net/digitalisierung-und-robotisierung-der-gesellschaft-aus-theologisch-ethischer-perspektive/

13.

Ohly L (2018) Für eine kategoriale Verwendung des Statusbegriffs. Bemerkungen eines Prozessbeobachters. In Segensroboter, geistliche Handlungen und künstliche Intelligenz (KI) : theologisch-ethischer Studientag an der Evangelischen Akademie Frankfurt, 4. November 2017. Gemeinschaftswerk der Evangelischen Publizistik (GEP) gGmbH, 29–37

14.

Christaller T, Decker M, Gilsbach JM, Hirzinger G, Lauterbach KW, Schweighofer E, Schweitzer G, Sturma D (2001) Robotik Perspektiven für menschliches Handeln in der zukünftigen Gesellschaft. Springer, Berlin

15.

King E (2002) Clockwork prayer: a sixteenth-century mechanical masterpiece. Blackbird Online J Lit Arts 1:1

16.

Han B (2015) Beijing's Longquan temple adopts modern approach. CCTV News. https://www.theguardian.com/world/2016/apr/26/robot-monk-to-spread-buddhist-wisdom-to-the-digital-generation

17.

Martin A (2017) Pepper the robot to don Buddhist robe for its new funeral services role. The Japan Times, Tokyo

18.

Uriu D, Odom W, Gould H (2018) Proceedings of the 2018 on designing, and undefined 2018. Understanding automatic conveyor-belt columbaria: Emerging sites of interactive memorialization in Japan. dl.acm.org

19.

Trovato G, Lucho A, Ramon A, Ramirez R, Rodriguez L, Cuellar F (2018) The creation of SanTO: a robot with "divine" features". In: 15th international conference on ubiquitous robots

20.

Trovato G, Cuellar F, Nishimura M (2016) Introducing "theomorphic robots." In: 2016 IEEE-RAS 16th international conference on humanoid robots (humanoids), 1245–1250. https://doi.org/10.1109/HUMANOIDS.2016.7803429

21.

Trovato G, Lucho C, Huerta-Mercado A, Cuellar F (2018) Design strategies for representing the divine in robots. In: Companion of the 2018 ACM/IEEE international conference on human-robot interaction—HRI'18, 29–35. https://doi.org/10.1145/3173386.3173388

22.

Ackerman E (2018) Can a robot be divine? IEEE Spectrum. Retrieved July 16, 2018 from https://spectrum.ieee.org/automaton/robotics/artificial-intelligence/can-a-robot-be-divine

23.

Taylor B (ed) (2008) Encyclopedia of religion and nature, Volume 1, Bloomsbury Publishing

24.

Beauchamp G (1980) The Frankenstein Complex and Asimov's Robots. Mosaic: Interdiscip Crit J 13:83–94. https://doi.org/10.2307/24780264

25.

Kelly W, Schodt FL (1989) Inside the robot kingdom: Japan, mechatronics, and the coming robotopia. Monumenta Nipponica 44(1):133. https://doi.org/10.2307/2384713

26.

Dörrenbächer J, Plüm K (2016) Beseelte dinge: design aus perspektive des animismus (Vol. 35). transcript Verlag

27.

Dunne A, Raby F (2013) Speculative everything: design, fiction, and social dreaming. MIT Press, Cambridege

28.

Tharp BM, Tharp S (2018) Discursive design: critical, speculative, and alternative things. MIT Press, Cambridege

29.

Meltwater (2017) BlessU-2 Monitoring Report 1.10.2016–11.09.2017

30.

Mayring P (2010) Qualitative inhaltsanalyse. In Handbuch Qualitative Forschung in der Psychologie. VS Verlag für Sozialwissenschaften, Wiesbaden, 601–613. https://doi.org/10.1007/978-3-531-92052-8_42

31.

Norman DA (2004) Three levels of design: visceral, behavioral, and reflective. Emotional design: 63–98

32.

Foucault B, Melican J (2007) The digital and the divine: taking a ritual view of communication and ict interaction. In: Aykin N (ed) Usability and internationalization: HCI and culture. Springer, Berlin, pp 74–82. https://doi.org/10.1007/978-3-540-73287-7_10

33.

Scholtz CP (2008) Alltag mit künstlichen Wesen: Theologische Implikationen eines Lebens mit subjektsimulierenden Maschinen am Beispiel des Unterhaltungsroboters Aibo: Research in Contemporary Religion 3. Vandenhoeck & Ruprecht, Göttingen

34.

Syrdal DS, Dautenhahn K, Koay KL, Walters ML (2009) The negative attitudes towards robots scale and reactions to robot behaviour in a live human-robot interaction study. In: Adaptive and emergent behaviour and complex systems

35.

Measure Consumer Emotions & Product Experience: PrEmo. Retrieved July 18, 2018 from http://www.premotool.com/

36.

Bartneck C, Kulić D, Croft E, Zoghbi S (2009) Measurement instruments for the anthropomorphism, animacy, likeability, perceived intelligence, and perceived safety of robots. Int J Soc Robot 1(1):71–81. https://doi.org/10.1007/s12369-008-0001-3

37.

Złotowski J, Proudfoot D, Yogeeswaran K, Bartneck C (2015) Anthropomorphism: opportunities and challenges in human-robot interaction. Int J Soc Robot 7(3):347–360. https://doi.org/10.1007/s12369-014-0267-6

38.

Boer L, Bewley H (2018) Reconfiguring the appearance and expression of social robots by acknowledging their otherness. In Proceedings of the 2018 on designing interactive systems conference 2018—DIS'18, 667–677. https://doi.org/10.1145/3196709.3196743

39.

Epley N, Waytz A, Cacioppo JT (2007) On seeing human: a three-factor theory of anthropomorphism. Psychol Rev 114(4):864–886

40.

Alenljung B, Lindblom J, Andreasson R, Ziemke T (2017) User experience in social human–robot interaction. Int J Ambient Comput Intell 8(2):12–31. https://doi.org/10.4018/IJACI.2017040102

41.

Buie E (2018) Exploring techno-spirituality: design strategies for transcendent user experiences (Doctoral dissertation, Northumbria University)

42.

Turkle S (2017) Alone together: why we expect more from technology and less from each other. Hachette, New York. https://doi.org/10.1080/02650533.2013.769209

43.

Burch J (2018) AIBO robot dogs given buddhist funeral in japan. National Geographic. Retrieved July 20, 2018 from https://www.nationalgeographic.com/travel/destinations/asia/japan/in-japan–a-buddhist-funeral-service-for-robot-dogs/

44.

Schonenberg B, Bartneck C (2010). Mysterious machines. In: Proceeding of the 5th ACM/IEEE international conference on Human-robot interaction—HRI'10, 349. https://doi.org/10.1145/1734454.1734572

45.

Buchner R, Wurhofer D, Weiss A, Manfred Tscheligi M (2013) Robots in time: how user experience in human-robot interaction changes over time. Springer, Cham, pp 138–147. https://doi.org/10.1007/978-3-319-02675-6_14
Acknowledgements
We thank the visitors who commented on BlessU2. We also would like to thank the Protestant Church of Hesse and Nassau who made the comments available to our analysis. We thank David Sauer, Tabea Blenk and Jonas Kraft for digitalising the comment forms, as well as Michael Rojkov and Swantje Luthe for their help in conducting the second study. We thank our participants for their time in our second study, and the SuSaGroup for providing a free academic license for the PrEmo tool for its duration. We thank LuxAI S.A. for letting us test robot "QT" during a trial order.
Funding
This study was partly funded by the Equality Commission of Würzburg University.
Ethics declarations
Conflict of interest
The authors declare that they have no conflict of interest.
Human and Animal Rights
All procedures performed in studies involving human participants were in accordance with the ethical standards of the institutional and/or national research committee and with the 1964 Helsinki declaration and its later amendments or comparable ethical standards.
Informed Consent
For the anonymous, voluntary survey in study 1, no signed, informed consent form is required. This form would have been the only record linking the subjects and the research, thereby increasing the principal risk of potential harm resulting from a breach of confidentiality. Moreover, the research presents no more than minimal risk of harm to subjects and involved no procedures for which written consent is normally required outside of the research context. For study 2, informed consent was obtained from all participants for being included in the study.
About this article
Cite this article
Löffler, D., Hurtienne, J. & Nord, I. Blessing Robot BlessU2: A Discursive Design Study to Understand the Implications of Social Robots in Religious Contexts. Int J of Soc Robotics (2019). https://doi.org/10.1007/s12369-019-00558-3
Keywords
Robots

Religion

Discursive design

Automation

Desirable futures

Speculative design

Techno-spirituality