Abstract
Sugarcane is the most important sugar and bioenergy crop. Sugarcane ratoon crop chlorosis, caused by deficiencies of Fe, Ca and Mg because of low soil pH and excessive absorption of Mn, is a major crop production constraint in China and reduces cane yield as much as 40%. The molecular basis of the ratoon crop chlorosis is little understood. In this study, we employed TMT-labeling quantitative proteomics approach to study the proteins associated with sugarcane ratoon crop chlorosis using chlorotic leaves collected from the field. An in-house transcriptome database for sugarcane leaf was also constructed. From the proteome database, 7480 sugarcane proteins were identified; among them, 199 and 80 were found to be up- and down-regulated by the chlorosis. By functional characterization and protein–protein interaction studies, we were able to identify the components and pathways that might play a role in sugarcane chlorosis response. In addition to genes associated with photosynthesis, drought-responsive and jasmonic acid biosynthesis genes were also found to be associated with ratoon crop chlorosis in sugarcane. Data obtained in the presented study provide the molecular details of sugarcane ratoon crop proteome response during chlorosis.
Access options
Buy single article
Instant access to the full article PDF.
US$ 39.95
Tax calculation will be finalised during checkout.
Subscribe to journal
Immediate online access to all issues from 2019. Subscription will auto renew annually.
US$ 79
Tax calculation will be finalised during checkout.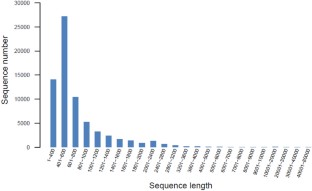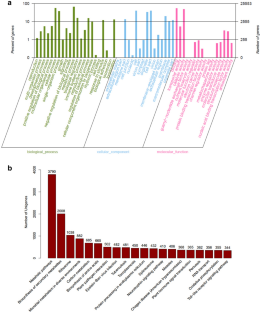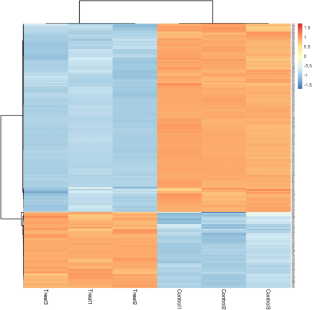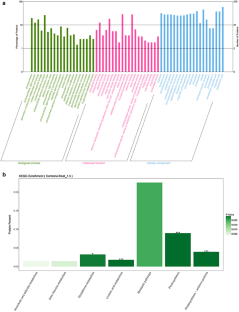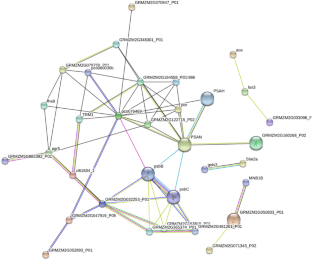 References
Andrade, J.C., J. Terto, J.V. Silva, and C. Almeida. 2015. Expression profiles of sugarcane under drought conditions: Variation in gene regulation. Genetics and Molecular Biology 38: 465–469.

Barnabas, L., R. Ashwin, A.R. Sundar, P. Malathi, and R. Viswanathan. 2015. Sugarcane proteomics: An update on current status, challenges, and future prospects. Proteomics 15 (10): 1658–1670.

Baryla, A., P. Carrier, F. Franck, C. Coulomb, C. Sahut, and M. Havaux. 2001. Leaf chlorosis in oilseed rape plants (Brassica napus) grown on cadmium-polluted soil: causes and consequences for photosynthesis and growth. Planta 212: 696–709.

Chen, G.F., Z. Liu, Y.Y. Huang, L.M. Xiong, Y.M. Tan, Y. Xing, and Q.Z. Tang. 2016. Factors responsible for sugarcane ratoon chlorosis in acid soil and its management in Guangxi Province of China. Sugar Tech 18 (5): 500–504.

Conesa, A., S. Gotz, J.M. Garcia-Gomez, J. Terol, M. Talon, and M. Robles. 2005. Blast2GO: a universal tool for annotation, visualization and analysis in functional genomics research. Bioinformatics 21: 3674–3676.

Dal-Bianco, M., M.S. Carneiro, C.T. Hotta, R.G. Chapola, H.P. Hoffmann, A.A.F. Garcia, and G.M. Souza. 2012. Sugarcane improvement: how far can we go? Current Opinion in Biotechnology 23 (2): 265–270.

Haas, B.J., A. Papanicolaou, M. Yassour, M. Grabherr, P.D. Blood, J. Bowden, M.B. Couger, D. Eccles, B. Li, M. Lieber, M.D. Macmanes, M. Ott, J. Orvis, N. Pochet, F. Strozzi, N. Weeks, R. Westerman, T. William, C. Dewey, R. Henschel, R.D. Leduc, N. Friedman, and A. Regev. 2013. De novo transcript sequence reconstruction from RNA-seq using the Trinity platform for reference generation and analysis. Nature Protocols 8: 1494–1512.

Ham, B.K., G. Li, B.H. Kang, F. Zeng, and W.J. Lucas. 2012. Overexpression of Arabidopsis plasmodesmata germin-like proteins disrupts root growth and development. The Plant Cell 24: 3630–3648.

Herbik, A., A. Giritch, C. Horstmann, R. Becker, H.J. Balzer, M. Ganal, M.G. Stephan, H. Baumlein, and U.W. Stephan. 1996. Iron and copper nutrition-dependent changes in protein expression in a tomato wild type and the nicotianamine-free mutant chloronerva. Plant Physiology 111: 533–540.

Hindt, M.N., and M.L. Guerinot. 2012. Getting a sense for signals: regulation of the plant iron deficiency response. Biochimica et Biophysica Acta 1823: 1521–1530.

Huang, Y.L., S. Yang, G.X. Long, Z.K. Zhao, X.F. Li, and M.H. Gu. 2016. Manganese toxicity in sugarcane plantlets grown on aciditic soils of Southern China. PLoS ONE 11 (3): e0148956.

Laganowsky, A., S.M. Gomez, J.P. Whitelegge, and J.N. Nishio. 2009. Hydroponics on a chip: analysis of the Fe deficient Arabidopsis thylakoid membrane proteome. Journal of Proteomics 72: 397–415.

Li, Y.R., and L.T. Yang. 2015. Sugarcane agriculture and sugar industry in China. Sugar Tech 17 (1): 1–8.

Li, C., Q. Nong, M.K. Solanki, Q. Liang, J. Xie, X. Liu, Y. Li, W. Wang, L. Yang, and Y. Li. 2016. Differential expression profiles and pathways of genes in sugarcane leaf at elongation stage in response to drought stress. Scientific Reports 6: 25698.

Lü, F., J.W. Guo, F. Yu, T.T. Zhang, S.M. Zhang, H.P. Cui, X.J. Liu, L. Chen, L.Y. Liu, S.F. Liu, and F.W. Xie. 2016. Determination of nine volatile N-nitrosamines in tobacco and smokeless tobacco products by dispersive solid-phase extraction with gas chromatography and tandem mass spectrometry. Journal of Separation Science 39 (11): 2123–2128.

Miller, G.W., J.C. Pushnik, and G.W. Welkie. 1984. Iron chlorosis, a world wide problem, the relation of chlorophyll biosynthesis to iron. Journal of Plant Nutrition 7 (1–5): 1–22.

Mueller, M.J. 1997. Enzymes involved in jasmonic acid biosynthesis. Physiologia Plantarum 100 (3): 653–663.

Oberg, A., D. Mahoney, J.E. Eckel-Passow, C. Malone, R. Wolfinger, E.G. Hill, L.T. Cooper, O.K. Onuma, C. Spiro, T.M. Therneau, and H.R. Bergen. 2008. Statistical analysis of relative labeled mass spectrometry data from complex samples using ANOVA. Journal of Proteome Research 7: 225–233.

Orosa, B., S. Üstün, L.I.A.C. Villalobos, P. Genschik, D. Gibbs, M.J. Holdsworth, E. Isono, M. Lois, M. Trujillo, and A. Sadanandom. 2020. New Phytologist 227 (4): 1028–1033.

Shrivastava, A.K., M.K. Srivastava, S.P. Shukla, A. Gaur, and R. Darash. 2004. Chlorosis induced alterations in leaf laminae of sugarcane. Indian Journal of Plant Physiology 9: 429–434.

Su, Y.C., L.P. Xu, Z.Q. Wang, Q. Peng, Y.T. Yang, Y. Chen, and Y.X. Que. 2016. Comparative proteomics reveals that central metabolism changes are associated with resistance against Sporisorium scitamineum in sugarcane. BMC Genomics 17 (1): 800.

Szklarczyk, D., A. Franceschini, S. Wyder, K. Forslund, D. Heller, J. Huerta-Cepas, M. Simonovic, A. Roth, A. Santos, K.P. Tsafou, M. Kuhn, P. Bork, L.J. Jensen, and C. von Mering. 2015. STRING v10: Protein-protein interaction networks, integrated over the tree of life. Nucleic Acids Research 43: D447-452.

Wang, H., F. Ma, and L. Cheng. 2010. Metabolism of organic acids, nitrogen and amino acids in chlorotic leaves of 'Honeycrisp' apple (Malus domestica Borkh) with excessive accumulation of carbohydrates. Planta 232: 511–522.

Xie, C., X. Mao, J. Huang, Y. Ding, J. Wu, S. Dong, L. Kong, G. Gao, C.Y. Li, and L. Wei. 2011. KOBAS 2.0: a web server for annotation and identification of enriched pathways and diseases. Nucleic Acids Research 39: W316-322.

Yang, F., Y.F. Shen, D.G. Camp, and R.D. Smith. 2012. High-pH reversed-phase chromatography with fraction concatenation for 2D proteomic analysis. Expert Review of Proteomics 9 (2): 129–134.

Zhang, Y., T.T. Ji, T.T. Li, Y.Y. Tian, L.F. Wang, and W.C. Liu. 2020. Jasmonic acid promotes leaf senescence through MYC2-mediated repression of CATALASE2 expression in Arabidopsis. Plant Science 199: 110604.

Zhao, C., F.Q. Wang, P. Wang, H.J. Ding, X.Y. Huang, and Z.H. Shi. 2015. Early second-trimester plasma protein profiling using multiplexed isobaric tandem mass tag (TMT) labeling predicts gestational diabetes mellitus. Acta Diabetoiogica 52 (6): 1103–1112.
Funding
This work was supported in part by National Natural Foundation of China (31360312), Guangxi Nature Science Fund (2015GXNSFDA139011), Guangxi Science and Technology Base and Talents Special Project (Guike AD17195100), National Modern Agriculture Industry Technology System of Guangxi Sugarcane Innovation Team Projects (gjnytxgxcxtd-03), and Guangxi Academy of Agricultural Sciences project (2015YM13, 2015YT03, 2016JM06).
Ethics declarations
Conflict of interest
The authors declare that they have no conflict of interest.
Additional information
Publisher's Note
Springer Nature remains neutral with regard to jurisdictional claims in published maps and institutional affiliations.
Supplementary Information
Below is the link to the Supplementary Information.
About this article
Cite this article
Fan, YG., Chen, RF., Qiu, LH. et al. Quantitative Proteomics Analysis of Sugarcane Ratoon Crop Chlorosis. Sugar Tech (2021). https://doi.org/10.1007/s12355-021-00952-0
Received:

Accepted:

Published:
Keywords
Sugarcane

Ratoon

Chlorosis

Proteins

TMT-labeling quantitative proteomics