Abstract
Background
Proton pump inhibitors (PPIs) have been speculated to cause gastric wall uptake (GWU) in MPI scans. However, the uptake mechanism and prevention methods are less studied. In this prospective trial we aimed to evaluate the impact of gastroprotective medications on GWU and its solutions.
Methods
351 consecutive patients, scheduled for 2-day rest/stress 99mTc-MIBI scan, were distributed into 5 groups. 3-7 days following the baseline rest scan, the stress scan was acquired after intervention in the trial group, consisting of patients with history of PPI intake, randomly assigned to 3 subgroups: discontinuing PPIs(A), replacement with H2 blockers (B), and continuing PPIs (C). Patients receiving H2 blockers, continued it as before (D) and the remaining patients were the control group (E). GWU was graded compared to the myocardial uptake.
Results
In the rest phase, all groups had significantly higher GWU compared to the control group. In the stress phase, group A had less GWU than group B (P-value < 0.05) and both of them had significantly less GWU compared to group C (P-value < 0.001). There was no significant difference between PPI discontinuation periods of 3-5 days versus 5-7 days. There was a significant association between duration of oral PPI intake, but not IV PPIs, and GWU. GWU was significantly lower with oral compared to IV PPI administration.
Conclusion
PPIs significantly increase GWU and discontinuing them for at least 3-5 days significantly reduces GWU. H2 antagonists are a good alternative in patients who cannot tolerate dyspepsia symptoms.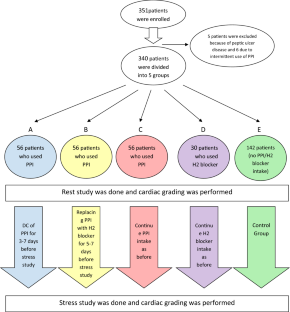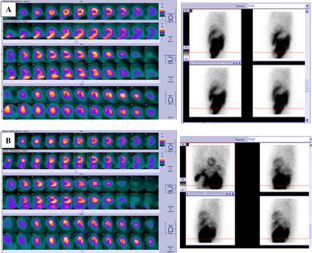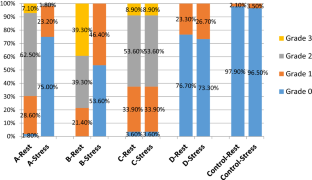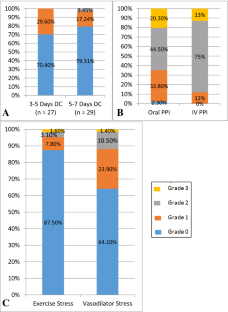 Abbreviations
GWU:

Gastric wall uptake

PPI:

Proton pump inhibitor

MPI:

Myocardial perfusion imaging

IV:

Intravenous

GPM:

Gastro-protective medication

CAD:

Coronary artery disease

99mTc-MIBI:

Technetium-99m methoxy-isobutyl-isonitrile

SPECT:

Single-Photon Emission Computed Tomography

PUD:

Peptic ulcer disease
References
1.

McNulty EJ, Hung Y, Almers LM, Go AS, Yeh RW (2014) Population trends from 2000–2011 in nuclear myocardial perfusion imaging use. JAMA 311:1248–1249

2.

Depuey EG (2010) Single-photon emission computed tomography artifact. In: Zaret BL, Beller GA (eds) Clinical nuclear cardiology: State of the art and future directions. Mosby Elsevier, Philadelphia, pp 72–95

3.

Cote C, Dumont M (2004) The clinical meaning of gastric-wall hyperactivity observed on sestamibi cardiac single-photon emission computed tomography. Can AssocRadiol J 55:178–183

4.

Gholamrezanezhad A, Moinian D, Eftekhari M, Mirpour S, Hajimohammadi H (2006) The prevalence and significance of increased gastric wall radiotracer uptake in sestamibi myocardial perfusion SPECT. Int J Cardiovasc Imaging 22:435–441

5.

Goel S, Bommireddipalli S, DePuey E (2009) Effect of proton pump inhibitors and H2 antagonists on the stomach wall in 99mTc-sestamibi cardiac imaging. J Nucl Med Technol 37:240–243

6.

Mouden M, Rijkee K, Schreuder N, Timmer J, Jager P (2015) Influence of proton-pump inhibitors on stomach wall uptake of 99mTctetrofosmin in cadmium–zinc–telluride SPECT myocardial perfusion imaging. Nucl Med Commun 36:143–147

7.

Javadi H, Jallalat S, Semnani S, Mogharrabi M, Nabipour I, Tabib S et al (2013) The association of increased stomach wall radiotracer uptake with prolonged use of Omeprazole capsules on myocardial perfusion imaging (MPI) using 99mTc-sestamibiSPECT. Nucl Med Rev Cent East Eur 16:91–94

8.

Othman F, Card TR, Crooks CJ (2016) Proton pump inhibitor prescribing patterns in the UK: A primary care database study. Pharmacoepidemiol Drug Saf 25:1079–1087

9.

Singh H, Mittal BR, Sood A, Bollampally N, Gorla AKR, Dasagrandhi V, Parmar M (2019) Association of use of proton pump inhibitors and H2 antagonists with stomach wall uptake in 99mTc-methoxy-isobutyl-isonitrile (MIBI) myocardial perfusion imaging. J NuclCardiol. https://doi.org/10.1007/s12350-019-01733-9

10.

Verberne HJ, Acampa W, Anagnostopoulos C, Ballinger J, Bengel F, De Bondt P et al (2015) EANM procedural guidelines for radionuclide myocardial perfusion imaging with SPECT and SPECT/CT: 2015 revision. Eur J Nucl Med Mol Imaging 42:1929–1940

11.

Burrell S, MacDonald A (2006) Artifacts and pitfalls in myocardial perfusion imaging. J Nucl Med Technol 34:193–214

12.

Peace RA, Lloyd J (2005) The effect of imaging time, radiopharmaceutical, full fat milk and water on interfering extra-cardiac activity in myocardial perfusion single photon emission computed tomography. Nucl Med Commun 26:17–24

13.

Van Dongen AJ, Van Rijk PP (2000) Minimizing liver, bowel, and gastric activity in myocardial perfusion SPECT. J Nucl Med 41:1315–1317

14.

Aguilera-Castro L, Martín-de-Argila-dePrados C, Albillos-Martínez A (2016) Practical considerations in the management of proton-pump inhibitors. Rev EspEnferm Dig 108:145–153

15.

Rose DS, Robinson B, Kannan S, Lee JC (2019) Interaction between the effects of proton pump inhibitors and aspirin on gastric wall sestamibi uptake on myocardial perfusion imaging. J NuclCardiol. https://doi.org/10.1007/s12350-019-01951-1

16

Wallace JL (2008) Prostaglandins, NSAIDs, and gastric mucosal protection: why doesn't the stomach digest itself? Physiol Rev 88(4):1547–1565

17.

Bardou M, Martin J, Barkun A (2009) Intravenous proton pump inhibitors. Drugs 69:435–448
Ethics declarations
Disclosures
This study was supported in part by research grants from clinical research and development unit of Shohada-e Tajrish medical center (toElahePirayesh). Ghazal Norouzi and AzinAsadZadeh have nothing to disclose.
Additional information
Publisher's Note
Springer Nature remains neutral with regard to jurisdictional claims in published maps and institutional affiliations.
The authors of this article have provided a PowerPoint file, available for download at SpringerLink, which summarises the contents of the paper and is free for re-use at meetings and presentations. Search for the article DOI on SpringerLink.com.
Supplementary Information
Below is the link to the electronic supplementary material.
About this article
Cite this article
Norouzi, G., AsadZade, A., Salimi, Y. et al. Effect of proton pump inhibitors and H2 antagonists on gastric wall uptake in myocardial perfusion scan with 99mTc-sestamibi. J. Nucl. Cardiol. (2021). https://doi.org/10.1007/s12350-021-02529-6
Received:

Accepted:

Published:
Keywords
SPECT

myocardial perfusion imaging

99mTc-MIBI

proton pump inhibitor

H2 antagonist

gastric wall uptake