Abstract
Primary pericardial angiosarcoma is a rare malignant cardiac neoplasm with early metastasis and poor prognosis. There are currently no guidelines or effective therapeutic strategies. Here we report a case of a 22-year-old man who presented with chest pain, suffocation and transient syncope over the course of 4 months. Further workup showed a large mass in the right pericardium, histopathologic examination revealed angiosarcoma. The patient subsequently received a total of 8 cycles of chemotherapy (paclitaxel and doxorubicin). This patient has an overall survival of 1 year to date. The current examination methods and reported cases revealed that early detection of primary pericardial angiosarcoma with imaging examinations is critical for prognosis.
Access options
Buy single article
Instant access to the full article PDF.
US$ 39.95
Tax calculation will be finalised during checkout.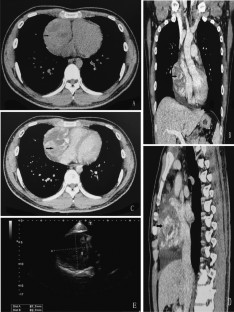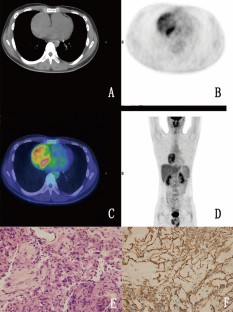 Abbreviations
OS:

Median overall survival

TTE:

Transthoracic echocardiography

CT:

Computed tomography

PET:

Positron emission tomography
References
1.

Randhawa JS, Budd GT, Randhawa M, Ahluwalia M, Jia X, Daw H, et al. Primary cardiac sarcoma: 25-Year Cleveland clinic experience. Am J Clin Oncol 2014;39:593-9.

2.

Timoteo AT, Branco LM, Bravio I, Pinto E, Timoteo T, Matos P, et al. Primary angiosarcoma of the pericardium: Case report and review of the literature. Kardiol Pol 2010;68:802-5.

3.

Lam KY, Dickens P, Chan AC. Tumors of the heart. A 20-year experience with a review of 12,485 consecutive autopsies. Arch Pathol Lab Med 1993;117:1027-31.

4.

Yahata S, Endo T, Honma H, Ino T, Hayakawa H, Ogawa M, et al. Sunray appearance on enhanced magnetic resonance image of cardiac angiosarcoma with pericardial obliteration. Am Heart J 1994;127:468-71.

5.

Herrmann MA, Shankerman RA, Edwards WD, Shub C, Schaff HV. Primary cardiac angiosarcoma: Aclinicopathologic study of six cases. J Thorac Cardiovasc Surg 1992;103:655-64.
Disclosures
Wencui Li, Lizhu Han and Zhaoxiang Ye declare that they have nothing to disclose.
Additional information
Publisher's Note
Springer Nature remains neutral with regard to jurisdictional claims in published maps and institutional affiliations.
About this article
Cite this article
Li, W., Han, L. & Ye, Z. Primary pericardial angiosarcoma: A case report. J. Nucl. Cardiol. (2021). https://doi.org/10.1007/s12350-020-02470-0
Received:

Accepted:

Published:
Keywords
Primary pericardial angiosarcoma

Chemotherapy