Abstract
Background
The evaluation of papillary muscle (PM) perfusion through existing perfusion imaging, including single-photon emission computed tomography and magnetic resonance imaging, is not possible. Therefore, this study sought to investigate the detection of PM ischemia in coronary artery disease (CAD) using nitrogen-13 (N-13) ammonia positron emission tomography (NH3 PET) and its association with global myocardial flow reserve (MFR) and major adverse cardiac events (MACE).
Methods
Data of adenosine-stress NH3 PET for 263 consecutive patients with known or suspected CAD were retrospectively analyzed. PM ischemia was defined as the absence of PM accumulation under stress conditions and PM presence at rest on high-resolution cine imaging derived from PET-computed tomography scanner with time-of-flight technology. The primary outcome was MACE.
Results
Of 263 patients, 30 experienced mean follow-up period of 910 days (MACE), while 31 (11.8%) presented PM ischemia. Compared to patients without PM ischemia, those with PM ischemia reported a significantly lower global MFR and a significantly higher rate of MACE (P < .0001).
Conclusion
NH3 PET enables the detection of PM ischemia in approximately 10% of patients with known or suspected CAD. PM ischemia is associated with reduced global MFR and is an important sign in predicting prognosis.
This is a preview of subscription content, log in to check access.
Access options
Buy single article
Instant access to the full article PDF.
US$ 39.95
Price includes VAT for USA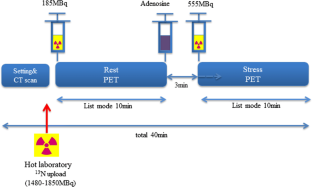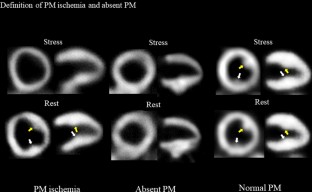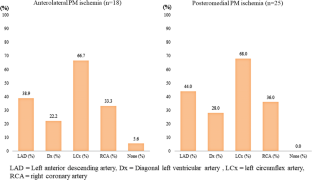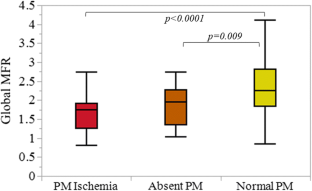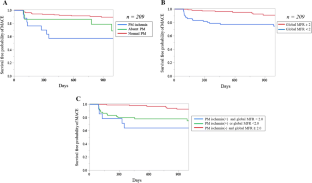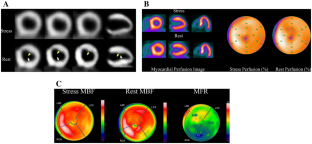 Abbreviations
PM:

Papillary muscle

PET:

Positron emission tomography

13 N-NH3 PET:

N-13 ammonia PET

CAD:

Coronary artery disease

Global MFR:

Global myocardial flow reserve

MACE:

Major adverse cardiac events

MPI:

Myocardial perfusion imaging

LAD:

Left anterior descending artery

LCx:

Left circumflex artery

RCA:

Right coronary artery
References
1.

Algranati D, Kassab GS, Lanir Y. Why is the subendocardium more vulnerable to ischemia? A new paradigm. Am J Physiol Heart Circ Physiol 2011;300:1090-100.

2.

Gould KL, Johnson NP. Coronary physiology beyond coronary flow reserve in microvascular angina. JACC State-of-the-Art Review. J Am Coll Cardiol 2018;72:2642-62.

3.

Tsuda K, Koide M, Miyairi S, Watanabe K, Miyairi S. Acute papillary muscle rupture due to small vessel occlusion. J Cardiovasc Surg 2012;41:280-3.

4.

Sakata T, Mogi K, Sakurai M, Nomura A, Fujii M, Takahara Y, et al. Rupture of anterolateral papillary muscle resulting from small artery occlusion. Ann Thorac Surg 2017;104:113-4.

5.

Di Bella EVR, Parker DL, Sinusas AJ. On the dark rim artifact in dynamic contrast-enhanced MRI myocardial perfusion studies. Magn Reson Med 2005;54:1295-9.

6.

Nagao M, Higashino H, Matsuoka H, Kawakami H, Mochizuki T, Kouno T, et al. Clinical importance of microvascular obstruction on contrast-enhanced MRI in reperfused acute myocardial infarction. Circulation 2008;72:200-4.

7.

Patel MB, Bui LP, Kirkeeide RL, Gould KL. Imaging microvascular dysfunction and mechanisms for female-male differences in CAD. J Am Cardiol Imaging 2016;9:465-82.

8.

van de Hoef TP, Echavarria-Pinto M, van Lavieren MA, Meuwissen M, Serruys PW, Tijssen JG, et al. Diagnostic and prognostic implications of coronary flow capacity. J Am Coll Cardiol 2015;8:1670-80.

9.

Fiechter M, Ghadri JR, Gebhard C, Fuchs TA, Pazhenkottil AP, Kaufmann PA, et al. Diagnostic value of 13N-ammonia myocardial perfusion PET: Added value of myocardial flow reserve. J Nucl Med 2012;53:1230-4.

10.

Herzog BA, Husmann L, Valenta I, Gaemperli O, Siegrist PT, Kaufmann PA, et al. Long-term prognostic value of 13N-ammonia myocardial perfusion PET: Added value of coronary flow reserve. J Am Coll Cardiol 2009;54:150-6.

11.

Ziadi MC, deKemp RA, Williams KA, Guo A, Chow BJW, Renaud JM, et al. Impaired myocardial flow reserve on rubidium-82 positron emission tomography imaging predicts adverse outcomes in patients assessed for myocardial ischemia. J Am Coll Cardiol 2011;58:740-8.

12.

Lee JM, Jung JH, Hwang D, Park J, Fan Y, Na SH, et al. Coronary flow reserve and microcirculatory resistance in patients with intermediate coronary stenosis. J Am Coll Cardiol 2016;67:1158-69.

13.

Dilsizian V, Bacharach SL, Beanlands RS, Bergmann SR, Delbeke D, Travin MI, et al. PET myocardial perfusion and metabolism clinical imaging. J Nucl Cardiol 2009;16:651.

14.

Millena J, Henzlova MJ, Cerqueira MD, Hansen CL, Taillefer R, Yao S. Imaging guidelines for nuclear cardiology procedures: Stress protocols and tracers. J Nucl Cardiol 2009;16:331.

15.

deKemp RA, Klein R, Renaud JM, Alghamdi A, Lortie M, Beanlands RS, et al. 3D list mode cardiac PET for simultaneous quantification of myocardial blood flow and ventricular function. IEEE Nucl Sci Symp Conf Record 2008;1:5215-8.

16.

Opstal TSJ, Knol RJJ, Cornel JH, Wondergem M, van der Zant FM. Myocardial blood flow and myocardial flow reserve values in 13 N-ammonia myocardial perfusion PET/CT using a time-efficient protocol in patients without coronary artery disease. Euro J Hybrid Imaging. 2018;2:11.

17.

Ziadi MC. Myocardial flow reserve (MFR) with positron emission tomography (PET)/computed tomography (CT): Clinical impact in diagnosis and prognosis. Cardiovasc Diagn Ther 2017;7:206-18.

18.

Cerqueira MD, Weissman NJ, Dilsizian V, Jacobs AK, Kaul S, Dilsizian V, et al. Standardized myocardial segmentation and nomenclature for tomographic imaging of the heart: A statement for healthcare professionals from the Cardiac Imaging Committee of the Council on Clinical Cardiology of the American Heart Association. Circulation 2002;105:539-42.

19.

Hachamovitch R, Kang X, Amanullah AM, Abidov A, Hayes SW, Friedman JD, et al. Prognostic implications of myocardial perfusion single photon emission computed tomography in the elderly. Circulation 2009;120:2163-5.

20.

Yoshinaga K, Chow BJ, Williams K, Chen L, deKemp RA, Garrard L, et al. What is the prognostic value of myocardial perfusion imaging using rubidium-82 positron emission tomography? J Am Coll Cardiol 2006;48:1029-39.

21.

Steinmetz AP, Maisey MN, Hardoff R. Patterns of papillary muscle ischemia in myocardial PET. Clin Nucl Med 2004;29:1-4.

22.

Voci P, Bilotta F, Caretta Q, Mercanti C, Marino B. Papillary muscle perfusion pattern: A hypothesis for ischemic papillary muscle dysfunction. Circulation 1995;91:1714-8.

23.

Park SM, Wei J, Cook-Wiens G, Nelson MD, Thomson L, Merz CNB, et al. Left ventricular concentric remodelling and functional impairment in women with ischaemia with no obstructive coronary artery disease and intermediate coronary flow reserve: A report from the WISE-CVD study. Eur Heart J Cardiovasc Imaging 2019;20:875-82.

24.

Murthy VL, Naya M, Taqueti VR, Foster CR, Gaber M, Hainer J, et al. Effects of sex on coronary microvascular dysfunction and cardiac outcomes. Circulation 2014;129:2518-27.

25.

Kibel A, Selthofer-Relatic K, Drenjancevic I, Bacun T, Bosnjak I, Gros M, et al. Coronary microvascular dysfunction in diabetes mellitus. J Int Med Res 2017;45:1901-29.
Additional information
Publisher's Note
Springer Nature remains neutral with regard to jurisdictional claims in published maps and institutional affiliations.
The authors of this article have provided a PowerPoint file, available for download at SpringerLink, which summarises the contents of the paper and is free for re-use at meetings and presentations. Search for the article DOI on SpringerLink.com.
Electronic supplementary material
Below is the link to the electronic supplementary material.
About this article
Cite this article
Nakao, R., Nagao, M., Yamamoto, A. et al. Papillary muscle ischemia on high-resolution cine imaging of nitrogen-13 ammonia positron emission tomography: Association with myocardial flow reserve and prognosis in coronary artery disease. J. Nucl. Cardiol. (2020). https://doi.org/10.1007/s12350-020-02231-z
Received:

Accepted:

Published:
Keywords
Microvascular dysfunction

PET

myocardial blood flow

diagnostic and prognostic application

perfusion agents

vasodilators