Abstract
Objectives
The aim of this study was to investigate the diagnostic yield of 18F-fluorodeoxyglucose (FDG) positron emission tomography (PET) for detecting thoracic aortic graft infection (AGI) in comparison to expert consensus MAGIC criteria.
Methods
Patients suspected clinically of having thoracic-AGI were prospectively recruited. Consensus MAGIC criteria for AGI were compared to findings on FDG PET imaging. MAGIC criteria were verified against clinical/surgical, radiological, and microbiological/laboratory predefined major and minor parameters. FDG images were interpreted using a semiquantitative visual grading score (VGS, abnormal ≥ 3), focal uptake and quantitative maximum standard FDG uptake value (SUVmax, abnormal ≥ 7.3), and target-to-background FDG ratio (TBRmax, abnormal ≥ 4.2).
Results
Of 35 patients suspected of having thoracic-AGI, MAGIC diagnostic criteria were positive for AGI in 25 patients (71%) and negative in 10 (29%). FDG PET imaging was abnormal in 27 patients (77%). Abnormal and normal FDG imaging findings were concordant with MAGIC criteria in 31 patients (88.6%). In 4 patients, FDG imaging results were discordant with MAGIC criteria. By ROC analysis, optimal FDG cut-off values for detecting AGI by MAGIC were ≥ 3 for VGS, ≥ 7.3 for SUVmax and ≥ 4.2 for TBRmax, with concordance with MAGIC criteria in 88.6%, 85.7%, and 88.6% of patients, respectively. Two or more FDG imaging parameters (VGS, focal uptake, SUVmax, and TBRmax) yielded highest diagnostic concordance of 91.4%. VGS inverse odds ratio for AGI was 7.14. In 4 of 6 selective patients who had repeat FDG PET imaging during antibiotic treatment, quantitative FDG imaging values improved over time with associated improvement of laboratory markers of inflammation.
Conclusions
FDG PET/CT imaging, using (semi-)quantitative imaging parameters, showed high concordance with expert consensus MAGIC criteria for AGI. These data suggest a potential complementary role of quantitative FDG/CT imaging, not only to detect AGI, but also to monitor response to antibiotic treatment.
This is a preview of subscription content, log in to check access.
Access options
Buy single article
Instant access to the full article PDF.
US$ 39.95
Price includes VAT for USA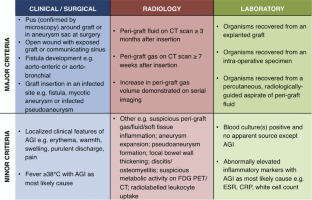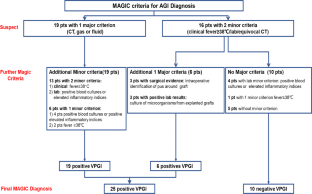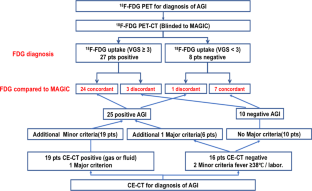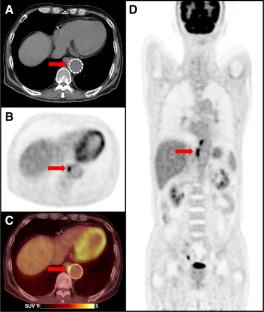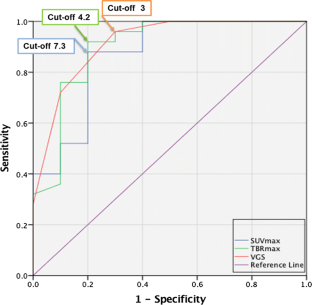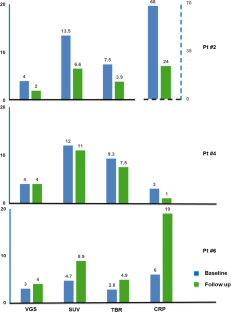 Abbreviations
AGI:

Aortic graft infection

AUC:

Area under the curve

CT:

Computed tomography

18F-FDG:

18F-Fluorodeoxyglucose, FDG

PET:

Positron emission tomography

ROC:

Receiver operating characteristic

SUV:

Standardized uptake value

TBR:

Target-to-background ratio

VGS:

Visual grading score

VOI:

Volume of interest

WBC:

White blood cell count
References
1.

Legout L, Sarraz-Bournet B, D'Elia PV, Devos P, Pasquet A, Caillaux M, et al. Characteristics and prognosis in patients with prosthetic vascular graft infection: A prospective observational cohort study. Clin Microbiol Infect 2012;18:352-8.

2.

Berger P, Van Herwaarden JA, Harkisoen S, De Vries JP, Ekkelenkamp M, Moll FL. Surgical treatment of infected aortic grafts. J Cardiovasc Surg 2012;53:719-34.

3.

Perera GB, Fujitani RM, Kubaska SM. Aortic graft infection: Update on management and treatment options. Vasc Endovascular Surg 2006;40:1-10.

4.

Szczot M, Meybeck A, Legout L, Pasquet A, Grunderbeeck NV, Langlois J, et al. Vascular graft infections in the intensive care unit: Clinical spectrum and prognostic factors. J Infect 2011;62:204-11.

5.

Erb S, Sidler JA, Elzi L, Gurke L, Battegay M, Widmer AF, et al. Surgical and antimicrobial treatment of prosthetic vascular graft infections at different surgical sites: A retrospective study of treatment outcomes. PLoS ONE 2014;9:e112947.

6.

Folmer EI, Von Meijenfeldt GCI, Van der Laan MJ, Glaudemans AWJM, Slart RHJA, Saleem BR, et al. Diagnosis imaging in vascular graft infection: A systematic review and meta-analysis. Eur J Vasc Endovasc Surg 2018;56:719-29.

7.

Husmann L, Huellner MW, Ledergerber B, Anagnostopoulos A, Stolzmann P, Sah BR, et al. Comparing diagnostic accuracy of 18F-FDG-PET/CT, contrast enhanced CT and combined imaging in patients with suspected vascular graft infections. Eur J Nucl Med Mol Imaging 2019;46:1359-68.

8.

Low RN, Wall SD, Jeffrey RB Jr, Sollitto RA, Reilly LM, Tierney LM Jr. Aortoenteric fistula and perigraft infection: evaluation with CT. Radiology 1990;175:157-62.

9.

Lyons OT, Baguneid M, Barwick TD, Bell RE, Foster N, Homer-Vanniasinkam S, et al. Diagnosis of aortic graft infection: a case definition by the management of aortic graft infection collaboration (MAGIC). Eur J Vasc Endovasc Surg 2016;52:758-63.

10.

Puges M, Bérard X, Ruiz JB, Debordeaux F, Desclaux A, Stecken L, et al. Retrospective study comparing WBC scan and 18F-FDG PET/CT in patients with suspected prosthetic vascular graft infection. Eur J Vasc Endovasc Surg 2019;57:876-84.

11.

Jamar F, Buscombe J, Chiti A, Christian PE, Delbeke D, Donohoe KJ, et al. EANM/SNMMI guideline for 18F-FDG Use in inflammation and infection. J Nucl Med 2013;54:647-58.

12.

Osborne MT, Hulten EA, Murthy VL, Skali H, Taqueti VR, Dorbala S, et al. Patient preparation for cardiac fluorine-18 fluorodeoxyglucose positron emission tomography imaging of inflammation. J Nucl Cardiol 2017;24:86-99.

13.

Boellaard R, Delgado-Bolton R, Oyen WJ, Giammarile F, Tatsch K, Eschner W, et al. FDG PET/CT: EANM procedure guidelines for tumour imaging: version 2.0. Eur J Nucl Med Mol Imaging 2015;42:328-54.

14.

Sah BR, Husmann L, Mayer D, Scherrer A, Rancic Z, Puippe G, et al. Diagnostic performance of 18F-FDG-PET/CT in vascular graft infection. Eur J Vasc Endovasc Surg 2015;49:455-64.

15.

Spacek M, Belohlavek O, Votrubova J, Sebesta P, Stadler P. Diagnostics of "non-acute" vascular prosthesis infection using 18F-FDG PET/CT: Our experience with 96 prostheses. Eur J Nucl Med Mol Imaging 2009;36:850-8.

16.

Bruggink JL, Glaudemans AW, Saleem BR, Meerwaldt R, Alkefaji H, Prins TR, et al. Accuracy of FDG-PET-CT in the diagnostic work-up of vascular prosthetic graft infection. Eur J Vasc Endovasc Surg 2010;40:348-54.

17.

Tokuda Y, Oshima H, Araki Y, Narita Y, Mutsuga M, Kato K, et al. Detection of thoracic aortic prosthetic graft infection with 18F-fluorodeoxyglucose positron emission tomography/computed tomography. Eur J Cardiothorac Surg 2013;43:1183-7.

18.

Einspieler I, Mergen V, Wendorff H, Haller B, Eiber M, Schwaiger M, et al. Diagnostic performance of quantitative and qualitative parameters for the diagnosis of aortic graft infection using [18F]-FDG PET/CT. J Nucl Cardiol 2020. https://doi.org/10.1007/s12350-019-02011-4.

19.

Guenther SP, Cyran CC, Rominger A, Saam T, Kazmierzcak PM, Bagaev E, et al. The relevance of 18F-fluorodeoxyglucose positron emission tomography/computed tomography imaging in diagnosing prosthetic graft infections post cardiac and proximal thoracic aortic surgery. Interact Cardiovasc Thorac Surg 2015;21:450-8.

20.

Rojoa D, Kontopodis N, Antoniou SA, Ioannou CV, Antoniou GA. 18F-FDG PET in the diagnosis of vascular prosthetic graft infection: A diagnostic test accuracy meta-analysis. Eur J Vasc Endovasc Surg 2019;57:292-301.

21.

Pizzi MN, Roque A, Cuéllar-Calabria H, Fernández-Hidalgo N, Ferreira-González I, González-Alujas MT, et al. 18F-FDG-PET/CTA of prosthetic cardiac valves and valve-tube grafts: infective versus inflammatory patterns. JACC Cardiovasc Imaging 2016;9:1224-7.

22.

Roque A, Pizzi MN, Fernández-Hidalgo N, Permanyer E, Cuellar-Calabria H, Romero-Farinaet G, et al. Morpho-metabolic post-surgical patterns of non-infected prosthetic heart valves by [18F] FDG PET/CTA: "Normality" is a possible diagnosis. Eur Heart J Cardiovasc Imaging 2020;21:24-33.

23.

Machelart I, Greib C, Wirth G, Camou F, Issa N, Viallard JF, et al. Graft infection after a Bentall procedure: A case series and systematic review of the literature. Diagn Microbiol Infect Dis 2017;88:158-62.

24.

Husmann L, Sah BR, Scherrer A, Burger IA, Stolzmann P, Weber R, et al. 18F-FDG PET/CT for therapy control in vascular graft infections: A first feasibility study. J Nucl Med 2015;56:1024-9.

25.

Husmann L, Ledergerber B, Anagnostopoulos A, Stolzmann P, Sah BR, Burger IA, et al. The role of FDG PET/CT in therapy control of aortic graft infection. Eur J Nucl Med Mol Imaging 2018;45:1987-97.
Acknowledgments
This article was finalized under the auspices of the ''Mentorship at Distance'' committee of the Journal of Nuclear Cardiology. We gratefully acknowledge the editorial suggestions by Professor Frans J. Th. Wackers, MD, PhD.
Disclosures
All authors have nothing to declare. The authors of this manuscript declare no relationships with any companies whose products or services may be related to the subject matter of the article. The authors declare that they have no conflict with competing interests.
Additional information
Publisher's Note
Springer Nature remains neutral with regard to jurisdictional claims in published maps and institutional affiliations.
Funding
This work was supported by the National Natural Science Foundation of China [81871377, 81571717, 81071177] and Capital Characteristic Clinical Application Research [Z181100001718071].
The authors of this article have provided a PowerPoint file, available for download at SpringerLink, which summarizes the contents of the paper and is free for re-use at meetings and presentations. Search for the article DOI on SpringerLink.com.
Electronic supplementary material
Below is the link to the electronic supplementary material.
About this article
Cite this article
Dong, W., Li, Y., Zhu, J. et al. Detection of aortic prosthetic graft infection with 18F-FDG PET/CT imaging, concordance with consensus MAGIC graft infection criteria. J. Nucl. Cardiol. (2020). https://doi.org/10.1007/s12350-020-02227-9
Received:

Accepted:

Published:
Keywords
PET/CT

18F-FDG

diagnostic concordance

prosthetic vascular graft

infection

antibiotic