Abstract
Background
Coronary artery disease (CAD) is associated with increased mortality in patients with chronic lung disease. However, non-invasive diagnostic of CAD is difficult, especially in patients with more advanced disease. Therefore, we aimed to assess the feasibility and accuracy of SPECT-myocardial perfusion imaging (MPI) stress testing with regadenoson in patients with end-stage lung disease (ELD) undergoing assessment of stable CAD.
Methods
Between January 2012 and May 2018, 102 patients with ELD, who were referred to our institution for lung transplant evaluation, were assessed retrospectively. All patients underwent both stress SPECT-MPI as well as coronary angiography.
Results
The mean age in our population was 57±6 years. All patients had severe pulmonary function impairment. During stress SPECT-MPI 14 patients (14%) reported regadenoson-related symptoms, but only 2 patients (2%) required medical treatment. Coronary angiography revealed obstructive CAD in 20 patients (20%). Among those, 5 patients had abnormal SPECT-MPI and PCI was performed in 3 patients accordingly. In 14 patients with obstructive CAD, revascularization was deferred based on normal SPECT-MPI findings.
Conclusions
SPECT-MPI using regadenoson is well tolerated in patients with ELD and can help to make decisions about coronary revascularization before lung transplant.
This is a preview of subscription content, log in to check access.
Access options
Buy single article
Instant access to the full article PDF.
US$ 39.95
Price includes VAT for USA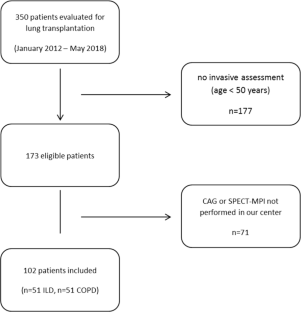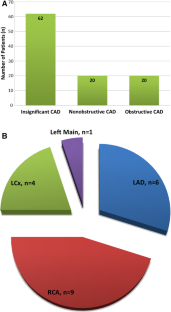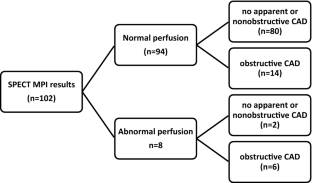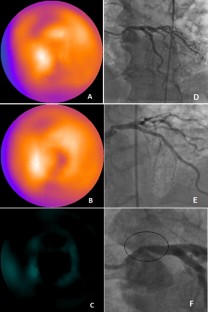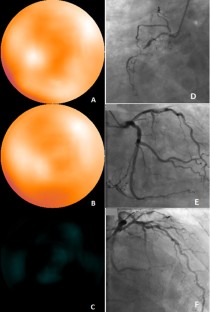 Abbreviations
CAD:

Coronary artery disease

CAG:

Coronary angiography

CAC:

Coronary artery calcium score

COPD:

chronic obstructive pulmonary disease

ELD:

End-stage lung disease

FFR:

Fractional flow reserve

ILD:

Interstitial lung disease

MPI:

Myocardial perfusion imaging

RCA:

Right coronary artery

SPECT:

Single-photon emission computed tomography
References
1.

Mannino DM, Higuchi K, Yu TC, Zhou H, Li Y, Tian H, et al. Economic burden of COPD in the presence of comorbidities. Chest 2015;148:138-50.

2.

Gayle AV, Axson EL, Bloom CI, Navaratnam V, Quint JK. Changing causes of death for patients with chronic respiratory disease in England, 2005–2015. Thorax 2019. https://doi.org/10.1136/thoraxjnl-2018-212514.

3.

Dwyer-Lindgren L, Bertozzi-Villa A, Stubbs RW, Morozoff C, Shirude S, Naghavi M, et al. Trends and patterns of differences in chronic respiratory disease mortality among US Counties, 1980–2014. Jama 2017;318:1136-49.

4.

Soriano JB, Abajobir AA, Abate KH, Abera SF, Agrawal A, Ahmed MB, et al. Global, regional, and national deaths, prevalence, disability-adjusted life years, and years lived with disability for chronic obstructive pulmonary disease and asthma, 1990–2015: a systematic analysis for the Global Burden of Disease Study 2015. Lancet Respir Med 2017;5:691-706.

5.

Adamson PD, Anderson JA, Brook RD, Calverley PMA, Celli BR, Cowans NJ, et al. Cardiac troponin I and cardiovascular risk in patients with chronic obstructive pulmonary disease. J Am Coll of Cardiol 2018;72:1126-37.

6.

Campo G, Pavasini R, Malagu M, Mascetti S, Biscaglia S, Ceconi C, et al. Chronic obstructive pulmonary disease and ischemic heart disease comorbidity: overview of mechanisms and clinical management. Cardiovasc Drugs Ther 2015;29:147-57.

7.

Patel AR, Kowlessar BS, Donaldson GC, Mackay AJ, Singh R, George SN, et al. Cardiovascular risk, myocardial injury, and exacerbations of chronic obstructive pulmonary disease. Am J Respir Critic Care Med 2013;188:1091-9.

8.

Nathan SD, Basavaraj A, Reichner C, Shlobin OA, Ahmad S, Kiernan J, et al. Prevalence and impact of coronary artery disease in idiopathic pulmonary fibrosis. Respir Med 2010;104:1035-41.

9.

Khandhar SJ, Althouse AD, Mulukutla S, Kormos R, Toma C, Marroquin O, et al. Postoperative outcomes and management strategies for coronary artery disease in patients in need of a lung transplantation. Clin Transpl 2017;31:9.

10.

Patel MR, Peterson ED, Dai D, Brennan JM, Redberg RF, Anderson HV, et al. Low diagnostic yield of elective coronary angiography. N Engl J Med 2010;362:886-95.

11.

Yamauchi T, Tamaki N, Kasanuki H, Kimura T, Uemura Y, Iimuro S. Optimal initial diagnostic strategies for the evaluation of stable angina patients: a multicenter, prospective study on myocardial perfusion imaging, computed tomographic angiography, and coronary angiography. Circ J 2012;76:2832-9.

12.

Hung GU, Ko KY, Lin CL, Yen RF, Kao CH. Impact of initial myocardial perfusion imaging versus invasive coronary angiography on outcomes in coronary artery disease: a nationwide cohort study. Eur J Nucl Med Mol Imaging 2018;45:567-74.

13.

Thomas GS, Tammelin BR, Schiffman GL, Marquez R, Rice DL, Milikien D, et al. Safety of regadenoson, a selective adenosine A2A agonist, in patients with chronic obstructive pulmonary disease: a randomized, double-blind, placebo-controlled trial (RegCOPD trial). J Nucl Cardiol 2008;15:319-28.

14.

Prenner BM, Bukofzer S, Behm S, Feaheny K, McNutt BE. A randomized, double-blind, placebo-controlled study assessing the safety and tolerability of regadenoson in subjects with asthma or chronic obstructive pulmonary disease. J Nucl Cardiol 2012;19:681-92.

15.

Salgado Garcia C, Jimenez Heffernan A, Sanchez de Mora E, Ramos Font C, Lopez Martin J, Rivera de los Santos F, et al. Comparative study of the safety of regadenoson between patients with mild/moderate chronic obstructive pulmonary disease and asthma. Eur J Nucl Med Mol Imaging 2014;41:119-25.

16.

Salgado-Garcia C, Jimenez-Heffernan A, Ramos-Font C, Lopez-Martin J, Sanchez-de-Mora E, Aroui T, et al. Safety of regadenoson in patients with severe chronic obstructive pulmonary disease. Revista espanola de medicina nuclear e imagen molecular 2016;35:283-6.

17.

Graham BL, Brusasco V, Burgos F, Cooper BG, Jensen R, Kendrick A, MacIntyre NR, Thompson BR, Wanger J. 2017 ERS/ATS standards for single-breath carbon monoxide uptake in the lung. Eur Respir J 2017;49(1):1600016.

18.

Casanova C, Celli BR, Barria P, Casas A, Cote C, de Torres JP, et al. The 6-min walk distance in healthy subjects: reference standards from seven countries. Eur Respir J 2011;37:150-6.

19.

Munkholm M, Marott JL, Bjerre-Kristensen L, Madsen F, Pedersen OF, Lange P, et al. Reference equations for pulmonary diffusing capacity of carbon monoxide and nitric oxide in adult Caucasians. Eur Respir J 2018;52:1500677.

20.

Leuschner G, Wenter V, Milger K, Zimmermann GS, Matthes S, Meinel FG, et al. Suspected pulmonary embolism in patients with pulmonary fibrosis: discordance between ventilation/perfusion SPECT and CT pulmonary angiography. Respirology (Carlton, Vic) 2016;21:1081-7.

21.

Lindner O, Bengel F, Burchert W, Dorr R, Hacker M, Schafer W, et al. Myokard-perfusions-SPECT. Myocardial perfusion SPECT - Update S1 guideline. Nuklearmedizin Nuc Med 2017;56:115-23.

22.

Slomka PJ, Nishina H, Berman DS, Akincioglu C, Abidov A, Friedman JD, et al. Automated quantification of myocardial perfusion SPECT using simplified normal limits. J Nucl Cardiol 2005;12:66-77.

23.

Anderson RD, Pepine CJ. Coronary angiography: is it time to reassess? Circulation 2013;127:1760-2.

24.

Maddox TM, Stanislawski MA, Grunwald GK, Bradley SM, Ho PM, Tsai TT, et al. Nonobstructive coronary artery disease and risk of myocardial infarction. JAMA 2014;312:1754-63.

25.

Wilson RF, Marcus ML, White CW. Prediction of the physiologic significance of coronary arterial lesions by quantitative lesion geometry in patients with limited coronary artery disease. Circulation 1987;75:723-32.

26.

Weill D, Benden C, Corris PA, Dark JH, Davis RD, Keshavjee S, et al. A consensus document for the selection of lung transplant candidates: 2014–an update from the Pulmonary Transplantation Council of the International Society for Heart and Lung Transplantation. J Heart Lung Transpl. 2015;34:1-15.

27.

Pape M, Zacho HD, Aaroe J, Eggert Jensen S, Petersen LJ. Safety and tolerability of regadenoson for myocardial perfusion imaging—first Danish experience. Scand Cardiovasc J 2016;50:180-6.

28.

Gao Z, Li Z, Baker SP, Lasley RD, Meyer S, Elzein E, et al. Novel short-acting A2A adenosine receptor agonists for coronary vasodilation: inverse relationship between affinity and duration of action of A2A agonists. J Pharmacol Exp Ther 2001;298:209-18.

29.

Yokota S, Ottervanger JP, Mouden M, Timmer JR, Knollema S, Jager PL. Prevalence, location, and extent of significant coronary artery disease in patients with normal myocardial perfusion imaging. J Nucl Cardiol 2014;21:284-90.

30.

Aarnoudse WH, Botman KJ, Pijls NH. False-negative myocardial scintigraphy in balanced three-vessel disease, revealed by coronary pressure measurement. Int J Cardiovasc Interv 2003;5:67-71.

31.

Lima RS, Watson DD, Goode AR, Siadaty MS, Ragosta M, Beller GA, et al. Incremental value of combined perfusion and function over perfusion alone by gated SPECT myocardial perfusion imaging for detection of severe three-vessel coronary artery disease. J Am Coll Cardiol 2003;42:64-70.

32.

Nakanishi R, Gransar H, Slomka P, Arsanjani R, Shalev A, Otaki Y, et al. Predictors of high-risk coronary artery disease in subjects with normal SPECT myocardial perfusion imaging. J Nucl Cardiol 2016;23:530-41.

33.

Sharir T, Bacher-Stier C, Dhar S, Lewin HC, Miranda R, Friedman JD, et al. Identification of severe and extensive coronary artery disease by postexercise regional wall motion abnormalities in Tc-99m sestamibi gated single-photon emission computed tomography. Am J Cardiol 2000;86:1171-5.

34.

Berman DS, Kang X, Slomka PJ, Gerlach J, de Yang L, Hayes SW, et al. Underestimation of extent of ischemia by gated SPECT myocardial perfusion imaging in patients with left main coronary artery disease. J Nucl Cardiol 2007;14:521-8.

35.

Rozanski A, Berman DS. The synergistic use of coronary artery calcium imaging and noninvasive myocardial perfusion imaging for detecting subclinical atherosclerosis and myocardial ischemia. Curr cardiol Rep 2018;20:59.

36.

Engbers EM, Timmer JR, Ottervanger JP, Mouden M, Knollema S, Jager PL. Prognostic value of coronary artery calcium scoring in addition to single-photon emission computed tomographic myocardial perfusion imaging in symptomatic patients. Circ Cardiovas Imaging 2016;9:5.

37.

Lindstaedt M, Spiecker M, Perings C, Lawo T, Yazar A, Holland-Letz T, et al. How good are experienced interventional cardiologists at predicting the functional significance of intermediate or equivocal left main coronary artery stenoses? Int J Cardiol 2007;120:254-61.

38.

Tonino PA, Fearon WF, De Bruyne B, Oldroyd KG, Leesar MA, Ver Lee PN, et al. Angiographic versus functional severity of coronary artery stenoses in the FAME study fractional flow reserve versus angiography in multivessel evaluation. J Am Coll Cardiol 2010;55:2816-21.

39.

Xaplanteris P, Fournier S, Pijls NHJ, Fearon WF, Barbato E, Tonino PAL, et al. Five-year outcomes with PCI guided by fractional flow reserve. N Engl J Med 2018;379:250-9.

40.

Achenbach S, Rudolph T, Rieber J, Eggebrecht H, Richardt G, Schmitz T, et al. Performing and interpreting fractional flow reserve measurements in clinical practice: an expert consensus document. Interv Cardiol (London, England) 2017;12:97-109.

41.

Driessen RS, Danad I, Stuijfzand WJ, Raijmakers PG, Schumacher SP, van Diemen PA, et al. Comparison of coronary computed tomography angiography, fractional flow reserve, and perfusion imaging for ischemia diagnosis. J Am Coll Cardiol 2019;73:161-73.
Disclosure
The authors declare that they have no conflict of interest connected with this work.
Additional information
Publisher's Note
Springer Nature remains neutral with regard to jurisdictional claims in published maps and institutional affiliations.
The authors of this article have provided a PowerPoint file, available for download at SpringerLink, which summarises the contents of the paper and is free for re-use at meetings and presentations. Search for the article DOI on SpringerLink.com.
All editorial decisions for this article, including selection of reviewers and the final decision, were made by guest editor Jeroen J. Bax, MD.
Funding
There was no outside funding, Grant or industry support.
Electronic supplementary material
Below is the link to the electronic supplementary material.
Supplementary material 2 (MP3 2460 kb)
About this article
Cite this article
Schiopu, S.R.I., Zacherl, M., Todica, A. et al. Feasibility and accuracy of SPECT myocardial perfusion imaging in end-stage lung disease. J. Nucl. Cardiol. 27, 903–911 (2020). https://doi.org/10.1007/s12350-019-01851-4
Received:

Accepted:

Published:

Issue Date:
Keywords
COPD

ILD

stress testing

coronary artery disease

myocardial perfusion imaging

SPECT