Abstract
Background
We aim to establish a multicenter registry collecting clinical, imaging, and follow-up data for patients who undergo myocardial perfusion imaging (MPI) with the latest generation SPECT scanners.
Methods
REFINE SPECT (REgistry of Fast Myocardial Perfusion Imaging with NExt generation SPECT) uses a collaborative design with multicenter contribution of clinical data and images into a comprehensive clinical-imaging database. All images are processed by quantitative software. Over 290 individual imaging variables are automatically extracted from each image dataset and merged with clinical variables. In the prognostic cohort, patient follow-up is performed for major adverse cardiac events. In the diagnostic cohort (patients with correlating invasive angiography), angiography and revascularization results within 6 months are obtained.
Results
To date, collected prognostic data include scans from 20,418 patients in 5 centers (57% male, 64.0 ± 12.1 years) who underwent exercise (48%) or pharmacologic stress (52%). Diagnostic data include 2079 patients in 9 centers (67% male, 64.7 ± 11.2 years) who underwent exercise (39%) or pharmacologic stress (61%).
Conclusion
The REFINE SPECT registry will provide a resource for collaborative projects related to the latest generation SPECT-MPI. It will aid in the development of new artificial intelligence tools for automated diagnosis and prediction of prognostic outcomes.
This is a preview of subscription content, log in to check access.
Access options
Buy single article
Instant access to the full article PDF.
US$ 39.95
Price includes VAT for USA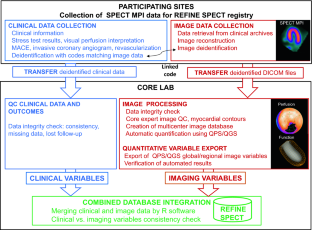 Abbreviations
BMI:

Body mass index

CABG:

Coronary artery bypass grafting

CAD:

Coronary artery disease

CZT:

Cadmium zinc telluride

EF:

Ejection fraction

ICA:

Invasive coronary angiography

MACE:

Major adverse cardiac events

MI:

Myocardial infarction

MPI:

Myocardial perfusion imaging

PCI:

Percutaneous coronary intervention

SPECT:

Single-photon emission computed tomography

TPD:

Total perfusion deficit
References
1.

Lloyd-Jones D, Adams R, Carnethon M, De Simone G, Ferguson TB, Flegal K, et al. Heart disease and stroke statistics—2009 update: A report from the American Heart Association Statistics Committee and Stroke Statistics Subcommittee. Circulation. 2009;119:480–6.

2.

RC Team. R: A language and environment for statistical computing. Vienna: R Foundation for Statistical Computing; 2017.

3.

Amsterdam EA, Wenger NK, Brindis RG, Casey DE, Ganiats TG, Holmes DR, et al. 2014 AHA/ACC guideline for the management of patients with non-ST-elevation acute coronary syndromes. A report of the American College of Cardiology/American Heart Association Task Force on practice guidelines. J Am Coll Cardiol. 2014;130:e344–426.

4.

Thygesen K, Alpert JS, Jaffe AS, Simoons ML, Chaitman BR, White HD. Third universal definition of myocardial infarction. Circulation. 2012;126:2020–35.

5.

van Dijk JD, Mouden M, Ottervanger JP, van Dalen JA, Knollema S, Slump CH, et al. Value of attenuation correction in stress-only myocardial perfusion imaging using CZT-SPECT. J Nucl Cardiol. 2017;24:395–401.

6.

Cerqueira MD, Weissman NJ, Dilsizian V, Jacobs AK, Kaul S, Laskey WK, et al. Standardized myocardial segmentation and nomenclature for tomographic imaging of the heart. A statement for healthcare professionals from the Cardiac Imaging Committee of the Council on Clinical Cardiology of the American Heart Association. Circulation. 2002;105:539–42.

7.

Xu Y, Kavanagh P, Fish M, Gerlach J, Ramesh A, Lemley M, et al. Automated quality control for segmentation of myocardial perfusion SPECT. J Nucl Med. 2009;50:1418–26.

8.

Nakazato R, Tamarappoo BK, Kang X, Wolak A, Kite F, Hayes SW, et al. Quantitative upright-supine high-speed SPECT myocardial perfusion imaging for detection of coronary artery disease: Correlation with invasive coronary angiography. J Nucl Med. 2010;51:1724–31.

9.

Slomka PJ, Nishina H, Berman DS, Akincioglu C, Abidov A, Friedman JD, et al. Automated quantification of myocardial perfusion SPECT using simplified normal limits. J Nucl Cardiol. 2005;12:66–77.

10.

Gambhir SS, Berman DS, Ziffer J, Nagler M, Sandler M, Patton J, et al. A novel high-sensitivity rapid-acquisition single-photon cardiac imaging camera. J Nucl Med. 2009;50:635–43.

11.

Herzog BA, Buechel RR, Katz R, Brueckner M, Husmann L, Burger IA, et al. Nuclear myocardial perfusion imaging with a cadmium-zinc-telluride detector technique: Optimized protocol for scan time reduction. J Nucl Med. 2010;51:46–51.

12.

Henzlova MJ, Duvall WL, Einstein AJ, Travin MI, Verberne HJ. ASNC imaging guidelines for SPECT nuclear cardiology procedures: Stress, protocols, and tracers. J Nucl Cardiol. 2016;23:606–39.

13.

Betancur J, Commandeur F, Motlagh M, Sharir T, Einstein AJ, Bokhari S, et al. Deep learning for prediction of obstructive disease from fast myocardial perfusion SPECT: A multicenter study. JACC Cardiovasc Imaging. 2018. https://doi.org/10.1016/j.jcmg.2018.01.020.

14.

Tonino PA, Fearon WF, De Bruyne B, Oldroyd KG, Leesar MA, Ver Lee PN, et al. Angiographic versus functional severity of coronary artery stenoses in the FAME study fractional flow reserve versus angiography in multivessel evaluation. J Am Coll Cardiol. 2010;55:2816–21.

15.

Lauer MS, Blackstone EH, Young JB, Topol EJ. Cause of death in clinical research: Time for a reassessment? J Am Coll Cardiol. 1999;34:618–20.
Acknowledgments
This research was supported in part by Grant R01HL089765 from the National Heart, Lung, and Blood Institute/National Institutes of Health (NHLBI/NIH) (PI: Piotr Slomka). The content is solely the responsibility of the authors and does not necessarily represent the official views of the National Institutes of Health.
Disclosures
Drs. Germano, Berman, and Slomka participate in software royalties for QPS software at Cedars-Sinai Medical Center. Dr. Slomka has received research grant support from Siemens Medical Systems. Drs. Berman, Dorbala, Einstein, and Miller have served as consultants for GE Healthcare. Dr. Dorbala has served as a consultant to Bracco Diagnostics; her institution has received grant support from Astellas. Dr. Di Carli has received research grant support from Spectrum Dynamics and consulting honoraria from Sanofi and GE Healthcare. Dr. Ruddy has received research grant support from GE Healthcare and Advanced Accelerator Applications. Dr. Einstein and his institution has received research support from GE Healthcare, Philips Healthcare and Toshiba America Medical Systems. Dr. Miller has served as a consultant for Bracco Inc; and he and his institution has received grant support from Bracco Inc. Dr. Berman's institution has received grant support from HeartFlow. All other authors have reported that they have no relationships relevant to the contents of this paper to disclose.
Additional information
The authors of this article have provided a PowerPoint file, available for download at SpringerLink, which summarises the contents of the paper and is free for re-use at meetings and presentations. Search for the article DOI on SpringerLink.com.
Electronic supplementary material
Below is the link to the electronic supplementary material.
About this article
Cite this article
Slomka, P.J., Betancur, J., Liang, J.X. et al. Rationale and design of the REgistry of Fast Myocardial Perfusion Imaging with NExt generation SPECT (REFINE SPECT). J. Nucl. Cardiol. 27, 1010–1021 (2020). https://doi.org/10.1007/s12350-018-1326-4
Received:

Accepted:

Published:

Issue Date:
Keywords
SPECT

High-efficiency SPECT

Myocardial perfusion imaging

Coronary artery disease

Machine learning

Artificial intelligence

Quantitative analysis