Abstract
Lymphoepithelial-like carcinoma is a rare malignancy characterized by lack of cellular differentiation and associated nonneoplastic lymphoplasmacytic cell infiltrate that is rarely seen in the colon. Although many cases are associated with EBV infection, HPV may be present in LELC arising in sites known for HPV-driven malignancies, like the anogenital region. We report a case of lymphoepithelial-like carcinoma mimicking a rectal tonsil in a 51-year-old female. Attentive evaluation must be taken to identify this tumor in locations where prominent lymphoid stroma is an expected finding.
Access options
Buy single article
Instant access to the full article PDF.
US$ 39.95
Tax calculation will be finalised during checkout.
Subscribe to journal
Immediate online access to all issues from 2019. Subscription will auto renew annually.
US$ 79
Tax calculation will be finalised during checkout.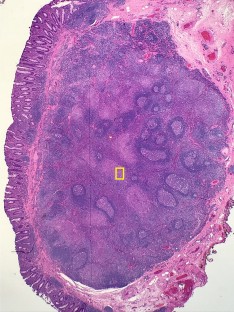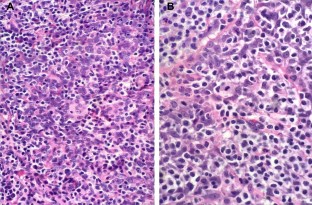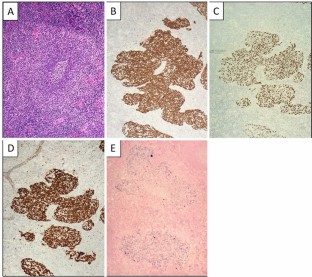 References
1.

Wenig MB. Lymphoepithelial-like carcinomas of the head and neck. Semin Diagn Pathol. 2015;32(74–8):6.

2.

Xue J, Yu H, Yan J, et al. Non-Epstein-Barr virus-associated double primary lymphoepithelioma-likecarcinoma of the esophagus and stomach: a case report andliterature review. Int J Clin Exp Med. 2015;8:10051–7.

3.

Vilor M, Tsutsumi Y. Localization of Epstein-Barr virus genomein lymphoid cells in poorly differentiated adenocarcinoma with lymphoid stroma of the colon. Pathol Int. 1995;45:695–7.

4.

Palazzo J, Mittal RK. Lymphoepithelioma-like carcinoma of the rectum in a patient with ulcerative colitis. Am J Gastroenterol. 1996;91(2):398–9.

5.

Samaha S, Tawfik O, Horvat R, et al. Lymphoepithelioma-like carcinoma of the colon: report of a case with histologic, immunohistochemical, and molecular studies for Epstein-Barr virus. Dis Colon Rectum. 1998;41:925–8.

6.

De Petris G, Lev R, Quirk DM, et al. Lymphoepithelioma-like carcinoma of the colon in a patient with hereditary nonpolyposis colorectal can-cer. Arch Pathol Lab Med. 1999;123:720–4.

7.

Kon S, Kasai K, Tsuzuki N, et al. Lymphoepithelioma-like carcinoma of rectum: possible relationwith EBV. Pathol Res Pract. 2001;197:577–82.

8.

Kojima Y, Mogaki M, Takagawa R, et al. A case of lymphoepithelioma-like carcinoma of the colon with ulcerative colitis. J Gastroenterol. 2007;42:181–5.

9.

Delaney D, Chetty R. Lymphoepithelioma-like carci-noma of the colon. Int J Clin Exp Pathol. 2012;5:105–9.

10.

Mori Y, Akagi K, Yano M, et al. Lymphoepithelioma-Like carcinoma of the colon. Case Rep Gastroenterol. 2013;7:127–33.

11.

Díaz C, Collazob F, Aceneroa J. Lymphoepithelioma-like carcinoma of the large intestine: a case report and literature review. Rev Esp Patol. 2018;51(1):18–22.

12.

Quatrino G, Kampagianni O, Boudreaux CW, et al. Lymphoepithelial-like carcinoma involving a rectal tonsil. Clin Oncol. 2016;1:1078.

13.

Farris A, Lauwers GY, Ferry JA, et al. The rectal tonsil a reactive lymphoid proliferation that may mimic lymphoma. Am J Surg Pathol. 2009;33:1075–9.

14.

Iezzoni JC, Gaffey MJ, Weiss LM. The role of Epstein-Barr virus in lymphoepithelioma-like carcinomas. Am J Clin Pathol. 1995;103:308–15.

15.

Scott K, Trainor J, McVeigh G et al. Int J Gynecol Pathol 38:183–188.

16.

NCCN guidelines for rectal cancer. National Comprehensive Cancer Network Website.
Ethics declarations
Conflict of interest
The authors declare that they have no conflict of interest.
Human/animal rights
All procedures followed have been performed in accordance with the ethical standards laid down in the 1964 Declaration of Helsinki and its later amendments.
Additional information
Publisher's Note
Springer Nature remains neutral with regard to jurisdictional claims in published maps and institutional affiliations.
About this article
Cite this article
Kopparthy, P., Chaffin, J., Feely, M.M. et al. HPV-16-associated lymphoepithelial-like carcinoma mimicking rectal tonsil. Clin J Gastroenterol (2021). https://doi.org/10.1007/s12328-021-01362-1
Received:

Accepted:

Published:
Keywords
Lymphoepithelial-like carcinoma (LELC)

Rectal tonsil

Lymphoid tumor