Abstract
Although esophageal stricture after acute esophageal necrosis (AEN) is often refractory to dilation therapy, there have been few reports of surgical intervention. We report two rare cases of successful subtotal esophagectomy and esophagogastrostomy for esophageal strictures after AEN using indocyanine green (ICG) fluorescence imaging. In case 1, emergent esophagogastroduodenoscopy (EGD) in a 56-year-old man with coffee-ground emesis revealed black esophageal mucosa in the middle to lower esophagus, indicating AEN. Despite conservative therapy, an esophageal stricture developed after 2 weeks. Repeated endoscopic balloon dilation (EBD) did not resolve the stenosis; esophagectomy was thus performed approximately 6 months after AEN onset. We evaluated the blood flow to the esophagus using ICG fluorescence imaging to determine the proximal surgical resection line. The postoperative course was uneventful. In case 2, an 81-year-old woman with upper gastrointestinal bleeding with hematemesis and chest pain was diagnosed with AEN by EGD and was treated with conservative therapy. An esophageal stricture developed after 3 weeks, and repeated EBD was ineffective. Approximately 2 months after AEN onset, she underwent esophagectomy using ICG fluorescence imaging. The postoperative course was uneventful. Considering that AEN is a blood flow disorder, ICG fluorescence imaging is a useful technology to prevent surgical morbidity.
Access options
Buy single article
Instant access to the full article PDF.
US$ 39.95
Tax calculation will be finalised during checkout.
Subscribe to journal
Immediate online access to all issues from 2019. Subscription will auto renew annually.
US$ 79
Tax calculation will be finalised during checkout.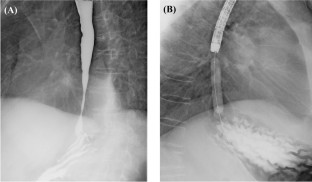 Availability of data and materials
The authors declare that all the data in this article are available within the article.
References
1.

Bonaldi M, Sala C, Mariani P, et al. Black esophagus: acute esophageal necrosis, clinical case and review of literature. J Surg Case Rep. 2017;2017(3):rjx037.

2.

Gurvits GE, Shapsis A, Lau N, et al. Acute esophageal necrosis: a rare syndrome. J Gastroenterol. 2007;42:29–38.

3.

Gurvits GE. Black esophagus: acute esophageal necrosis syndrome. World J Gastroenterol. 2010;16:3219–25.

4.

Ramos R, Mascarenhas J, Duarte P, et al. Acute esophageal necrosis: a retrospective case series. Rev Esp Enferm Dig. 2008;100:583–5.

5.

Carneiro M, Lescano M, Romanello L, et al. Acute esophageal necrosis. Dig Endosc. 2005;17:89–92.

6.

Grudell AB, Mueller PS, Viggiano TR. Black esophagus: report of six cases and review of the literature, 1963–2003. Dis Esophagus. 2006;19:105–10.

7.

Shichinohe T, Ebihara Y, Murakami S, et al. Septic shock-related acute esophageal necrosis and stenosis: three cases of acquired esophageal stenosis presenting a similar clinical course. Esophagus. 2015;12:304–8.

8.

Kim YH, Choi SY. Black esophagus with concomitant candidiasis developed after diabetic ketoacidosis. World J Gastroenterol. 2007;13:5662–3.

9.

Sakatoku Y, Fukaya M, Miyata K, et al. Successful bypass operation for esophageal obstruction after acute esophageal necrosis: a case report. Surg Case Rep. 2017;3:4.

10.

Goldenberg SP, Wain SL, Marignani P. Acute necrotizing esophagitis. Gastroenterology. 1990;98:493–6.

11.

Fan Y, Song HY, Kim JH, et al. Fluoroscopically guided balloon dilation of benign esophageal strictures: incidence of esophageal rupture and its management in 589 patients. AJR Am J Roentgenol. 2011;197:1481–6.

12.

Fuccio L, Hassan C, Frazzoni L, et al. Clinical outcomes following stent placement in refractory benign esophageal stricture: a systematic review and meta-analysis. Endoscopy. 2016;48:141–8.

13.

Repici A, Vleggaar FP, Hassan C, et al. Efficacy and safety of biodegradable stents for refractory benign esophageal strictures: the BEST (Biodegradable Esophageal Stent) study. Gastrointest Endosc. 2010;72:927–34.

14.

Tse A, Basu S, Ali H, et al. Black necrotic oesophagus following the use of biodegradable stent for benign oesophageal stricture. J Surg Case Rep. 2015. https://doi.org/10.1093/jscr/rjv072.

15.

Ribeiro U Jr, Posner MC, Safatle-Ribeiro AV, et al. Risk factors for squamous cell carcinoma of the oesophagus. Br J Surg. 1996;83:1174–85.

16.

Takeno S, Tanoue Y, Hamada R, et al. Drainage Tubeless (DRESS) bypass surgery as the best palliative care for unresectable thoracic esophageal cancer with and without esophago-respiratory fistula. Ann Thorac Cardiovasc Surg. 2019;25:82–6.

17.

van Hagen P, Hulshof MC, van Lanschot JJ, et al. Preoperative chemoradiotherapy for esophageal or junctional cancer. N Engl J Med. 2012;366:2074–84.

18.

Urschel JD, Urschel DM, Miller JD, et al. A meta-analysis of randomized controlled trials of route of reconstruction after esophagectomy for cancer. Am J Surg. 2001;182:470–5.

19.

Khiria LS, Pal S, Peush S, Chattopadhyay TK, et al. Impact on outcome of the route of conduit transposition after transhiatal oesophagectomy: A randomized controlled trial. Dig Liver Dis. 2009;41:711–6.

20.

Wang H, Tan L, Feng M, et al. Comparison of the short-term health-related quality of life in patients with esophageal cancer with different routes of gastric tube reconstruction after minimally invasive esophagectomy. Qual Life Res. 2011;20:179–89.

21.

Zheng YZ, Dai SQ, Li W, et al. Comparison between different reconstruction routes in esophageal squamous cell carcinoma. World J Gastroenterol. 2012;18:5616–21.

22.

Yamasaki M, Miyata H, Yasuda T, et al. Impact of the route of reconstruction on post-operative morbidity and malnutrition after esophagectomy: a multicenter cohort study. World J Surg. 2015;39:433–40.

23.

Slooter MD, Eshuis WJ, Cuesta MA, et al. Fluorescent imaging using indocyanine green during esophagectomy to prevent surgical morbidity: a systematic review and meta-analysis. J Thorac Dis. 2019;11:S755–65.

24.

Ishiguro T, Kumagai Y, Ono T, et al. Usefulness of indocyanine green angiography for evaluation of blood supply in a reconstructed gastric tube during esophagectomy. Int Surg. 2012;97:340–4.

25.

Van Daele E, Van Nieuwenhove Y, Ceelen W, et al. Near-infrared fluorescence guided esophageal reconstructive surgery: a systematic review. World J Gastrointest Oncol. 2019;11:250–63.

26.

Ladak F, Dang JT, Switzer N, et al. Indocyanine green for the prevention of anastomotic leaks following esophagectomy: a meta-analysis. Surg Endosc. 2019;33:384–94.

27.

Murawa D, Hünerbein M, Spychała A, et al. Indocyanine green angiography for evaluation of gastric conduit perfusion during esophagectomy–first experience. Acta Chir Belg. 2012;112:275–80.
Acknowledgements
We would like to thank Editage (www.editage.jp) for the English language editing.
Funding
This research received no specific grant from any funding agency in the public, commercial, or not-for-profit sectors.
Ethics declarations
Conflict of interest
Kouki Imaoka, Masao Harano, Ko Oshita, Takuya Yano, Tetsushi Kubota, Masanori Yoshimitsu, Kanyu Nakano, Hitoshi Idani, Shigehiro Shiozaki, Masazumi Okajima declare that they have no conflict of interest.
Human Rights
All procedures followed have been performed in accordance with the ethical standards laid down in the 1964 Declaration of Helsinki and its later amendments.
Informed consent
Written informed consent was obtained from the patient for publication of this case report and any accompanying images. A copy of the written consent is available for review.
Additional information
Publisher's Note
Springer Nature remains neutral with regard to jurisdictional claims in published maps and institutional affiliations.
About this article
Cite this article
Imaoka, K., Harano, M., Oshita, K. et al. Indocyanine green fluorescence imaging for subtotal esophagectomy due to esophageal stenosis after acute esophageal necrosis: a report of two cases. Clin J Gastroenterol (2021). https://doi.org/10.1007/s12328-020-01326-x
Received:

Accepted:

Published:
Keywords
Acute esophageal necrosis

Black esophagus

Indocyanine green fluorescence imaging

Esophagectomy

Bypass operation