Abstract
Pulmonary lymphangitic carcinomatosis is one rare pattern of pulmonary metastases in advanced cancers. Gastric cancer is one of the most common forms of cancer that causes pulmonary lymphangitic carcinomatosis. However, recurrent gastric cancer presenting as pulmonary lymphangitic carcinomatosis after surgery is extremely rare. Furthermore, recurrence is usually observed within 5 years. We present the first case of pulmonary lymphangitic carcinomatosis in a patient with recurrent gastric cancer, 19 years after resection. In patients with a history of gastric cancer and the presence of interstitial shadow, pulmonary lymphangitic carcinomatosis should be considered in the differential diagnosis even if several years have passed since surgery.
Access options
Buy single article
Instant access to the full article PDF.
US$ 39.95
Tax calculation will be finalised during checkout.
Subscribe to journal
Immediate online access to all issues from 2019. Subscription will auto renew annually.
US$ 79
Tax calculation will be finalised during checkout.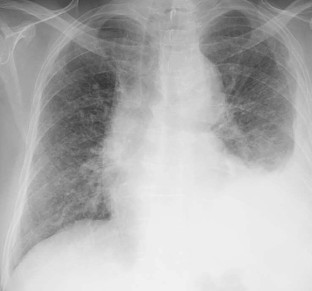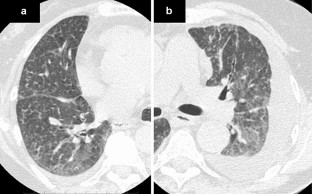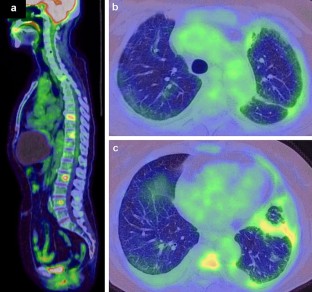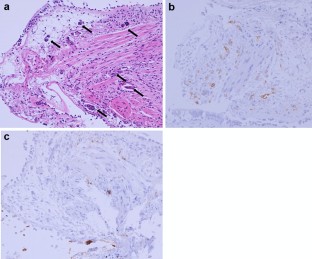 Abbreviations
PLC:

Pulmonary lymphangitic carcinomatosis

CT:

Computed tomography

FDG-PET:

18F- fluorodeoxyglucose positron emission tomography

TBLB:

Transbronchial lung biopsy
References
1.

Bruce DM, Keys SD, Eremin O. Lymphangitis carcinomatosa: a literature review. J R Coll Surg Edinb. 1996;41:7–13.

2.

Thomas A, Lenox R. Pulmonary lymphangitic carcinomatosis as a primary manifestation of colon cancer in a young adult. CMAJ. 2008;179:338–40.

3.

Klimek M. Pulmonary lymphangitis carcinomatosis: systematic review and meta-analysis of case reports, 1970–2018. Postgrad Med. 2019;131:309–18.

4.

Funakoshi T, Yasui H, Boku N, et al. Clinicopathological features and outcomes of gastric cancer patients with pulmonary lymphangitis carcinomatosa. Jpn J Clin Oncol. 2014;44:792–8.

5.

Moon YW, Jeung H-C, Rha SY, et al. Changing patterns of prognosticators during 15-year follow-up of advanced gastric cancer after radical gastrectomy and adjuvant chemotherapy: a 15-year follow-up study at a single Korean Institute. Ann Surg Oncol. 2007;14:2730–7.

6.

Wu C-W, Lo S-S, Shen K-H, et al. Incidence and factors associated with recurrence patterns after intended curative surgery for gastric cancer. World J Surg. 2003;27:153–8.

7.

Li JH, Zhang SW, Liu J, et al. Review of clinical investigation on recurrence of gastric cancer following curative resection. Chin Med J (Engl). 2012;125:1479–95.

8.

Bang YJ, Van Cutsem E, Feyereislova A, et al. Trastuzumab in combination with chemotherapy versus chemotherapy alone for treatment of HER2-positive advanced gastric or gastro-oesophageal junction cancer (ToGA): A phase 3, open-label, randomised controlled trial. Lancet. 2010;376:687–97.

9.

Koga S, Takebayashi M, Kaibara N, et al. Pathological characteristics of gastric cancer that develop hematogenous recurrence, with special reference to the site of recurrence. J Surg Oncol. 1987;36:239–42.

10.

Kanemitsu Y, Kondo H, Katai H, et al. Surgical resection of pulmonary metastases from gastric cancer. J Surg Oncol. 1998;69:147–50.

11.

Kong JH, Lee J, Yi CA, et al. Lung metastases in metastatic gastric cancer: Pattern of lung metastases and clinical outcome. Gastric Cancer. 2012;15:292–8.

12.

Moubax K, Wuyts W, Vandecaveye V, et al. Pulmonary lymphangitic carcinomatosis as a primary manifestation of gastric carcinoma in a young adult: a case report and review of the literature. BMC Res Notes. 2012;5:638.

13.

Bhattacharya PK, Jamil M, Khonglah Y, et al. A rare case of pulmonary lymphangitic carcinomatosis in a young adult with carcinoma stomach. J Clin Diagnostic Res 2017; 11: OD7–9.

14.

Khachekian A, Shargh S, Arabian S. Pulmonary lymphangitic carcinomatosis from metastatic gastric adenocarcinoma: case report. J Am Osteopath Assoc. 2015;115:332–7.

15.

Gleason JB. Lymphangitic Pulmonary Metastasis: A Rare Finding in Gastric Carcinoma. J Clin Diagn Res. 2017;11:25809.

16.

Koma Y, Matsuoka H, Ryoke T, et al. A case of pulmonary carcinomatous lymphangitis and multiple pulmonary infarctions from gastric cancer. Nihon Kokyuki Gakkai Zasshi. 2011;49:577–82.

17.

Belhassine M, Papakrivopoulou E, Venet C, et al. Gastric adenocarcinoma revealed by atypical pulmonary lymphangitic carcinomatosis. J Gastrointest Oncol. 2018;9:1207–12.

18.

Shiraishi N, Inomata M, Osawa N, et al. Early and late recurrence after gastrectomy for gastric carcinoma. Cancer. 2000;89:255–61.

19.

Lee JH, Kim H Il, Kim MG, et al. Recurrence of gastric cancer in patients who are disease-free for more than 5 years after primary resection. Surg (United States) 2016; 159: 1090–8.

20.

Aguirre-Ghiso JA. Models, mechanisms and clinical evidence for cancer dormancy. Nat Rev Cancer. 2007;7:834–46.

21.

Paez D, Labonte MJ, Bohanes P, et al. Cancer dormancy: a model of early dissemination and late cancer recurrence. Clin Cancer Res. 2012;18:645–53.

22.

Takeoka Y, Kajihara K, Kusaba T, et al. A case of bone and bone marrow metastases 14 years after gastric cancer surgery. Nihon Rinsho Geka Gakkai Zasshi J Japan Surg Assoc. 2014;75:2757–62 (in Japanese).

23.

Koizumi W, Narahara H, Hara T, et al. S-1 plus cisplatin versus S-1 alone for first-line treatment of advanced gastric cancer (SPIRITS trial): a phase III trial. Lancet Oncol. 2008;9:215–21.

24.

Boku N, Yamamoto S, Fukuda H, et al. Fluorouracil versus combination of irinotecan plus cisplatin versus S-1 in metastatic gastric cancer: a randomised phase 3 study. Lancet Oncol. 2009;10:1063–9.

25.

Okamoto E, Takagi K, Tamura A, et al. A case of advanced gastric cancer with carcinomatous lymphangitis of the lung treated with docetaxel and S-1 combination chemotherapy. Gan To Kagaku Ryoho (Cancer & chemotherapy) 2013 (in Japanese).

26.

Daimon Y, Takahashi M, Yabuno T, et al. A case report of bi-weekly docetaxel and S-1 combination chemotherapy for gastric cancer with carcinomatous lymphangitis of the lung. Nihon Shokakibyo Gakkai Zasshi Japanese J Gastroenterol. 2011;108:605–10 (in Japanese).
Ethics declarations
Conflict of interest
Noboru Hattori has received lecture fees, honoraria from Pfizer. Sachiko Shioya, Takeshi Masuda, Hiroshi Iwamoto, Kakuhiro Yamaguchi, Shinjiro Sakamoto, Yasushi Horimasu, Shintaro Miyamoto, Taku Nakashima, Kazunori Fujitaka and Hironobu Hamada declare that they have no conflict of interest.
Human rights
All procedures followed have been performed in accordance with the ethical standards laid down in the 1964 Declaration of Helsinki and its later amendments.
Informed consent
This study does not contain identifying information about the patients.
Additional information
Publisher's Note
Springer Nature remains neutral with regard to jurisdictional claims in published maps and institutional affiliations.
About this article
Cite this article
Shioya, S., Masuda, T., Iwamoto, H. et al. Pulmonary lymphangitic carcinomatosis from recurrent gastric cancer 19 years after primary resection: a case report. Clin J Gastroenterol (2021). https://doi.org/10.1007/s12328-020-01315-0
Received:

Accepted:

Published:
Keywords
Pulmonary lymphangitic carcinomatosis

Gastric cancer

Late recurrence

Tumor dormancy