Abstract
The effect of chemotherapeutic agents on concomitant colorectal adenomas in patients with advanced colorectal cancer is not clear. We report a case of an enlarged rectal adenoma while achieving a clinical complete response with chemotherapy for an advanced rectal adenocarcinoma. A 78-year-old man was referred to our hospital for evaluation of bloody stools. The clinical diagnosis was an advanced lower rectal adenocarcinoma with para-aortic lymph node metastases, and a sessile polyp on the proximal aspect of the rectal tumor. The rectal adenocarcinoma was treated with chemotherapy, including 1 cycle of capecitabin plus oxaliplatin (CapeOX), 22 cycles of tegafur/gimeracil/oteracil (S-1) plus irinotecan (IRIS), and 1 cycle of tegafur (UFT) plus calcium folinate (LV). One year after the last course of chemotherapy, colonoscopy showed a scar without visible rectal tumor; CT imaging confirmed no para-aortic lymphadenopathy. The patient had a clinical complete response to chemotherapy. In contrast, the polyp increased in size. The polyp was removed by endoscopic mucosal resection (EMR). The pathologic evaluation showed a well-differentiated tubular adenocarcinoma with adenoma localized in the mucosa. No recurrence of the advanced adenocarcinoma or intramucosal adenocarcinoma with adenoma occurred for 2 years after EMR. This case indicates the importance of careful surveillance for synchronous adenomas, even in patients with advanced colorectal cancer.
This is a preview of subscription content, log in to check access.
Access options
Buy single article
Instant access to the full article PDF.
US$ 39.95
Price includes VAT for USA
Subscribe to journal
Immediate online access to all issues from 2019. Subscription will auto renew annually.
US$ 99
This is the net price. Taxes to be calculated in checkout.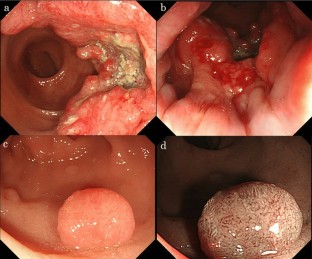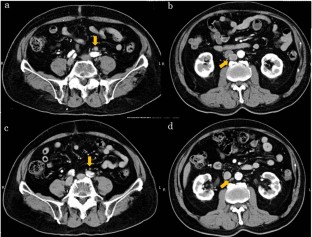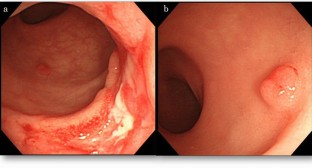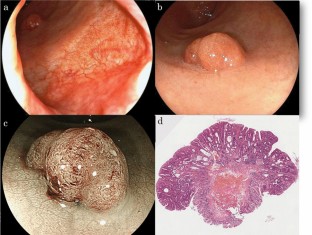 References
1.

Sano Y, Tanaka S, Kudo S, et al. Narrow-band imaging (NBI) magnifying endoscopic classification of colorectal tumors proposed by the Japan NBI Expert Team. Dig Endos. 2016;28:526–33.

2.

Crispin A, Mansmann U, Munte A, et al. A direct comparison of the prevalence of advanced adenoma and cancer between surveillance and screening colonoscopies. Digestion. 2013;87:170–5.

3.

Kahl CJ, Boland CR, Dominitz JA, et al. Colonoscopy surveillance after colorectal cancer resection: Recommendations of the US Multi-Society Task Force on Colorectal Cancer. Gastroenterology. 2016;150:758–68.

4.

Joana MA, Diogo L, Pedro G, et al. Incidence and predictors of adenoma after surgery for colorectal cancer. Eur J Gastroenterol Hepatol. 2017;29:932–8.

5.

Hee Seung Lee, Sung Bac Kim, Hyuu Jung Lee, et al. Postoperative adjuvant chemotherapy is associated with a lower incidence of colorectal adenomas in patients with previous colorectal cancer. Gastrointest Endosc. 2018;87:688–94.

6.

Valeriote F, van Putten L. Proliferation-dependent cytotoxicity of anticancer agents: a review. Cancer Res. 1975;35:2619–30.

7.

Stacey Ricci M, Zong W-X. Chemotherapeutic approaches for tageting cell death pathways. Oncologist. 2006;11:342–57.

8.

Ohuchi M, Sakamoto Y, Tokunaga R, et al. Increased EZH2 expression during the adeno-carcinoma sequence in colorectal cancer. Oncology Letter. 2018;16:5275–81.

9.

Uehara K, Hiramatu K, Maeda A, et al. Neoaduvant oxaliplatin and capecitabine and bevacizumab without radiotherapy for poor-risk rectal cancer: N-SOG 03 phase II trial. Jpn J Clin Oncol. 2013;43:964–71.

10.

Hasegawa J, Nishimura J, Mizushima T, et al. Neoadjuvant capecitabine and oxaliplatin (XELOX) combined with bevacizumab for high risk localized rectal cancer. Cancer Chemother Pharmacol. 2014;73:1079–87.

11.

Rivera F, Karthaus M, Hecht JR, et al. Final analysis of the randomized PEAL trial: overall survival and tumor responses during first-line treatment with mFOLFOX6 plus either panitumumab or bevacizumab in patients with metastatic colorectal carcinoma. Int J Colorectal Dis. 2017;32:1179–90.
Ethics declarations
Conflict of interest
Yasuyuki Nakamura, Fumikazu Koyama, Kohei Morita, Hiroyuki Kuge, Chiho Ohbayashi and Masayuki Sho declare that they have no conflict of interest.
Human rights
All procedures followed have been performed in accordance with the ethical standards laid down in the 1964 Declaration of Helsinki and its later amendments.
Informed consent
Informed consent was obtained from all patients for being included in the study.
Additional information
Publisher's Note
Springer Nature remains neutral with regard to jurisdictional claims in published maps and institutional affiliations.
About this article
Cite this article
Nakamura, Y., Koyama, F., Morita, K. et al. A case of an enlarged rectal adenoma while achieving a clinical complete response with chemotherapy for advanced rectal cancer. Clin J Gastroenterol (2020). https://doi.org/10.1007/s12328-020-01169-6
Received:

Accepted:

Published:
Keywords
Colorectal cancer

Synchronous adenoma

Chemotherapy

Complete response