Abstract
A 69-year-old woman who had a history of chronic hepatitis C, autoimmune hemolytic anemia and myelodysplastic syndrome was treated with sorafenib at a daily dose of 400 mg for HCC with multiple lung metastases. Nonetheless, elevated serum tumor markers further increased (alpha fetoprotein from 121,100 to 348,660 ng/ml and protein induced by vitamin K absence/antagonist-II from 3435 to 29,357 mAU/ml), and lung metastatic lesions on chest X-ray showed no improvement after 2 months of sorafenib treatment. Sorafenib was discontinued because of adverse events with diarrhea, fatigue, and severe anemia due to bleeding from stomach telangiectasia. Hand–foot syndrome was mild. Thereafter, the tumor markers rapidly decreased to almost normal range, and the lung and liver tumors markedly shrunk and disappeared without any other cancer treatments. Her tumors remained in complete remission for 17 months until an intrahepatic recurrence occurred. This unique course of metastatic HCC indicated that antitumor mechanisms other than the direct anticancer effect of sorafenib contributed to tumor shrinkage.
This is a preview of subscription content, log in to check access.
Access options
Buy single article
Instant access to the full article PDF.
US$ 39.95
Price includes VAT for USA
Subscribe to journal
Immediate online access to all issues from 2019. Subscription will auto renew annually.
US$ 99
This is the net price. Taxes to be calculated in checkout.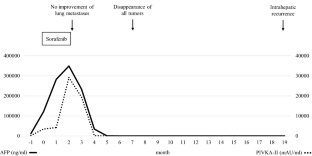 References
1.

Bray F, Ferlay J, Soerjomataram I, et al. Global cancer statistics 2018: GLOBOCAN estimates of incidence and mortality worldwide for 36 cancers in 185 countries. CA Cancer J Clin. 2018;68:394–424.

2.

Llovet JM, Burroughs A, Bruix J. Hepatocellular carcinoma. Lancet. 2003;362:1907–17.

3.

Llovet JM, Ricci S, Mazzaferro V, SHARP Investigators Study Group, et al. Sorafenib in advanced hepatocellular carcinoma. N Engl J Med. 2008;359:378–90.

4.

Rimola J, Díaz-González Á, Darnell A, et al. Complete response under sorafenib in patients with hepatocellular carcinoma: Relationship with dermatologic adverse events. Hepatology. 2018;67:612–22.

5.

Wilhelm SM, Carter C, Tang L, et al. BAY 43–9006 exhibits broad spectrum oral antitumor activity and targets the RAF/MEK/ERK pathway and receptor tyrosine kinases involved in tumor progression and angiogenesis. Cancer Res. 2004;64:7099–109.

6.

Kudo M, Finn RS, Qin S, et al. Lenvatinib versus sorafenib in first-line treatment of patients with unresectable hepatocellular carcinoma: a randomised phase 3 non-inferiority trial. Lancet. 2018;391:1163–73.

7.

Yada M, Masumoto A, Motomura K, et al. Indicators of sorafenib efficacy in patients with advanced hepatocellular carcinoma. World J Gastroenterol. 2014;20:12581–7.

8.

Lamarca A, Abdel-Rahman O, Salu I, et al. Identification of clinical biomarkers for patients with advanced hepatocellular carcinoma receiving sorafenib. Clin Transl Oncol. 2017;19:364–72.

9.

Yau T, Yao TJ, Chan P, et al. The significance of early alpha-fetoprotein level changes in predicting clinical and survival benefits in advanced hepatocellular carcinoma patients receiving sorafenib. Oncologist. 2011;16:1270–9.

10.

Shao YY, Lin ZZ, Hsu C, et al. Early alpha-fetoprotein response predicts treatment efficacy of antiangiogenic systemic therapy in patients with advanced hepatocellular carcinoma. Cancer. 2010;116:4590–6.

11.

Arao T, Ueshima K, Matsumoto K, et al. FGF3/FGF4 amplification and multiple lung metastases in responders to sorafenib in hepatocellular carcinoma. Hepatology. 2013;57:1407–15.

12.

Kaibori M, Sakai K, Ishizaki M, et al. Increased FGF19 copy number is frequently detected in hepatocellular carcinoma with a complete response after sorafenib treatment. Oncotarget. 2016;7:49091–8.

13.

Mizukami H, Kagawa T, Arase Y, et al. Complete response after short-term sorafenib treatment in a patient with lymph node metastasis of hepatocellular carcinoma. Case Rep Oncol. 2012;5:380–4.

14.

Hagihara A, Teranishi Y, Kawamura E, et al. A complete response induced by 21-day sorafenib therapy in a patient with advanced hepatocellular carcinoma. Intern Med. 2013;52:1589–92.

15.

Kermiche-Rahali S, Di Fiore A, Drieux F, et al. Complete pathological regression of hepatocellular carcinoma with portal vein thrombosis treated with sorafenib. World J Surg Oncol. 2013;11:171.

16.

Shiozawa K, Watanabe M, Ikehara T, et al. Sustained complete response of hepatocellular carcinoma with portal vein tumor thrombus following discontinuation of sorafenib: A case report. Oncol Lett. 2014;7:50–2.

17.

Huan HB, Lau WY, Xia F, et al. Complete response to sorafenib in a patient with recurrent hepatocellular carcinoma. World J Gastroenterol. 2014;20:14505–9.

18.

Shiba S, Okusaka T, Ikeda M, et al. Characteristics of 18 patients with hepatocellular carcinoma who obtained a complete response after treatment with sorafenib. Hepatol Res. 2014;44:1268–76.

19.

Liu D, Liu A, Peng J, et al. Case analysis of complete remission of advanced hepatocellular carcinoma achieved with sorafenib. Eur J Med Res. 2015;20:12.

20.

Katafuchi E, Takami Y, Wada Y, et al. Long-term maintenance of complete response after sorafenib treatment for multiple lung metastases from hepatocellular carcinoma. Case Rep Gastroenterol. 2015;9:285–90.

21.

Kitajima T, Hatano E, Mitsunori Y, et al. Complete pathological response induced by sorafenib for advanced hepatocellular carcinoma with multiple lung metastases and venous tumor thrombosis allowing for curative resection. Clin J Gastroenterol. 2015;8:300–5.

22.

Kim TS, Kim JH, Kim BH, et al. Complete response of advanced hepatocellular carcinoma to sorafenib: another case and a comprehensive review. Clin Mol Hepatol. 2017;23:340–6.

23.

Nakano N, Kawaoka T, Aikata H, et al. Complete response to short-term sorafenib treatment alone for hepatocellular carcinoma with bone, lymph node, and peritoneum metastases. Hepatol Res. 2016;46:1402–8.

24.

Li Q, Xu B, Fu L, et al. Correlation of four vascular specific growth factors with carcinogenesis and portal vein tumor thrombus formation in human hepatocellular carcinoma. J Exp Clin Cancer Res. 2006;25:403–9.

25.

Lin YY, Tan CT, Chen CW, et al. Immunomodulatory effects of current targeted therapies on hepatocellular carcinoma: implication for the future of immunotherapy. Semin Liver Dis. 2018;38:379–88.

26.

Kalathil SG, Hutson A, Barbi J, et al. Augmentation of IFN-γ+ CD8+ T cell responses correlates with survival of HCC patients on sorafenib therapy. JCI Insight. 2019;4(15):e130116.

27.

Cole WH. Efforts to explain spontaneous regression of cancer. J Surg Oncol. 1981;17:201–9.

28.

Iwanaga T. Studies on cases of spontaneous regression of cancer in Japan in 2011, and of hepatic carcinoma, lung cancer and pulmonary metastases in the world between 2006 and 2011. Gan To Kagaku Ryoho. 2013;40:1475–87.

29.

Tocci G, Conte A, Guarascio P, et al. Spontaneous remission of hepatocellular carcinoma after massive gastrointestinal haemorrhage. BMJ. 1990;300:641–2.

30.

Kondo S, Okusaka T, Ueno H, et al. Spontaneous regression of hepatocellular carcinoma. Int J Clin Oncol. 2006;11:407–11.
Ethics declarations
Conflict of interest
Ichinosuke Hyodo received lecture fees from company Taiho, Chugai, Daiichi-Sankyo and Yakult-Honsha. Suguru Hirose, Kazunori Ishige, Masamichi Yamaura, Tsuneo Mizui, Yoshiki Komatsu, Masaomi Nagase, Masashi Sato, Junji Hattori, Masato Endo, Naoyuki Hasegawa, and Kuniaki Fukuda declare that they have no conflict of interest.
Human rights
All procedures followed have been performed in accordance with the ethical standards laid down in the 1964 Declaration of Helsinki and its later amendments.
Informed consent
Informed consent was obtained from all patients for being included in the study.
Additional information
Publisher's Note
Springer Nature remains neutral with regard to jurisdictional claims in published maps and institutional affiliations.
About this article
Cite this article
Hirose, S., Ishige, K., Yamaura, M. et al. A case report: Long-term complete response of metastatic hepatocellular carcinoma obtained after discontinuation of 2-month sorafenib monotherapy. Clin J Gastroenterol (2020). https://doi.org/10.1007/s12328-020-01154-z
Received:

Accepted:

Published:
Keywords
Hepatocellular carcinoma

Lung metastases

Sorafenib

Complete remission