Abstract
Herein, we report for the first time a case of a surficial superficial non-ampullary duodenal cancer causing obscure intestinal bleeding that was identified by small-bowel capsule endoscopy and treated by endoscopic mucosal resection. A 73-year-old man underwent upper gastrointestinal endoscopy to identify the cause of anemia. Although conventional duodenoscopy revealed a flat, elevated 5-mm lesion with a central recess and "milk-white mucosa" at the inferior duodenal angulus, capsule endoscopy revealed a white nodular 5-mm lesion with central recess at the duodenum slightly to the anal side from the major duodenal papilla. Pathohistological examination revealed a low-grade well-differentiated tubular adenocarcinoma growing locally in the mucosal layer. Although capsule endoscopy detected a nodular lesion, conventional endoscopy revealed a flat, elevated lesion. The cause of this difference in endoscopic findings is considered to be the degree of extension of the intestinal mucosa. In contrast, "milk-white mucosa" as a typical finding of superficial duodenal tumor in conventional endoscopy could be identified as a white mucosal color tone in capsule endoscopy. Conventional endoscopic findings of irregular surface structure in the lesion suggested malignancy. Pathohistologically, the ductal structure of the adenocarcinoma was also distorted. Unfortunately, it was difficult to suggest that the lesion was adenocarcinoma based on the endoscopic findings alone.
This is a preview of subscription content, log in to check access.
Access options
Buy single article
Instant access to the full article PDF.
US$ 39.95
Price includes VAT for USA
Subscribe to journal
Immediate online access to all issues from 2019. Subscription will auto renew annually.
US$ 99
This is the net price. Taxes to be calculated in checkout.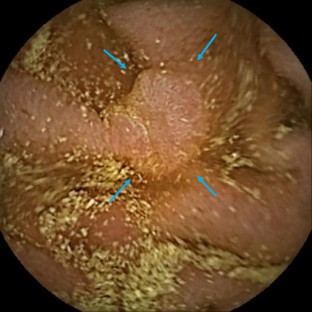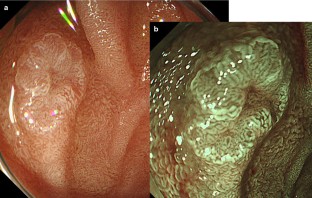 References
1.

Schottenfeld D, Beebe-Dimmer JL, Vigneau FD. The epidemiology and pathogenesis of neoplasia in the small intestine. Ann Epidemiol. 2009;19:58–69.

2.

North JH, Pack MS. Malignant tumors of the small intestine: a review of 144 cases. Am Surg. 2000;66:46–51.

3.

Ito H, Perez A, Brooks DC, et al. Surgical treatment of small bowel cancer: A 20-year single institution experience. J Gastrointest Surg. 2003;7:925–30.

4.

Dabaja BS, Suki D, Pro B, et al. Adenocarcinoma of the small bowel: Presentation, prognostic factors, and outcome of 217 patients. Cancer. 2004;101:518–26.

5.

Howe JR, Karnell LH, Menck HR, et al. The American College of Surgeons Commission on Cancer and the American Cancer Society. Adenocarcinoma of the small bowel: review of the National Cancer Data Base, 1985–1995. Cancer. 1999;86:2693–706.

6.

Goda K, Kikuchi D, Yamamoto Y, et al. Endoscopic diagnosis of superficial non-ampullary duodenal epithelial tumors in Japan: multicenter case series. Dig Endosc. 2014;26(Suppl. 2): 23–9.

7.

Kinoshita S, Nishizawa T, Ochiai Y, et al. Accuracy of biopsy for the preoperative diagnosis of superficial nonampullary duodenal adenocarcinoma. Gastrointest Endosc. 2017;86:329–32.

8.

Kakushima N, Kanemoto H, Sasaki K, et al. Endoscopic and biopsy diagnoses of superficial, nonampullary, duodenal adenocarcinomas. World J Gastroenterol. 2015;21:5560–7.
Ethics declarations
Conflict of interest
Kazuhiro Ota, Satoshi Kikutani, Yuka Kawasaki, Noriaki Sugawara, Satoshi Harada, Yuichi Kojima, Sadaharu Nouda, Toshihisa Takeuchi, Hiroshi Akutagawa, and Kazuhide Higuchi declare that they have no conflict of interest.
Human/animal rights
All procedures followed have been performed in accordance with the ethical standards laid down in the 1964 Declaration of Helsinki and its later amendments.
Informed consent
Informed consent was obtained from all patients for being included in the study.
Electronic supplementary material
Below is the link to the electronic supplementary material.
Video 1. Superficial duodenal tumor in capsule endoscopic video, showing capsule endoscopic findings and positional relationship with the major duodenal papilla (WMV 3443 KB)
About this article
Cite this article
Ota, K., Kikutani, S., Kawasaki, Y. et al. Superficial non-ampullary duodenal cancer identified by small-bowel capsule endoscopy: a case report (with video). Clin J Gastroenterol 12, 189–192 (2019). https://doi.org/10.1007/s12328-018-0911-z
Received:

Accepted:

Published:

Issue Date:
Keywords
Adenocarcinoma

Capsule endoscopy

Duodenal cancer