Abstract
Introduction
We evaluated the real-world healthcare resource utilization (HRU) and costs among patients with high-grade non-muscle invasive bladder cancer (HG-NMIBC) following Bacillus Calmette-Guérin (BCG) therapy.
Methods
Patients aged ≥ 65 years diagnosed with HG-NMIBC between 2008 and 2015 who received adequate BCG induction and were identified in the SEER-Medicare database. Those who received intravesical chemotherapy or radical cystectomy within 12 months of the last BCG induction dose, and had ≥ 6 months of data availability after treatment (index date), were included. Annualized HRU and mean medical costs (2020 United States dollars) were estimated and compared between patients with versus without progression. Inverse probability of treatment weighting was used to adjust for differences in baseline characteristics.
Results
Of 986 patients diagnosed with HG-NMIBC who met the inclusion criteria, 257 (26.1%) progressed; the mean ages were similar between patients who did and did not progress (77.6 vs. 77.0 years). The overall population had a mean of 0.96 [standard deviation (SD): 1.18] inpatient admissions, 6.47 (11.40) hospitalization days, 1.38 (2.19) emergency department (ED) visits, and 48.03 (44.97) outpatient visits per patient-year during the study period; total annualized costs per patient post-BCG were $39,102 ($44,244). Patients experiencing progression had significantly higher mean numbers of inpatient admissions [1.61 (SD 1.40) vs. 0.72 (0.99)], hospitalization days [11.77 (14.96) vs. 4.59 (9.29)], ED visits [2.34 (2.92) vs. 1.03 (1.76)], and outpatient visits [65.97 (44.72) vs. 41.63 (43.09)] per patient-year compared with patients without progression (all p < 0.05). Total mean annualized costs per patient after BCG among those who progressed [$65,668 (SD $53,943)] were more than double compared with patients who did not [$29,780 ($36,425)].
Conclusions
Existing treatments for HG-NMIBC after BCG therapy are associated with substantial HRU and medical costs, particularly after progression. Novel treatments and earlier detection are needed to reduce progression rates and associated costs in this difficult-to-treat population.
Access options
Buy single article
Instant access to the full article PDF.
US$ 39.95
Tax calculation will be finalised during checkout.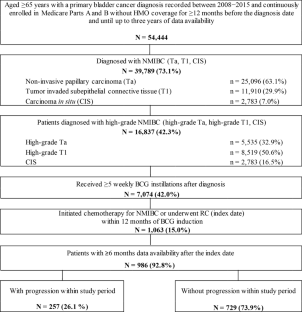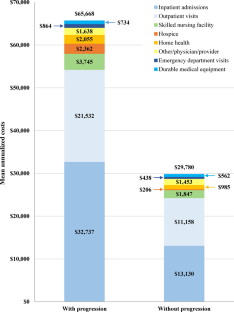 References
1.

Siegel RL, Miller KD, Jemal A. Cancer statistics, 2020. CA: Cancer J Clin. 2020;70(1):7–30. https://doi.org/10.3322/caac.21590.

2.

National Cancer Institute (NCI): Cancer statistics. https://www.cancer.gov/about-cancer/understanding/statistics (2020). Accessed 19 Feb 2020

3.

Svatek R, Hollenbeck B, Holmäng S, Lee R, Kim S, Stenzl A, et al. The economics of bladder cancer: costs and considerations of caring for this disease. Eur Urol. 2014;66(2):253–62. https://doi.org/10.1016/j.eururo.2014.01.006.

4.

Mariotto AB, Yabroff KR, Shao Y, Feuer EJ, Brown ML. Projections of the cost of cancer care in the United States: 2010–2020. J Natl Cancer Inst. 2011;103(2):117–28. https://doi.org/10.1093/jnci/djq495.

5.

Kirkali Z, Chan T, Manoharan M, Algaba F, Busch C, Cheng L, et al. Bladder cancer: epidemiology, staging and grading, and diagnosis. Urology. 2005;66(6 Suppl 1):4–34. https://doi.org/10.1016/j.urology.2005.07.062.

6.

Chang SS, Boorjian SA, Chou R, Clark PE, Daneshmand S, Konety BR, et al. Diagnosis and treatment of non-muscle invasive bladder cancer: AUA/SUO guideline. J Urol. 2016;196(4):1021–9. https://doi.org/10.1016/j.juro.2016.06.049.

7.

Sylvester RJ, van der Meijden AP, Oosterlinck W, Witjes JA, Bouffioux C, Denis L, et al. Predicting recurrence and progression in individual patients with stage Ta T1 bladder cancer using EORTC risk tables: a combined analysis of 2596 patients from seven EORTC trials. Eur Urol. 2006;49(3):466–75. https://doi.org/10.1016/j.eururo.2005.12.031 (Discussion 75-7).

8.

National Comprehensive Cancer Network (NCCN): NCCN clinical practice guidelines in oncology: Bladder cancer (v. 3.2020). www.nccn.org (2020). Accessed 19 Feb 2020

9.

Witjes JA. Management of BCG failures in superficial bladder cancer: a review. Eur Urol. 2006;49(5):790–7. https://doi.org/10.1016/j.eururo.2006.01.017.

10.

Hussain MH, Wood DP, Bajorin DF, Bochner BH, Dreicer R, Lamm DL, et al. Bladder cancer: narrowing the gap between evidence and practice. J Clin Oncol. 2009;27(34):5680–4. https://doi.org/10.1200/JCO.2009.23.6901.

11.

Mossanen M, Wang Y, Szymaniak J, Tan WS, Huynh MJ, Preston MA, et al. Evaluating the cost of surveillance for non-muscle-invasive bladder cancer: an analysis based on risk categories. World J Urol. 2019;37(10):2059–65. https://doi.org/10.1007/s00345-018-2550-x.

12.

Cox E, Saramago P, Kelly J, Porta N, Hall E, Tan WS, et al. Effects of bladder cancer on UK healthcare costs and patient health-related quality of life: evidence from the BOXIT trial. Clin Genitourin Cancer. 2019. https://doi.org/10.1016/j.clgc.2019.12.004.

13.

Warren JL, Klabunde CN, Schrag D, Bach PB, Riley GF. Overview of the SEER-Medicare data: content, research applications, and generalizability to the United States elderly population. Med Care. 2002;40(8 Suppl):3–18. https://doi.org/10.1097/01.Mlr.0000020942.47004.03.

14.

Kamat AM, Flaig TW, Grossman HB, Konety B, Lamm D, O'Donnell MA, et al. Expert consensus document: Consensus statement on best practice management regarding the use of intravesical immunotherapy with BCG for bladder cancer. Nat Rev Urol. 2015;12(4):225–35. https://doi.org/10.1038/nrurol.2015.58.

15.

Li R, Spiess PE, Kamat AM. Treatment options for patients with recurrent tumors after BCG therapy: are we ignoring the obvious? Eur Urol. 2018;74(4):405–8. https://doi.org/10.1016/j.eururo.2018.04.012.

16.

United States Department of Labor: Bureau of Labor Statistics: Consumer Price Index—All Urban Consumers. https://data.bls.gov/timeseries/CUUR0000SAM Accessed 25 Feb 2020

17.

Austin PC. Balance diagnostics for comparing the distribution of baseline covariates between treatment groups in propensity-score matched samples. Stat Med. 2009;28(25):3083–107. https://doi.org/10.1002/sim.3697.

18.

Normand ST, Landrum MB, Guadagnoli E, Ayanian JZ, Ryan TJ, Cleary PD, et al. Validating recommendations for coronary angiography following acute myocardial infarction in the elderly: a matched analysis using propensity scores. J Clin Epidemiol. 2001;54(4):387–98. https://doi.org/10.1016/s0895-4356(00)00321-8.

19.

Carpenter J, Bithell J. Bootstrap confidence intervals: when, which, what? A practical guide for medical statisticians. Stat Med. 2000;19(9):1141–64. https://doi.org/10.1002/(sici)1097-0258(20000515)19:9%3c1141::aid-sim479%3e3.0.co;2-f.

20.

Wan JCM. Survival outcomes of early versus deferred cystectomy for high-grade non-muscle-invasive bladder cancer: a systematic review. Curr Urol. 2020;14(2):66–73. https://doi.org/10.1159/000499257.

21.

Cooksley CD, Avritscher EB, Grossman HB, Sabichi AL, Dinney CP, Pettaway C, et al. Clinical model of cost of bladder cancer in the elderly. Urology. 2008;71(3):519–25. https://doi.org/10.1016/j.urology.2007.10.056.

22.

Avritscher EB, Cooksley CD, Grossman HB, Sabichi AL, Hamblin L, Dinney CP, et al. Clinical model of lifetime cost of treating bladder cancer and associated complications. Urology. 2006;68(3):549–53. https://doi.org/10.1016/j.urology.2006.03.062.

23.

Kamat A, Cao X, He J, Zhong Y, Shah A, Flannery K. Costs of care for patients receiving chemotherapy for advanced bladder cancer. J Clin Path. 2017;3(10):63–70.

24.

Aly A, Johnson C, Yang S, Botteman MF, Rao S, Hussain A. Overall survival, costs, and healthcare resource use by line of therapy in Medicare patients with newly diagnosed metastatic urothelial carcinoma. J Med Econ. 2019;22(7):662–70. https://doi.org/10.1080/13696998.2019.1591424.

25.

Dasta JF, McLaughlin TP, Mody SH, Piech CT. Daily cost of an intensive care unit day: the contribution of mechanical ventilation. Crit Care Med. 2005;33(6):1266–71.

26.

Whyte JL, Engel-Nitz NM, Teitelbaum A, Gomez Rey G, Kallich JD. An evaluation of algorithms for identifying metastatic breast, lung, or colorectal cancer in administrative claims data. Med Care. 2015;53(7):e49–57. https://doi.org/10.1097/MLR.0b013e318289c3fb.

27.

Nordstrom BL, Whyte JL, Stolar M, Mercaldi C, Kallich JD. Identification of metastatic cancer in claims data. Pharmacoepidemiol Drug Saf. 2012;21(Suppl 2):21–8. https://doi.org/10.1002/pds.3247.
Acknowledgements
Funding
Sponsorship for this study and the journal's Rapid Service Fee were funded by FerGene, Inc.
Medical Writing Assistance
Medical writing assistance was provided by Shelley Batts, PhD, an employee of Analysis Group, Inc. Support for this assistance was funded by FerGene, Inc.
Authorship
All named authors meet the International Committee of Medical Journal Editors (ICMJE) criteria for authorship for this article, take responsibility for the integrity of the work as a whole, and have given their approval for this version to be published.
Prior Presentations
A synopsis of the current research was accepted in abstract format to the 2020 International Society for Pharmacoeconomics and Outcomes Research (ISPOR) annual research meeting, which took place as a virtual conference on May 18–20, 2020.
Disclosures
Min Yang, Mihaela V. Georgieva, and Iryna Bocharova are employees of Analysis Group, Inc., which has received consulting fees from FerGene for this research. Mohini Vembusubramanian is an employee of Alto Pharmacy and was an employee of Analysis Group, Inc. during the conduct of the study. Kun Qian is an employee of New York University Langone Health and was an employee of Analysis Group, Inc. during the conduct of the study. Amy Guo is an employee of FerGene. Ashish M. Kamat has received honoraria from Merck, BMS, Arquer, MDxHealth, Photocure, Theralase, Medac, Asieris, Abbott Molecular, US Biotest, Ferring, FerGene, Imagin, Eisai, BioClin Therapeutics, Cold Genesys, Roviant, and Sessen Bio; and research funding from Ferring, FerGene, FKD, Merck, BMS, Photocure, and CEC Oncology.
Compliance with Ethics Guidelines
This study received an exemption from institutional board review from the New England Independent Review Board on September 13, 2018, since this is a retrospective analysis of existing de-identified data. This article does not contain any new studies with human participants or animals performed by any of the authors.
Data Availability
The datasets analyzed during the current study are not publicly available, as they are subject to a data use agreement between the National Cancer Institute and Analysis Group, Inc. Information about the data used in this study, including detailed descriptions and the process for obtaining them, is available at https://healthcaredelivery.cancer.gov/seermedicare/.
Supplementary Information
Below is the link to the electronic supplementary material.
About this article
Cite this article
Yang, M., Georgieva, M.V., Bocharova, I. et al. The Impact of Progression on Healthcare Resource Utilization and Costs Among Patients with High-Grade Non-Muscle Invasive Bladder Cancer After Bacillus Calmette-Guérin Therapy: A Retrospective SEER-Medicare Analysis. Adv Ther 38, 1584–1600 (2021). https://doi.org/10.1007/s12325-020-01616-3
Received:

Accepted:

Published:

Issue Date:
Keywords
Bacillus Calmette-Guérin therapy

Disease progression

Healthcare costs

Healthcare resource utilization

Non-muscle invasive bladder cancer

Real world outcomes