Abstract
Background
The efficacy and safety of a single-pill combination (SPC) of olmesartan/amlodipine/hydrochlorothiazide (OLM/AML/HCTZ) have been established previously through multiple studies. However, the real-world data in Korean patients are still limited. This study evaluated the effectiveness and safety of SPC of OLM/AML/HCTZ in a real practice setting in Korean patients with essential hypertension.
Methods
This was an observational, retrospective, multi-center, non-comparative cohort study. Medical records of 9749 patients with essential hypertension who had been prescribed OLM/AML/HCTZ within 1 year of the study were analyzed. The primary outcome was the achievement rate (%) of the target blood pressure goal of a systolic blood pressure (SBP) of < 140 mmHg and a diastolic blood pressure (DBP) of < 90 mmHg following administration of OLM/AML/HCTZ. The secondary outcomes included the rate of BP control measured at each visit, the amount of BP reduction compared to the index date, and the prescribing patterns of OLM/AML/HCTZ. Safety and tolerability were assessed by the incidence rate of adverse events (AEs) and discontinuation.
Results
In the effectiveness analysis set (n = 9604), the overall achievement rate of target BP was 82.56%. The mean SBP/DBP was significantly reduced compared to baseline at all visits (all p < 0.0001), with the greatest reduction occurring at week 2. The achievement rate of target BP was above 71%, regardless of the presence of risk factors (diabetes mellitus, DM; cardiovascular disease, CVD; chronic kidney disease, CKD). Patients with CVD and aged > 65 years showed a significantly higher achievement rate (p < 0.05). A significant relationship existed between the primary outcome and age (p < 0.0001). The achievement rate exceeded 74% in all different age groups. In the safety analysis set (n = 9661), AEs were reported in 8.46% of patients, with the most frequent AE being dizziness. Serious adverse events (SAEs) and unexpected adverse events (UAEs) occurred in 0.96% and 3.73% patients, respectively. This was consistent with the previously reported safety profile of OLM/AML/HCTZ. The majority of AEs were mild to moderate and resolved during the observation period. The discontinuation rate of OLM/AML/HCTZ due to AEs was 1.67%.
Conclusion
This study demonstrated significant effectiveness of OLM/AML/HCTZ in achieving target BP in Korean patients with essential hypertension. OLM/AML/HCTZ was well tolerated.
This is a preview of subscription content, log in to check access.
Access options
Buy single article
Instant access to the full article PDF.
US$ 39.95
Price includes VAT for USA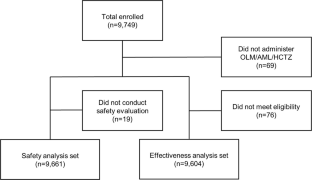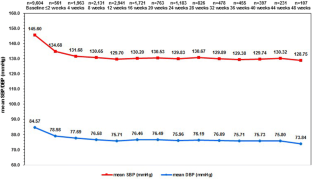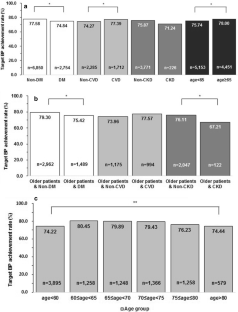 References
1.

Kim HC, Cho MC. Korea hypertension fact sheet 2018. Clin Hypertens. 2018;24(13):1–4.

2.

Lee HY, Shin JH, Kim GH, et al. 2018 Korean Society of Hypertension guidelines for the management of hypertension: part II-diagnosis and treatment of hypertension. Clin Hypertens. 2019;25:20.

3.

Whelton PK, Carey RM, Aronow WS, et al. 2017 ACC/AHA/AAPA/ABC/ACPM/AGS/ APhA/ASH/ASPC/NMA/PCNA guideline for the prevention, detection, evaluation, and management of high BP in adults: executive summary: a report of the American College of Cardiology/American Heart Association task force on clinical practice guidelines. Hypertension. 2018;71(6):1269–324.

4.

Williams B, Mancia G, Spiering W, et al. 2018 ESH/ESC guidelines for the management of arterial hypertension: the task force for the management of arterial hypertension of the European Society of Cardiology and the European Society of Hypertension: the task force for the management of arterial hypertension of the European Society of Cardiology and the European Society of Hypertension. J Hypertens. 2018;36(10):1953–2041.

5.

Wald DS, Law M, Morris JK, Bestwick JP, Wald NJ. Combination therapy versus monotherapy in reducing BP: meta-analysis on 11,000 participants from 42 trials. Am J Med. 2009;122(3):290–300.

6.

Bangalore S, Kamalakkannan G, Parkar S, Messerli FH. Fixed-dose combinations improve medication compliance: a meta-analysis. Am J Med. 2007;120(8):713–9.

7.

Sohn IS, Kim CJ, Oh BH, et al. Efficacy and safety study of olmesartan medoxomil, amlodipine, and hydrochlorothiazide combination therapy in patients with hypertension not controlled with olmesartan medoxomil and hydrochlorothiazide combination therapy: results of a randomized, double-blind, multicenter trial. Am J Cardiovasc Drugs. 2016;16(2):129–38.

8.

Ko SH, Kwon HS, Kim DJ, et al. Higher prevalence and awareness, but lower control rate of hypertension in patients with diabetes than general population: the fifth korean national health and nutrition examination survey in 2011. Diabetes Metab J. 2014;38(1):51–7.

9.

Kim KI, Kim Y, Kim HJ, et al. Current status and characteristics of hypertension treatment by primary physicians in Korea: data from Korean epidemiology study on hypertension (KEY study). Am J Hypertens. 2008;21(8):884–9.

10.

Oparil S, Melino M, Lee J, Fernandez V, Heyrman R. Triple therapy with olmesartan medoxomil, amlodipine besylate, and hydrochlorothiazide in adult patients with hypertension: The TRINITY multicenter, randomized, double-blind, 12-week, parallel-group study. Clin Ther. 2010;32(7):1252–69.

11.

Kereiakes DJ, Chrysant SG, Izzo JL Jr, et al. Long-term efficacy and safety of triple-combination therapy with olmesartan medoxomil and amlodipine besylate and hydrochlorothiazide for hypertension. J Clin Hypertens (Greenwich). 2012;14(3):149–57.

12.

Chrysant SG, Oparil S, Melino M, et al. Efficacy and safety of long-term treatment with the combination of amlodipine besylate and olmesartan medoxomil in patients with hypertension. J Clin Hypertens (Greenwich). 2009;11(9):475–82.

13.

Bramlage P, Fronk EM, Wolf WP, Smolnik R, Sutton G, Schmieder RE. Safety and effectiveness of a fixed-dose combination of olmesartan, amlodipine, and hydrochlorothiazide in clinical practice. Vasc Health Risk Manag. 2014;11:1–8.

14.

Sison J, Assaad-Khalil SH, Najem R, et al. Real-world clinical experience of amlodipine/valsartan and amlodipine/valsartan/hydrochlorothiazide in hypertension: the EXCITE study. Curr Med Res Opin. 2014;30(10):1937–45.

15.

Collins R, Peto R, MacMahon S, et al. Blood Pressure, stroke, and coronary heart disease. Part 2, short-term reductions in blood pressure: overview of randomised drug trials in their epidemiological context. Lancet. 1990;335(8693):827–38.

16.

Blaschke TF, Osterberg L, Vrijens B, Urquhart J. Adherence to medications: insights arising from studies on the unreliable link between prescribed and actual drug dosing histories. Annu Rev Pharmacol Toxicol. 2012;52:275–301.

17.

Cho E, Lee CY, Kim I, et al. Factors influencing medication adherence in patients with hypertension: based on the 2008 Korean national health and nutrition examination survey. J Korean Acad Community Health Nurs. 2013;24(4):419–26.

18.

Kim SO. Medication adherence of elderly with hypertension and/or diabetes-mellitus and its' influencing factors. Korean J Clin Pharm. 2011;21(2):81–9.

19.

Prisant LM, Moser M. Hypertension in the elderly: can we improve results of therapy? Arch Intern Med. 2000;160(3):283–9.

20.

Bavishi C, Bangalore S, Messerli FH. Outcomes of intensive BP lowering in older hypertensive patients. J Am Coll Cardiol. 2017;69(5):486–93.

21.

Beckett NS, Peters R, Flaetcher AE, et al. Treatment of hypertension in patients 80 years of age or older. N Engl J Med. 2008;358(18):1887–988.

22.

Calhoun DA, Jones D, Textor S, et al. Resistant hypertension: diagnosis, evaluation, and treatment: a scientific statement from the American Heart Association professional education committee of the council for high blood pressure research. Circulation. 2008;117(25):e510–e526526.

23.

Park JH, Shin Y, Lee SY, Lee SI. Antihypertensive drug medication adherence and its affecting factors in South Korea. Int J Cardiol. 2008;128(3):392–8.
Acknowledgements
The authors thank all clinical investigators and study coordinators at participating centers for involvement and contribution to the study. The authors also thank C&R Research Inc. for statistical analysis assistance.
Funding
This study and the Rapid Service Fee of the journal were funded by Daiichi Sankyo Korea Co., Ltd. (Seoul, Republic of Korea).
Authorship
All named authors meet the International Committee of Medical Journal Editors (ICMJE) criteria for authorship for this article, take responsibility for the integrity of the work as a whole, and have given their approval for this version to be published.
Author Contributions
Daiichi Sankyo Korea Co., Ltd., has provided oversight in aspects of the study, including study design, data acquisition and compilation of the final report. Both authors have equally contributed to the review, analysis, interpretation of data and manuscript preparation.
Disclosures
Sung-Ji Park has received research funds from Daiichi Sankyo Korea Co., Ltd., and Si Jae Rhee is a full-time employee of Daiichi Sankyo Korea Co., Ltd. There are no other potential conflicts of interest to disclose.
Compliance with Ethics Guidelines
This study was conducted in accordance with the ethical standards of the Helsinki Declaration of 1976, and its later amendments, as well as with relevant regulations of the Korean Pharmaceutical Affairs Act. The study protocol and a waiver of patient consent were approved by the Institutional Review Board (IRB) at each participating center (see full list of IRBs in Table S1 of the electronic supplementary material). Data collection and analysis were performed after anonymization of the patient data.
Data Availability
The datasets generated during and/or analyzed during the current study are not publicly available due to the sponsor's policies for the disclosure of clinical study data but are available from the study sponsor on reasonable request by qualified researchers.
Electronic supplementary material
Below is the link to the electronic supplementary material.
About this article
Cite this article
Park, S., Rhee, S.J. Real-World Effectiveness and Safety of a Single-Pill Combination of Olmesartan/Amlodipine/Hydrochlorothiazide in Korean Patients with Essential Hypertension (RESOLVE): A Large, Observational, Retrospective, Cohort Study. Adv Ther 37, 3500–3514 (2020). https://doi.org/10.1007/s12325-020-01404-z
Received:

Published:

Issue Date:
Keywords
Achievement of target blood pressure

Effectiveness

Essential hypertension

Observational study

Olmesartan

Real-world

Retrospective

Safety

Single pill combination