Abstract
Introduction
This study aims to investigate the efficacy of incision-free endovenous laser treatment (EVLT) combined with sclerosing foam in treating varicose veins of the lower extremities.
Methods
A total of 140 patients (186 limbs) who underwent laser closure of the great saphenous vein + injection sclerotherapy were included in the present study. Preoperative information, intraoperative conditions, duration of the operation, and length of hospital stay were recorded in detail. During the 6-month follow-up, the closure of the trunk and branches of the great saphenous vein, postoperative pain, the recovery of ulcer and dermatitis, and postoperative complications were traced.
Results
All patients were treated with laser closure of the great saphenous vein and lauromacrogol injection. Twenty-six stage C6 limbs (lower extremity with ulcer) healed within 6 months, and the postoperative subjective pain disappeared after 1 month. In six patients, pigmentation in the surgical site did not completely disappear at 6 months after the operation. Saphenous nerve injury was found in five patients within 3 months after the operation, and all healed at 6 months after the operation.
Conclusion
EVLT combined with sclerosing foam is effective for treating varicose great saphenous veins.
Trial Registration
This study was registered at http://www.chictr.org.cn (registration number: ChiCTR1900021409).
Access options
Buy single article
Instant access to the full article PDF.
US$ 39.95
Tax calculation will be finalised during checkout.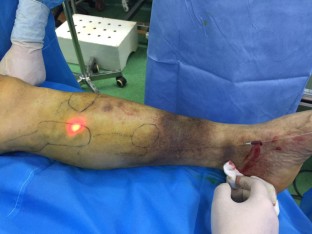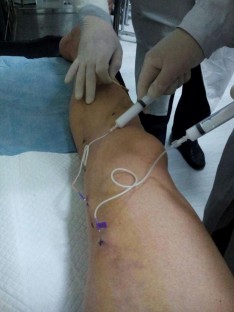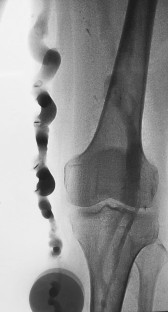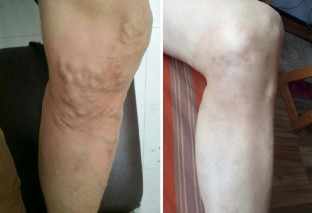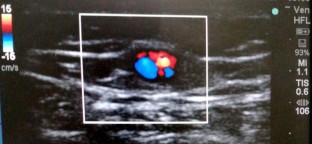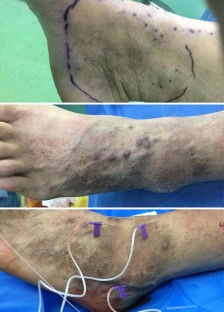 References
1.

Beebe-Dimmer JL, Pfeifer JR, Engle JS, Schottenfeld D. The epidemiology of chronic venous insufficiency and varicose veins. Ann Epidemiol. 2005;15(3):175–84.

2.

Nesbitt C, Bedenis R, Bhattacharya V, Stansby G. Endovenous ablation (radiofrequency and laser) and foam sclerotherapy versus open surgery for great saphenous vein varices. Cochrane Database Syst Rev. 2014;7(7):CD005624.

3.

Tassie E, Scotland G, Brittenden J, Cotton SC, Elders A, Campbell MK, Campbell B, Gough M, Burr JM, Ramsay CR, CLASS study team. Cost-effectiveness of ultrasound-guided foam sclerotherapy, endovenous laser ablation or surgery as treatment for primary varicose veins from the randomized CLASS trial. Br J Surg. 2014;101(12):1532–40.

4.

Dietzek AM. Endovenous radiofrequency ablation for the treatment of varicose veins. Vascular. 2007;15(5):255.

5.

de Roos KP. Clinical aspects and indications for endovenous treatments for varicose veins. Lasers Med Sci. 2014;29(2):377–82.

6.

van der Velden SK, Pichot O, van den Bos RR, Nijsten TE, De Maeseneer MG. Management strategies for patients with varicose veins (C2–C6): results of a worldwide survey. Eur J Vasc Endovasc Surg. 2015;49(2):213–20.

7.

Cotton SC, Maclennan G, Brittenden J, Prior M, Francis J. Behavioural recovery after treatment for varicose veins. Br J Surg. 2016;103(4):374–81.

8.

Lawaetz M, Serup J, Lawaetz B, Bjoern L, Blemings A, Eklof B, Rasmussen L. Comparison of endovenous radiofrequency ablation, laser ablation, foam sclerotherapy and surgical stripping for great saphenous varicose veins. Extended 5-year follow-up of a RCT. Int Angiol. 2017;36(3):281.

9.

Starodubtsev V, Lukyanenko M, Karpenko A, Ignatenko P. Endovenous laser ablation in patients with severe primary chronic venous insufficiency. Int Angiol. 2017;36(4):368.

10.

van den Bos RR, Malskat WS, De Maeseneer MG, de Roos KP, Groeneweg DA, Kockaert MA, Neumann HA, Nijsten T. Randomized clinical trial of endovenous laser ablation versus steam ablation (LAST trial) for great saphenous varicose veins. Br J Surg. 2014;101(9):1077–83.

11.

Stokbroekx T, Boer AD, Verdaasdonk RM, Vuylsteke ME, Mordon SR. Commonly used fiber tips in endovenous laser ablation (EVLA): an analysis of technical differences. Lasers Med Sci. 2014;29(2):501.

12.

Orbach EJ. Sclerotherapy of varicose veins: utilization of intravenous air block. Am J Surg. 1944;66:362–6.

13.

Atasoy MM. Fill and aspirate foam sclerotherapy (FAFS): a new approach for sclerotherapy of large superficial varicosities concomitant to endovenous laser ablation of truncal vein. Clin Radiol. 2015;70(1):48–53.

14.

Rathbun S, Norris A, Morrison N, Gibson K, Hohenwalter E, Lohr J, Raymond-Martimbeau P, Worthington-Kirsch R, Stoner J. Performance of endovenous foam sclerotherapy in the USA. Phlebology. 2012;27(2):59–66.

15.

Rabe E, Breu FX, Cavezzi A, Coleridge Smith P, Frullini A, Gillet JL, Guex JJ, Hamel-Desnos C, Kern P, Partsch B, Ramelet AA, Tessari L, Pannier F, Guideline Group. European guidelines for sclero- therapy in chronic venous disorders. Phlebology. 2014;29(6):338–54.

16.

Rathbun S, Norris A, Stoner J. Efficacy and safety of endovenous foam sclerotherapy: meta-analysis for treatment of venous disorders. Phlebology. 2012;27(3):105–17.

17.

Park YS, Kim YW, Park YJ, Kim DI. Clinical results of endovenous LASER ablation (EVLA) using low linear endovenous energy density (LEED) combined with high ligation for great saphenous varicose veins. Surg Today. 2016;46(9):1019–23.

18.

Tessari L. Nouvelle technique d'obtention de la sclero-mousse. Phlebologie. 2000;53:129.

19.

Breu FX, Guggenbichler S, Wollmann JC. Duplex ultrasound and efficacy criteria in foam sclerotherapy from the 2nd European Consensus Meeting on foam sclerotherapy 2006, Tegernsee, Germany. Vasa. 2008;37(1):90–5.

20.

Zerweck C, von Hodenberg E, Knittel M, Zeller T, Schwarz T. Endovenous laser ablation of varicose perforating veins with the 1470-nm diode laser using the radial fibre slim. Phlebology. 2014;29(1):30–6.

21.

Carroll C, Hummel S, Leaviss J, Ren S, Stevens JW, Cantrell A, Michaels J. Systematic review, network meta analysis and exploratory cost effectiveness model of randomized trials of minimally invasive techniques versus surgery for varicose veins. Br J Surg. 2014;101(9):1040–52.

22.

He G, Zheng C, Yu MA, Zhang H. Comparison of ultrasound-guided endovenous laser ablation and radiofrequency for the varicose veins treatment: an updated meta-analysis. Int J Surg. 2017;39:267–75.

23.

Orsini C, Brotto M. Immediate pathologic effects on the vein wall of foam sclerotherapy. Dermatol Surg. 2007;33:1250–4.

24.

Cavallini A, Marcer D, Ferrari Ruffino S. Endovenous laser treatment of groin and popliteal varicose veins recurrence. Phlebology. 2017;33:195–205.
Acknowledgements
We thank the participants of the study.
Funding
No funding or sponsorship was received for this study or publication of this article. The article processing charges were funded by the authors.
Authorship
All named authors meet the International Committee of Medical Journal Editors (ICMJE) criteria for authorship for this article, take responsibility for the integrity of the work as a whole, and have given their approval for this version to be published.
Disclosures
Zhao-Xuan Liu, Pei-Ming Guo, Ling-Ling Zhang, Meng-Jie Shi, Rui-Hua Wang and Qing-Yi Meng have nothing to disclose.
Compliance with Ethics Guidelines
This study was conducted in accordance with the 1964 declaration of Helsinki and its later amendments and was approved by the Ethics Committee of Affiliated Ji'nan Central Hospital of Shandong University. Written informed consent was obtained from all participants.
Data Availability
The datasets generated during and/or analyzed during the current study are available from the corresponding author on reasonable request.
About this article
Cite this article
Liu, ZX., Guo, PM., Zhang, LL. et al. Efficacy of Endovenous Laser Treatment Combined with Sclerosing Foam in Treating Varicose Veins of the Lower Extremities. Adv Ther 36, 2463–2474 (2019). https://doi.org/10.1007/s12325-019-01011-7
Received:

Published:

Issue Date:
Keywords
Complication

Endovenous laser

Foam sclerotherapy

Surgery

Varicose veins of lower extremity (VVLE)