Pharmacological and Non-pharmacological Treatments for Stroke Prevention in Patients with Atrial Fibrillation
Abstract
Atrial fibrillation (AF) is associated with significant risk of stroke and other thromboembolic events, which can be effectively prevented using oral anticoagulation (OAC) with either vitamin K antagonists (VKAs) or non-VKA oral anticoagulants (NOACs) dabigatran, rivaroxaban, apixaban, or edoxaban. Until recently, VKAs were the only available means for OAC treatment. NOACs had similar efficacy and were safer than or as safe as warfarin with respect to reduced rates of hemorrhagic stroke or other intracranial bleeding in the respective pivotal randomized clinical trials (RCTs) of stroke prevention in non-valvular AF patients. Increasing "real-world" evidence on NOACs broadly confirms the results of the RCTs. However, individual patient characteristics including renal function, age, or prior bleeding should be taken into account when choosing the OAC with best risk–benefit profile. In patients ineligible for OACs, surgical or interventional stroke prevention strategies should be considered. In patients undergoing cardiac surgery for other reasons, the left atrial appendage excision, ligation, or amputation may be the best option. Importantly, residual stumps or insufficient ligation may result in even higher stroke risk than without intervention. Percutaneous left atrial appendage occlusion, although requiring minimally invasive access, failed to demonstrate reduced ischemic stroke events compared to warfarin. In this review article, we summarize current treatment options and discuss the strengths and major limitations of the therapies for stroke risk reduction in patients with AF.
Keywords
Atrial fibrillation 
Left atrial appendage ligation and closure 
Oral anticoagulation 
Percutaneous left atrial appendage occlusion 
Stroke, thromboembolic events 
Vitamin K antagonists 
Non-vitamin K antagonist 
Introduction
Atrial fibrillation (AF) is the most common sustained cardiac arrhythmia in adults, representing a substantial health care burden [1]. The arrhythmia is associated not only with impaired quality of life and frequent hospitalizations but also a higher risk of stroke, other thromboembolic events, and increased mortality [2, 3]. A fibrillating left atrium (LA) meets all the requirements for thrombus formation of Virchow's triad, especially in the LA appendage (LAA) [4]. The risk of stroke in AF patients varies according to the individual risk profile, but the overall ischemic stroke rate without oral anticoagulation (OAC) is approximately 3.20 per 100 person-years [5]. Patients with AF-related strokes have worse outcomes compared to other stroke etiologies [6]. Individual stroke risk assessment and the use of optimal stroke prevention strategy are mandated in all AF patients. The use of OAC should be considered first or, if contraindications are present, an interventional or surgical LAA occlusion or amputation could be considered.
In this review we outline contemporary pharmacological and non-pharmacological treatments for stroke prevention in AF patients.
This article is based on previously conducted studies and does not involve any new studies of human or animal subjects performed by any of the authors.
Thrombus Formation in AF
More than 90% of LA thrombi in nonrheumatic AF are formed in the LAA [7]. Representing a remnant of the original embryonic LA, the LAA is not only a simple attachment but also shows a complex sequence of filling and emptying with substantial volume changes over the cardiac cycle [8]. Irregular electrical activation of the LA and the LAA during AF facilitates thrombus formation due to abnormal blood flow. Abundance of LAA morphologies has been described recently [8, 9] with a simplified classification of four LAA types with the descriptive names cactus, windsock, chicken wing, and cauliflower [10]. The different LAA morphologies are currently evaluated with respect to the specific morphology-associated risk for thrombus formation, and the results published so far are inconsistent regarding the "high-risk" morphology [10, 11, 12].
Endothelial and blood component-specific factors promoting blood clot formation in AF, e.g., endothelial dysfunction, alterations in coagulation, inflammation, and hemoconcentration, have been described in detail elsewhere [4]. Although the association of AF and ischemic stroke depending on the individual stroke risk factors has been clearly established, studies in patients with cardiac implantable devices and hence accurate AF detection showed a surprising lack of clear temporal relation between AF episodes and thromboembolic events [13, 14], which is currently under intensive investigation [15].
Oral Anticoagulant Drugs for Stroke Prevention in AF
The use of OAC [either vitamin K antagonists (VKAs) or non-vitamin K oral anticoagulants (NOACs)] should be considered in all AF patients at risk of stroke in the absence of contraindications. The risk of AF-related stroke is commonly assessed using the CHA2DS2-VASc [congestive heart failure, hypertension, age (≥ 75), diabetes mellitus, stroke history or TIA, vascular disease, age 65–74, sex category female] score, which is recommended by international AF guidelines [16, 17, 18, 19]. Recently, a concern has been raised about the necessity of OAC use for stroke prevention in AF patients with a single additional CHA2DS2-VASc stroke risk factor due to low observed stroke rates in a few AF cohorts [20]. However, even though not all risk factors in the CHA2DS2-VASc score carry an equal risk, the other study demonstrated a higher observed stroke risk in AF patients with a single additional risk factor [20, 21]. In addition, other studies clearly showed that the use of OAC in AF patients with a single additional stroke risk factor was associated with reduced risk of stroke and mortality [22, 23]. Consequently, all AF patients with one or more additional stroke risk factors (i.e., a CHA2DS2-VASc score of 1 in men and 2 in women) should be considered for OAC therapy. Additional stroke risk factors not covered by the CHA2DS2-VASc score, such as the LAA morphology [10], LA enlargement [24], African ethnicity [25], renal function [26], and other factors [27, 28, 29], are currently under investigation. Besides, evolving ablation strategies including electrical isolation of the LAA further complicate stroke risk assessment. Whether electrical LAA isolation leads to higher stroke risk because of reduced LAA blood flow velocity is subject to ongoing discussions [30, 31, 32].
A drawback of OAC use is the risk of OAC-related bleeding. Of various proposed tools for bleeding risk assessment, the HAS-BLED [uncontrolled hypertension, advanced renal or liver disease, a history of stroke, previous bleeding, labile international normalized ratio (INR), age > 65 years, concomitant drugs predisposing to bleeding (aspirin or nonsteroidal anti-inflammatory drugs, excessive alcohol use)] score provides well-balanced simplicity and predictive ability for bleeding events and is most commonly used [33]. Individualized and balanced risk stratification remains the most challenging task. In clinical practice and outside clinical trials it is especially the patient with "special" risk profile due to, e.g., chronic kidney disease on dialysis, prior ischemic stroke or prior intracranial bleeding, malignancies, special genetic features, and substantial co-medication who demands attention [34].
Left Atrial Appendage Ligation and Closure
Different approaches have been evaluated to get rid of "our most lethal attachment" [123]. Currently available and broad applied techniques and devices include surgical ligation and excisions, stapling tools as well as epicardial clips [124, 125].
Surgical left atrial appendage closure has been performed for decades and it also a convenient supplemental procedure in hearts that are already exposed during cardiac surgery. However, profound evidence through randomized controlled prospective trials supporting this approach for stroke prevention is lacking [126]. In 2005 the Left Atrial Appendage Occlusion Study (LAAOS), the first randomized, non-blinded study of surgical LAA occlusion was conducted, comparing the two arms LAA occlusion or control with a 2:1 randomization favoring LAA occlusion. Not addressing stroke prevention itself but safety and feasibility, the study reported LAA occlusion in 66% of the patients randomized to the LAA occlusion arm. Two mechanisms of failure of sufficient LAA closure using either stapling devices or surgical sutures have been described: (1) persistent flow across suture lines and (2) stapling too distally with a residual LAA stump greater than 1 cm [127]. A more recent study from Lee et al. even identified insufficient LAA closure with surgical techniques via intraoperative transesophageal echocardiography (TEE) in up to 63% [125]. Of note, insufficient closure seems to be more harmful and thrombogenic than no closure at all [128, 129].
Introduced in 2014, the LAAOS III trial aims to determine stroke risk by comparing patients undergoing elective cardiac surgery with concomitant surgical LAA closure and without LAA closure, respectively [130]. Although final results after the 4-year follow-up period are eagerly awaited, it has to be pointed out that anticoagulation will be continued in both groups. Current guidelines recommend to continue anticoagulation in at-risk patients after surgical occlusion or exclusion of the LAA as well. However, even if different stroke risk components are addressed (anatomic region of thrombus formation versus decreased affinity of thrombus formation) it appears controversial to continue OAC after LAA occlusion or exclusion per se [16].
Another method for LAA occlusion during cardiac surgery is a clip device ("AtriClip") that is placed epicardially at the base of the left atrial appendage. Study reports from the "EXCLUDE" (Exclusion Device in Patients Undergoing Concomitant Cardiac Surgery) trial suggested a fast, atraumatic, and highly successful left atrial appendage occlusion [131], and possible application of the device in off-pump surgery has been shown very recently [132]. Another recently developed tool favors access via mini-thoracotomy and occluding LAA via a clamp consisting of two tubes connected by an elastic bow [133].
Interventional Percutaneous Endocardial and Epicardial LAA Closure
In 2002 early experiences with a new device for interventional, percutaneous LAA occlusion were reported. The percutaneous left atrial appendage transcatheter occlusion (PLAATO) device enabled non-invasive occlusion of the left atrial appendage via an implant and delivery catheter [134]. The device was built as a self-expanding nitinol cage covered with an occlusive expanded polytetrafluoroethylene membrane to occlude blood flow into the remaining orifice equipped with three anchors. After the first promising results and implantations the tool was withdrawn from the market in 2006.
The next upcoming device has been the WATCHMAN, which received the CE mark in 2005. The device has a self-expanding nitinol frame covered with a permeable polyethylene terephthalate membrane and ten active fixation anchors. In the multicenter, randomized WATCHMAN Left Atrial Appendage System for Embolic Protection in Patients with AF (PROTECT AF) trial, the device was implanted successfully in 91% of all cases [135]. It showed non-inferiority in comparison to continued warfarin therapy in the primary composite endpoint stroke, systemic embolism, and cardiovascular death event rates. The rate of the primary adverse procedure-related events, with the most frequent one pericardial effusion, led to the demand of a further trial for FDA approval. Hence, the answer was the "PREVAIL" (Prospective Randomized Evaluation of the Watchman LAA Closure Device in Patients with AF Versus Long Term Warfarin Therapy) trial that showed significant improvement of procedural safety but failed to meet the non-inferiority criteria [136]. Then again, the extended analysis of the PROTECT AF trial, after 3.8 years of follow-up, concluded both non-inferiority and superiority of the WATCHMAN device compared to warfarin for the combined outcome of stroke, systemic embolism, and cardiovascular death [137]. However, it is important to mention that the patient-level meta-analysis comparing left atrial appendage closure versus systemic therapy (warfarin) published in 2015 also failed to prove non-inferiority in the device group concerning the most interesting isolated endpoint of ischemic stroke but showed a significant reduction of hemorrhagic stroke leading to no significant difference in the rate of all stroke or systemic embolism [138]. In summary, conclusive data concerning left atrial occlusion devices is lacking to date.
The third LAA closure device, the Amplatzer Cardiac Plug (ACP), has a self-expanding nitinol mesh forming a lobe and disk, connected by a central neck. The lobe is implanted 10 mm inside of the LAA orifice to anchor the device, supported by distally located stabilizing wires arranged crown-like. A procedural success rate of 97.3% was reported in a multicenter study including a total of 1053 patients from 22 centers [139]. It has been highlighted, however, that the number of periprocedural complications was "moderate" with cardiac tamponade as the leading adverse event. The next generation of the ACP, the Amulet or ACP2, has to be implanted 12 mm inside the LAA cavity, features stiffer stabilizing wires, and is available in larger disc diameters than its predecessor [140]. Besides the same basic structure, implantation of the Amulet device has been accompanied by a lower rate of non-relevant pericardial effusions, compared to the ACP in an early-experience dual-center cohort study [141].
As it is the case in every intervention, the procedural complication rate is dependent on the interventionist's expertise. Apparently, greatly feared adverse events of left atrial appendage occlusion device implantation are pericardial effusion and device embolization which have an occurrence rate of up to 2% [142]. Pre-interventional imaging aims to maximize procedural safety and success, improving assessment of individual relationships to anatomical adjacent structures [143, 144]. However, a sufficient infrastructure with post-device monitoring interval is mandatory. The European Heart Rhythm Association survey provided insights into clinical practice in 2012 and found out that 73% of the responding centers performed at most 10 procedures per year. The intervention itself is most often performed by the interventional cardiologist or the electrophysiologist as the primary operator with the patient either under sedation or under general anesthesia. Interestingly, the top three limiting factors in clinical practice have been the cost-intensive acquisition of LAA occlusion devices, the limited efficacy data, and the relevant risk of complications [145].
Current European guidelines recommend left atrial appendage occlusion with class IIb level of evidence B in patients with AF and contraindications for long-term OAC as well as in patients with AF undergoing cardiac surgery or thoracoscopic AF surgery [16].
Pursuant to the goal to reduce bleeding complications, a current matter of debate is the antithrombotic management following left atrial appendage occlusion device implantation [146]. On the one hand, patients selected for device implantation present themselves with a high risk of stroke and high risk of bleeding complications. On the other hand, after successful device implantation, there is a risk for clot formation on the artificial device surface until complete endothelialization has occurred. In the RCTs PROTECT AF and PREVAIL evaluating WATCHMAN performance, patients received postprocedural VKA therapy in combination with aspirin for 45 days followed by 6 months of dual platelet inhibition with clopidogrel and aspirin if closure was successful [135, 136]. As a result of the high bleeding risk in most patients with indication for left atrial appendage occlusion, this regime appears difficult. Another approach is to treat patients after device implantation for 6 months with dual antiplatelet therapy and with lifelong aspirin thereafter [147]. A randomized controlled trial in OAC-contraindicated patients determining which medical regime is best following left atrial appendage occlusion is lacking, and the antiplatelet and anticoagulation regime after left atrial appendage occlusion is currently diverse in clinical practice.
The LARIAT procedure, a percutaneous catheter-based LAA ligation with a suture delivery component, uses a combined endo- and epicardial approach for LAA closure. Following initial reports of bleeding and perforation due to the epicardial access, it has been developed further. The basic principle of pericardial and trans-septal access followed by the placement of the endocardial magnet-tipped guidewire in the LAA and connection of the epicardial and endocardial magnet-tipped guidewires for stabilization, positioning of a snare, and release of a pretied suture for LAA ligation, however, has not changed [148]. In 2014 safety and efficacy outcomes of 154 patients enrolled for the LARIAT procedure were reported with quite a few major complications: emergency surgery was required in three patients (2%) because of right ventricular perforation, and LAA perforation and major bleeding in a total of 14 patients [149]. Up to now, the LARIAT procedure has not managed to establish itself firmly.
Overall, there are three main open issues in the field of left atrial appendage occlusion: First, the available data cannot be considered sufficient. It is remarkable that our current practice is mainly based on data from 1114 patients randomized in the PROTECT AF and PREVAIL studies [136, 138]. This is a small number of patients from which to draw conclusions for a new treatment strategy for stroke prevention in AF. Second, there is no randomized comparison of interventional LAA occlusion against NOACs. This is important considering the significant reduction of hemorrhagic stroke under NOACs compared with warfarin [150] and the reduced overall risk of major bleeding under NOACs [91]. Third, there is no sufficient data for the patient population for which this technique is currently recommended, namely patients that have a contraindication for OAC. Although non-randomized data suggest that in these patients, at least the short-term outcome is similar to the group of patients without contraindication against the use of oral anticoagulants [151], the long-term benefit of LAA occlusion in this patient population needs to be confirmed [152].
Future Directions
Albeit often ignored and quoted as having "minimal useful function" [123], the LAA does fulfill a variety of physiologic tasks. It is not just that it operates as a blood reservoir, contracts and thus supports hemodynamics, but it also has a substantial endocrine activity with an atrial natriuretic peptide production of approximately 30% of the whole heart [153]. Furthermore, it serves as a reservoir for cardiac progenitor cells [154]. Little is known about post-device implantation effects on the aforementioned functions [155, 156]. Besides new direct OACs and improved LAA device technology there is currently no other idea to eliminate stroke risk. New directions would include possibilities for local release of blood-thinning agents to decrease whole body adverse effects of anticoagulation, LAA occlusion devices coated with endogenous cell layers to diminish formation of thrombus at the device surface, and 3D printed LAA models to facilitate guiding and device sizing [157].
Conclusions
AF and risk for stroke are closely interwoven. Thus, a variety of pharmacological and non-pharmacological treatments have been evaluated to reduce thromboembolic risks (Fig. 
2
). Pharmacological treatment is appropriate and comfortable for a large proportion of patients. Recently, new OACs have been developed with several advantages over classic VKAs. Despite the initial enthusiasm, all of the new drugs do have distinct limitations and caution has to be exercised when severe comorbidities are present. Furthermore, the potential for drug interaction is not to be underestimated. Worthy of note is the development of antidotes and reversal agents, which had been a major demand in the last few years.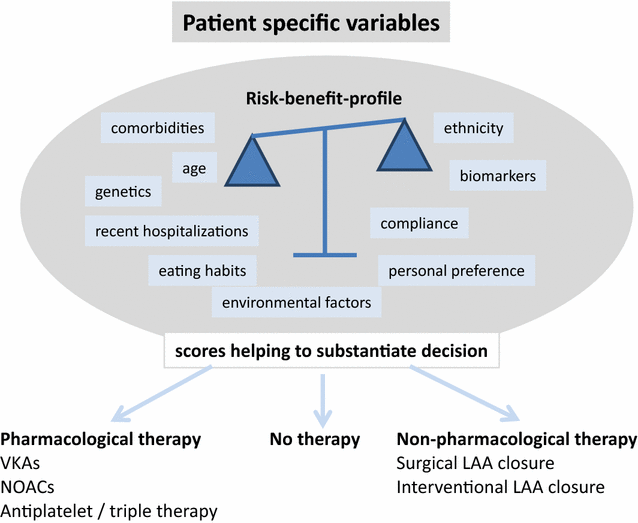 For patients with a high bleeding risk and thus not suitable for oral anticoagulation, a palette of surgical and non-surgical methods for LAA occlusion are available. Of note, LAA occlusion always entails the possibility of severe complications due to the necessary access or complex device positioning. Currently, this therapy is reserved in clinical practice for patients who have a clear indication for anticoagulation but also a contraindication for such a treatment.
Notes
Acknowledgements
No funding or sponsorship was received for publication of this article. All named authors meet the International Committee of Medical Journal Editors (ICMJE) criteria for authorship for this manuscript, take responsibility for the integrity of the work as a whole, and have given final approval for the version to be published.
Disclosures
L. Ueberham reports research grants from Boston Scientific, St. Jude Medical, and Biotronik to the institution (no personal fees). N. Dagres reports research grants from Boston Scientific, St. Jude Medical, and Biotronik to the institution (no personal fees). A. Bollman reports research grants from Boston Scientific, St. Jude Medical, and Biotronik to the institution (no personal fees). G. Hindricks reports research grants from Boston Scientific, St. Jude Medical, and Biotronik to the institution (no personal fees). T. S. Potpara received speaker fees from Bayer and Pfizer.
Compliance with Ethics Guidelines
This article is based on previously conducted studies and does not involve any new studies of human or animal subjects performed by any of the authors.
Open Access
This article is distributed under the terms of the Creative Commons Attribution-NonCommercial 4.0 International License (http://creativecommons.org/licenses/by-nc/4.0/), which permits any noncommercial use, distribution, and reproduction in any medium, provided you give appropriate credit to the original author(s) and the source, provide a link to the Creative Commons license, and indicate if changes were made.