This is a preview of subscription content, log in to check access.
Access options
Buy single article
Instant access to the full article PDF.
US$ 39.95
Tax calculation will be finalised during checkout.
Subscribe to journal
Immediate online access to all issues from 2019. Subscription will auto renew annually.
US$ 79
Tax calculation will be finalised during checkout.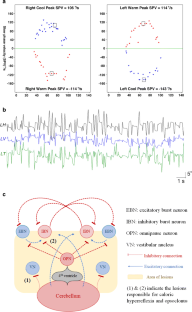 References
1.

Leigh RJ, Zee DS. The neurology of eye movements. New York: Oxford University Press, USA; 2015.

2.

Kang BH, Kim JI. Opsoclonus-myoclonus syndrome associated with mumps virus infection. J Clin Neurol. 2014;10(3):272–5.

3.

Klaas JP, Ahlskog JE, Pittock SJ, Matsumoto JY, Aksamit AJ, Bartleson JD, et al. Adult-onset opsoclonus-myoclonus syndrome. Arch Neurol. 2012;69(12):1598–607.

4.

Bataller L, Graus F, Saiz A, Vilchez JJ, Spanish Opsoclonus-Myoclonus Study G. Clinical outcome in adult onset idiopathic or paraneoplastic opsoclonus-myoclonus. Brain. 2001;124(Pt 2):437–43.

5.

Shaikh AG, Ramat S, Optican LM, Miura K, Leigh RJ, Zee DS. Saccadic burst cell membrane dysfunction is responsible for saccadic oscillations. J Neuroophthalmol. 2008;28(4):329–36.

6.

Ramat S, Leigh RJ, Zee DS, Optican LM. What clinical disorders tell us about the neural control of saccadic eye movements. Brain. 2007;130(Pt 1):10–35.

7.

Rosa A, Masmoudi K, Barbieux D, Mizon JP, Cartz L. Opsoclonus with virus A hepatitis. Neuro-Ophthalmology. 1988;8(5):275–9.

8.

Choi JY, Kim JS, Jung JM, Kwon DY, Park MH, Kim C, et al. Reversed corrective saccades during head impulse test in acute cerebellar dysfunction. Cerebellum. 2014;13(2):243–7.

9.

Choi JY, Kim HJ, Kim JS. Recent advances in head impulse test findings in central vestibular disorders. Neurology. 2018;90(13):602–12.

10.

Torok N. The hyperactive vestibular response. Acta Otolaryngol. 1970;70(3):153–62.

11.

Optican LM, Pretegiani E. A GABAergic dysfunction in the olivary–cerebellar–brainstem network may cause eye oscillations and body tremor. II. Model simulations of saccadic eye oscillations. Front Neurol. 2017;8:372.

12.

Pretegiani E, Rosini F, Rocchi R, Ginanneschi F, Vinciguerra C, Optican LM, et al. GABAAergic dysfunction in the olivary-cerebellar-brainstem network may cause eye oscillations and body tremor. Clin Neurophysiol. 2017;128(3):408–10.

13.

Blazquez PM, Yakusheva TA. GABA-A inhibition shapes the spatial and temporal response properties of Purkinje cells in the macaque cerebellum. Cell Rep. 2015;11(7):1043–53.
Financial Disclosures
This research was supported by Basic Science Research Program through the National Research Foundation of Korea (NRF) funded by the Ministry of Science and ICT (NRF-2017R1C1B1008582).
Ethics declarations
Conflict of Interest
Dr. J.S. Kim serves as an associate editor of Frontiers in Neuro-otology and on the editorial boards of the Journal of Korean Society of Clinical Neurophysiology, the Journal of Clinical Neurology, Frontiers in Neuro-ophthalmology, the Journal of Neuro-ophthalmology, the Journal of Vestibular Research, the Journal of Neurology, and Medicine. Others have no conflicts of interest to disclose.
Ethical Standard
This study followed the tenets of the Declaration of Helsinki and was performed according to the guidelines of the Institutional Review Board of Seoul National University Bundang Hospital (B-1802-448-704).
Additional information
Publisher's Note
Springer Nature remains neutral with regard to jurisdictional claims in published maps and institutional affiliations.
Electronic Supplementary Material
About this article
Cite this article
Lee, SU., Lee, J., Kim, HJ. et al. Vestibular Hyperreflexia and Opsoclonus in Acute Hepatitis A Virus Infection. Cerebellum 18, 1151–1153 (2019). https://doi.org/10.1007/s12311-019-01043-3