Abstract
The present study uses a national sample (N = 3769) and a latent profile framework to examine profiles of school social workers who engage in various levels of ecologically oriented practices at school and in the home and community. Three profiles emerged from the data that consisted of school social workers who reported engaging in low, medium and high levels of ecological practice behaviors across school, family, and community domains. Further examination revealed that school social workers fitting into the profile marked by high levels of self-reported practices at school, with families, and to facilitate community-school linkages were more likely to have a graduate degree, work in a state with certification standards, and have 10 or fewer years of experience compared to school social workers in the other two profiles. Additionally, school social workers who reported high levels of ecological practices were more likely to use evidence-based assessments, programs/practices, and engage in universal school-level prevention efforts more frequently compared to those in the low and medium profiles. Practical implications include the need for pre-service and targeted in-service training as well as policies that support minimum—if not lofty—competencies and state or national certification standards for school social work professionals.
Access options
Buy single article
Instant access to the full article PDF.
US$ 39.95
Tax calculation will be finalised during checkout.
Subscribe to journal
Immediate online access to all issues from 2019. Subscription will auto renew annually.
US$ 79
Tax calculation will be finalised during checkout.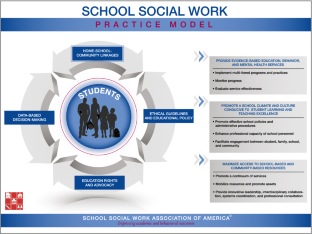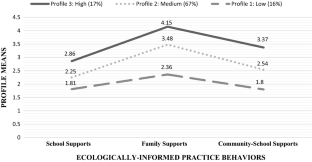 References
Akaike, H. (1981). Likelihood of a model and information criteria. Journal of Econometrics, 16(1), 3–14.

Allen-Meares, P. (1994). Social work services in schools: A national study of entry-level tasks. Social Work, 39, 560–565.

Bronfenbrenner, U. (1979). The ecology of human development: Experiments by nature and design. American Psychologist, 32, 513–531.

Celeux, G., & Soromenho, G. (1996). An entropy criterion for assessing the number of clusters in a mixture model. Journal of Classification, 13(2), 195–212.

Clark, H. B., & Clarke, R. T. (1996). Research on the wraparound process and individualized services for children with multi-system needs. Journal of Child and Family Studies, 5, 1–5.

Costello, A. B., & Osborne, J. W. (2005). Best practices in exploratory factor analysis: Four recommendations for getting the most from your analysis. Practical Assessment, Research & Evaluation, 10(7), 1–9. http://www.pareonline.net/pdf/v10n7.pdf.

Costin, L. B. (1969). An analysis of the tasks in school social work. The Social Service Review, 43, 274–285.

Costin, L. B. (1983). School social work. Journal of Education for Social Work, 19(1), 115–117.

Eber, L., Sugai, G., Smith, C. R., & Scott, T. M. (2002). Wraparound and positive behavioral interventions and supports in the schools. Journal of Emotional and Behavioral Disorders, 10(3), 171–180.

Epstein, M. H., Nordness, P. D., Gallagher, K., Nelson, J. R., Lewis, L., & Schrepf, S. (2005). School as the entry point: Assessing adherence to the basic tenets of the wraparound approach. Behavioral Disorders, 30(2), 85–93.

Every Child Succeeds Act of 2015. (2015). Pub. L. No.144-95 §114 1177.

Fabrigar, L. R., Wegener, D. T., MacCallum, R. C., & Strahan, E. J. (1999). Evaluating the use of exploratory factor analysis in psychological research. Psychological Methods, 4, 272.

Fraley, C., & Raftery, A. E. (1998). How many clusters? Which clustering method? Answers via model-based cluster analysis. The Computer Journal, 41(8), 578–588.

Fraser, M. W., Thompson, A. M., Day, S. H., & Macy, R. J. (2013). The making choices program: Impact of social-emotional skills training on the risk status of third graders. Elementary School Journal, 114, 354–379.

Frey, A. J., Alvarez, M. E., Dupper, D. R., Sabatino, C. A., Lindsey, B. C., Raines, J. C., et al. (2013). School social work practice model. London: School Social Work Association of America.

Gorsuch, R. L. (1997). Exploratory factor analysis: Its role in item analysis. Journal of Personality Assessment, 68(3), 532–560.

Individuals with Disabilities Education Improvement Act. (2004). P.L. 108-446, 118 Stat. 2647.

Kelly, M. S. (2008). The domains and demands of school social work: A guide to working effectively with students, families and schools. New York: Oxford University Press.

Kelly, M. S., Berzin, S. C., Frey, A., Alvarez, M., Shaffer, G., & O'Brien, K. (2010a). The state of school social work: Findings from the national school social work survey. School Ment Health, 2(3), 132–141.

Kelly, M. S., Frey, A. J., Alvarez, M., Berzin, S. C., Shaffer, G., & O'Brien, K. (2010b). School social work practice and response to intervention. Children & Schools, 32(4), 201–209.

Kelly, M. S., Frey, A., Thompson, A., Klemp, H., Alvarez, M., & Berzin, S. C. (2016). Assessing the national school social work practice model: Findings from the second national school social work survey. Social Work, 61, 17–28. https://doi.org/10.1093/sw/swv044.

Kelly, M. S., Thompson, A. M., Frey, A., Klemp, H., Alvarez, M., & Berzin, S. C. (2015). The state of school social work: Revisited. School Mental Health, 7, 1–10.

Little, R. J., & Rubin, D. B. (1989). The analysis of social science data with missing values. Sociological Methods & Research, 18(2–3), 292–326.

Little, R., & Rubin, D. (2002). Statistical analysis with missing data. New York: Wiley.

Lo, Y., Mendell, N. R., & Rubin, D. B. (2001). Testing the number of components in a normal mixture. Biometrika, 88(3), 767–778.

McArdle, J. J. (1990). Principles versus principals of structural factor analyses. Multivariate Behavioral Research, 25(1), 81–87.

McCoach, D. B., Goldstein, J., Behuniak, P., Reis, S. M., Black, A. C., Sullivan, E. E., et al. (2010). Examining the unexpected: Outlier analyses of factors affecting student achievement. Journal of Advanced Academics, 21(3), 426–468.

McLachlan, G., & Peel, D. (2000). Finite mixture models (Vol. 299). Hoboken: Wiley.

Muthén, B. (2001). Latent variable mixture modeling. New Developments and Techniques in Structural Equation Modeling, 1–33.

Muthén, B., & Muthén, L. K. (2000). Integrating person-centered and variable-centered analyses: Growth mixture modeling with latent trajectory classes. Alcoholism, Clinical and Experimental Research, 24(6), 882–891.

Muthén, L. K., & Muthén, B. O. (2013). Mplus 7.11. Los Angeles, CA: Muthén & Muthén.

No Child Left Behind Act of 2001. (2002). P.L. 107-110, 115 Stat. 1425.

Nylund, K. L., Asparouhov, T., & Muthén, B. O. (2007). Deciding on the number of classes in latent class analysis and growth mixture modeling: A Monte Carlo simulation study. Structural Equation Modeling, 14(4), 535–569.

Perfect, M., & Morris, R. (2011). School-based mental health services by school psychologists: Education, training, and ethical issues. Psychology in the Schools, 48, 1049–1063.

Phillippo, K. L., Kelly, M. S., Shayman, E., & Frey, A. (2017). School social worker practice decisions: The impact of professional models, training, and school context. Families in Society: The Journal of Contemporary Social Services, 98(4), 275–283.

Schwarz, G. (1978). Estimating the dimension of a model. The Annals of Statistics, 6, 461–464.

Swanson, S. A., Lindenberg, K., Bauer, S., & Crosby, R. D. (2012). A Monte Carlo investigation of factors influencing latent class analysis: An application to eating disorder research. International Journal of Eating Disorders, 45(5), 677–684.

Tabachnick, B. G., & Fidell, L. S. (2001). Using multivariate statistics. Boston: Allyn & Bacon.

Thompson, A. M., Reinke, W. M., & Herman, K. C. (2014). The value, practice, and evaluation of teaching social emotional learning to students with and without disabilities. In C. R. Massat, M. S. Kelly, & R. Constable (Eds.), School social work: Practice, policy, and research (8th ed.). New York: Oxford.

Vrieze, S. I. (2012). Model selection and psychological theory: A discussion of the differences between the Akaike information criterion (AIC) and the Bayesian information criterion (BIC). Psychological Methods, 17(2), 228.

Vuong, Q. H. (1989). Likelihood ratio tests for model selection and non-nested hypotheses. Econometrica: Journal of the Econometric Society, 57, 307–333.
Ethics declarations
Conflicts of interest
The authors declare that they have no conflict of interest.
Ethical Approval
The research performed here was approved and overseen by the Institutional Review Board of Loyola University at Chicago.
Human and Animal Rights
All procedures performed in studies involving human participants were in accordance with the ethical standards of the institutional and/or national research committee and with the 1964 Helsinki declaration and its later amendments or comparable ethical standards.
Informed Consent
Informed consent was obtained from all individual participants included in the study.
About this article
Cite this article
Thompson, A.M., Frey, A.J. & Kelly, M.S. Factors Influencing School Social Work Practice: A Latent Profile Analysis. School Mental Health 11, 129–140 (2019). https://doi.org/10.1007/s12310-018-9279-y
Keywords
School social work

Evidence-based practice

Barriers

Ecological systems theory

Latent profile analysis