Abstract
Background
The number of hip replacements is constantly and progressively increasing, resulting in an increase in periprosthetic fractures. The main aim of this study is to analyze costs and outcomes of surgical treatment for those fractures.
Materials and methods
A retrospective study was performed on periprosthetic proximal femur fracture presented a single-level I trauma center. Medical records were reviewed in terms of demographic data, diagnosis (according to Vancouver classification), type of surgical treatment, hospitalization length and follow-up. Patients were interviewed about number of consultations after discharge, medications and physiotherapy sessions. Clinical outcome was evaluated with WOMAC score at the last follow-up, and patient health status was evaluated with the EQ5D5L score pre-trauma and at the last follow-up. Patients were divided into two groups according to surgical treatment: reduction and internal fixation alone and revision plus fixation. A further group was also considered: patients underwent a Girdlestone procedure. Global costs for each group were calculated.
Results
We initially recruited 117 patients, 17 of them were lost at follow-up. Furthermore, 19 patients (19%) died during the follow-up, and 81 of them were therefore included in the study. Mean follow-up was 26.5 months. Mean postoperative WOMAC score was 39.44, and EQ5D5L score was 9.12 for the preoperative period and 12.35 at the last follow-up. A significant worsening of clinical conditions was found comparing the period before fracture to the last follow-up (p < 0.01). Quality of life after surgery resulted to be poor or fair in 40% of the patients at a mean follow-up of 26.5 months. No significant differences between groups were found according to patients' health status. Mean global costs for mayor surgeries were 18,822 Euros; mean costs for fixation alone were 17,298 Euros while for fixation and revision were 20,966 Euros, but no statistically difference was found between these two groups. Mean cost for Girdlestone group was 12,664 Euros.
Conclusions
In proximal femur periprosthetic fractures, either fixation or revision plus fixation presents high costs but patients' postoperative quality of life is poor.
Access options
Buy single article
Instant access to the full article PDF.
US$ 39.95
Tax calculation will be finalised during checkout.
Subscribe to journal
Immediate online access to all issues from 2019. Subscription will auto renew annually.
US$ 79
Tax calculation will be finalised during checkout.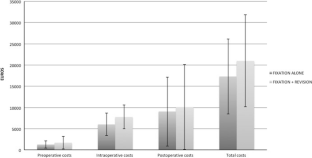 Data availability
Data are available on the server of University of Turin.
References
1.

Anakwe RE, Aitken SA, Khan LA (2008) Osteoporotic periprosthetic fractures of the femur in elderly patients: outcomes after fixation with the LISS plate. Injury 39:1191–1197

2.

Singh JA, Jensen M, Lewallen D (2013) Predictors of periprosthetic fracture after total knee replacement: an analysis of 21,723 cases. Acta Orthop 84:170–177

3.

Cook RE, Jenkins PJ, Walmsley PJ, Patton JT, Robinson CM (2008) Risk factors for periprosthetic fractures of the hip: a survivorship analysis. Clin Orthop Relat Res 466:1652–1656

4.

Moloney GB, Toro JB, Helfet DL, Wellman DS (2016) Proximal periprosthetic femur fractures: strategies for internal fixation. Am J Orthop (Belle Mead NJ) 45:213–218

5.

Holley K, Zelken J, Padgett D, Chimento G, Yun A, Buly R (2007) Periprosthetic fractures of the femur after hip arthroplasty: an analysis of 99 patients. HSS J 3:190–197

6.

Brand S, Ettinger M, Omar M, Hawi N, Krettek C, Petri M (2015) Concepts and potential future developments for treatment of periprosthetic proximal femoral fractures. Open Orthop J 9:405–411

7.

Schwarzkopf R, Oni JK, Marwin SE (2013) Total hip arthroplasty periprosthetic femoral fractures: a review of classification and current treatment. Bull Hosp Jt Dis 71:68–78

8.

Fleischman AN, Chen AF (2015) Periprosthetic fractures around the femoral stem: overcoming challenges and avoiding pitfalls. Ann Transl Med 3:234

9.

Zuurmond RG, van Wijhe W, van Raay JJ, Bulstra SK (2010) High incidence of complications and poor clinical outcome in the operative treatment of periprosthetic femoral fractures: an analysis of 71 cases. Injury 41:629–633

10.

Conner-Spady BL, Marshall DA, Bohm E, Dunbar MJ, Loucks L, Al Khudairy A, Noseworthy TW (2015) Reliability and validity of the EQ-5D-5L compared to the EQ-5D-3L in patients with osteoarthritis referred for hip and knee replacement. Qual Life Res 24:1775–1784

11.

Doyle DJ, Goyal A, Bansal P, et al (2020) American society of anesthesiologists classification (ASA Class) [Updated 2020 Jul 4]. In: statpearls [Internet]. Treasure Island (FL): StatPearls Publishing; Available from: https://www.ncbi.nlm.nih.gov/books/NBK441940

12.

Ackerman IN, Tacey MA, Ademi Z, Bohensky MA, Liew D, Brand CA (2014) Using WOMAC index scores and personal characteristics to estimate assessment of quality of life utility scores in people with hip and knee joint disease. Qual Life Res 23:2365–2374

13.

Walker LC, Clement ND, Bardgett M, Weir D, Holland J, Gerrand C, Deehan DJ (2018) The WOMAC score can be reliably used to classify patient satisfaction after total knee arthroplasty. Knee Surg Sport Traumatol Arthrosc 26:3333–3341

14.

Adam T, Evans DB, Murray CJ (2003) Econometric estimation of country-specific hospital costs. Cost Eff Resour Alloc 26(1):3

15.

Tan SS, Bakker J, Hoogendoom ME et al (2012) Direct cost analysis of intensive care unit stay in four European countries: applying a standardized costing methodology. Val Health 15:81–86

16.

Macario A (2010) What does one minute of operating room time cost? J Clin Anesth 22:233–236

17.

Piscitelli P, Iolascon G et al (2012) Incidence and costs of hip fractures vs strokes and acute myocardial infarction in Italy: comparative analysis based on national hospitalization records. Clin Interv Aging 7:575–583

18.

Ruscitti G (2008) Tutti i costi delle trasfusioni. II Sole 24 ore, 1–7

19.

Lernout T, Labalette C, Sedel L, Kormann P, Duteil C, Le Divenah A, Bertrand D (2010) Cost analysis in total hip arthroplasty: experience of a teaching medical center located in paris. Orthop Traumatol Surg Res 96(2):113–123

20.

Crowe JF, Sculco T, Kahn B (2003) Revision total hip arthroplasty: hospital cost and reimbursement analysis. Clin Orthop Relat Res 413:175–182

21.

Aprato A, Joeris A, Tosto F, Kalampoki V, Stucchi A, Massè A (2016) Direct and indirect costs of surgically treated pelvic fractures. Arch Orthop Trauma Surg 136(3):325–330

22.

Johnson-Lynn S, Ngu A, Holland J, Carluke I, Fearon P (2016) The effect of delay to surgery on morbidity, mortality and length of stay following periprosthetic fracture around the hip. Injury 47(3):725–727

23.

Sellan ME, Lanting BA, Schemitsch EH, MacDonald SJ, Vasarhelyi EM, Howard JL (2018) Does time to surgery affect outcomes for periprosthetic femur fractures? J Arthroplast 33(3):878–881

24.

Moreta J, Aguirre U, de Sáez Ugarte O, Jáuregui I, De Martínez Los Mozos JL (2015) Functional and radiological outcome of periprosthetic femoral fractures after hip arthroplasty. Injury 46(2):292–298

25.

Streubel PN (2013) Mortality after periprosthetic femur fractures. J Knee Surg 26:27–30

26.

Drew J, Griffin W, Odum S, Van Doren B (2016) Survivorship after periprosthetic femur fracture: factors affecting outcome. J Arthroplast 31(6):1283–1288

27.

Lindahl H, Oden A, Garellick G, Malchau H (2007) The excess mortality due to periprosthetic femur fracture. A study from the Swedish national hip arthroplasty register. Bone 40(5):1294–1298
Funding
Azienda Ospedaliero Universitaria Città della Salute e della Scienza.
Ethics declarations
Conflict of interest
All authors declare that they have no conflict of interest.
Ethical approval
This study was approved by the Institutional Review Board (IRB) of Azienda Ospedaliero Universitaria Città della Salute e della Scienza, and the protocols used in the study were approved by the local ethical committee.
Informed consent
All patients agreed for publication.
Additional information
Publisher's Note
Springer Nature remains neutral with regard to jurisdictional claims in published maps and institutional affiliations.
About this article
Cite this article
Aprato, A., Tosto, F., Comba, A. et al. The clinical and economic burden of proximal femur periprosthetic fractures. Musculoskelet Surg (2021). https://doi.org/10.1007/s12306-020-00694-4
Received:

Accepted:

Published:
Keywords
Hip fractures

Periprosthetic fractures

Femur fractures

Clinical results

Costs

Life quality