Abstract
In the present scenario of climate change with constantly increasing CO2 concentration, there is a risk of altered crop performance in terms of growth, yield, grain nutritional value and seed quality. Therefore, an experiment was conducted in open top chamber (OTCs) during 2017–18 and 2018–19 to assess the effect of elevated atmospheric carbondioxide (e[CO2]) (600 ppm) on chickpea (cv. JG 14) crop growth, biomass accumulation, physiological function, seed yield and its quality in terms of germination and vigour. The e[CO2] treatment increased the plant height, leaf and stem biomass over ambient CO2 (a[CO2]) treatment. The e[CO2] increased seed yield by 11–18% which was attributed to an increase in the number of pods (6–10%) and seeds plant−1 (8–9%) over a[CO2]. However, e[CO2] reduced the seed protein (7%), total phenol (13%) and thiobarbituric acid reactive substances (12%) and increased the starch (21%) and water uptake rate as compared to seeds harvested from a[CO2] environment. Exposing chickpea plant to e[CO2] treatment had no impact on germination and vigour of the harvested seeds. Also, the physical attributes, total soluble sugar and antioxidant enzymes activities of harvested seeds were comparable in a[CO2] and e[CO2] treatment. Hence, the experimental findings depict that e[CO2] upto 600 ppm could add to the growth and productivity of chickpea in a sub-tropical climate with an implication on its nutritional quality of the produce.
Access options
Buy single article
Instant access to the full article PDF.
US$ 39.95
Tax calculation will be finalised during checkout.
Subscribe to journal
Immediate online access to all issues from 2019. Subscription will auto renew annually.
US$ 79
Tax calculation will be finalised during checkout.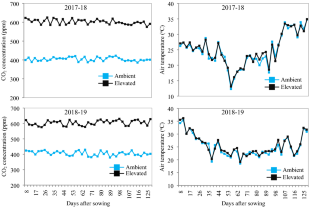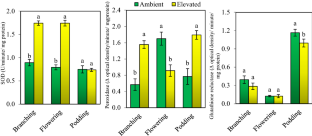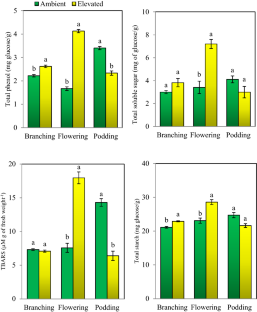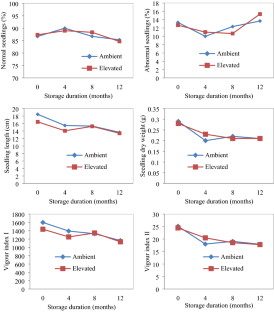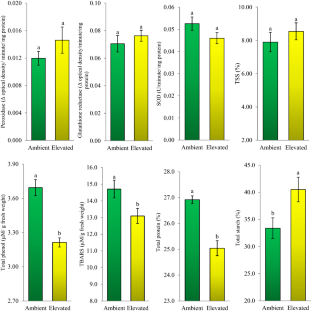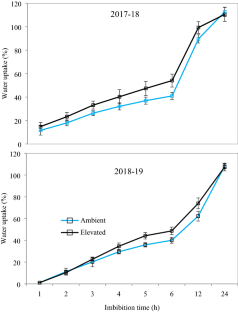 References
Abdul-Baki AA, Anderson JD (1973) Vigour determination in soybean seed by multiple criteria. Crop Sci 13:630–633

Ainsworth EA, Long SP (2005) What have we learned from 15 years of free-air CO2 enrichment (FACE)? A meta-analytic review of the responses of photosynthesis, canopy properties and plant production to rising CO2. New Phytol 165:351–372

Beauchamp C, Fridovich I (1971) Superoxide dismutase: Improved assays and an assay applicable to acrylamide gels. Anal Biochem 44:276–287

Bowes G (1993) Facing the inevitable: plant and increasing atmospheric CO2. Annu Rev Plant Physiol Plant Mol Biol 44:309–332

Canadell JG, Le Quere C, Raupach MR, Field CB, Buitenhuis ET, Ciais P, Conway TJ, Gillett NP, Houghton RA, Marland G (2007) Contributions to accelerating atmospheric CO2 growth from economic activity, carbon intensity, and efficiency of natural sinks. PNAS 104(47):18866–18870

Castillo FJ, Penel C, Greppin H (1984) Peroxidase release induced by ozone in Sedum album leaves. Plant Physiol 74:846–851

Chakrabarti B, Singh SD, Bhatia A, Kumar V, Harit RC (2020) yield and nitrogen uptake in wheat and chickpea grown under elevated carbon dioxide level. Natl Acad Sci Lett 43:109–113

Chen C, Jiang Q, Ziska LH, Zhu J, Liu G, Zhang J, Ni K, Seneweera S, Zhu C (2015) Seed vigor of contrasting rice cultivars in response to elevated carbon dioxide. Field Crops Res 178:63–68

DuBois M, Gilles K, Hamilton J, Rebers P, Smith F (1956) Colorimetric method for determination of sugars and related substances. Anal Chem 28(3):350–356

Edwards GR, Clark H, Newton PCD (2001) The effects of elevated CO2 on seed production and seedling recruitment in a sheep-grazed pasture. Oecologia 127:383–394

Fangmeier A, De Temmerman L, Mortensen L, Kemp K, Burke J, Mitchell R, van Oijen M, Weigel HJ (1999) Effects of nutrients on grain quality in spring wheat crops grown under elevated CO2 concentrations and stress conditions in the European multiple-site experiment 'ESPACE-wheat.' Eur J Agron 10:215–229

Food and Agriculture Organization (2014) FAOSTAT Database. Food and Agriculture Organization of the United Nations, Rome

Godfray HC, Crute IR, Haddad L, Lawrence D, Muir JF, Nisbett N, Pretty J, Robinson S, Toulmin C, Whiteley R (2010) The future of the global food system. Philos Trans R Soc Lond B Biol Sci 365(1554):2769–2777

Goufo P, Pereira J, Figueiredo N, Oliveira MBP, Carranca C, Rosa EA, Trindade H (2014) Effect of elevated carbon dioxide (CO2) on phenolic acids, flavonoids, tocopherols, tocotrienols, γ-oryzanol and antioxidant capacities of rice (Oryza sativa L.). J Cereal Sci 59(1):1524

Hampton JG, Boelt B, Rolston MP, Chastain TG (2013) Effects of elevated CO2 and temperature on seed quality. J Agric Sci 151(2):154–162

IPCC (2014) Climate change impacts, adaptation, and vulnerability. Part A: Global and sectoral aspects. Contribution of working group II to the fifth assessment report of the Intergovernmental Panel on Climate Change. Cambridge university press, Cambridge.

ISTA (2015) International Rules for Seed Testing. International Seed Testing Association, Bassersdorf

Kjeldahl J (1883) New method for the determination of nitrogen in organic substances. Z Anal Chem 22(1):366–383

Lamichaney A, Katiyar PK, Laxmi V, Pratap A (2018) Variation in pre-harvest sprouting tolerance and fresh seed germination in mungbean (Vigna radiata L) genotypes. Plant Genet Resour 16(5):437–445

Lamichaney A, Katiyar PK, Natarajan S, Sripathy KV (2016) Relationship among some seed characters, laboratory germination and field emergence in chickpea (Cicer arietinum L.) genotypes differing in testa colour. J Food Leg 29(1):29–32

Lamichaney A, Kudekallu S, Kamble U, Sarangapany N, Katiyar PK, Bohra A (2017) Differences in seed vigour traits between desi (pigmented) and kabuli (non–pigmented) ecotypes of chickpea (Cicer arietinum) and its association with field emergence. J Environ Biol 38(5):735–742

Lamichaney A, Swain DK, Biswal P, Kumar V, Singh NP, Hazra KK (2019) Elevated atmospheric carbon–dioxide affects seed vigour of rice (Oryza sativa L.). Environ Exp Bot 157:171–176

Loewus FA (1952) Improvement in the anthrone assay for determination of carbohydrates. Anal Chem 24:219

Long SP, Drake BG (1992) Photosynthetic CO2 assimilation and rising atmospheric CO2 concentrations. In: Baker NR, Thomas H (eds) Crop photosynthesis: Spatial and temporal determinants. Elsevier Science Publishers BV, Amsterdam, pp 69–103

Maity A, Chakrabarty SK (2013) Effect of environmental factors on hybrid seed quality of Indian mustard (Brassica juncea). Afr J Agric Res 8(48):6213–6219

Maity A, Pramanik P (2013) Climate change and seed quality; an alarming issue in crop husbandary. Curr Sci 105(10):1136–1138

Maity A, Vijay D, Mukherjee A, Lamichaney A (2016) Potential impacts of climate change on quality seed production: a perspective of hill agriculture. In: Bisht J, Meena V, Mishra P, Pattanayak A (eds) Conservation agriculture. Springer, Singapore, pp 459–485

Margna U, Vainjlrv T, Laanest L (1989) Different L-phenylalanine pools available for the biosynthesis of phenolics in buckwheat seedling tissues. Phytochemistry 28:469–475

Mishra AK, Agrawal SB (2014) Cultivar specific response of CO2 fertilization on two tropical mung bean (Vigna radiata L.) cultivars: ROS generation, antioxidant status, physiology, growth, yield and seed quality. J Agron Crop Sci 200(4):273–289

Moore BD, Cheng SH, Sims D, Seemann JR (1999) The biochemical and molecular basis for photosynthetic acclimation to elevated atmospheric CO2. Plant Cell Environ 22:567–582

Ohkawa H, Ohishi N, Yagi K (1979) Assay for lipid peroxides in animal tissues by thiobarbituric acid reaction. Anal Biochem 95:351–358

Pal G, Channanamchery R, Singh RK, Kethineni UB, Ram H, Prasad SR (2016) An economic analysis of pigeonpea seed production technology and its adoption behavior: Indian context. Sci World J 2016:1–7

Rai P, Chaturvedi AK, Shah D, Pal M (2016) Impact of elevated CO2 on high temperature induced effects in grain yield of chickpea (Cicer arietinum). Indian J Agric Sci 86(3):414–417

Rogers A, Ainsworth EA, Leakey AD (2009) Will elevated carbon dioxide concentration amplify the benefits of nitrogen fixation in legumes? Plant Physiol 151(3):1009–1016

Saha S, Chakraborty D, Sehgal VK, Pal M (2015a) Potential impact of rising atmospheric CO2 on quality of grains in chickpea (Cicer arietinum L.). Food Chem 187:431–436

Saha S, Chakraborty D, Sehgal VK, Pal M (2015b) Rising atmospheric CO2: potential impacts on chickpea seed quality. Agric Ecosyst Environ 203:140–146

Saha S, Sehgal VK, Chakraborty D, Pal M (2013) Growth behavior of kabuli chickpea under elevated atmospheric CO2. J Agric Phys 13(1):55–61

Sanhewe AJ, Ellis RH, Hong TD, Wheeler TR, Batts GR, Hadley P, Morrison JIL (1996) The effect of temperature and CO2 on seed quality development in wheat (Triticum aestivum L.). J Exp Bot 47:631–637

Singh RN, Mukherjee J, Sehgal VK, Bhatia A, Krishnan P, Das DK, Kumar V, Harit R (2017) Effect of elevated ozone, carbon dioxide and their interaction on growth, biomass and water use efficiency of chickpea (Cicer arietinum L). J Agrometeorol 19(4):301–305

Smith IK, Vierheller TL, Thorne CA (1988) Assay of glutathione reductase in crude tissue homogenates using 5,5′- dithiobis (2-nitrobenzoic acid). Anal Biochem 175:408–413

Steinger T, Gall R, Schmid B (2000) Maternal and direct effects of elevated CO2 on seed provisioning, germination and seedling growth in Bromus erectus. Oecologia 123:475–480

Streck NA (2005) Climate change and agroecosystems: the effect of elevated atmospheric carbondioxide and temperature on crop growth, development and yield. Ciencia Rural Santa Maria 35(3):730–740

Thinh NC, Kumagai E, Shimono H, Kawasaki M (2017) Effects of elevated CO2 concentration on bulbil germination and early seedling growth in Chinese yam under different air temperatures. Plant Prod Sci 20(3):313–322

Thomas JMG, Prasad PVV, Boote KJ, Allen LH (2009) Seed composition, seedling emergence and early seedling vigour of red kidney bean seed produced at elevated temperature and carbon dioxide. J Agron Crop Sci 195:148–156

Wang L, Feng ZZ, Schjoerring JK (2013) Effects of elevated atmospheric CO2 on physiology and yield of wheat (Triticum aestivum L.): A meta-analytic test of current hypotheses. Agric Ecosyst Environ 178:57–63

Way DA, Ladeau SL, Mccarthy HR, Clark JS, Oren R, Finzi AC, Jackson RB (2010) Greater seed production in elevated CO2 is not accompanied by reduced seed quality in Pinus taeda L. Glob Chang Biol 16:1046–1056

Wu DX, Wang GX, Bai YF, Liao JX (2004) Effects of elevated CO2 concentration on growth, water use, yield and grain quality of wheat under two soil water levels. Agric Ecosyst Environ 104:493–507

Wulf RD, Alexander HM (1985) Intraspecific variation in the response to CO2 enrichment in seeds and seedlings of Plantago lanceolata. Oecologia 66:458–460

Xu B, Chang S (2007) A comparative study on phenolic profiles and antioxidant activities of legumes as affected by extraction solvents. J Food Sci 72:159–166

Ziska LH, Bunce JA (1993) The influence of elevated CO2 and temperature on seed germination and emergence from soil. Field Crops Res 34:147–157
Acknowledgements
Authors are thankful to the Division of Crop Protection, ICAR-Indian Institute of Pulses Research for providing the Open Top Chamber facility.
Ethics declarations
Conflict of interest
The authors report no any conflict of interest.
Additional information
Publisher's Note
Springer Nature remains neutral with regard to jurisdictional claims in published maps and institutional affiliations.
About this article
Cite this article
Lamichaney, A., Tewari, K., Basu, P.S. et al. Effect of elevated carbon-dioxide on plant growth, physiology, yield and seed quality of chickpea (Cicer arietinum L.) in Indo-Gangetic plains. Physiol Mol Biol Plants 27, 251–263 (2021). https://doi.org/10.1007/s12298-021-00928-0
Received:

Revised:

Accepted:

Published:

Issue Date:
Keywords
Biomass

Chickpea

Elevated carbondioxide

Germination

Open top chambers

Protein

Vigour

Yield