Abstract
WRKY transcription factors play vital roles in response to biotic and abiotic stresses in plants. As a kind of high value medicinal plant, Polygonatum odoratum has an ability to tolerate various abiotic stresses because of the special growth condition. In current study, a novel WRKY gene from P. odoratum is isolated and compared with homologous sequences from other plants. PoWRKY1 possesses two typical WRKY domains and two C2H2 zinc-finger motifs. Evolutionary analysis indicated that PoWRKY1 is most closely related to WRKY protein from Asparagus officinalis. Expression analysis showed that expression of PoWRKY1 is induced by cold and drought stresses but not salt stress. Overexpression of PoWRKY1 in Arabidopsis improved seed germination and root growth of transgenic plants during cold stress and drought. In addition, super oxide dismutase activity and proline content in transgenic plants increased under cold and drought stresses, whereas malondialdehyde levels and relative electrolyte leakage reduced under similar stress conditions. Taken together, these results showed that PoWRKY1 enhances the tolerance to cold and drought stresses. This study lays a potential foundation to understand the molecular mechanism of tolerance to abiotic stress in P. odoratum.
Access options
Buy single article
Instant access to the full article PDF.
US$ 39.95
Tax calculation will be finalised during checkout.
Subscribe to journal
Immediate online access to all issues from 2019. Subscription will auto renew annually.
US$ 79
Tax calculation will be finalised during checkout.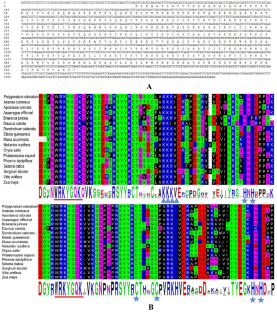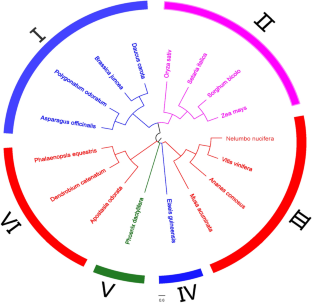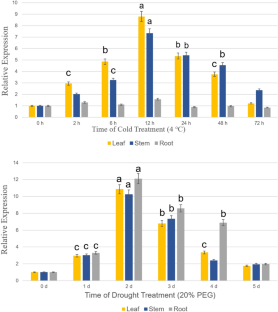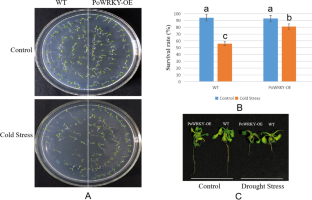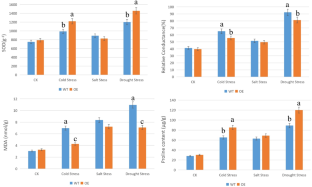 Abbreviations
TF:

Transcription factor

ABA:

Abscisic acid

SOD:

Super oxide dismutase

MDA:

Malondialdehyde

NJ:

Neighbor-joining

PCR:

Polymerase chain reaction

qRT-PCR:

Quantitative real time polymerase chain reaction

NBT:

Nitro blue tetrazolium

WT:

Wild type

NLS:

Nuclear localization signal

POD:

Peroxidase

CAT:

Catalase

ROS:

Reactive oxygen species

POD:

Peroxidase

TBA:

Thiobarbituric acid
References
Amorim LLB, da Fonseca R, Neto JPB, Guida-Santos M, Crovella S, Benko-Iseppon AM (2017) Transcription factors involved in plant resistance to pathogens. Curr Protein Pept Sci 18(4):335–351

Baillo EH, Hanif MS, Guo Y, Zhang Z, Xu P, Algam SA (2020) Genome-wide Identification of WRKY transcription factor family members in sorghum (Sorghum bicolor (L.) moench). PLoS ONE 15(8):e0236651

Bakshi M, Oelmuller R (2014) WRKY transcription factors. Plant Signal Behav 9:e27700

Banerjee A, Roychoudhury A (2015) WRKY proteins: signaling and regulation of expression during abiotic stress responses. Sci World J 2015:807560

Bu J, Li DW, Wang DM (2012) Correlations between wild Polygonatum odoratum quality and main ecological factors. Chin J Appl Ecol 23(6):1447–1454

Chen L, Song Y, Li S, Zhang L, Zou C, Yu D (2012) The role of WRKY transcription factors in plant abiotic stresses. Biochim Biophys Acta 1819:120–128

Duangjai A, Parseatsook K, Sajjapong W, Saokaew S (2020) Assessment of Polygonum odoratum Lour. Leaf extract on rat's ileum contraction and the nechanisms involved. J Med Food. https://doi.org/10.1089/jmf.2020.4769(Epub ahead of print)

Eulgem T, Rushton PJ, Robatzek S, Somssich IE (2000) The WRKY superfamily of plant transcription factors. Trends Plant Sci 5:199–206

Gong X, Zhang J, Hu J, Wang W, Wu H, Zhang Q, Liu J (2015) FcWRKY70, a WRKY protein of Fortunella crassifolia, functions in drought tolerance and modulates putrescine synthesis by regulating arginine decarboxylase gene. Plant, Cell Environ 38(11):2248–2262

Gu L, Li L, Wei H, Wang H, Su J, Guo Y, Yu S (2018) Identification of the group IIa WRKY subfamily and the functional analysis of GhWRKY17 in upland cotton (Gossypium hirsutum L.). PLoS ONE 13(1):e0191681

Guitián J, Medrano M, Oti JE (2004) Variation in floral sex allocation in Polygonatum odoratum (Liliaceae). Ann Bot 94(3):433–440

Jiang J, Ma S, Ye N, Jiang M, Cao J, Zhang J (2017) WRKY transcription factors in plant responses to stresses. J Integr Plant Biol 59(2):86–101

Kiranmai K, Lokanadha Rao G, Pandurangaiah M, Nareshkumar A, Reddy V, Lokesh U, Venkatesh B, Johnson A, Sudhakar C (2018) A novel WRKY transcription factor, MuWRKY3 (Macrotyloma uniflorum Lam. Verdc.) enhances drought stress tolerance in transgenic groundnut (Arachis hypogaea L.). Plants. Front Plant Sci 9:346

Li MY, Xu ZS, Tian C, Huang Y, Wang F, Xiong AS (2016) Genomic identification of WRKY transcription factors in carrot (Daucus carota) and analysis of evolution and homologous groups for plants. Sci Rep 6:23101

Li J, Xiong Y, Li Y, Ye S, Yin Q, Gao S, Yang D, Yang M, Palva ET, Deng X (2019) Comprehensive analysis and gunctional studies of WRKY transcription factors in Nelumbo nucifera. Int J Mol Sci 20(20):5006

Liu Q, Li W, Nagata K, Fu H, Okada S, Tanabe I, Kobori Y, Higai K, Norie W, Sasaki T, Asada Y, Zhao H, Bai H, Koike K (2018) Isolation, structural elucidation, and liquid chromatography-mass spectrometry analysis of steroidal glycosides from Polygonatum odoratum. J Agric Food Chem 66(2):521–531

Liu Y, Yang T, Lin Z, Gu B, Xing C, Zhao L, Dong H, Gao J, Xie Z, Zhang S, Huang X (2019) A WRKY transcription factor PbrWRKY53 from Pyrus betulaefolia is involved in drought tolerance and AsA accumulation. Plant Biotechnol J 17(9):1770–1787

Livak KJ, Schmittgen TD (2001) Analysis of relative gene expression data using real-time quantitative PCR and the 2−ΔΔCT method. Methods 25:402–408

Luo X, Bai X, Sun X, Zhu D, Liu B, Ji W, Cai H, Cao L, Wu J, Hu M, Liu X, Tang L, Zhu Y (2013) Expression of wild soybean WRKY20 in Arabidopsis enhances drought tolerance and regulates ABA signalling. J Exp Bot 64(8):2155–21691

Luo DL, Ba LJ, Shan W, Kuang JF, Lu WJ, Chen JY (2017) Involvement of WRKY transcription factors in abscisic-acid-induced cold tolerance of Banana fruit. J Agric Food Chem 65(18):3627–3635

Mitsuda N, Ohme-Takagi M (2009) Functional analysis of transcription factors in Arabidopsis. Plant Cell Physiol 50:1232–1248

Muthamilarasan M, Bonthala VS, Khandelwal R, Jaishankar J, Shweta S, Nawaz K, Prasad M (2015) Global analysis of WRKY transcription factor superfamily in Setaria identifies potential candidates involved in abiotic stress signaling. Front Plant Sci 6:910

Ng DW, Abeysinghe JK, Kamali M (2018) Regulating the regulators: the control of transcription factors in plant defense signaling. Int J Mol Sci 19(12):3737

Nuruzzaman M, Sharoni AM, Satoh K, Kumar A, Leung H, Kikuchi S (2014) Comparative transcriptome profiles of the WRKY gene family under control, hormone-treated, and drought conditions in near-isogenic rice lines reveal differential, tissue specific gene activation. J Plant Physiol 171(1):2–13

Okonogi S, Kheawfu K, Holzer W, Unger FM, Viernstein H, Mueller M (2016) Anti-inflammatory effects of compounds from Polygonum odoratum. Nat Prod Commun 11(11):1651–1654

Rosskopf EN, Yandoc CB, Stange B, Lamb EM, Mitchell DJ (2005) First report of pythium root rot of Rau Ram (Polygonum odoratum). Plant Dis 89(3):340

Rushton DL, Tripathi P, Rabara RC, Lin J, Ringler P, Boken AK, Langum TJ, Smidt L, Boomsma DD, Emme NJ, Chen X, Finer JJ, Shen QJ, Rushton PJ (2012) WRKY transcription factors: key components in abscisic acid signalling. Plant Biotechnol J 10:2–11

Ryu HS, Han M, Lee SK, Cho JI, Ryoo N, Heu S, Lee YH, Bhoo SH, Wang GL, Hahn TR, Jeon JS (2006) A comprehensive expression analysis of the WRKY gene superfamily in rice plants during defense response. Plant Cell Rep 25(8):836–847

Satapathy L, Kumar D, Kumar M, Mukhopadhyay K (2018) Functional and DNA-protein binding studies of WRKY transcription factors and their expression analysis in response to biotic and abiotic stress in wheat (Triticum aestivum L.). 3 Biotech 8(1):40

Song H, Wang P, Hou L, Zhao SZ, Zhao CZ, Xia H, Li P, Zhang Y, Bian XT, Wang XJ (2016) Global analysis of WRKY genes and their response to dehydration and salt stress in soybean. Front Plant Sci 7:9

Srivastava R, Kumar S, Kobayashi Y, Kusunoki K, Tripathi P, Kobayashi Y, Koyama H, Sahoo L (2018) Comparative genome-wide analysis of WRKY transcription factors in two Asian legume crops: Adzuki bean and Mung bean. Sci Rep 8(1):16971

Sun X, Zhang L, Wong DCJ, Wang Y, Zhu ZF, Xu GZ, Wang QF, Li SH, Liang ZC, Xin HP (2019) The ethylene response factor VaERF092 from Amur grape regulates the transcription factor VaWRKY33, improving cold tolerance. Plant J 99(5):988–1002

Tao Q, Tamura K, Battistuzzi F, Kumar S (2018) Corrtest: A new method for detecting correlation of evolutionary rates in a phylogenetic tree. bioRxiv

Wang L, Zhu W, Fang L, Sun X, Su L, Liang Z, Wang N, Londo JP, Li S, Xin H (2014) Genome-wide identification of WRKY family genes and their response to cold stress in Vitis vinifera. BMC Plant Biol 14:103

Wang EH, Xu YH, Zhand ZB, Xu DW, Xi GS, Zhang LX (2015) Effects of constant low temperature on cold resistance of different strains Polygonatum odoratum. China J Chin Mater Med 40(1):68–72

Wang CT, Ru JN, Liu YW, Li M, Zhao D, Yang JF, Fu JD, Xu ZS (2018a) Maize WRKY Transcription factor ZmWRKY106 confers drought and heat tolerance in transgenic plants. Int J Mol Sci 19(10):3046

Wang Y, Fei Y, Liu L, Xiao YH, Pang YL, Kang JH, Wang Z (2018b) Polygonatum odoratum polysaccharides modulate gut microbiota and mitigate experimentally induced obesity in rats. Int J Mol Sci 19(11):3587

Wei K, Chen J, Chen Y, Wu L, Xie D (2012) Multiple-strategy analyses of ZmWRKY subgroups and functional exploration of ZmWRKY genes in pathogen responses. Mol BioSyst 8(7):1940–1949

Xiao Y, Zhou L, Lei X, Cao H, Wang Y, Dou Y, Tang W, Xia W (2017) Genome-wide identification of WRKY genes and their expression profiles under different abiotic stresses in Elaeis guineensis. PLoS ONE 12(12):e0189224

Yokotani N, Sato Y, Tanabe S, Chujo T, Shimizu T, Okada K, Yamane H, Shimono M, Sugano S, Takatsuji H, Kaku H, Minami E, Nishizawa Y (2013) WRKY76 is a rice transcriptional repressor playing opposite roles in blast disease resistance and cold stress tolerance. J Exp Bot 64(16):5085–5097

Zhang Y, Yu H, Yang X, Li Q, Ling J, Wang H, Gu X, Huang S, Jiang W (2016) CsWRKY46, a WRKY transcription factor from cucumber, confers cold resistance in transgenic-plant by regulating a set of cold-stress responsive genes in an ABA-dependent manner. Plant Physiol Biochem 108:478–487

Zhang L, Zhao T, Sun X, Wang Y, Du C, Zhu Z, Gichuki DK, Wang QF, Li SH, Xin HP (2019) Overexpression of VaWRKY12, a transcription factor from Vitis amurensis with increased nuclear localization under low temperature, enhances cold tolerance of plants. Plant Mol Biol 100(1–2):95–110

Zhao P, Zhao C, Li X, Gao QZ, Huang LQ, Xiao PG, Gao WY (2018) The genus Polygonatum: a review of ethnopharmacology, phytochemistry and pharmacology. J Ethnopharmacol 214:274–291

Zheng J, Liu F, Zhu C, Li X, Dai X, Yang B, Zou X, Ma Y (2019) Identification, expression, alternative splicing and functional analysis of pepper WRKY gene family in response to biotic and abiotic stresses. PLoS ONE 14(7):e0219775
Acknowledgements
We express our gratitude to the anonymous reviewers for helpful comments to improve the manuscript. This work was supported by the LiaoNing Revitalization Talents Program (XLYC1902081) and Project of Task for Discipline Construction in Liaoning Academy of Agricultural Sciences (2019DD217032).
Additional information
Publisher's Note
Springer Nature remains neutral with regard to jurisdictional claims in published maps and institutional affiliations.
Electronic supplementary material
Below is the link to the electronic supplementary material.
About this article
Cite this article
Wei, Z., Ye, J., Zhou, Z. et al. Isolation and characterization of PoWRKY, an abiotic stress-related WRKY transcription factor from Polygonatum odoratum. Physiol Mol Biol Plants 27, 1–9 (2021). https://doi.org/10.1007/s12298-020-00924-w
Received:

Revised:

Accepted:

Published:

Issue Date:
Keywords
Polygonatum odoratum

WRKY transcription factors

Cold stress

Drought stress

Overexpressing