Abstract
We aimed to study the genetic diversity, population structure, and phylogeny of Iranian orchids using inter-simple sequence repeat (ISSR) markers to find markers associated with phenotypic traits. Based on the phenotypic analysis, the inflorescence length and the flower number of studied accessions ranged from 3.92 to 27.13 cm and 5 to 50, respectively. On the other hand, the tuber length ranged from 1.80 to 9.35 cm. A total of 310 reproducible ISSR fragments with a size range of 150 to 3000 bp were amplified. ISSR primers provided an average polymorphism information content of 0.391, varied from 0.488 for UBC-876 to 0.351 for UBC-842. Os.J population showed the lowest genetic diversity (H = 0.057 and I = 0.075), while Oyst.JA population showed the highest genetic diversity (H = 0.114 and I = 0.158). At species level, the average coefficient of genetic differentiation (GST) ranged from 0.265 for Orchis simia to 0.587 for Himantoglossum affine. Gene flow (Nm) varied from 1.38 (O. simia) to 0.756 (Anacamptis collina). The UPGMA genetic similarity dendrogram using Jaccard coefficients (r = 0.973) revealed six main clusters. Based on the Bayesian clustering method, the highest probability of the data was achieved when accessions were divided into eight groups. Floral and tuber-related phenotypic traits represented high correlations together, and they were associated with some ISSR bands based on the multiple association analysis. Altogether, ISSR markers proved to be useful for discrimination and clarification of the relationships among species and populations collected from geographically different locations. Furthermore, it could identify the polymorphism among accessions within each population and species.
Access options
Buy single article
Instant access to the full article PDF.
US$ 39.95
Tax calculation will be finalised during checkout.
Subscribe to journal
Immediate online access to all issues from 2019. Subscription will auto renew annually.
US$ 79
Tax calculation will be finalised during checkout.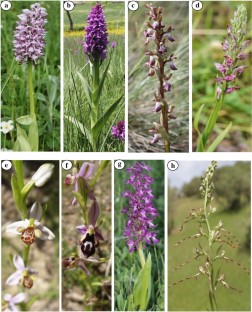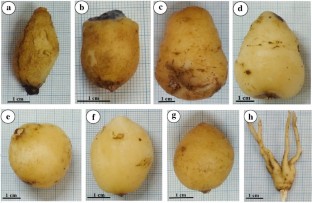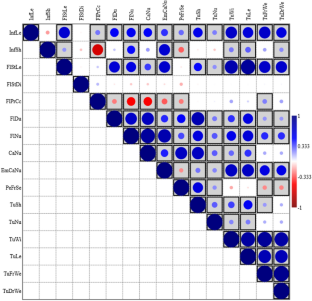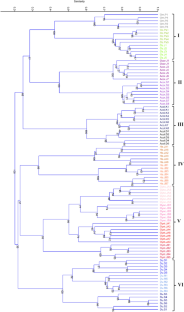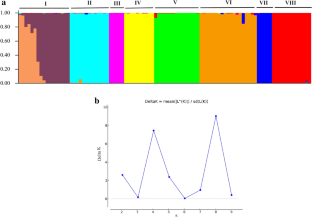 Abbreviations
EMR:

Effective multiplex ratio

ISSR:

Inter simple sequence repeats

MI:

Marker index

MAR:

Multiple association analysis

MAS:

Marker assisted selection

PCA:

Principal component analysis

PCoA:

Principal coordinate analysis

PIC:

Polymorphism information content

UPGMA:

Un-weighted paired group methods with arithmetic mean
References
Balilashaki K, Gantait S, Naderi R, Vahedi M (2015) Capsule formation and asymbiotic seed germination in some hybrids of Phalaenopsis, influenced by pollination season and capsule maturity. Physiol Mol Biol Plants 21(3):341–347

Bhattacharyya P, van Staden J (2018) Molecular insights into genetic diversity and population dynamics of five medicinal Eulophia species: a threatened orchid taxa of Africa. Physiol Mol Biol Plants 24(4):631–641

Bhattacharyya P, Kumaria S, Tandon P (2015) Applicability of ISSR and DAMD markers for phyto-molecular characterization and association with some important biochemical traits of Dendrobium nobile, an endangered medicinal orchid. Phytochemistry 117:306–316

Breitkopf H, Onstein RE, Cafasso D, Schlüter PM, Cozzolino S (2015) Multiple shifts to different pollinators fuelled rapid diversification in sexually deceptive Ophrys orchids. New Phytol 207(2):377–389

Cai X, Feng Z, Zhang X, Xu W, Hou B, Ding X (2011) Genetic diversity and population structure of an endangered Orchid (Dendrobium loddigesii Rolfe) from China revealed by SRAP markers. Sci Hortic 129(4):877–881

Culp TW, Harrell DC, Kerr T (1979) Some genetic implications in the transfer of high fiber strength genes to upland cotton. Crop Sci 19(4):481–484

de Boer HJ, Ghorbani A, Manzanilla V, Raclariu AC, Kreziou A, Ounjai S, Osathanunkul M, Gravendeel B (2017) DNA metabarcoding of orchid-derived products reveals widespread illegal orchid trade. Proc Biol Sci 284(1863):20171182

Doyle JJ, Doyle JL (1987) A rapid isolation procedure for small quantities of fresh leaf tissue. Phytochem Bull 19:11–15

Dressler RL (1982) The orchids: natural history and classification. Harvaed University Press, Cambridge

Earl DA, vonHoldt BM (2011) STRUCTURE HARVESTER: a website and program for visualizing STRUCTURE output and implementing the Evanno method. Conserv Genet Resour 4(2):359–361

Ebadi A, Ghaderi N, Vafaee Y (2019) Genetic diversity of Iranian and some European grapes as revealed by nuclear and chloroplast microsatellite and SNP molecular markers. J Hort Sci Biotech 94(5):599–610

Erzurumlu GS, Sultana N, Vural M, Serce S (2018) Genetic and phenotypic variation among Turkish terrestrial orchid species as revealed by RAPD and morphological characteristics. Turk J Agric For 42(4):227–236

Evanno G, Regnaut S, Goudet J (2005) Detecting the number of clusters of individuals using the software STRUCTURE: a simulation study. Mol Ecol 14:2611–2620

Fajardo CG, de Almeida Vieira F, Molina WF (2014) Interspecific genetic analysis of orchids in Brazil using molecular markers. Plant Syst Evol 300(8):1825–1832

Falush D, Stephens M, Pritchard JK (2007) Inference of population structure using multilocus genotype data: dominant markers and null alleles. Mol Ecol Notes 7:74–578

George S, Sharma J, Yadon VL (2009) Genetic diversity of the endangered and narrow endemic Piperia yadonii (Orchidaceae) assessed with ISSR polymorphisms. Am J Bot 96(11):2022–2030

Ghahraman A (1989) Flora of Iran. Research Institute of Forests and Rangelands, Tehran

Gholamian F, Etminan A, Changizi M, Khaghani S, Gomarian M (2019) Assessment of genetic diversity in Triticum urartu Thumanjan ex Gandilyan accessions using start codon targeted polymorphism (SCoT) and CAAT-box derived polymorphism (CBDP) markers. Biotechnol Biotechnol Equip 33(1):1653–1662

Ghorbani A, Gravendeel B, Naghibi F, de Boer H (2014a) Wild orchid tuber collection in Iran: a wake-up call for conservation. Biodivers Conserv 23(11):2749–2760

Ghorbani A, Gravendeel B, Zare S, De Boer HJ (2014b) Illegal wild collection and international trade of CITES-listed terrestrial orchid tubers in Iran. Traffic Bull 26(2):52–58

Ghorbani A, Gravendeel B, Selliah S, Zarre S, de Boer H (2017) DNA barcoding of tuberous Orchidoideae: a resource for identification of orchids used in Salep. Mol Ecol Resour 17(2):342–352

Giri L, Jugran AK, Bahukhandi A, Dhyani P, Bhatt ID, Rawal RS, Nandi SK, Dhar U (2017) Population genetic structure and marker trait associations using morphological, phytochemical and molecular parameters in Habenaria edgeworthii-a threatened medicinal orchid of West Himalaya, India. Appl Biochem Biotechnol 181(1):267–282

Hammer Ø, Harper DAT, Ryan PD (2001) Paleontological statistics software package for education and data analysis. Palaeontol Electron 4(1):1–9

Hens H, Pakanen VM, Jäkäläniemi A, Tuomi J, Kvist L (2017) Low population viability in small endangered orchid populations: genetic variation, seedling recruitment and stochasticity. Biol Conserv 210:174–183

Ilves A, Metsare M, Seliškar A, García MB, Vassiliou L, Pierce S, Tatarenko I, Tali K, Kull T (2016) Genetic diversity patterns of the orchid Anacamptis pyramidalis at the edges of its distribution range. Plant Syst Evol 302(9):1227–1238

Kasparek M, Grimm U (1999) European trade in Turkish salep with special reference to Germany. Econ Bot 53(4):396–406

Khadivi A (2018) Phenotypic characterization of Elaeagnus angustifolia using multivariate analysis. Ind Crops Prod 120:155–161

Kindlmann P, Jersáková J (2006) Effect of floral display on reproductive success in terrestrial orchids. Folia Geobot 41(1):47–60

Kishor R, Sharma GJ (2009) Intergeneric hybrid of two rare and endangered orchids, Renanthera imschootiana Rolfe and Vanda coerulea Griff. ex L. (Orchidaceae): synthesis and characterization. Euphytica 165(2):247

Kreutz K, Spencer J (2011) In the footsteps of Renz: Orchids in Iran. JHOS 8(1):12–24

Leles B, Chaves AV, Russo P, Batista JA, Lovato MB (2015) Genetic structure is associated with phenotypic divergence in floral traits and reproductive investment in a high-altitude orchid from the Iron Quadrangle, southeastern Brazil. PLoS ONE 10(3):e0120645

Li A, Luo Y-b, Ge S (2002) A preliminary study on conservation genetics of an endangered orchid (Paphiopedilum micranthum) from Southwestern China. Biochem Genet 40(5–6):195–201

Manners V, Kumaria S, Tandon P (2013) SPAR methods revealed high genetic diversity within populations and high gene flow of Vanda coerulea Griff ex Lindl (Blue Vanda), an endangered orchid species. Gene 519(1):91–97

Miller MP (1997) Tools for population genetic analysis (TFPGA) 1.3: a windows program for the analysis of allozyme and molecular population genetic data. Computer software distributed by author

Molnár VA, Nagy T, Löki V, Süveges K, Takács A, Bódis J, Tökölyi J (2017) Turkish graveyards as refuges for orchids against tuber harvest. Ecol Evol 7(24):11257–11264

Nosrati H, Hajiboland R, Razban-Haghighi A, Nikniazi M (2011) A comparative assessment of fruit formation in some orchid species from the southern Caucasus region. Turk J Bot 35(5):553–560

Peakall ROD, Smouse PE (2006) GenAlEx 6: genetic analysis in Excel. Population genetic software for teaching and research. Mol Ecol Notes 6(1):288–295

Pellegrino G, Caputo P, Cozzolino S, Menale B, Musacchio A (2000) Molecular characterization of a hybrid zone between Orchis mascula and O. pauciflora in Southern Italy. Biol Plantarum 43(1):13–18

Pinheiro LR, Rabbani ARC, da Silva AVC, da Silva Lédo A, Pereira KLG, Diniz LEC (2012) Genetic diversity and population structure in the Brazilian Cattleya labiata (Orchidaceae) using RAPD and ISSR markers. Plant Syst Evol 298(10):1815–1825

Powell W, Morgante M, Andre C, Hanafey M, Vogel J, Tingey S, Rafalski A (1996) The comparison of RFLP, RAPD, AFLP and SSR (microsatellite) markers for germplasm analysis. Mol Breed 2:225–238

Pritchard JK, Stephens M, Donnelly P (2000) Infernce of population structure using multilocus genotype data. Genet Biol Drosoph 155:945–959

Qian X, Wang CX, Tian M (2013) Genetic diversity and population differentiation of Calanthe tsoongiana, a rare and endemic orchid in China. Int J Mol Sci 14(10):20399–20413

Rasmussen HN, Dixon KW, Jersakova J, Tesitelova T (2015) Germination and seedling establishment in orchids: a complex of requirements. Ann Bot 116(3):391–402

Reddy MP, Sarla N, Siddiq EA (2002) Inter simple sequence repeat (ISSR) polymorphism and its application in plant breeding. Euphytica 128(1):9–17

Reiter N, Whitfield J, Pollard G, Bedggood W, Argall M, Dixon K, Davis B, Swarts N (2016) Orchid re-introductions: an evaluation of success and ecological considerations using key comparative studies from Australia. Plant Ecol 217(1):81–95

Renz J (1978) Flora Iranica. Part 126: orchidaceae. Naturhistorisches Museum, Vienna

Rohlf FJ (2000) NTSYS-pc numerical taxonomy and multivariate analysis system. Version 21 Exeter Software, Setauket

Roy SC, Moitra K, De Sarker D (2017) Assessment of genetic diversity among four orchids based on ddRAD sequencing data for conservation purposes. Physiol Mol Biol Plants 23(1):169–183

Schiestl FP, Schluter PM (2009) Floral isolation, specialized pollination, and pollinator behavior in orchids. Annu Rev Entomol 54:425–446

Sheehan T, Sheehan M (1994) An illustrated survey of orchid genera. Timber Press Inc., Portland

Shete S, Tiwari H, Elston R (2000) On estimating the heterozygosity and polymorphism information content value. Theor Popul Biol 57(3):265–271

Soliva M, Widmer A (2003) Gene flow across species boundaries in sympatric, sexually deceptive Ophrys (Orchidaceae) species. J Evol 57(10):2252–2261

Sonkoly J, Vojtkó AE, Tökölyi J, Török P, Sramkó G, Illyés Z, Molnár VA, Bartomeus I (2016) Higher seed number compensates for lower fruit set in deceptive orchids. J Ecol 104(2):343–351

Swarts ND, Dixon KW (2017) Conservation methods for terrestrial orchids. Ross Publishing, Richmond

Teixeira da Silva JA, Kerbauy GB, Zeng S, Chen Z, Duan J (2014) In vitro flowering of orchids. Crit Rev Biotechnol 34(1):56–76

Tian HZ, Han LX, Zhang JL, Li XL, Kawahara T, Yukawa T, López-Pujol J, Kumar P, Chung MG, Chung MY (2018) Genetic diversity in the endangered terrestrial orchid Cypripedium japonicum in East Asia: insights into population history and implications for conservation. Sci Rep 8(1):6467

Vafaee Y, Ghaderi N, Khadivi A (2017) Morphological variation and marker-fruit trait associations in a collection of grape (Vitis vinifera L.). Sci Hortic 225:771–782

Virk PS, Ford-Lloyd BV, Jackson MT, Pooni HS, Clemeno TP, Newbury HJ (1996) Predicting quantitative variation within rice germplasm using molecularvmarkers. Heredity (Edinb) 76:296–304

Warghat AR, Bajpai PK, Srivastava RB, Chaurasia OP, Sood H (2013) Population genetic structure and conservation of small fragmented locations of Dactylorhiza hatagirea in Ladakh region of India. Sci Hortic 164:448–454

Yan L, Ogutu C, Huang L, Wang X, Zhou H, Lv Y, Long Y, Dong Y, Han Y (2019) Genetic diversity and population structure of coffee germplasm collections in China revealed by ISSR markers. Plant Mol Biol Rep 37(3):204–213. https://doi.org/10.1007/s11105-019-01148-3

Zhang S, Yang Y, Li J, Qin J, Zhang W, Huang W, Hu H (2018) Physiological diversity of orchids. Plant Divers 40(4):196–208
Acknowledgement
This work was financially supported by the Iran National Science Foundation (Grant No. 95826350) and the University of Kurdistan.
Ethics declarations
Conflict of interest
The authors declare that they have no conflict of interest.
Additional information
Publisher's Note
Springer Nature remains neutral with regard to jurisdictional claims in published maps and institutional affiliations.
Supplementary information
Below is the link to the electronic supplementary material.
The values for the floral and tuber related traits in a collection of 97 terrestrial orchid accessions. (XLSX 21 kb)
The PCoA biplot of terrestrial orchid populations based on the two first principal coordinates. (DOCX 2459 kb)
About this article
Cite this article
Gholami, S., Vafaee, Y., Nazari, F. et al. Molecular characterization of endangered Iranian terrestrial orchids using ISSR markers and association with floral and tuber-related phenotypic traits. Physiol Mol Biol Plants 27, 53–68 (2021). https://doi.org/10.1007/s12298-020-00920-0
Received:

Revised:

Accepted:

Published:

Issue Date:
Keywords
Endangered orchids

Genetic diversity

ISSR

Marker association

Phylogeny