Abstract
Purslane (Portulaca oleracea L.) contains a variety of natural products with different biological properties. The objective of this research was to estimate changes in total phenolics, flavonoids, and fatty acids (α-linolenic acid and linoleic acid) contents as well as antioxidant activity of P. oleracea at different growth stages. Seeds were germinated in soil-filled plastic pots at greenhouse. Leaves and stems were collected at the vegetative and flowering stages. Total phenol and flavonoid contents of the samples were determined by Folin–Ciocalteau and aluminum chloride methods, respectively. The contents of α-linolenic and linoleic acids were determined using gas chromatography analysis after transesterification of fatty acids. Furthermore, Ferric reducing antioxidant power and 1,1-diphenyl-2-picrylhydrazyl assays were used to determine the antioxidant activities. The highest contents of total phenols (698.6 mg GAE 100 g−1 DW), flavonoids (46.9 mg QE 100 g−1 DW), α-linolenic acid (2.7 mg g−1 DW) and linoleic acid (0.8 mg g−1 DW) were determined in the leaves at flowering stage. Free radical scavenging capacity was significantly affected (P ≤ 0.05) by age; and the leaves of purslane had more antioxidant potential compared to stems. A positive correlation was observed between the antioxidant activities and total phenols content. Overall, purslane leaves at flowering stage can be regarded as a valuable source of fatty acids (especially α-linolenic acid) and antioxidants in human diet.
This is a preview of subscription content, log in to check access.
Access options
Buy single article
Instant access to the full article PDF.
US$ 39.95
Price includes VAT for USA
Subscribe to journal
Immediate online access to all issues from 2019. Subscription will auto renew annually.
US$ 99
This is the net price. Taxes to be calculated in checkout.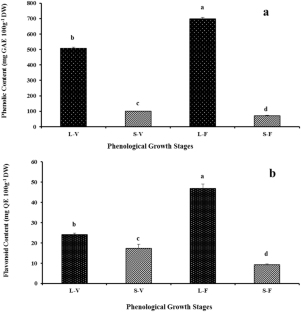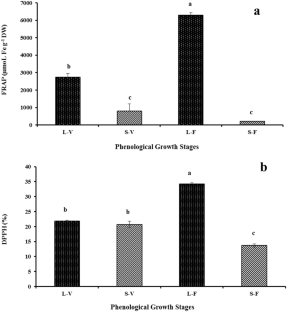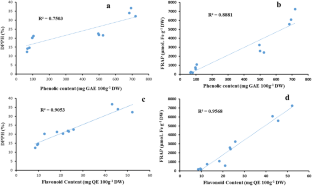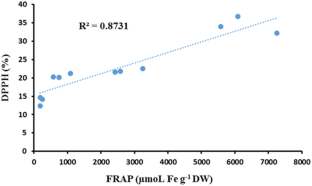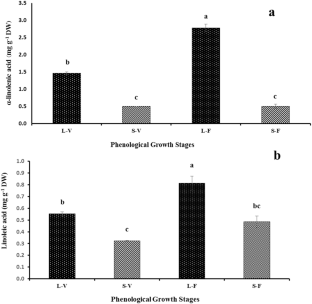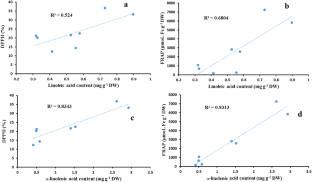 References
Abbaszadeh S, Radjabian T, Taghizadeh M, Fazeli F, Salmaki Y (2011) Characterization of fatty acids in different organs of some Iranian Echium plants. J Med Plants Res 5(19):4814–4821

Alam AM, Juraimi AS, Rafii MY, Hamid AA, Aslani F, Alam MZ (2015) Effects of salinity and salinity-induced augmented bioactive compounds in purslane (Portulaca oleracea L.) for possible economical use. Food Chem 169(15):439–447. https://doi.org/10.1016/j.foodchem.2014.08.019

Alizadeh A (2015) Essential oil composition, phenolic content, antioxidant, and antimicrobial activity of cultivated Satureja rechingeri Jamzad at different phenological stages. Z Naturforsch C 70:51–58. https://doi.org/10.1515/znc-2014-4121

Andreotti C, Costa G, Treutter D (2006) Composition of phenolic compounds in pear leaves as affected by genetics, ontogenesis and the environment. Sci Hortic 109:130–137. https://doi.org/10.1016/j.scienta.2006.03.014

Asif M (2011) Health effects of omega-3,6,9 fatty acids: Perilla frutescens is a good example of plant oils. Orient Pharm Exp Med 11:51–59. https://doi.org/10.1007/s13596-011-0002-x

Azuka OI, Ayalokunrin MB, Orachu LA (2014) A review on Portulaca oleracea (Purslane) plant—its nature and biomedical benefits. Int J Biomed Res 5:75–80. https://doi.org/10.7439/ijbr.v5i2.462

Bagal UR, Leebens-Mack LH, Lorenz WW, Dean JFD (2012) The phenylalanine ammonia lyase (PAL) gene family shows a gymnosperm-specific lineage. BMC Genom 13:1–9

Brand-Williams W, Cuvelier ME, Berset C (1995) Use of a free radical method to evaluate antioxidant activity. Food Sci Technol 28(1):25–30

Chang C-C, Yang M-H, Wen H-M, Chern J-C (2002) Estimation of total flavonoid content in propolis by two complementary colorimetric methods. J Food Drug Anal 10(3):178–182

Chen Y, Zhu Z, Guo Q, Zhang L, Zhang X (2012) Variation in concentrations of major bioactive compounds in Prunella vulgaris L. related to plant parts and phenological stages. Biol Res 45:171–175. https://doi.org/10.4067/S0716-97602012000200009

Chirinos R, Campos D, Arbizu C, Rogez H, Rees J-F, Larondelle Y, Noratto G, Cisneros-Zevallos L (2007) Effect of genotype, maturity stage and post-harvest storage on phenolic compounds, carotenoid content and antioxidant capacity, of Andean mashua tubers (Tropaeolum tuberosum Ruiz & Pavon). J Sci Food Agric 87:437–446. https://doi.org/10.1002/jsfa.2719

Chouaieb H, Ayadi I, Zouari S, Fakhfakh N, Zaidi S, Zouari N (2012) Effect of phenological stage and geographical location on antioxidant activities of tunisian horehound: Marrubium vulgare L. (Lamiaceae). JBAPN 2(4):232–238. https://doi.org/10.1080/22311866.2012.10719130

Chowdhary CV, Meruva A, Naresh K, Elumalai RKA (2013) A review on phytochemical and pharmacological profile of Portulaca oleracea (purslane). Int J Res Ayurveda Pharm 4(1):34–37. https://doi.org/10.7897/2277-4343.04119

del Baño MJ, Lorente J, Castillo J, Benavente-García O, del Río JA, Ortuño A, Gerard D (2003) Phenolic diterpenes, flavones, and rosmarinic acid distribution during the development of leaves, flowers, stems, and roots of Rosmarinus officinalis antioxidant activity. J Agric Food Chem 51(15):4247–4253. https://doi.org/10.1021/jf0300745

El-Aziz HAA, Sobhy MH, Kawkab AA, Azza KAEH, Zeinab AR, Wedad AH (2014) Chemical and remedial effects of purslane (Portulaca oleracea) plant. Life Sci J 11:31–42

Fernando IDNS, Abeysinghe DC, Dharmadasa RM (2013) Determination of phenolic contents and antioxidant capacity of different parts of Withania somnifera (L.) Dunal. from three different growth stages. Ind Crops Prod 50:537–539. https://doi.org/10.1016/j.indcrop.2013.08.042

Grela ER, Samolińska W, Kiczorowska B, Klebaniuk R, Kiczorowski P (2017) Content of minerals and fatty acids and their correlation with phytochemical compounds and antioxidant activity of leguminous seeds. Biol Trace Elem Res 180:338–348. https://doi.org/10.1007/s12011-017-1005-3

Gu K, Yi C, Tian D, Sangha JS, Hong Y, Yin Z (2012) Expression of fatty acid and lipid biosynthetic genes in developing endosperm of Jatropha curcas. Biotechnol Biofuels 5:47. https://doi.org/10.1186/1754-6834-5-47

Jiang X, Liu Y, Li W, Zhao L, Meng F, Wang Y, Tan H, Yang H, Wei C, Wan X, Gao L, Xia T (2013) Tissue-specific, development-dependent phenolic compounds accumulation profile and gene expression pattern in tea plant [Camellia sinensis]. PLoS ONE 8:1–14. https://doi.org/10.1371/journal.pone.0062315

Kim I-Y, Lee M-H, Shim S-B, Chun Y-J (2013) Skin lightening and wrinkle improving efficacy of organic Portulaca oleracea extract in skin care cosmetic. Int J Biosci Biotechnol 5:75–84. https://doi.org/10.14257/ijbsbt.2013.5.5.08

Lalromawii Devi AS, Meetei UD, Devi RKB (2014) Evaluation of Portulaca oleracea Linn. for hypoglycaemic effects. Int J Pharm Sci Res 5(5):1908–1913. https://doi.org/10.13040/IJPSR.0975-8232.5(5).1908-13

Lee J, Jung J, Son S-H, Kim H-B, Noh Y-H, Min SR, Park K-H, Kim D-S, Park SU, Lee H-S, Kim CY, Kim H-S, Lee H-K, Kim H (2018) Profiling of the major phenolic compounds and their biosynthesis genes in Sophora flavescens aiton. Sci World J. https://doi.org/10.1155/2018/6218430

Lepage G, Roy CC (1986) Direct transesterification of all classes of lipids in a one-step reaction. J Lipid Res 27:114–120

Manurung H, Kustiawan W, Kusuma IW, Marjenah M (2017) Total flavonoid content and antioxidant activity of tabat Barito (Ficus deltoidea Jack) on different plant organs and ages. J Med Plant St 5(6):120–125. https://doi.org/10.1063/1.4975945

Marcela Eljach Mosquera S (2013) Purslane (Portulaca oleracea L.) an excellent source of omega-3 and omega-6 fatty acids with abatement of risk factors. Dissertation, McGill University

Matthew T, Zhou W, Rupprecht J, Lim L, Thomas Hall SR, Doebbe A, Kruse O, Hankamer B, Marx UC, Smith SM, Schenk PM (2009) The metabolome of Chlamydomonas reinhardtii following induction of anaerobic H2 production by sulfur depletion. J Biol Chem 284:23415–23425. https://doi.org/10.1074/jbc.M109.003541

Mei C, Michaud M, Cussac M, Albrieux C, Gros V, Maréchal E, Block MA, Jouhet J, Rébeillé F (2015) Levels of polyunsaturated fatty acids correlate with growth rate in plant cell cultures. Sci Rep 5:1–9. https://doi.org/10.1038/srep15207

Murphy DJ (2009) Plant lipids: biology, utilisation and manipulation. Wiley-Blackwell, Hoboken

Nagarani G, Abirami A, Nikitha P, Siddhuraju P (2014) Effect of hydrothermal processing on total polyphenolics and antioxidant potential of underutilized leafy vegetables, Boerhaavia diffusa and Portulaca oleracea. Asian Pac J Trop Biomed 4(1):468–477. https://doi.org/10.12980/APJTB.4.2014C1108

Noriham A, Dian-Nashiela F, Kherni Hafifi B, Nooraain H, Azizah AH (2015) Influences of maturity stages and extraction solvents on antioxidant activity of Cosmos caudatus leaves. Int J Res Stud Biosci 3(12):1–10

Oliveira L, Valentão P, Lopes R, Andrade PB, Bento A, Pereira JA (2009) Phytochemical characterization and radical scavenging activity of Portulaca oleracea L. leaves and stems. Microchem J 92:129–134. https://doi.org/10.1016/j.microc.2009.02.006

Özeker E (1999) Phenolic compounds and their importance. Anadolu J AARI 9(2):114–124

Peiretti PG, Gai F (2009) Fatty acid and nutritive quality of chia (Salvia hispanica L.) seeds and plant during growth. Anim Feed Sci Technol 148(2):267–275. https://doi.org/10.1016/j.anifeedsci.2008.04.006

Percival M (1996) Antioxidants. Clin Nutr Inst NUT031 1/96 Rev. 10/98. http://acudoc.com/Antioxidants.PDF

Petropoulos SA, Fernandes A, Ines Dias M, Vasilakoglou IB, Petrotos K, Barros L, Ferreira ICFR (2019) Nutritional value, chemical composition and cytotoxic properties of common purslane (Portulaca oleracea L.) in relation to harvesting stage and plant part. Antioxidants 8:293. https://doi.org/10.3390/antiox8080293

Rawsthorne S (2002) Carbon flux and fatty acid synthesis in plants. Prog Lipid Res 41:182–196. https://doi.org/10.1016/S0163-7827(01)00023-6

Rugna AZ, Gurni AA, Wagner ML (2013) Phenological variations of polyphenols in Smilax campestris (Smilacaceae). Turk J Bot 37:350–354. https://doi.org/10.3906/bot-1112-15

Sellami IH, Maamouri E, Chahed T, Wannes WA, Kchouk ME, Marzouk BE (2009) Effect of growth stage on the content and composition of the essential oil and phenolic fraction of sweet marjoram (Origanum majorana L.). Ind Crops Prod 30:395–402. https://doi.org/10.1016/j.indcrop.2009.07.010

Simopoulos AP (2004) Omega-3 fatty acids and antioxidants in edible wild plants. Biol Res 37:263–277

Singleton VL, Rossi JA (1965) Colorimetry of total phenolics with phosphomolybdic-phosphotungstic acid reagents. Am J Enol Viticult 16:144–158

Siriamornpun S, Suttajit M (2010) Microchemical components and antioxidant activity of different morphological parts of Thai wild purslane (Portulaca oleracea). Weed Sci 58(3):182–188. https://doi.org/10.1614/WS-D-09-00073.1

Sulaiman SF, Sajak AAB, Ooi KL, Seow EM (2011) Effect of solvents in extracting polyphenols and antioxidants of selected raw vegetables. J Food Compos Anal 24:506–515. https://doi.org/10.1016/j.jfca.2011.01.020

Tang Y, Li X, Chen PX, Zhang B, Hernandez M, Zhang H, Marcone MF, Liu R, Tsao R (2015) Characterisation of fatty acid, carotenoid, tocopherol/tocotrienol compositions and antioxidant activities in seeds of three Chenopodium quinoa Willd. genotypes. Food Chem 174:502–508. https://doi.org/10.1016/j.foodchem.2014.11.040

Toker Z (2009) Variation of total hypericin, phenolic and flavonoid compounds in Hypericum triquetrifolium during its phenological cycle. Pharm Biol 47(4):285–288. https://doi.org/10.1080/13880200802578983

Uddin MK, Juraimi AS, Ali ME, Ismail MR (2012) Evaluation of antioxidant properties and mineral composition of purslane (Portulaca oleracea L.) at different growth stages. Int J Mol Sci 13:10257–10267. https://doi.org/10.3390/ijms130810257

Uddin MK, Juraimi AS, Sabir Hossain M, Altaf Un Nahar M, Ali ME, Rahman MM (2014) Purslane weed (Portulaca oleracea): a pospective plant source of nutrition, omega-3 fatty acid, and antioxidant attributes. Sci World J. https://doi.org/10.1155/2014/951019

Veit M, Beckert C, Höhne C, Bauer K, Geiger H (1995) Interspecific and intraspecific variation of phenolics in the genus Equisetum subgenus Equisetum. Phytochemistry 38:881–891. https://doi.org/10.1016/0031-9422(94)00658-G

Verma V, Kasera PK (2007) Variations in secondary metabolites in some arid zone medicinal plants in relation to season and plant growth. Indian J Plant Physiol 12:203–206

Villa-Rodríguez JA, Molina-Corral FJ, Ayala-Zavala JF, Olivas GI, González-Aguilar GA (2011) Effect of maturity stage on the content of fatty acids and antioxidant activity of 'Hass' avocado. Food Res Int 44:1231–1237. https://doi.org/10.1016/j.foodres.2010.11.012

Xia J, Liu Y, Yao S, Li M, Zhu M, Huang K, Gao L, Xia T (2017) Characterization and expression profiling of Camellia sinensis cinnamate 4-hydroxylase genes in phenylpropanoid pathways. Genes 8(193):1–13. https://doi.org/10.3390/genes8080193

Zhao H (2015) Processing and impact on active components in food. Academic, London
Acknowledgements
This work was financially supported by Ferdowsi University of Mashhad, Ministry of Science, Research and Technology, Iran through Grant Number of 38142.
Ethics declarations
Conflict of interest
The authors declare that they have no conflict of interest.
Additional information
Publisher's Note
Springer Nature remains neutral with regard to jurisdictional claims in published maps and institutional affiliations.
About this article
Cite this article
Saffaryazdi, A., Ganjeali, A., Farhoosh, R. et al. Variation in phenolic compounds, α-linolenic acid and linoleic acid contents and antioxidant activity of purslane (Portulaca oleracea L.) during phenological growth stages. Physiol Mol Biol Plants 26, 1519–1529 (2020). https://doi.org/10.1007/s12298-020-00836-9
Received:

Revised:

Accepted:

Published:

Issue Date:
Keywords
DPPH

Fatty acids

FRAP

Omega-3

Plant extracts