Abstract
Phytic acid is a ubiquitous compound that chelates the micronutrients in food and hinder their absorption. Hence, breeding for low phytate content for producing stable low phytic acid (lpa) hybrids is essential. Phytic acid content in maize grains has been found to vary across environments and its stable expression has yet to be explored. In a view of this, forty inbreds were screened with two checks viz., CO-6 and CO-H(M)-8 across three locations. Twenty morphological and three quality traits were observed to identify the stable lines for low phytic acid with higher free inorganic phosphorous and starch. Among all the lines, UMI-467, LPA-2-285, LPA-2-395 and UMI-447 recorded a stable performance in both AMMI and GGE biplot analysis for low phytic acid (2.52–3.32 mg/g). These lines also had a higher free inorganic phosphorous, ensuring its bioavailability (1.78–1.88 mg/g). There were perturbations in yield, starch and seed characteristics of the stable low phytic acid lines due to their lower phytic acid concentrations. This stated the role of phytic acid in plant physiology and established the constraints to be faced in breeding for low phytic acid in maize. Among the lpa lines, LPA-2-285 (57.83%) and UMI-447 (55.78%) had the highest average starch content. The lowest stable phytic acid content was observed in UMI-467 (2.52 mg/g) and this line had severe reductions in yield parameters. Considering the seed and yield characteristics, LPA-2-285, LPA-2-395 and UMI-447 performed better than UMI-467. Although these four stable lines were poor in their adaptability among all the genotypes, they could be utilised as promising stable donors to facilitate the development of stable lpa hybrids.
This is a preview of subscription content, log in to check access.
Access options
Buy single article
Instant access to the full article PDF.
US$ 39.95
Price includes VAT for USA
Subscribe to journal
Immediate online access to all issues from 2019. Subscription will auto renew annually.
US$ 99
This is the net price. Taxes to be calculated in checkout.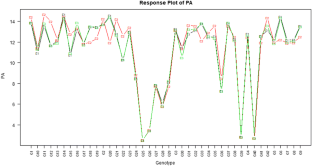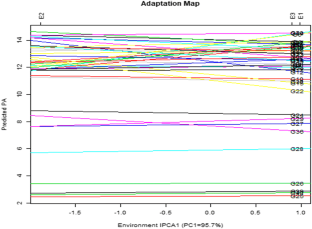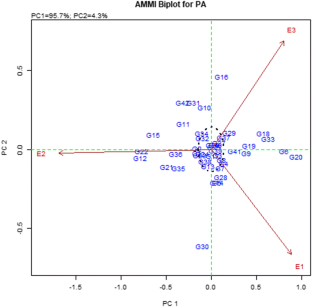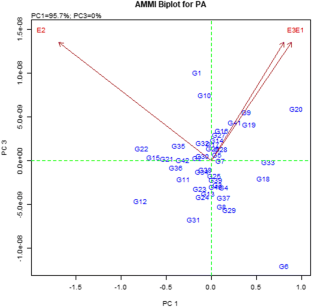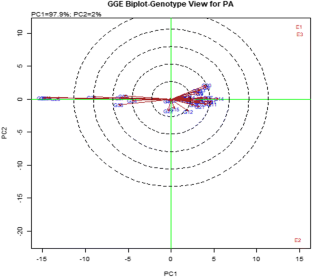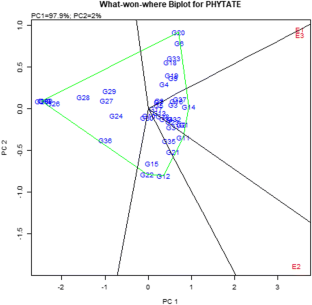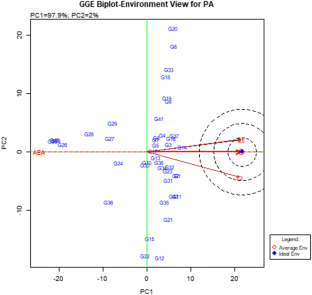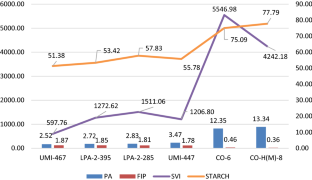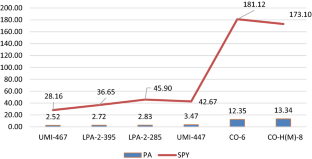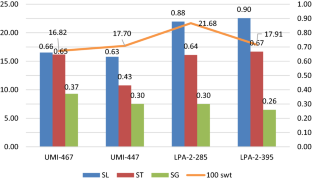 References
Abdul-Baki AA, Anderson JD (1973) Vigour determination in soybean seed by multiple criteria 1. Crop Sci 13(6):630–633. https://doi.org/10.2135/cropsci1973.0011183X001300060013x

Aslam JA, Pavlu V (2007) Query hardness estimation using Jensen-Shannon divergence among multiple scoring functions. Eur Conf Inf Retr. https://doi.org/10.1007/978-3-540-71496-5_20

Balestre M, Von Pinho RG, Souza JC, Oliveira RL (2009) Genotypic stability and adaptability in tropical maize based on AMMI and GGE biplot analysis. Genet Mol Res 8(4):1311–1322

Branković G, Dragičević V, Dodig D, Knežević D, Kandić V, Šurlan-Momirović G, Sečanski M (2015) Phytic acid, inorganic phosphorus, antioxidants in bread and durum wheat and their associations with agronomic traits. Agric Food Sci 24(3):183–194. https://doi.org/10.23986/afsci.49729

Bregitzer P, Raboy V (2006) Effects of four independent low-phytate mutations on barley agronomic performance. Crop Sci 46(3):1318–1322. https://doi.org/10.2135/cropsci2005.09-0301

Clegg KM (1956) The application of the anthrone reagent to the estimation of starch in cereals. J Sci Food Agric 7(1):40–44

Davies NT, Reid H (1979) An evaluation of the phytate, zinc, copper, iron and manganese contents of, and Zn availability from, soya-based textured-vegetable-protein meat-substitutes or meat-extenders. Br J Nutr 41(3):579–589. https://doi.org/10.1079/BJN19790073

Donahue JL, Alford SR, Torabinejad J, Kerwin RE, Nourbakhsh A, Ray WK, Hernick M, Huang X, Lyons BM, Hein PP, Gillaspy GE (2010) The Arabidopsis thaliana myo-inositol 1-phosphate synthase1 gene is required for myo-inositol synthesis and suppression of cell death. Plant Cell 22(3):888–903. https://doi.org/10.1105/tpc.109.071779

Gauch HG, Piepho HP, Annicchiarico P (2008) Statistical analysis of yield trials by AMMI and GGE. Crop Sci 48(3):866–889. https://doi.org/10.2135/cropsci2005.07-0193

Kayodé AP, Linnemann AR, Hounhouigan JD, Nout MJ, Van Boekel MA (2006) Genetic and environmental impact on iron, zinc, and phytate in food sorghum grown in Benin. Agric Food Chem 54(1):256–262. https://doi.org/10.1021/jf0521404

Latrasse D, Jegu T, Meng PH, Mazubert C, Hudik E, Delarue M, Charon C, Crespi M, Hirt H, Raynaud C, Bergounioux C (2013) Dual function of MIPS1 as a metabolic enzyme and transcriptional regulator. Nucleic Acids Res 41(5):2907–2917. https://doi.org/10.1093/nar/gks1458

Lelis GR, Albino LFT, Calderano AA, Tavernari FDC, Rostagno HS, Campos AMDA, Araújo WAGD, Ribeiro Junior V (2012) Diet supplementation with phytase on performance of broiler chickens. Revista Brasileira de Zootecnia 41(4):929–933. https://doi.org/10.1590/S1516-35982012000400014

Liu JX, Srivastava R, Che P, Howell SH (2007) An endoplasmic reticulum stress response in Arabidopsis is mediated by proteolytic processing and nuclear relocation of a membrane-associated transcription factor, bZIP28. Plant Cell 19(12):4111–4119. https://doi.org/10.1105/tpc.106.050021

Lorenz AJ, Scott MP, Lamkey KR (2007) Quantitative determination of phytate and inorganic phosphorus for maize breeding. Crop Sci 47(2):600–604. https://doi.org/10.2135/cropsci2006.03.0177

Lorenz AJ, Scott MP, Lamkey KR (2008) Genetic variation and breeding potential of phytate and inorganic phosphorus in a maize population. Crop Sci 48(1):79–84

Mitrović B, Stanisavljević D, Treskić S, Stojaković M, Ivanović M, Bekavac G, Rajković M (2012) Evaluation of experimental maize hybrids tested in multi-location trials using AMMI and GGE biplot analyses. Turk J Field Crops 17(1):35–40

Naidoo R, Tongoona P, Derera J, Laing MD, Watson GMF (2012) Combining ability of low phytic acid (lpa1–1) and quality protein maize (QPM) lines for seed germination and vigour under stress and non-stress conditions. Euphytical 85(3):529–541. https://doi.org/10.1007/s10681-012-0677-1

Oomah BD, Kenaschuk EO, Mazza G (1996) Phytic acid content of flaxseed as influenced by cultivar, growing season, and location. Agric Food Chem 44(9):2663–2666. https://doi.org/10.1021/jf9601527

Raboy V (2001) Seeds for a better future: 'low phytate' grains help to overcome malnutrition and reduce pollution. Trends Plant Sci 6(10):458–462

Raboy V, Gerbasi PF, Young KA, Stoneberg D, Pickett SG, Bauman AT, Murthy PP, Sheridan WF, Ertl DS (2000) Origin and seed phenotype of maize low phytic acid 1–1 and low phytic acid 2–1. Plant Physiol 124(1):355–368. https://doi.org/10.1104/pp.124.1.355

Raboy V, Peterson K, Jackson C, Marshall J, Hu G, Saneoka H, Bregitzer P (2015) A substantial fraction of barley (Hordeum vulgare L.) low phytic acid mutations have little or no effect on yield across diverse production environments. Plants 4–2:225–239

Shah RT, Prasad K, Kumar P (2016) Maize: a potential source of human nutrition and health—a review. Cogent Food Agric 2(1):1166995

Sparvoli F, Cominelli E (2015) Seed biofortification and Phytic acid reduction: a conflict of interest for the plant? Plants 4(4):728–755. https://doi.org/10.3390/plants4040728

Yan W, Cornelius PL, Crossa J, Hunt LA (2001) Two types of GGE biplots for analyzing multi-environment trial data. Crop Sci 41(3):656–663. https://doi.org/10.2135/cropsci2001.413656x

Yan W, Kang MS, Ma B, Woods S, Cornelius PL (2007) GGE biplot vs AMMI analysis of genotype-by-environment data. Crop Sci 47(2):643–653. https://doi.org/10.2135/cropsci2006.06.0374

Zhai H, Wang F, Si Z, Huo J, Xing L, An Y, He S, Liu Q (2016) A myo-inositol-1-phosphate synthase gene, Ib MIPS 1, enhances salt and drought tolerance and stem nematode resistance in transgenic sweet potato. Plant Biotechnol J 14(2):592–602. https://doi.org/10.1111/pbi.12402

Zhou JR, Erdman JW (1995) Phytic acid in health and disease. Crit Rev Food Sci Nutr 35(6):495–508. https://doi.org/10.1080/10408399509527712
Ethics declarations
Conflict of interest
All authors declare that they have no conflict of interest.
Additional information
Publisher's Note
Springer Nature remains neutral with regard to jurisdictional claims in published maps and institutional affiliations.
Electronic supplementary material
Below is the link to the electronic supplementary material.
About this article
Cite this article
Pramitha, J.L., Jeeva, G., Ravikesavan, R. et al. Environmental impact of phytic acid in Maize (Zea mays. L) genotypes for the identification of stable inbreds for low phytic acid. Physiol Mol Biol Plants 26, 1477–1488 (2020). https://doi.org/10.1007/s12298-020-00818-x
Received:

Revised:

Accepted:

Published:

Issue Date:
Keywords
Phytic acid

Free inorganic phosphorous

Stability

Starch

AMMI

GGE

BLUP