Abstract
Unsaturated-polyester/glass-fiber composites are worldwide more and more used. Actually, their thermochemical and mechanical recycling paths are quite well-known. But, due to the relatively low value of the end products, these two paths are hardly economically viable. Thus, a third way will be proposed as a thermomechanical path. In order to recycle these composites, a study of their thermo-mechanical behaviors is proposed in this work, through various static and dynamic tests at temperatures ranging from ambient to 150 °C, over their glass-transition-temperature (Tg). As expected, the results prove that unsaturated-polyester reinforced by woven glass-fibers is more resistant in static flexion and traction than composite made with mixed chopped and woven glass-fibers, at ambient temperature and up to 150 °C. Also, static and dynamic tests have shown that composite manufactured by infusion is more resistant than the hand lay-up composite forming. Indeed, dynamic 3-points-flexural-bending test indicates that these composites lose their stiffness during the temperature rise. Furthermore, the composites ageing study shows the appearance of Mullins effect and hysteresis phenomena, at 150 °C. After an accelerated ageing in distilled water at ambient temperature, the composite lost about 66% of its flexural resistance but a gain of 195% in its deformation at break is obtained. For an ageing in distilled water at temperature around its Tg, this composite lost the same ratio in its flexural resistance but got 180% in its yield deformation, compared to its virgin state. The mechanical properties lose can be interpreted by the ester function hydrolysis and the glass fibers damage.
We're sorry, something doesn't seem to be working properly.
Please try refreshing the page. If that doesn't work, please contact support so we can address the problem.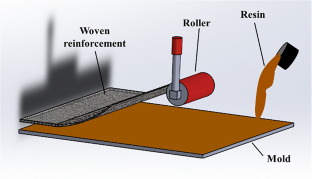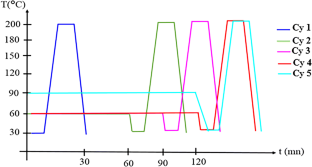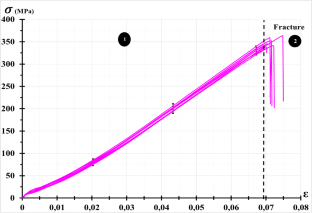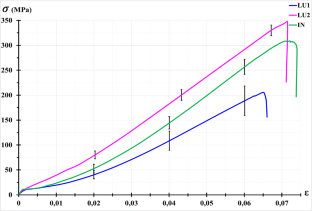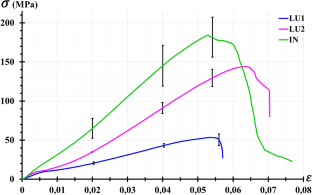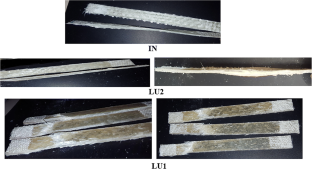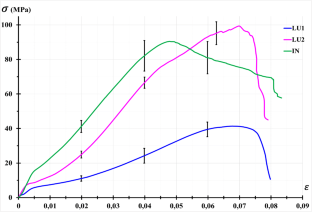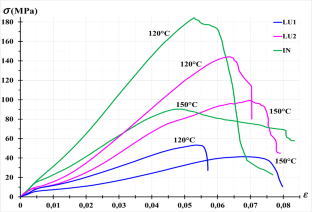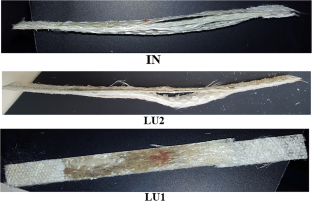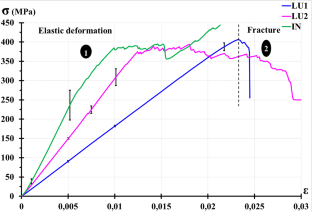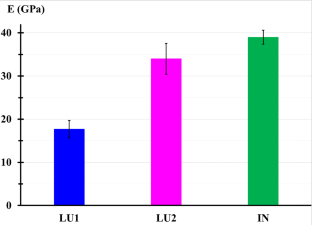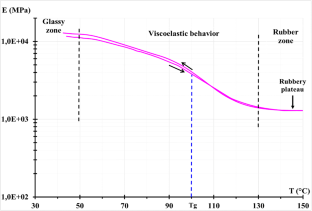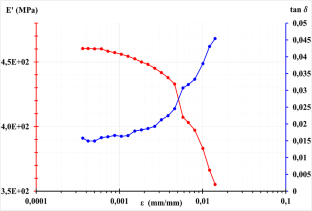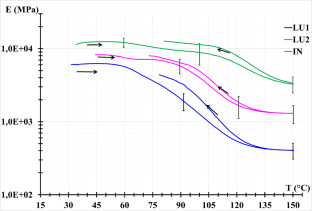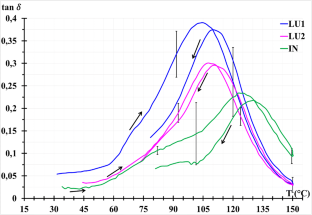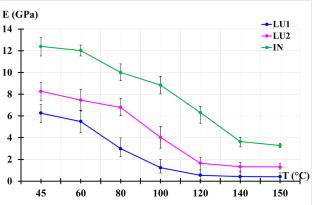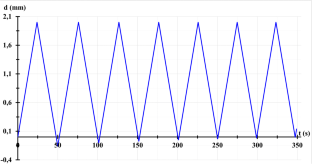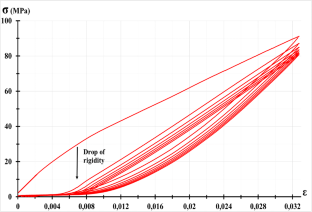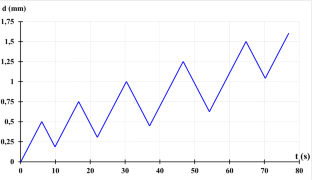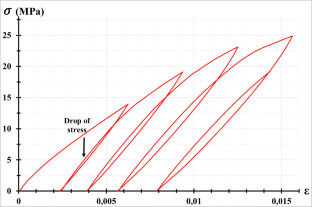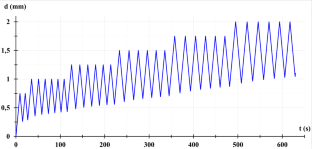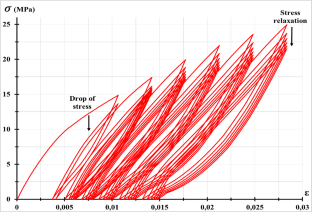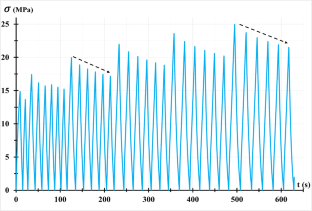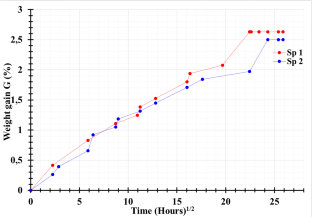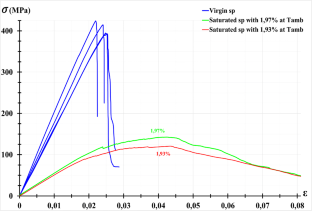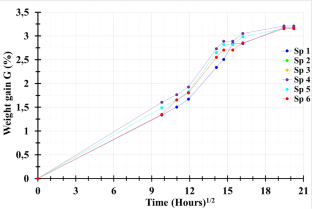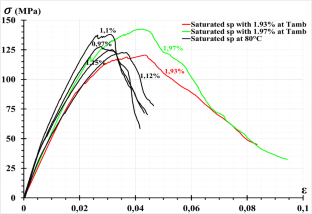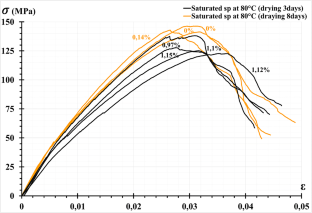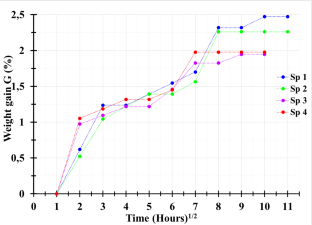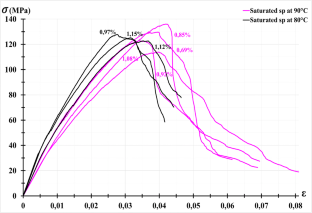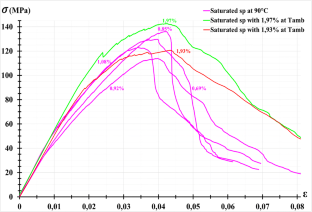 References
1.

Cetim C (2015) Composites et recyclage: état de l'art et perspectives. Journ Promot Procédés Produits. https://www.progepi.fr/wp-content/uploads/2017/04/f.-ruch-cetim-cermat.pdf

2.

Vannessa G, Vannessa G (2010) Management, recycling and reuse of waste composites. Woodhead Publishing, New York Washington

3.

Website: 'http://www.statistiques.developpement-durable.gouv.fr/indicateurs-indices/f/1929/0/taux-recyclage-dechets-france.html'

4.

Oliveux G, Dandy L-O, Leeke A-G (2015) A Current status of recycling of fibre reinforced polymers: Review of technologies, reuse and resulting properties. Prog Mater Sci 72:61–99

5.

Li D, Kaewunruen S (2019) Mechanical properties of concrete with recycled composite and plastic aggregates. Int J Geomate (17) 60: 231–238, Japan

6.

Li W, Xiao J, Shi C, Poon C-S (2015) Structural behaviour of composite members with recycled aggregate Concrete - an Overview. Adv Struct Eng 6:18

7.

Oliveux G, Bailleul J-L, L-G-L-Salle E, Lefèvrea N, Biotteau G (2012) Recycling of glass fibre reinforced composites using subcritical hydrolysis: Reaction mechanisms and kinetics, influence of the chemical structure of the resin. Polym Degrad Stab: 1–16

8.

'AB Val composites: 3,8 millions d'euros pour un recyclage inédit | L'Éclaireur de Châteaubriant'. https://actu.fr/economie/ab-val-composites-38-millions-deuros-pour-un-recyclage-inedit_8685701.html

9.

Wazery M-S, EL-Elamy M-I, Zoalfakar S-H (2017) Mechanical properties of glass fiber reinforced polyester composites. Int J Appl Sci Eng 3(14):121–131

10.

Abdullah E-T (2013) A study of bending properties of unsaturated polyester/glass fiber reinforced composites. J Al-Nahrain Univ Sci 3(16):129–132

11.

Davallo M, Pasdar H (2009) Comparison of mechanical properties of glass-polyester composites formed by resin transfer moulding and hand lay-up technique. Int J ChemTech Res 1(3)

12.

Laoubi K, Hamadi Z, Benyahia A, Serier A, Azari Z (2014) Thermal behavior of E-glass fiber-reinforced unsaturated polyester composites. Compos Part B Eng (56): 520–526

13.

Dhakal H-N, Zhang Z-Y, Richardson M-O-W (2006) Effect of water absorption on the mechanical properties of hemp fibre reinforced unsaturated polyester composites. Compos Sci Technol

14.

Perrot Y (2006) Influence des propriétés de la matrice sur le comportement mécanique de matériaux composites verre/polyester utilisés en construction navale de plaisance - Cas des résines polyester limitant les émissions de styrène. Université de Bretagne Sud

15.

Bouazza H (2011) Recyclage des matériaux composites thermodurcissables à usage naval. Université des sciences et de la technologie d'Oran

16.

Giljean S, Ibrahim A, L'Hostis G (2017) Influence du mode de polymérisation de composites verre/polyester sur leur comportement mécanique. 23ème Congrès Français de Mécanique: 6

17.

Liang S (2012) Etude de comportement en fatigue des composites renforcés par fibres végétales. Prise en compte de la variabilité des propriétés. Université de Bourgogne

18.

Sanga R-P-L, Ntamack G-E, Mansouri K, Beda T, D'Ouazzane S-C (2013) Evaluation des Caractéristiques Mécaniques des Matériaux Composites en Fonction de la Température, Application au Composite Epoxyde + Verre. J Mater Environ Sci 4(6):103–104

19.

Hentschke R (2017) The Payne effect revisited eXPRESS. Polym Lett 4(11):278–292

20.

Hassine MB (2013) Modélisation du vieillissement thermique et mécanique d'une protection externe en EPDM de jonctions rétractables à froid. Ecole doctorale de Sciences des Métiers de l'Ingénieur, Paris Tech

21.

Huger M (2008) Elasticité à haute température de matériaux céramiques: effet des hétérogénéités. Ecole Nationale Supérieure de Céramique Industrielle

22.

Luo R-K (2015) Mullins damage effect on rubber products with residual strain. Int J Damage Mech 2(24):153–167

23.

Shirinbayan M (2017) Étude du comportement mécanique et de l'endommagement de divers matériaux composites SMC soumis à des chargements de type dynamique, fatigue et dynamique post-fatigue. École Nationale Supérieure d'Arts et Métiers

24.

Chagnon G, Marckmann G, Verron E, Gornet L, O-Kuczynski E, Charrier P (2016) A new modelling of the Mullins' effect and viscoelasticity of elastomers based on physical approach. Ecole Centrale de Nantes, Groupe Trelleborg: Société Modyn Nantes

25.

Bhave T, Tehrani M, Ali M, Sarvestani A (2018) Hysteresis friction and nonlinear viscoelasticity of rubber composites. Compos Commun (9): 92–97
Funding
This study was funded by FEDER - Region Pays de la Loire in the framework of CIPTAP R&D project.
Ethics declarations
Conflict of Interest
The authors declare that they have no conflict of interest.
Additional information
Publisher's Note
Springer Nature remains neutral with regard to jurisdictional claims in published maps and institutional affiliations.
Electronic supplementary material
About this article
Cite this article
Nouigues, A., Le Gal La Salle, E. & Bailleul, JL. Thermo-mechanical characterization of unsaturated polyester/glass fiber composites for recycling. Int J Mater Form 14, 153–174 (2021). https://doi.org/10.1007/s12289-020-01559-8
Received:

Revised:

Accepted:

Published:

Issue Date:
Keywords
Glass fibers/Polyester

Recycling

Thermo-mechanical properties

High Temperatures

Ageing behavior