Abstract
Hemoglobin High-performance liquid chromatography (Hb HPLC) is a standard first-line technique for diagnosis of thalassemia and hemoglobinopathies. We compared two HPLC systems for detection and quantification of normal and abnormal Hb fractions. EDTA samples from 100 normal healthy subjects and 107 subjects affected with hemoglobinopathies or carriers were analysed using HPLC systems Tosoh HLC-723G11 and Bio-Rad Variant-II. Retention time (RT) and area of peaks for HbA2, HbF and other structural variants were compared. In discrepant cases samples were run on Sebia Capillary zone electrophoresis (CZE) for confirmation of results (39 out of 107 cases with HbE, HbD Iran, Hb Lepore and HbQ). Measurement of HbA2 and HbF in normal samples and HbF in those with variant Hbs showed good correlation by both analyzers (R2 = 0.83, 0.9 and 0.99 respectively). HbE co-elutes with HbA2 in Bio-Rad. Correlation done using the apparent HbA2 concentration from Bio-Rad with (HbE + HbA2) from Tosoh G11 showed good correlation (R2 = 0.97). Correlation of HbS (Eluting at S-window at RT 3.11 min in Tosoh G11 and 4.33 min in Bio-Rad) as well as HbD Punjab (Eluting at D-window at RT 2.82 min in Tosoh G11 and 4.06 min in Bio-Rad) by both instruments was good. HbD Iran (Eluting at E-window at RT 2.69 min in Tosoh G11 and with HbA2 at 3.53 min in Bio-Rad); HbQ (Eluting at C-window at RT 3.78 min in Tosoh G11 and unknown window at 4.7 min in Bio-Rad), HbH (Eluting at P00 window at RT 0.13 min in Tosoh G11 and giving pre-integration peak in Bio-Rad), Hb Lepore (Eluting at P08 window at RT 2.67 min in Tosoh G11 and with HbA2 at 3.46 min in Bio-Rad) gave comparable results. Correlation with findings of CZE was done in few cases when needed. Two automated HPLC instruments demonstrated similar usefulness for screening patients for hemoglobinopathies. However, complex elution patterns as well as co-elution of variants like HbA2, HbE, Hb Lepore, HbD Iran (in Bio-Rad); HbD Iran and HbE (Tosoh G11) pose difficulty in interpretation. A complementary second method like CZE may be required.
This is a preview of subscription content, log in to check access.
Access options
Buy single article
Instant access to the full article PDF.
US$ 39.95
Price includes VAT for USA
Subscribe to journal
Immediate online access to all issues from 2019. Subscription will auto renew annually.
US$ 99
This is the net price. Taxes to be calculated in checkout.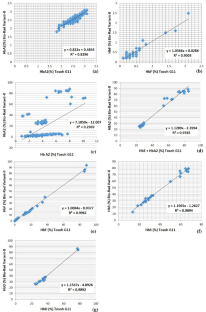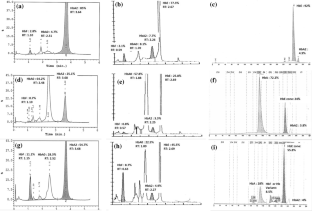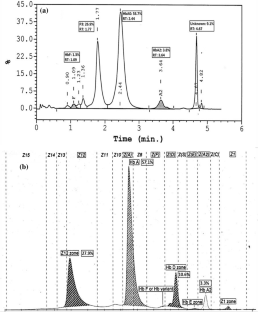 References
1.

Keren DF, Hedstrom D, Gulbranson R, Ou C-N, Bak R (2008) Comparison of Sebia Capillarys capillary electrophoresis with the Primus high-pressure liquid chromatography in the evaluation of hemoglobinopathies. Am J Clin Pathol 130(5):824–831

2.

Greene DN, Pyle AL, Chang JS, Hoke C, Lorey T (2012) Comparison of Sebia Capillarys Flex capillary electrophoresis with the BioRad Variant II high pressure liquid chromatography in the evaluation of hemoglobinopathies. Clin Chim Acta Int J Clin Chem 413(15–16):1232–1238

3.

Sharma S, Sharma P, Das R, Chhabra S, Hira JK (2017) HbQIndia (HBA1:c.193G>C): hematological profiles and unique CEHPLC findings of potential diagnostic utility in 65 cases. Ann Hematol 96:1227–1229

4.

Merono F, Agouti I, Bonello-Palot N, Paolasso C, Levy N, Badens C (2011) Analytical evaluation of the Tosoh HLC-723 G8 automated HPLC analyzer for hemoglobin analysis in beta-thalassemia mode. Clin Biochem 44(5–6):441–443

5.

Ou C-N, Rognerud CL (2001) Diagnosis of hemoglobinopathies: electrophoresis vs HPLC. Clin Chim Acta 313(1):187–194

6.

Schroeder WA, Shelton JB, Shelton JR, Huynh V (1986) The estimation of Hb A2 in the presence of Hb C or Hb E by reverse phase high performance liquid chromatography. Hemoglobin 10(3):253–257

7.

Joutovsky A (2004) HPLC retention time as a diagnostic tool for hemoglobin variants and hemoglobinopathies: a study of 60000 samples in a clinical diagnostic laboratory. Clin Chem 50(10):1736–1747

8.

Multicenter validation of fully automated capillary electrophoresis method for diagnosis of thalassemias and hemoglobinopathies in Thailand (2019). https://www.ncbi.nlm.nih.gov/pubmed/22299449
Additional information
Publisher's Note
Springer Nature remains neutral with regard to jurisdictional claims in published maps and institutional affiliations.
Electronic Supplementary Material
Below is the link to the electronic supplementary material.
About this article
Cite this article
Chopra, P., Bhardwaj, S., Negi, P. et al. Comparison of Two High-Pressure Liquid Chromatography Instruments Bio-Rad Variant-II and Tosoh HLC-723G11 in the Evaluation of Hemoglobinopathies. Indian J Hematol Blood Transfus (2020). https://doi.org/10.1007/s12288-020-01298-5
Received:

Accepted:

Published:
Keywords
Hemoglobinopathy

HPLC

Chromatogram